Cheap Decorating Ideas That Look Chic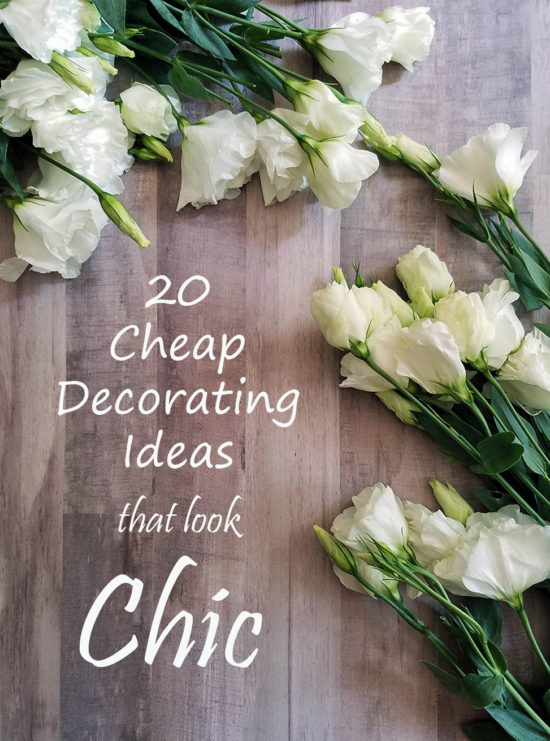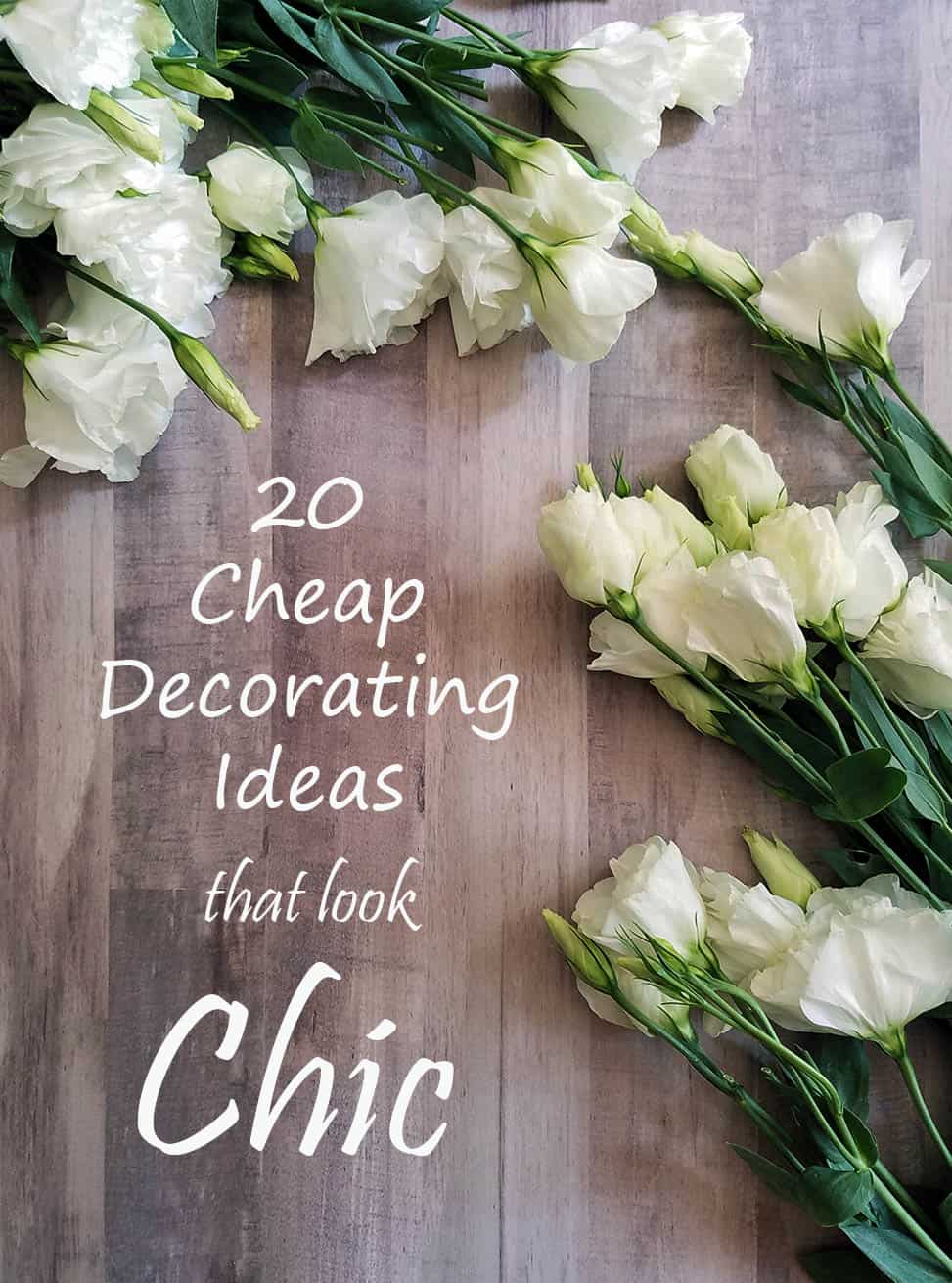 Cheap decorating ideas – it sounds ugly when you say it like that.
However, if you're reading this I'm guessing like most people you probably don't have unlimited funds to splurge on home decor. Things like mortgages, taxes and car insurance usually get in the way. I pretty much breathe interior design and I am here to tell you it can be done on a budget!
My Best Cheap Decorating Ideas
Cheap is a relative term, what you consider cheap may not be cheap for me. My best cheap decorating ideas usually come from necessity. I'm determined to make my home look good even though I don't have the funds to do all the things I'd like to. I've taken some of my best cheap decorating ideas and broken them down by category.
Do It Yourself
One of the main reasons I DIY is because I can't afford to hire out. Luckily, I also happen to really enjoy DIY projects so this is a win-win for me. If there is something you really want but can't afford just look to the DIY community on Pinterest and I'll bet there's a tutorial on how to do it yourself.
We saved hundreds of dollars when working on my daughter's bedroom makeover by installing the vinyl floors ourselves. This was my first time installing floors myself and if I can do it, so can you. We also chose vinyl plank flooring* rather than hardwood to further save. There are so many beautiful options in vinyl floors these days.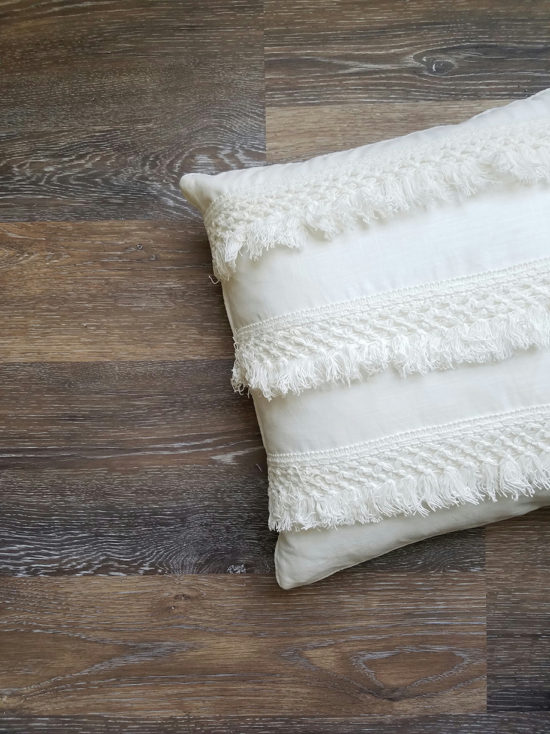 Another thing I wanted to incorporate in that bedroom makeover was a sliding barn door. The closet doors that came with the house were the ugly builder-grade bifold doors. You can buy a sliding barn door kit at a home improvement store but it will cost you between $400-500. We figured out that we could build a sliding barn door for less than half of that cost, including the hardware!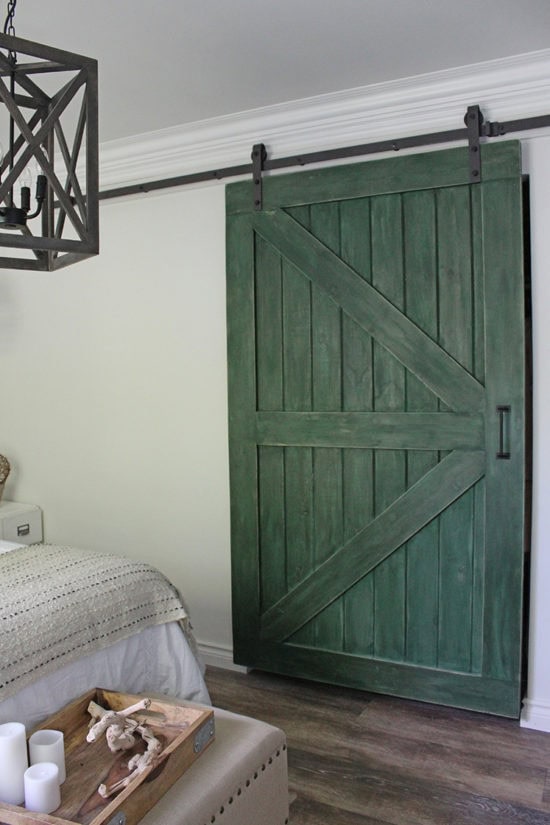 In my kitchen makeover, I used a mix of splurge and save ideas. We splurged on the counters and the appliances, but everything else was a save. I have several cheap decorating ideas that look chic in this space but one of my favorites was adding cabinet lighting. The lighting doesn't cost much and it's really easy to install yourself.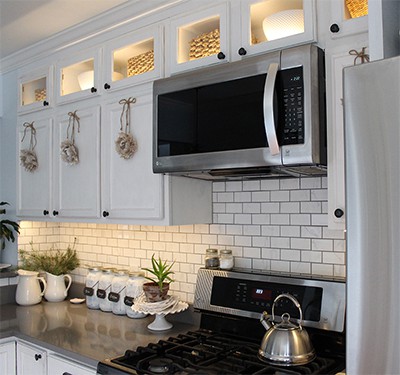 Hack It
I love Pottery Barn and some of the other high-end stores, but I can't afford to shop there and send my kids to college too. So I figured out ways to make some of my favorite items from these places myself, for a (tiny) fraction of their retail prices!
One of my favorite cheap decorating hacks to date was our DIY orb chandelier knock off. At the time this was selling for hundreds of dollars at Restoration Hardware. I figured out a way to recreate it for only $27!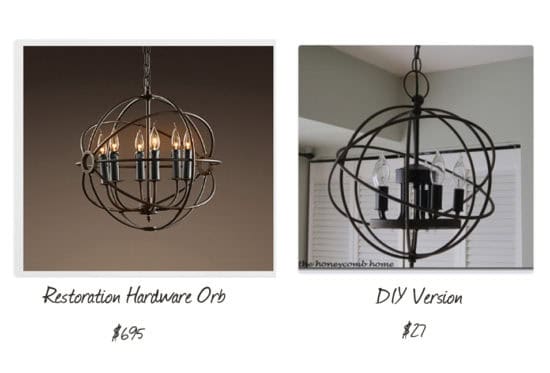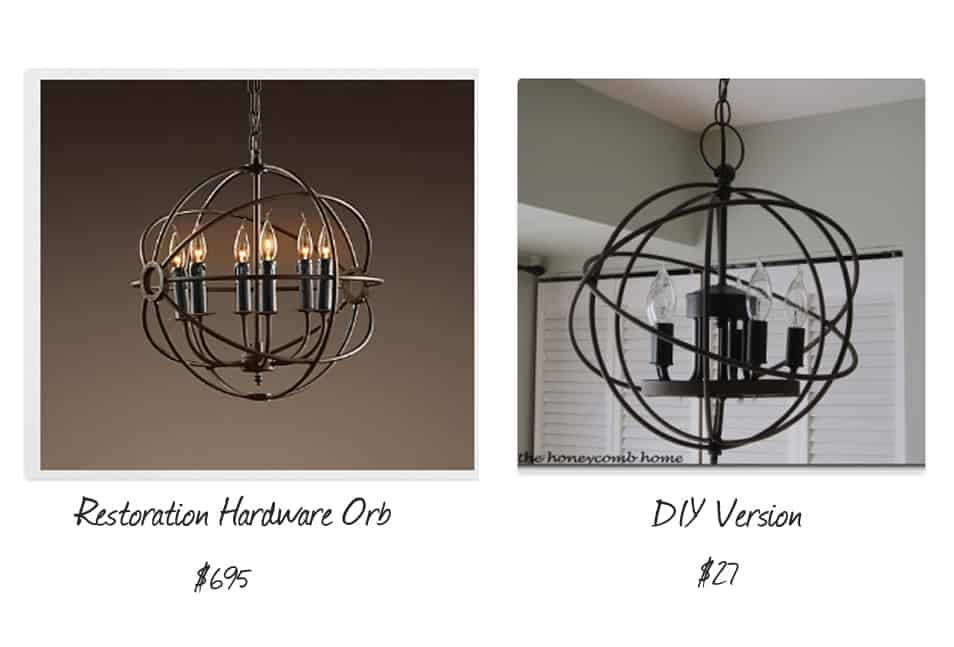 Awhile back Pottery Barn was selling beautiful framed textile art that I really loved…until I saw the price. The cost was $334 for two! I figured out a way to make my own textile framed prints for under $50! I ended up liking mine even better than the Pottery Barn version!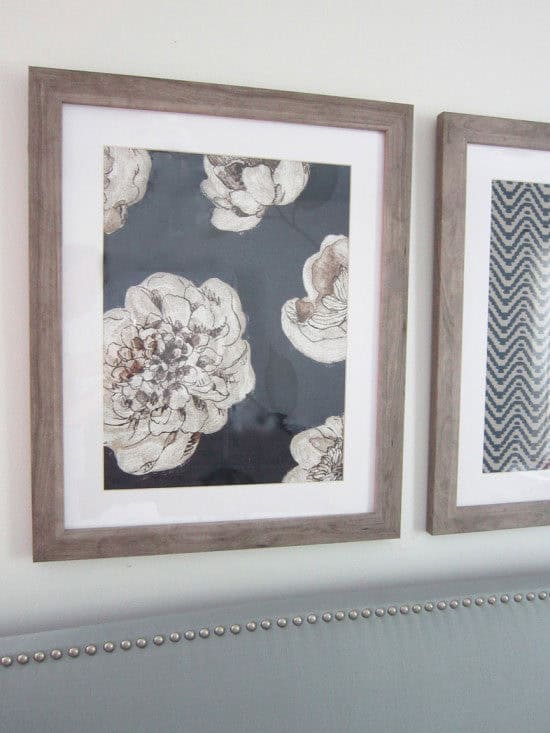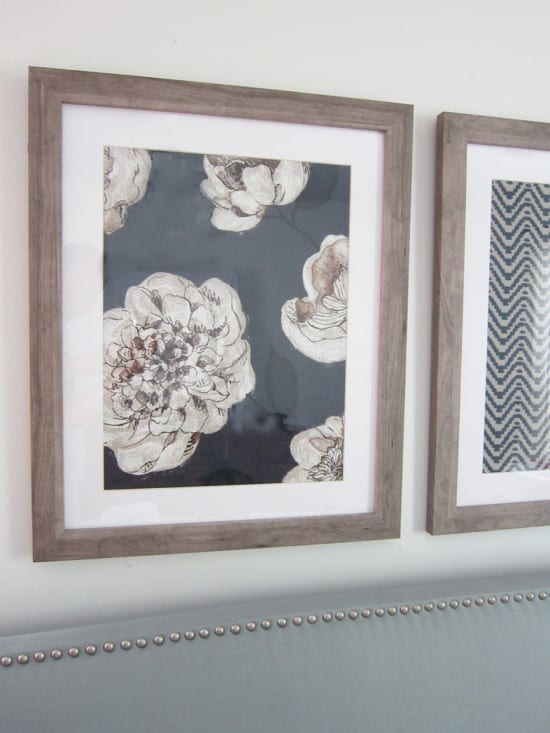 Have you noticed the card catalog furniture trend? I love that look, but to find a true vintage card catalog is going to cost a small fortune. I figured out a way to get the look using Ikea furniture. You can see my DIY card catalog nightstand here.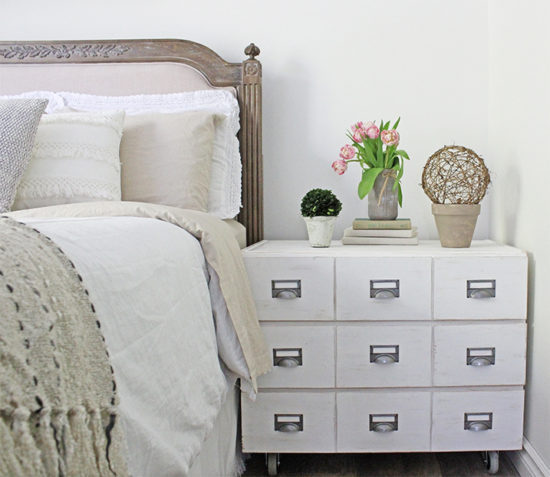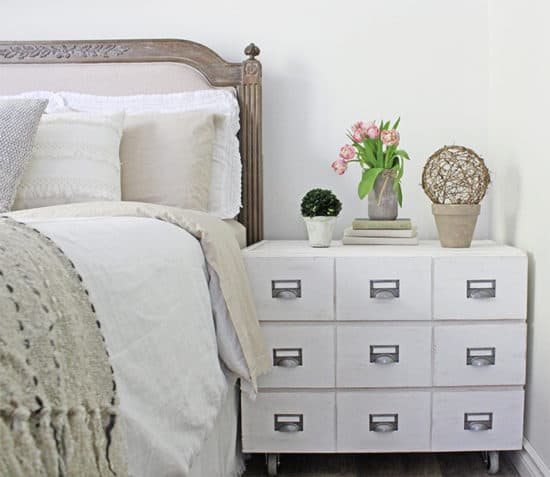 Paint It
Don't you just love to paint? Or is that just me? What better way to get major impact for little money? My daughter moved into a dorm house during one of her college years that was so dark and dreary I knew that I needed to give the space a makeover. I made over an entire living room for $150, and painting the outdated wood walls made the biggest difference of all.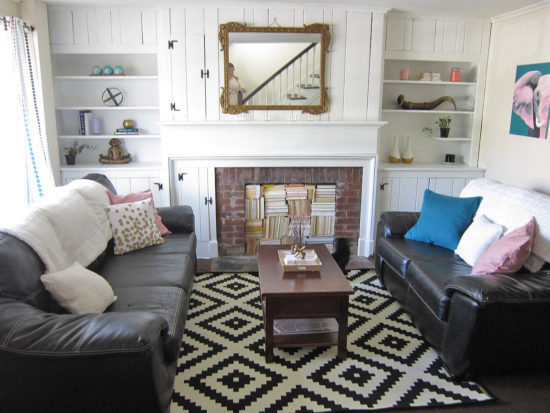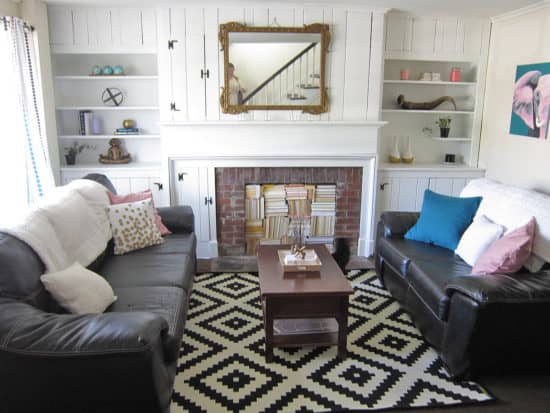 Another amazing paint transformation was my front door. My husband and I have talked about replacing the door forever, but that project never seems to make the budget cut. I finally decided to paint it and was shocked at how a small change could have such big impact.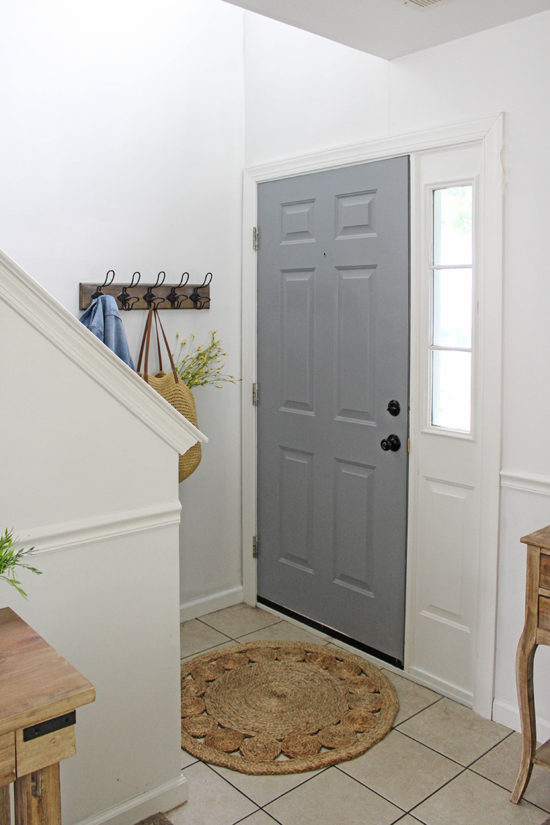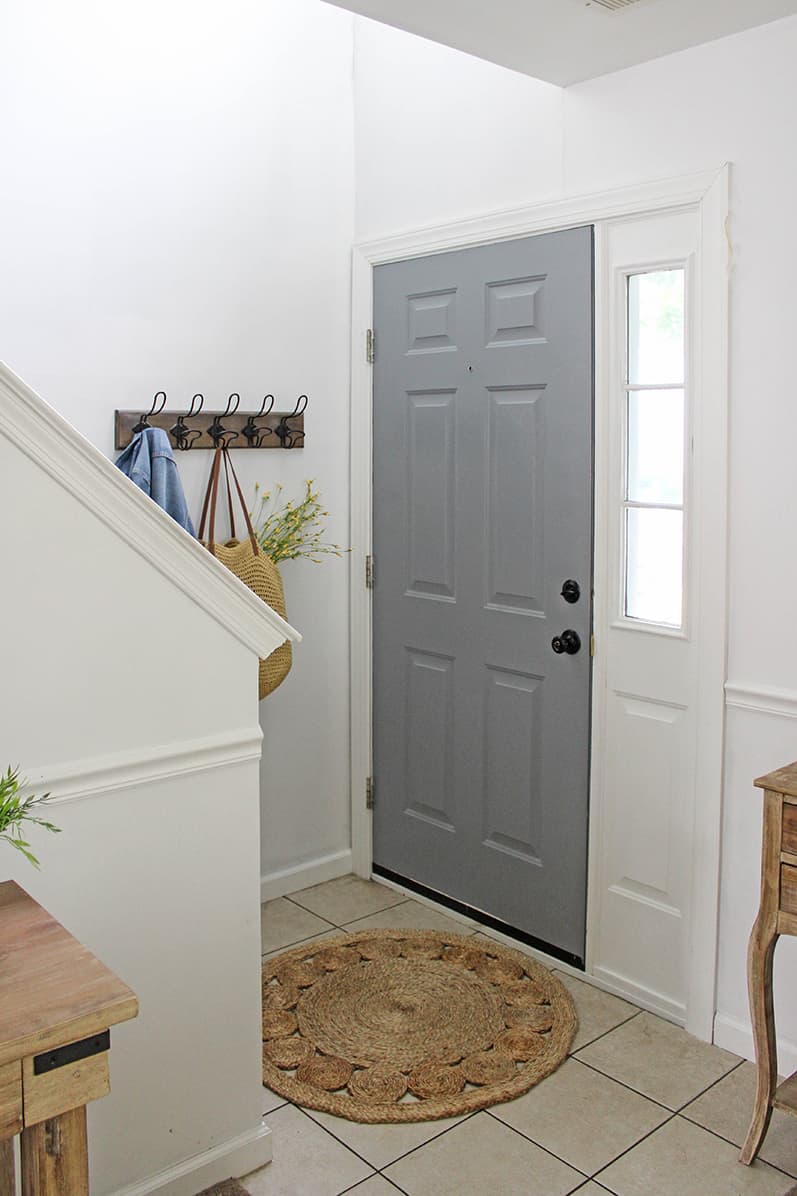 Another easy and affordable idea was this cane back chair makeover. You can find dining chairs for next to nothing at flea markets and yard sales. I found this one for free on the side of the road.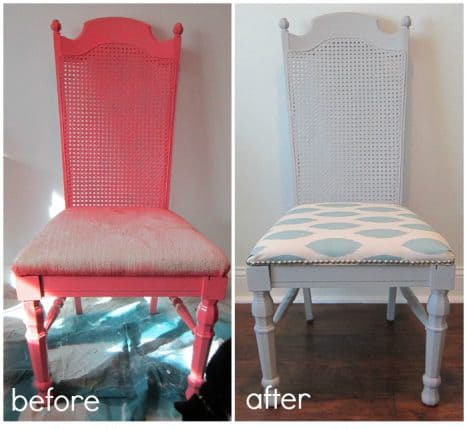 Get Creative
Sometimes you have to just have to get creative. When I saw a beautiful set of closet doors that were crazy expensive, I figured out a way to get a similar look for less. I had heard of a company that makes overlays and approached them to make me a set for my daughter's boring mirrored closet doors. The results were amazing!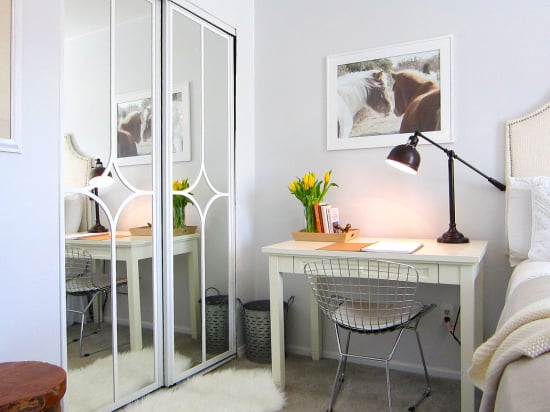 When a friend of mine moved into a new home, we were looking for cheap decorating ideas for her new place. We wanted to add a round sisal rug under her dining room table and I couldn't find any that were really affordable. So of course, we made our own DIY sisal rug for less!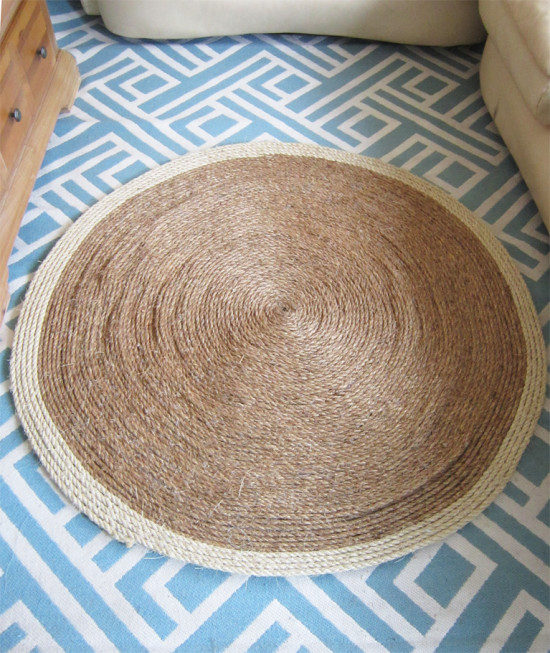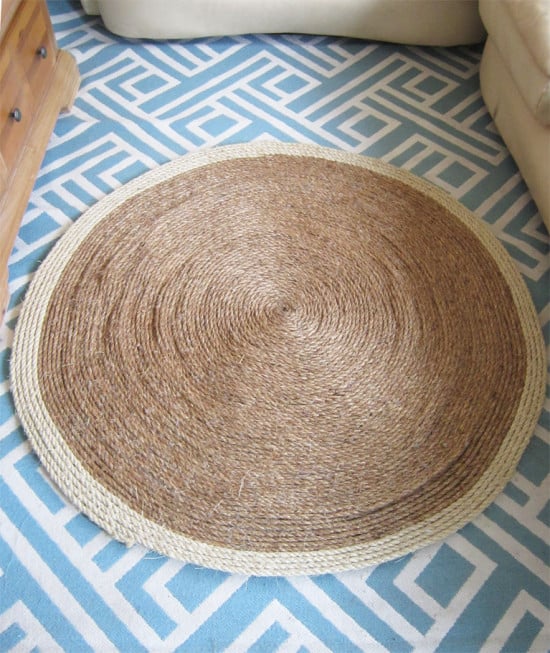 This table makeover could also fall under the "hack it" category. A while back I fell in love with a beautiful nailhead trim table from Arhaus furniture. That small table was crazy expensive so I decided to make my own version! I painted a more affordable table and added my own nailhead trim to it.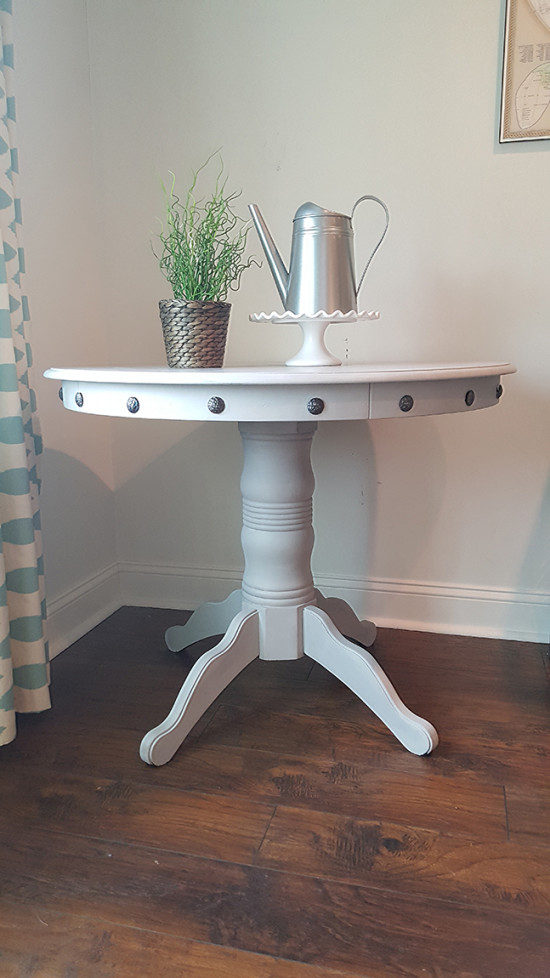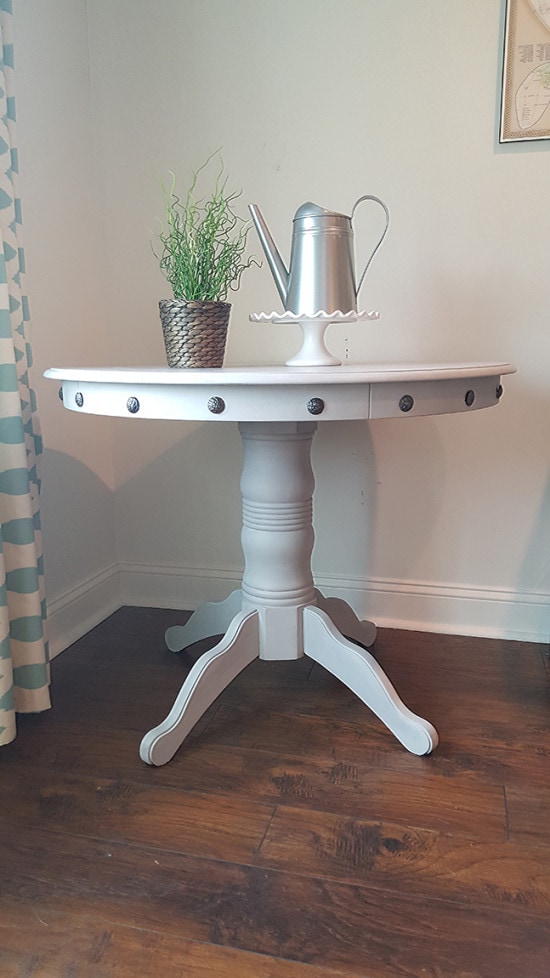 Use What You've Got
I have to admit that I may be becoming a bit of a hoarder since becoming a design blogger. You never know what you'll need when inspiration strikes. It usually pays off to keep these things around. When I was working on my living room makeover for World Market, I needed wall decor for around the TV. I shopped my house and used what I had to create a gallery wall.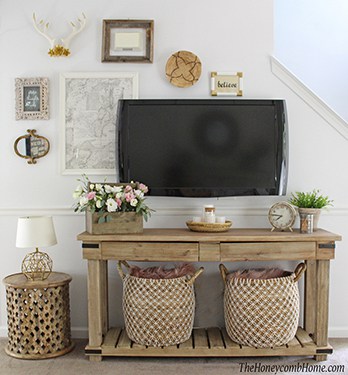 I also needed some items to place on the console table. Using grocery store flowers, I created an impressive display in my wooden caddy for only a few dollars!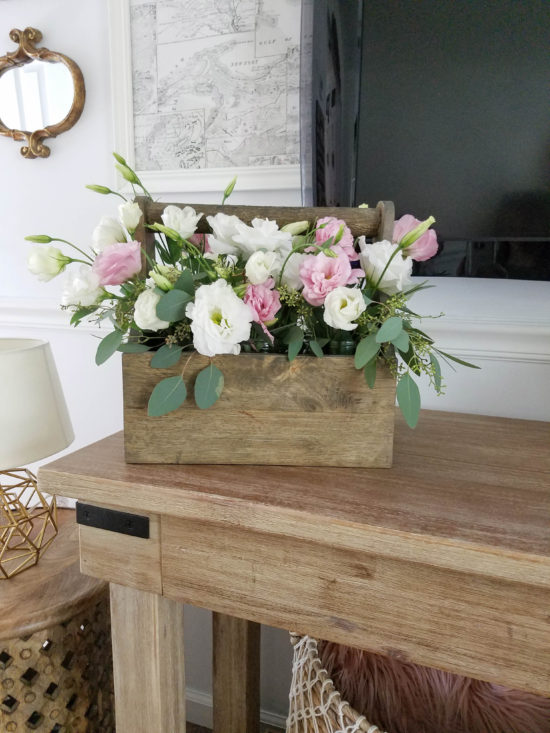 Look To Nature-
Bringing nature indoors not only creates texture and serenity, it is also super cheap! I filled the large empty wall over my sofa with a branch and eucalyptus swag DIY wall decor. The branch was found outside and the eucalyptus was purchased at my grocery store.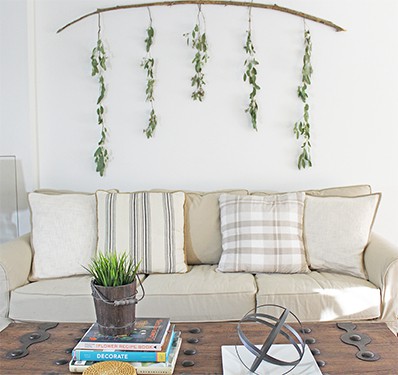 Using items from nature works especially well for seasonal decor. I used dried hydrangea's from my garden in this fall vignette.   The vases are empty coffee cans wrapped with twine.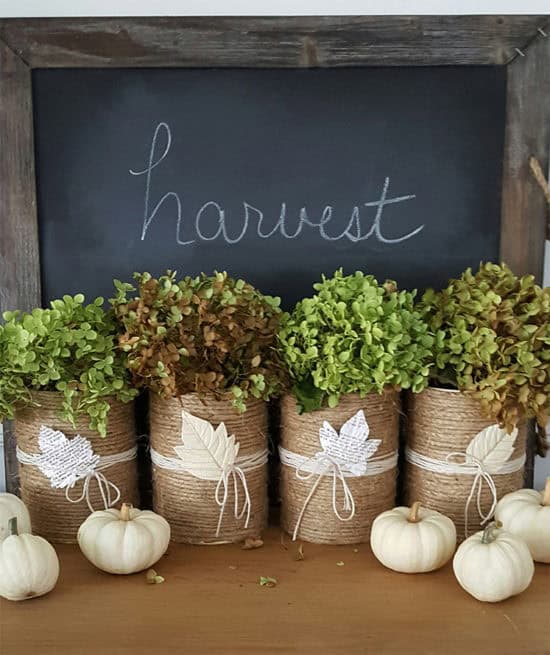 Shop Thrift Stores & Flea Markets
Let me first say, I am NOT a fan of homes that look like everything is an antique or came from a flea market. But a few well-placed pieces, or a really good find can help make your space look chic and add character.
I took 2 burlap sacks that I found at a flea market and framed them for inexpensive DIY wall art.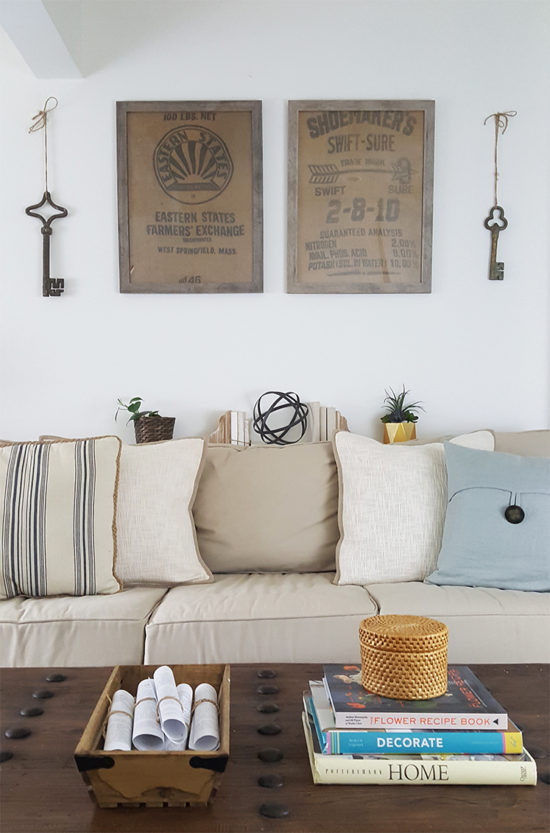 My favorite flea market find was this vintage mantel I found for a steal! My husband and I built a DIY custom fireplace surround for it and made it the focal point of our living room for next to nothing!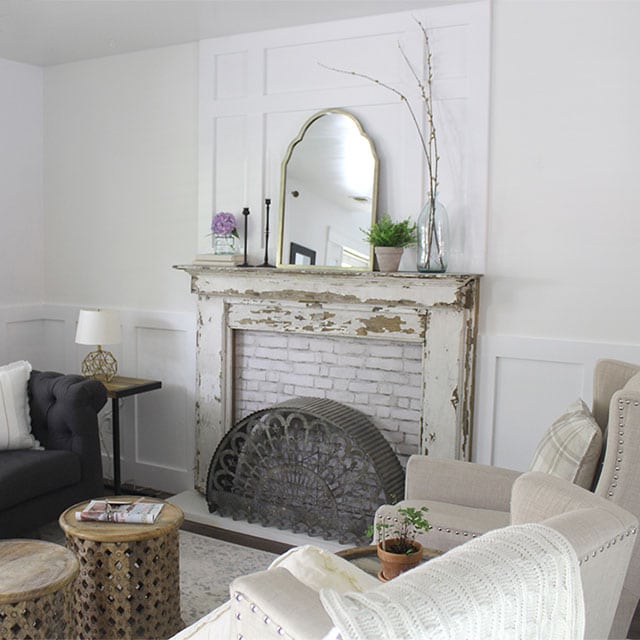 I found this old hutch on Facebook Marketplace for only $45. With a little paint and some elbow grease, it's a whole new piece of furniture! You have to see the before on that one.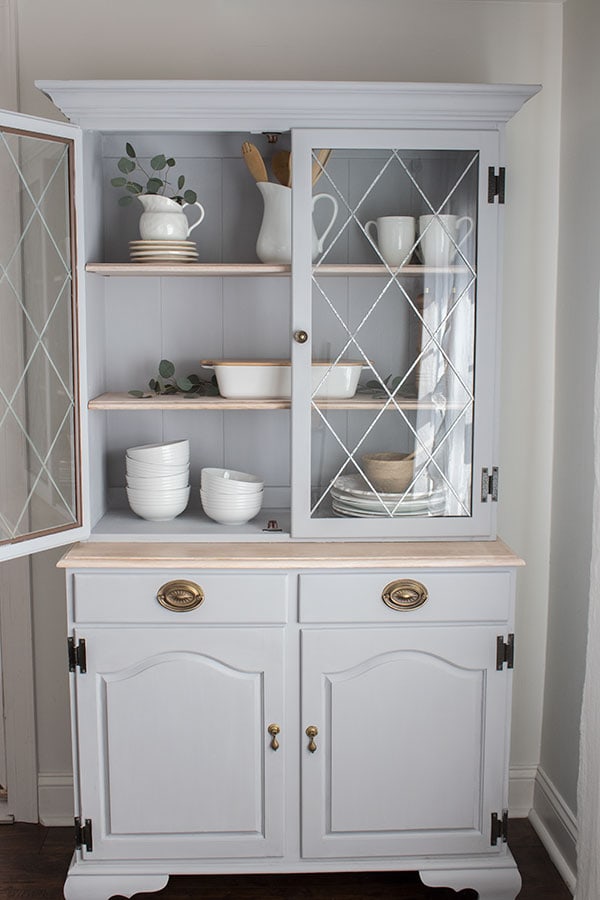 I also occasionally shop eBay, especially if I have something specific in mind that I'm looking for. When I was looking for map art I found an amazing set of map prints for under $20. I framed them using really inexpensive Wal-Mart frames. The outcome was this large scale map print wall decor!
One last piece of advice is to keep some versatile decorating accessories on hand that you can reuse and recreate when you feel like it. You can also browse my project gallery for even more affordable and cheap decorating ideas!
*This post contains affiliate links, you can read my full disclosure here.
Pin it for later: