For the past six weeks I have been a one-woman, house-crashing show! It's been so much fun and I couldn't be happier with the results! Before I get to the details we have to go straight to the before and after! Remember how dark it was before?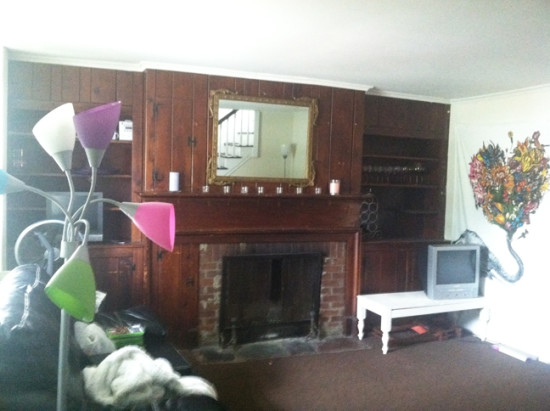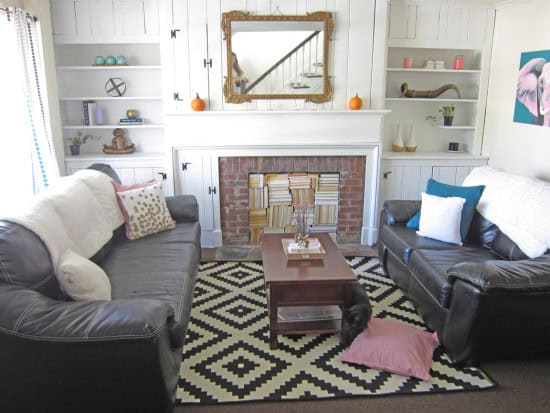 It is so much lighter and brighter now! If you are reading this for the first time, this house is an off-campus college house that my daughter shares with three other roommates. Taking that into account, I certainly didn't want to spend a lot on this makeover since they will only be here for another year and a half or so. I really did this on a shoestring budget! First I painted this dark wall. That was a tremendous improvement on its own. I used Sherwin-Williams Pro-Classic paint in Bright White after priming. You can read the step by step on how to paint original woodwork here. Thanks again to Sherwin-Williams for sponsoring the paint for this makeover!!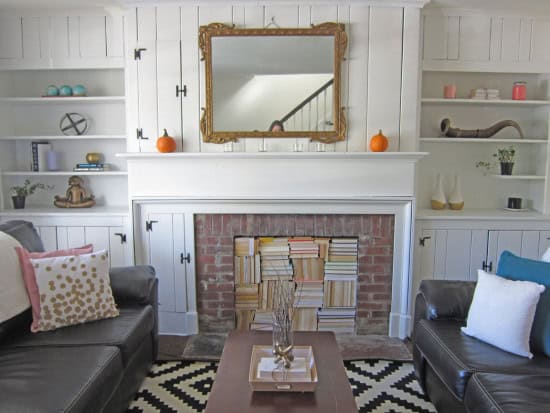 Filling the fireplace with books was the next step. That idea came to me when one of my daughter's roommates adopted a cat, and the girls were having trouble keeping him out of the fireplace. I just love how this looks!
Luckily, the girls already had the sofas. They were given to my daughter by my friend when she purchased a new set. The sofas were pushed up against the walls, not doing anything for the floor plan. And the black leather just added to the overall darkness with the wood wall and brown carpeting. I never took any measurements and was slightly nervous that the layout wouldn't work, but luckily it worked out just perfectly!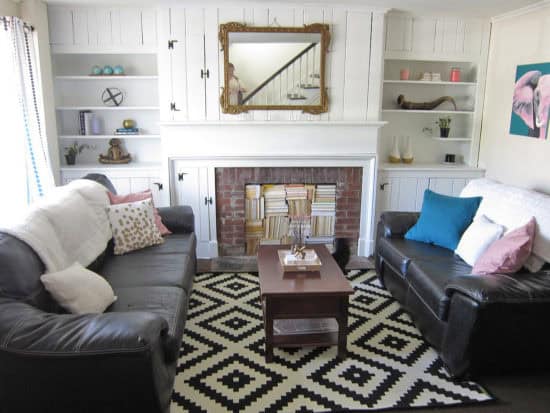 I pulled them away from the walls, and then added the coffee table that was also already in the space. This layout is much more conducive for conversation and hanging out for the girls. The elephant painting (painted by one of the roommates) you see above, along with the existing gold mirror dictated my color choices. I pulled those colors throughout the room with the throw pillow covers, the curtains, and the accessories on the shelves.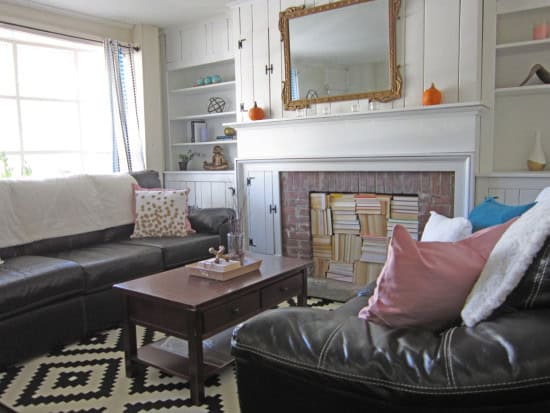 The bay window wall before had green curtains that were too dark and too short. The photo below was taken on painting day, so it was very messy! I had also hauled baskets and boxes of the books for the fireplace this day. Did I mention there is never anywhere to park on this street? I hauled boxes of books and 7 ft rugs, painting supplies, and accessories for blocks every time I went there!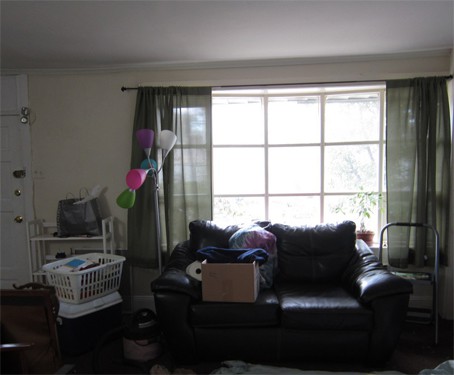 I replaced those curtains with these lighter, brighter panels. They help tie all the colors in the room together.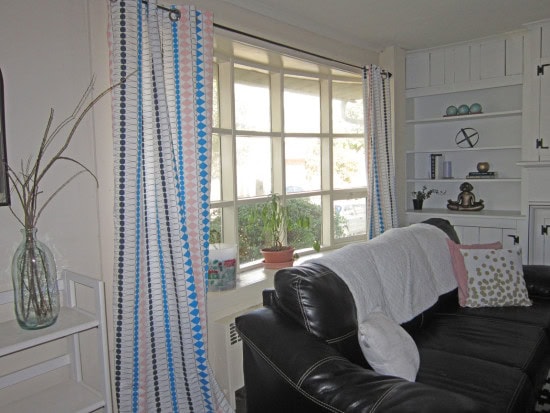 I love the
gold dotted pillow
* cover and it was under $8! I used pillow inserts I already had so I only had to purchase the covers. The blue and pink pillow covers are from
H & M
Home and were only around $5 each.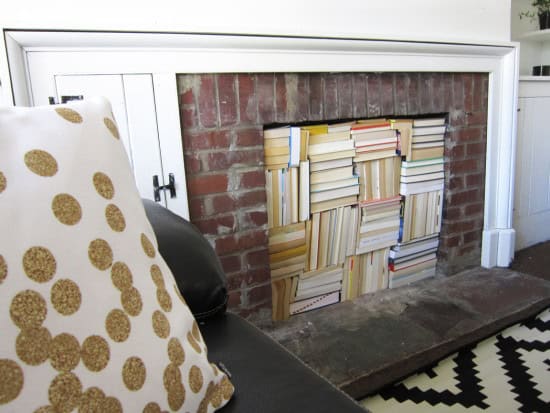 How cute is the yoga dog on the shelf? He is from Pier 1 and I've had him awhile. He was in my daughter's room at home, but he fits so perfect here!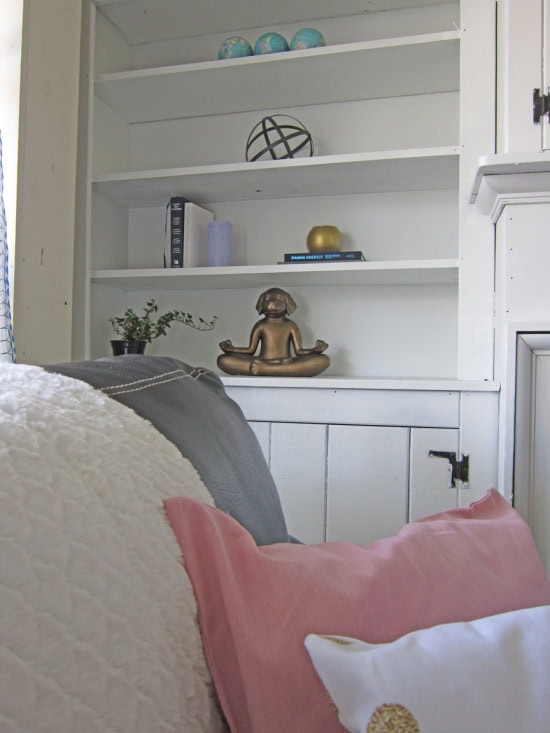 These bull horns are real. My daughter's friend had given them to me because he knew I loved antlers and rustic decor. I never could find the right spot for them in my own house, but they work perfectly here!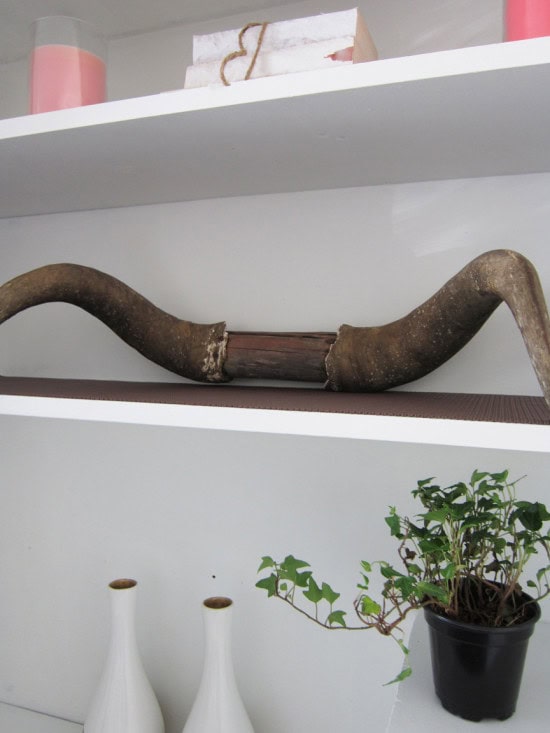 And the rug. I just love it, it's the perfect touch in here. I have to admit, I was kind of wishing I bought that for my own living room after seeing it in the space.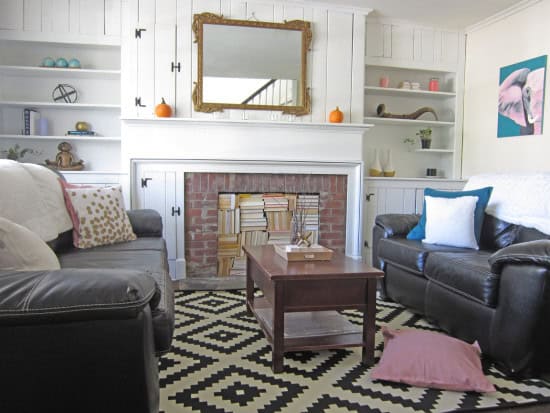 The black blur on the rug you see in the next photo is the cat, Salem.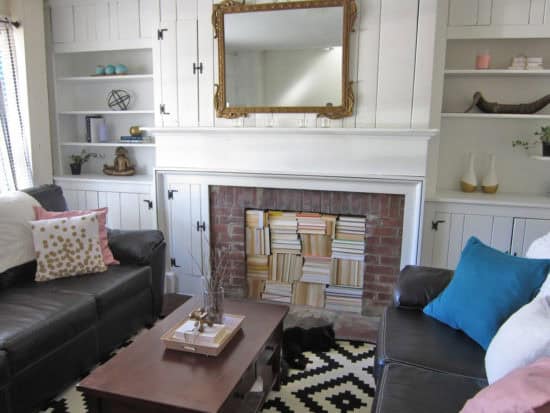 The day I finished the design I was so excited. Is there such a thing as a designer's high? Like a runner's high? I'm thinking yes, and I had it that day!
As for the other side of the room, here is the before.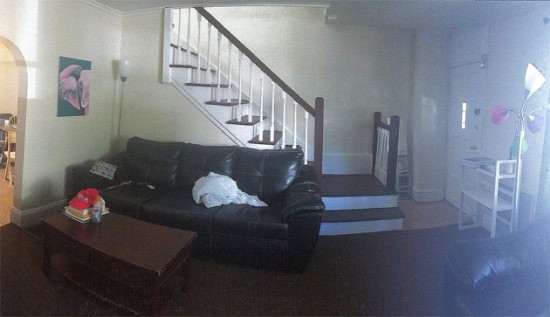 And after. Honestly, this little corner needs some tweaking but I ran out of time.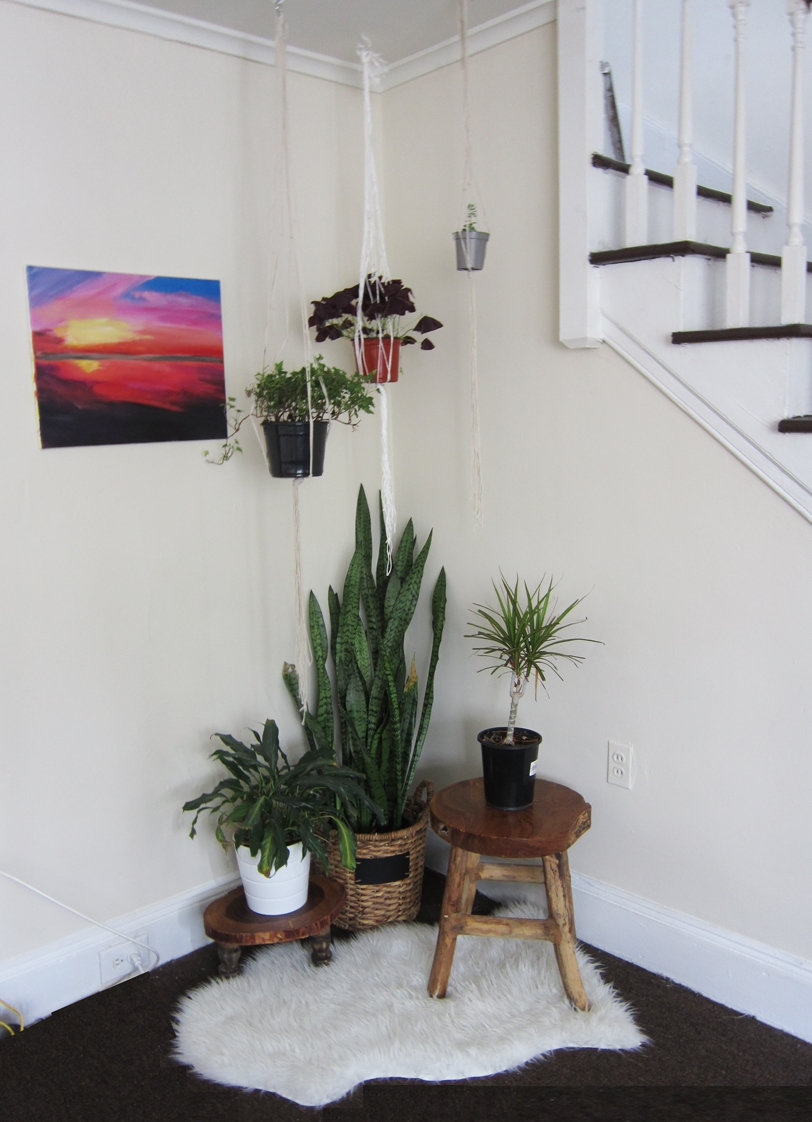 I just want to point out again this is a rental house. If you happen to live in a rental, you do not have to spend a lot to make it more of a space that reflects your style! I spent a total of around $150 on the entire room makeover. All of these accessories, the rug, and the sofa can all be taken to my daughter's next residence. Even if she will only be here for the next 18 months, they would have been very long months in the previous dark, depressing state! If you want more tips for decorating a rental, see this post.
Decorating this room was part of the One Room Challenge started by Calling it Home, I'm sure there will be tons of amazing reveals from the other participants over there today! If you missed weeks 1-5, and you would like to see the progression of this room, you can catch up below. Week 5-The Sneak Peek has some after photos not included in this post!
Week 3 – Painting Original Woodwork
And the before and after one more time: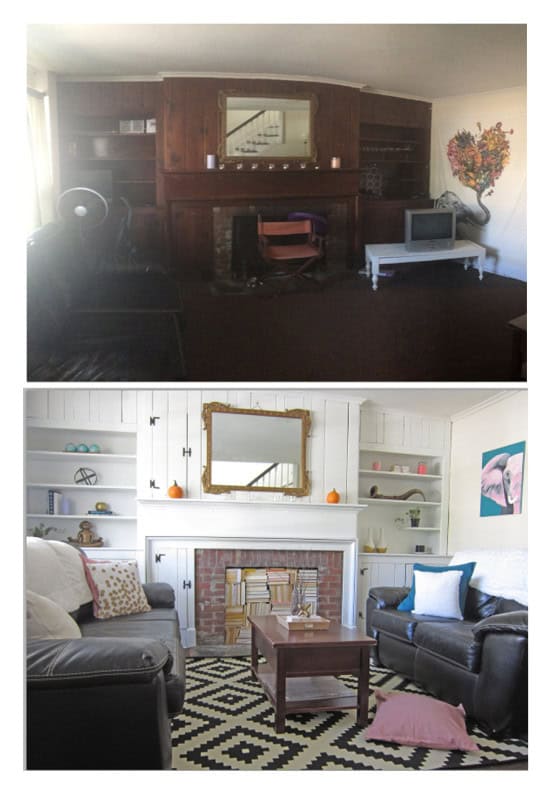 *This post contains affiliate links*