Painting Original Woodwork – ORC – Week 3
Painting original woodwork can be controversial. Some people say you shouldn't. I never understood  that. I think you should do what makes you feel good when it comes to decorating!
In case you missed it,  this is the third post in a series of 6 for the One Room Challenge I'm participating in that was created by Calling It Home. You can catch up with week 1 here and week 2 here. As a reminder, here is the room I started with.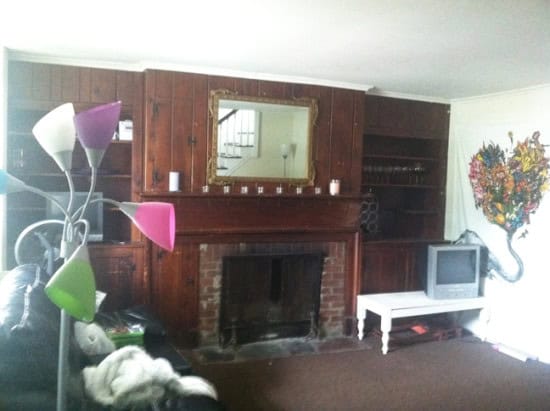 The first thing I needed to do was paint that woodwork. I wanted to be sure I did this correct the first time around so I contacted Sherwin-Williams for advice on the best paint to use for this situation. Not only were they SO helpful, they ended up sponsoring this post for me by donating the paint for this project. Although I received paint as compensation for this post, all opinions expressed are my own as always.
Using primer first on this wood is a necessary step. Which primer to use depends on the wood itself. If the wood has a shiny finish to it and is smooth to the touch you can use a latex primer. If it's more of a rough finish, you need to use an oil-based primer. When using oil-based, you will need ventilation in the room and you should wait a full 24 hours before applying your top coat of paint over it.
Luckily for me the wood in this room had a smooth, kind of shiny finish to it so I was able to use the multi-purpose latex primer. For my top coat, I chose Sherwin-Williams ProClassic paint in Extra White with a satin finish. The ProClassic line provides a durable, non-yellowing finish that can withstand tough wear and tear according to Sherwin-Williams.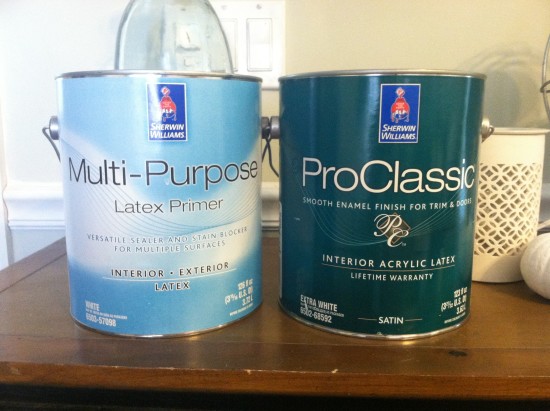 You should begin by filling any nail holes or cracks in the wood with a patching paste or wood filler,  and sand smooth before beginning to paint. This fireplace wall had black antique hinges that I didn't want to cover. So I started by outlining around those with a small artist's paint brush.
Then my daughter and I began to paint. It took two coats of the primer to get enough coverage. After letting that dry for about an hour or two (technically you are supposed to wait 4 hours)  but the primer dries fast so we went ahead and added one coat of the Extra White ProClassic. Now the room feels not only brighter, but bigger too!
I love the contrast with the black hinges now. You wouldn't have even known they were there before. We also rehung the existing gold mirror which now looks perfect with the white background.
I plan to get back over there this weekend to fill the fireplace with books like I mentioned in my design plan last week. After that I will rearrange the furniture into a more functional layout. Last, I will bring in an area rug, new window treatments and accessories.
A big thank you to Sherwin-Williams for not only sponsoring this post but for guiding me to the correct paint & primer choice. Be sure to check out their ProClassic line of paint here. Never underestimate the power of paint to transform a space!
Week 3 – Painting Original Wood Work