Restoration Hardware Knockoff Chandelier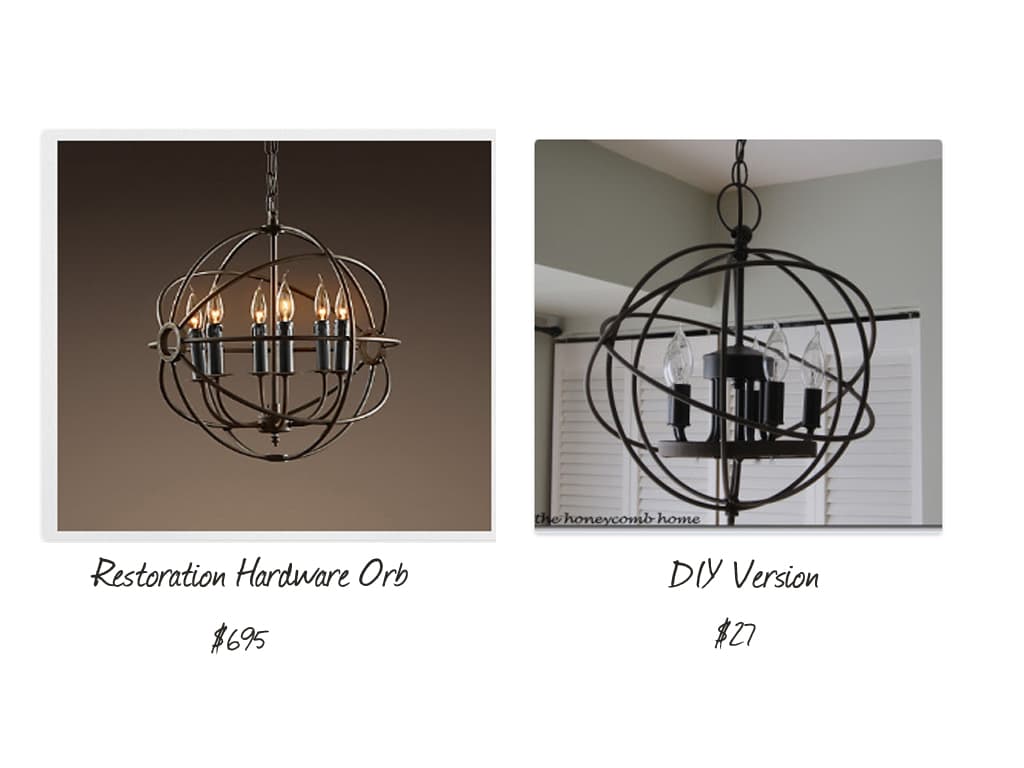 Orb chandeliers have been around for a while now. I don't know about you, but I love them as much now as when I first saw one over at Restoration Hardware. I have been coveting this one for at least a year now.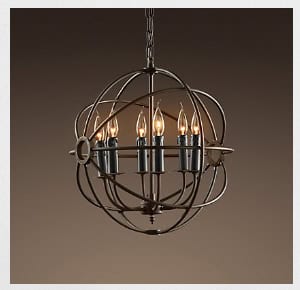 While shopping in Home Goods one day, I found the inspiration to make my own DIY light fixture. It was in the gardening section and clearance-priced at $12. I knew immediately I wanted to turn this into a light fixture. Of course, I would need my husbands help with the electrical part of this project. He really doesn't like home improvement projects, but agreed to help out with this one.
Now to figure out how to get a chandelier to fit in there. I visited thrift stores, yard sales, & Habitat For Humanity with no luck. I finally found what I was looking for in a local antique store. Check out this brass & glass fixture from the 70's. I knew the chandelier part was small enough to fit between the metal bars of my orb.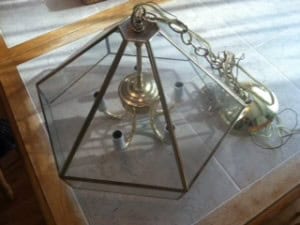 Next, John disassembled the ugly  brass chandelier, which fortunately came apart by simply unscrewing it. Then  I spray painted over the brass with Rust-Oleum metallic spray paint in bronze. I used metallic because that was the only finish I could find in the bronze. I did not spray paint the orb itself to match because I liked the weathered look of the orb the way it is. Once it dried, John attached the chandelier to the base with metal brackets called cable straps.
And finally, here is our version of the Restoration Hardware Rustic Iron Orb chandelier.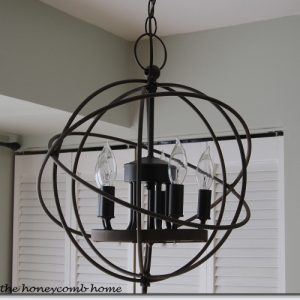 RH chandelier cost:  $695.00 for the small one . My version cost: $27.00. I have seen other versions of this orb at Marshall's and TJ Maxx . Home Goods recently had one in a beautiful shade of Kelly green. I also found some orbs online, you can see them here and here. You could also simplify the chandelier part and just use a pendant lighting kit for the center. Happy hunting!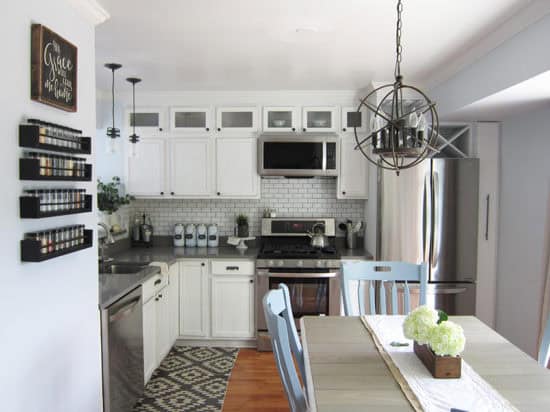 You can see my full kitchen makeover here.
This post contains affiliate links.