Kitchen Makeover Reveal & A Giveaway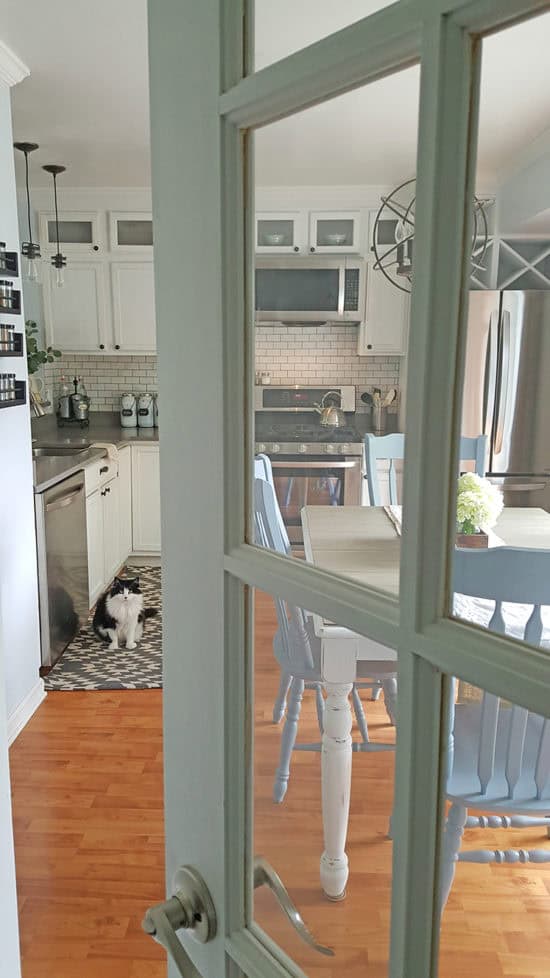 The day is finally here for the One Room Challenge kitchen makeover reveal! It's been an exhausting six weeks taking part in this challenge, but it was totally worth it. There is also a giveaway for you to enter at the end of this post to celebrate! So lets get right to it, here's a reminder of what we started with in our kitchen. Basic builder grade everything and too many orange wood tones. UGH.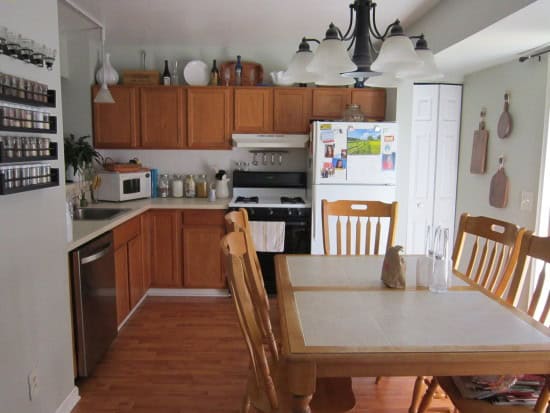 And here, finally, is the after. Drumroll please…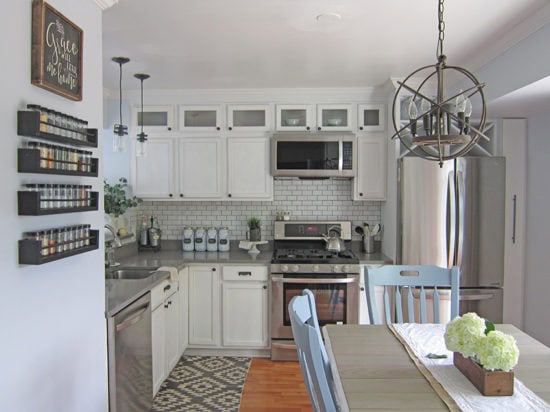 We saved a little money by painting and repurposing our old cabinets. The appliances and countertops were the only splurges.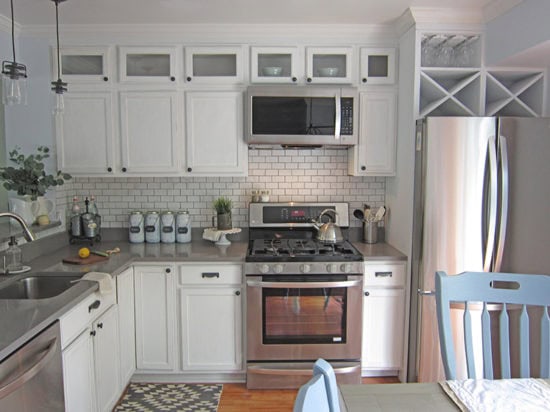 Here is an old photo of the kitchen taken from the living room side.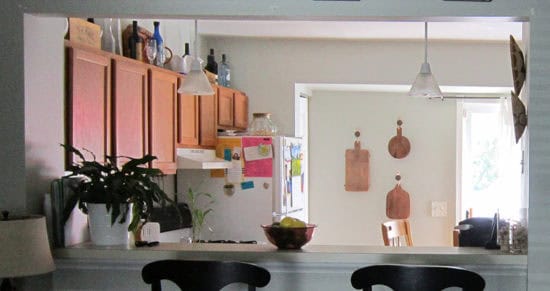 And the view now. We want back and forth a few times regarding what to do with the space above the fridge, especially with that soffit in the way but ultimately it came out just as I had envisioned it.
My contractor custom-built this for us, even adding the "X's" for the wine bottle holders. Obviously, I haven't had time to buy any wine yet.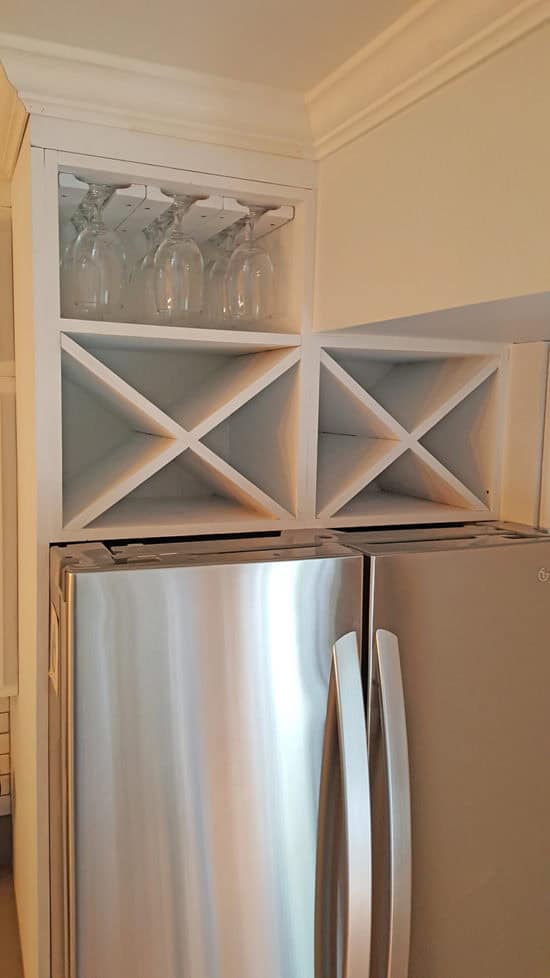 For the upper box with the wine glasses, he built the shell and I ordered these under cabinet wine glass holders* that my husband installed after I painted them white.
Here is another angle before the kitchen makeover.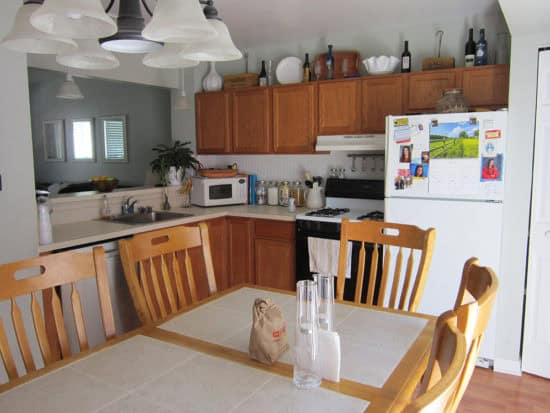 And after.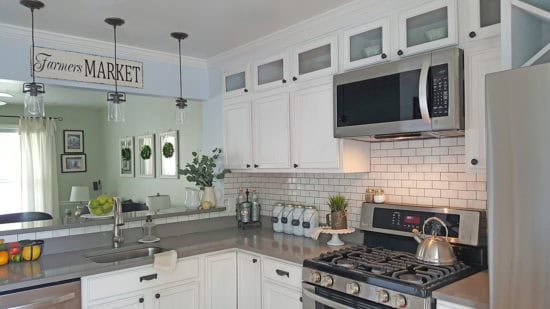 As you can see we extended the existing cabinets to the ceiling. Using stock cabinets was a budget-friendly way to do that!
We did have to fill in a few spots with custom built cabinets to make it work, but we still saved money doing it this way.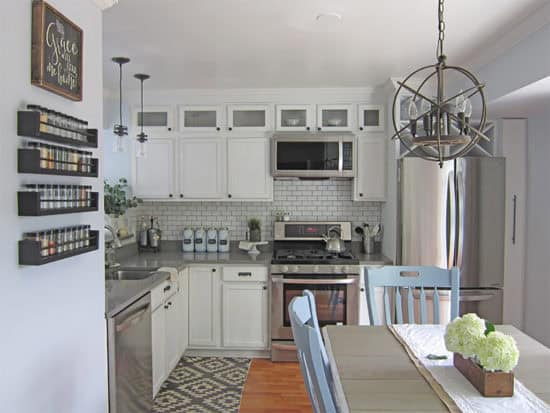 There is still one upper cabinet without the glass insert, the paint was literally still drying on that one as I took these photos.
It was a happy day for me when my husband removed the old counters. We saved about $500 removing them ourselves as opposed to having Home Depot do it.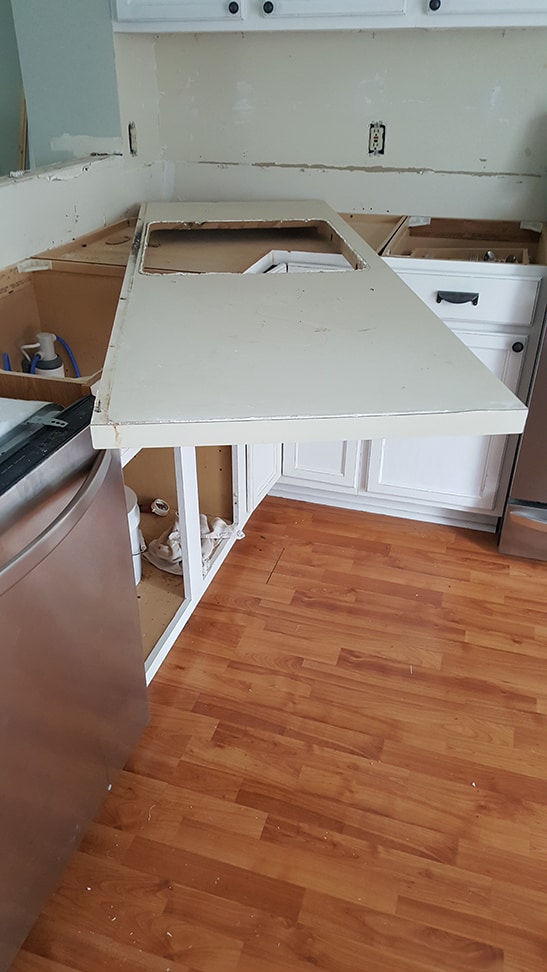 The new counters are quartz, in the color gray expo. I picked a high shine counter even though I knew it will show fingerprints and smudges more than a matte finish. I waited so long to get rid of the flat laminate counters that it's worth it to me to keep them shined. (For more information on the counters, read What You Need To Know Before Buying Kitchen Countertops ) The new undermount sink is awesome also! And the pendant lights from Lamps Plus are just beautiful too.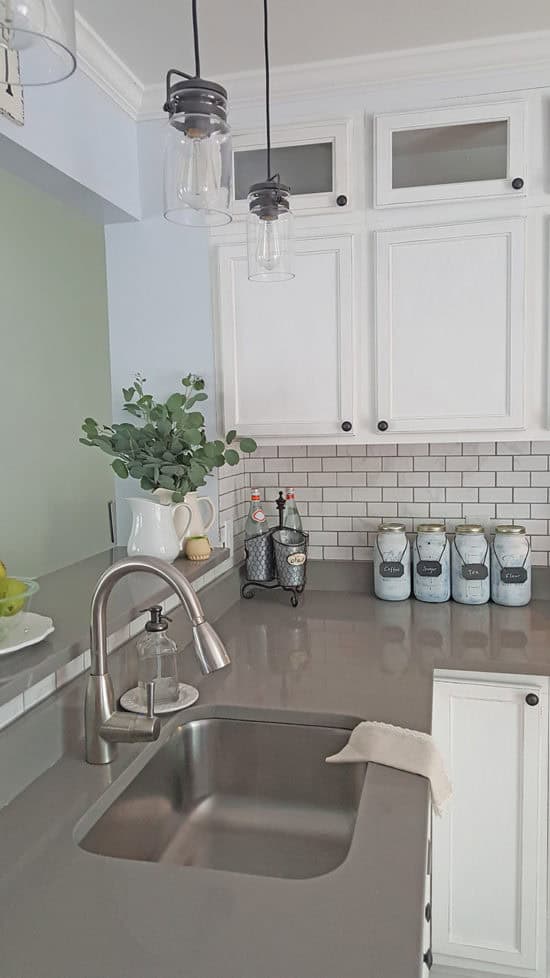 Because the kitchen is open to the living room, you can see we only painted the kitchen. Painting the living room just moved high up on the to-do list for me. Our contractor also added the crown molding all the way around the room for us. The orb chandelier shown below was a DIY project from a few years ago, it only cost us $27 to make!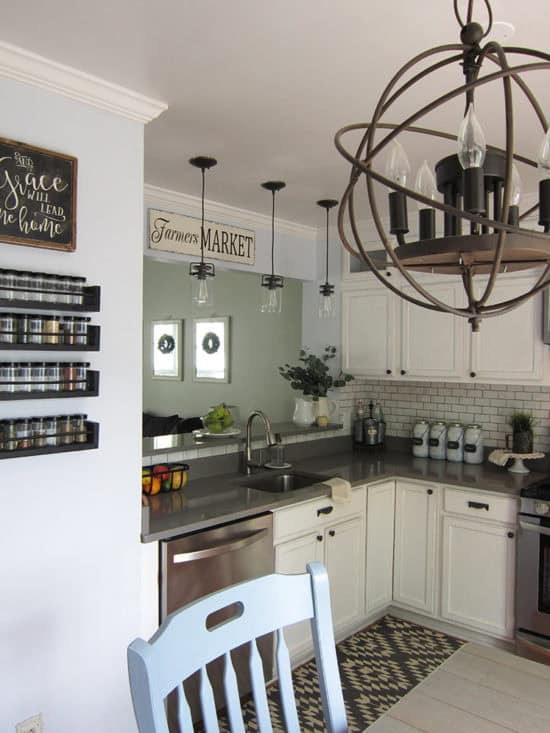 I also picked up new spice jars for my spice wall racks because the old ones didn't all match. To customize them, I labeled them with round chalkboard labels*.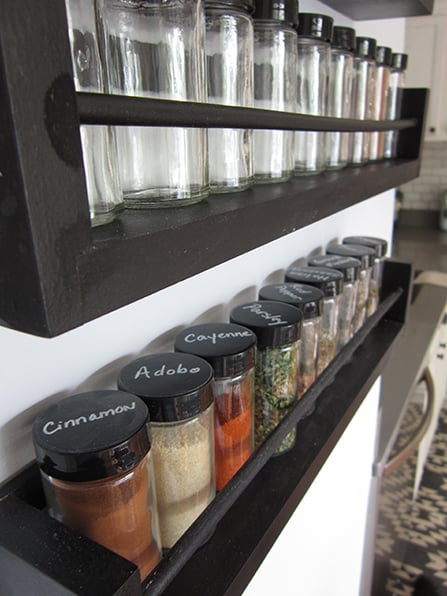 I found this little vintage can at my local antique store. I don't know what it's called, but its purpose is for sifting powdered sugar.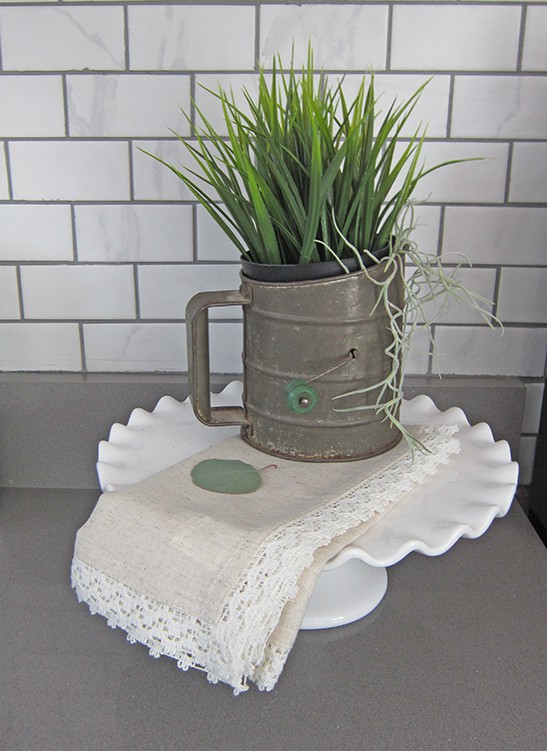 And this pantry is amazing, I can't wait to get it organized! It goes all the way from the floor to the soffit to maximize every inch.
And to recap, here is our kitchen makeover checklist:
Buy a new refrigerator
Add a row of cabinetry above the existing cabinets to extend to the ceiling
New countertops
New undermount sink
New backsplash
Paint existing cabinets
Add glass fronts to some of the cabinet doors
Install lighting in new upper cabinets
Install lighting under lower cabinets
Add new cabinetry hardware
Install new pendants over the sink
Completely makeover the existing table and chairs
Paint the walls
custom built-ins over the refrigerator
custom slide out pantry
crown molding
add bun feet under cabinets
Unfortunately, we did not get the cabinet lighting installed. We needed a few connectors that we had trouble finding and just ran out of time, we will add that soon. (Update, we added the cabinet lighting!) 
We also didn't get the bun feet installed under the cabinets because I couldn't find the type I had in mind anywhere, so we are going to have to custom make those.
Another thing not on the checklist that we didn't get to is adding a decorative strip of molding across the front of the cabinets where the existing uppers meet the new uppers that we added.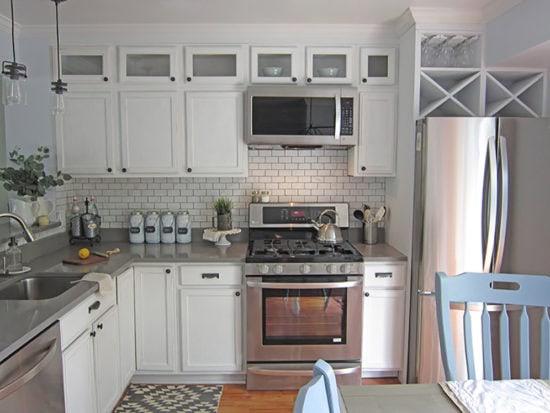 I have to give a HUGE, GREAT BIG thank you to my husband for making this kitchen makeover happen for me. He basically gave up every weekend for at least the last four or five weeks to get this done in time, and he did so happily. Which is especially appreciated because he doesn't always enjoy DIY projects. He literally hasn't even had time to cut the grass in at least 2 weeks, which I know is driving him crazy. Thanks, John!
I also have to thank my sponsors: Lamps Plus, Stikwood, Amerock Hardware and Wayfair. Lastly, thanks to the Back Porch Shoppe Etsy store where I purchased my Farmer's Market sign. They kindly gave me a second one to giveaway here today to one lucky reader! Be sure to check out all the amazing signs they have in their shop.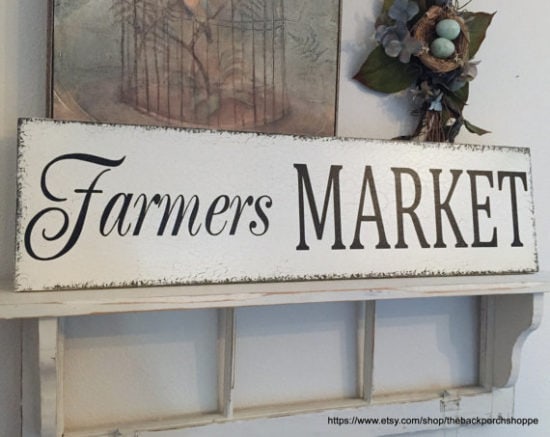 Enter below and good luck!!
Sorry, the giveaway has ended.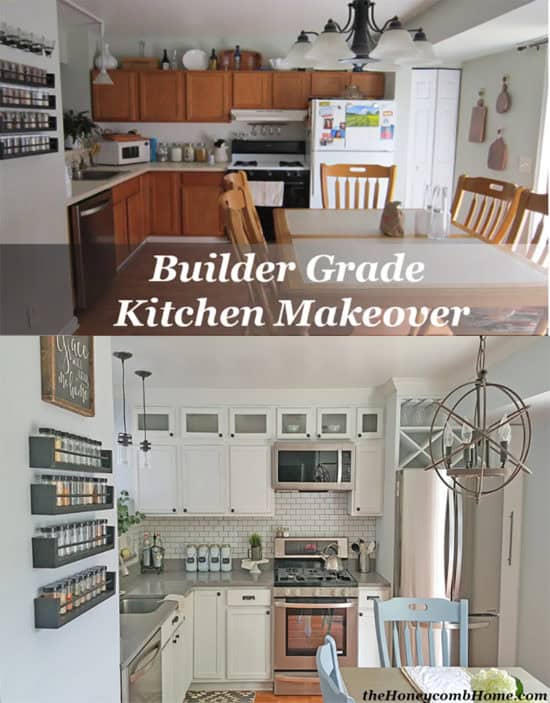 ---
YOU MAY ALSO LIKE: