Kitchen Pendant Lighting ORC Week 3
Week 3-we are halfway there….Yikes! I've made progress since week 2, but I wish I were further along than I am. As I mentioned last week, we did get our new pendant lighting installed above our sink area. I'd like to say a huge thank you to Lamps Plus, one of the official sponsors of the One Room Challenge,  for sponsoring* these Old Bronze Mini Pendants for this makeover. I just love this new lighting.
I haven't previously shared a before photo of the kitchen from this angle. We had two pendants on a track hanging above the sink before. I've wanted these changed out for years, as well as wanting to get rid of the track that they hung from.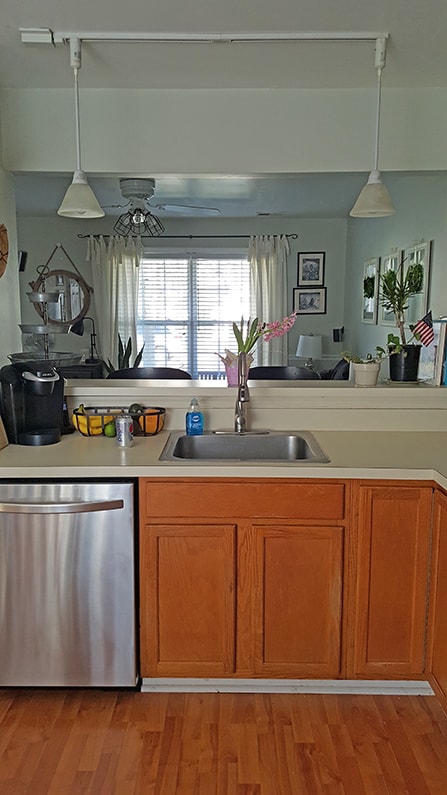 Luckily my husband, John,  is great with electrical work and was able to switch the two old pendants for the 3 new ones, minus the track!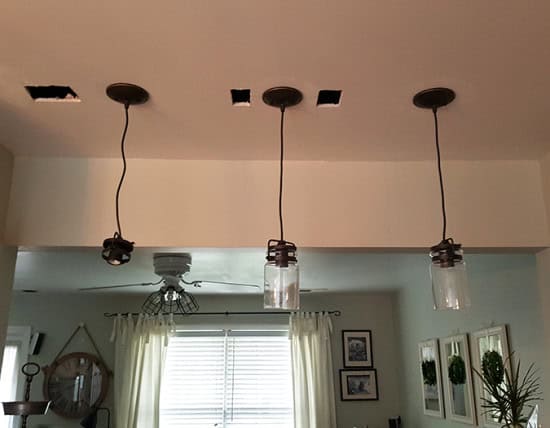 And he even looked happy doing it.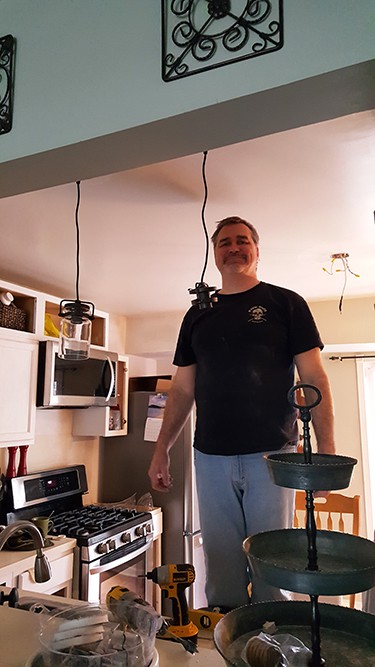 After John had them installed, I added my regular light bulbs. Then I realized they would look much cuter with Edison bulbs instead. Here is a shot showing one of each type of bulb in the pendant.
As you can see from the photo below, still no countertops. But I do have an install date set for next week which will still give us two weekends to complete everything else. We removed the old backsplash and I've gotten a good amount of the cabinets painted. Notice that a few of the upper cabinets are still without doors, I'm still working on those.
Although I've only crossed one additional thing off our list since last week, a few of the others are halfway there. We made over my kitchen table last weekend, which I shared a sneak peek of on my Instagram. I'm still working on making over the chairs. Painting the cabinets is almost done.
Buy a new refrigerator
Add a row of cabinetry above the existing cabinets to extend to the ceiling
New countertops
New undermount sink
New backsplash
Paint existing cabinets
Add glass fronts to some of the cabinet doors
Install lighting in new upper cabinets
Install lighting under lower cabinets
Add new cabinetry hardware
Install new pendants over the sink
Completely makeover the existing table and chairs
Paint the walls
Thanks again to Lamps Plus for sponsoring my kitchen lighting! They are a pleasure to work with, with incredible customer service. I would highly recommend them for your lighting needs. I am also using lighting from Lamps Plus to light my upper cabinets as well as the lowers, but that is yet to be installed.
I'll see you back here next week with my Week 4 progress. Be sure to check out my Instagram for sneak peeks!
Week 1-  Kitchen Before Photos
Week 2- Kitchen Design Plan
Week 3- Kitchen Pendant Lighting
Week 4- Installing Cabinetry Hardware
Week 5-  DIY Farmhouse Table
Week 6-  Kitchen Makeover Reveal
 *You can read my full disclosure on sponsored posts here.