Kitchen Makeover Before-One Room Challenge-Week 1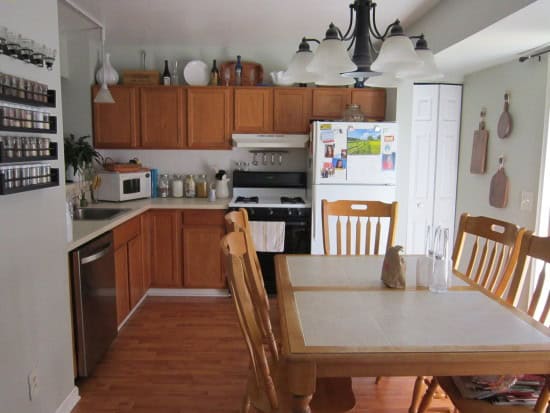 Hey there and welcome to my latest project-the One Room Challenge kitchen makeover! I'm finally tackling my builder grade kitchen once and for all. The One Room Challenge was started by Calling It Home and it is a design challenge for interior designers and home decor bloggers. You may remember my Living Room Makeover from the last challenge. That makeover was a challenge because it was a room outside of my own home, so working on it sporadically when I could get there was difficult.
My kitchen poses its own challenges because I am undertaking a lot in here. I shared my kitchen makeover plans last December. My old stove, shown in the before photo above, broke and we needed a new one. With that, we decided to purchase the microwave to install above it. That led to taking down the existing backsplash which in turn opened the whole can of worms for remodeling this space.
After making  a few initial changes back in December, we came to a standstill with progress. We wanted to hold off until after Christmas. Then in the New Year we were hit with many financial setbacks preventing any progress.
Now we are back on track and ready to knock this out. To summarize our plans for this room I've made a checklist.
Buy a new refrigerator
Add a row of cabinetry above the existing cabinets to extend to the ceiling
New countertops
New undermount sink
New backsplash
Paint existing cabinets
Add glass fronts to some of the cabinet doors
Install lighting in new upper cabinets
Install lighting under lower cabinets
Add new cabinetry hardware
Install new pendants over the sink
Completely makeover the existing table and chairs
Paint the walls
I have a couple of more things on my to-do list, but these are the things I am hoping to get done within the six-week timeline. We have our new refrigerator in place, so I have that checked off the list. We needed that first so that we could plan everything else around it. We changed the layout slightly after removing the existing pantry, which we did to allow for a larger refrigerator and to add cabinetry between the stove and fridge. It always drove me crazy that they were side by side. Not energy efficient at all!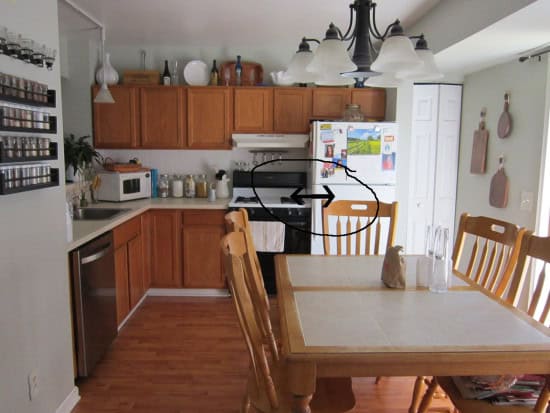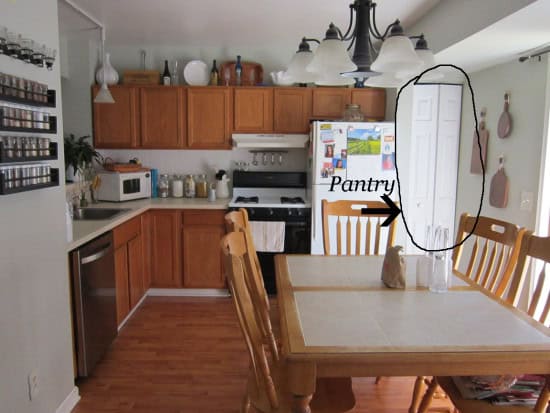 The chandelier shown in these photos has also been replaced with my $27 DIY Orb Chandelier that I thought up and my husband executed for me. As for the other side of the room, I did make a few small changes in there last year by installing a french door to the family room (which used to be my one car garage) and giving the hideous shuttered doors a rustic makeover.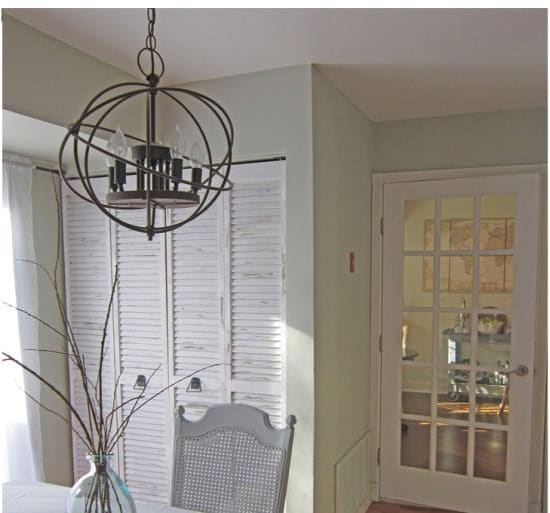 This is an ambitious plan to achieve in six weeks, so wish me luck! To my family and friends: if any of you come to visit us in the next six weeks wear old clothes because I'll likely be putting you to work!
Week 1 –  Kitchen Makeover Before
Week 2 – Kitchen Design Plans
Week 3-  Kitchen Pendant Lighting
Week 4-  Installing Cabinetry Hardware
Week 5- DIY Farmhouse Table
Week 6- Kitchen Makeover Reveal