Kitchen Design Plans ORC Week 2
One week into the challenge already! I'm not sure how I'm feeling about that. My kitchen design plans, shown above,  are coming together. While we have accomplished some things, the scope of work that is left is tremendous. I have gotten a good amount of painting done on the cabinets, but I'm not close to  done with those yet.
We have gotten one thing checked off our list since last week.  We installed the new pendant lighting from Lamps Plus over the sink, and it looks amazing. I'll share some photos of those next week, right now it's too much of a construction zone to take photos.
To refresh your memory, here is my to-do list:
Buy a new refrigerator
Add a row of cabinetry above the existing cabinets to extend to the ceiling
New countertops
New undermount sink
New backsplash
Paint existing cabinets
Add glass fronts to some of the cabinet doors
Install lighting in new upper cabinets
Install lighting under lower cabinets
Add new cabinetry hardware
Install new pendants over the sink
Completely makeover the existing table and chairs
Paint the walls
Our quartz countertops are on order. They are sending people over today to make the template. I was under the impression (according to the sign at Home Depot and what they guy there told me) that it's 10 days until install. However, the place where the countertops come from say it's 10 days after template and after the paperwork is processed. UGH! The backsplash cannot be installed until the counters are in. And the counter I ended up choosing, I couldn't get a sample for at the store (it's on order) which is not helping me actually pick a backsplash. Although I think my heart is set on the subway tile. Here is a photo of the samples  I have been collecting, which you may have already seen on my Instagram.
The subway tile above is slightly smaller in size than average subway tile which is why I like it, as well as the fact that the gray veins are extremely light. The basketweave tile underneath is beautiful but I think it's just a little too dark for me. I'm going very light and bright in my kitchen. My first choice for the countertop, which is shown in the center, left side of the photo was way out of my budget. I had the hardest time picking a countertop and the clock was ticking to get it ordered, so I finally ordered a different one last week.
The wood sample is from a company called Stikwood. That is what I will use to cover my existing kitchen table to give it the farmhouse treatment. So excited to get that done!! The latch shown in my photo was one option I was considering for cabinetry hardware but they were way too large for my doors. The lightest color on the paint swatch will be my new wall color and the darkest shade I plan to use on my existing kitchen chairs. I know from experience painting kitchen chairs with spindles is also very time-consuming, so I'm hoping I can get this done in time! I might look into using a spray-painter for that.
The new appliances are all in place which is great. However now that the fridge is finally here it is presenting new challenges.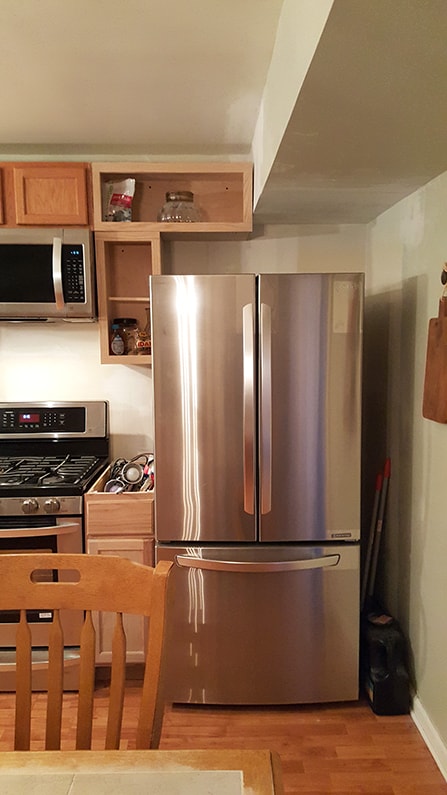 Adding new cabinets between the stove and fridge and getting a slightly larger fridge pushed the fridge to the right, halfway under a soffit that cannot be removed. I planned to add custom cabinetry above the fridge (and a slide out pantry in the space on the right of it), but because of the stupid soffit the cabinets above it are going to have to be L-shaped. That is really going to mess with my symmetry-loving brain. In addition, that top right cabinet you see now has to be removed and redone to accommodate this. Two step forwards, one step back.
One last before photo I didn't share last week is this side of the kitchen.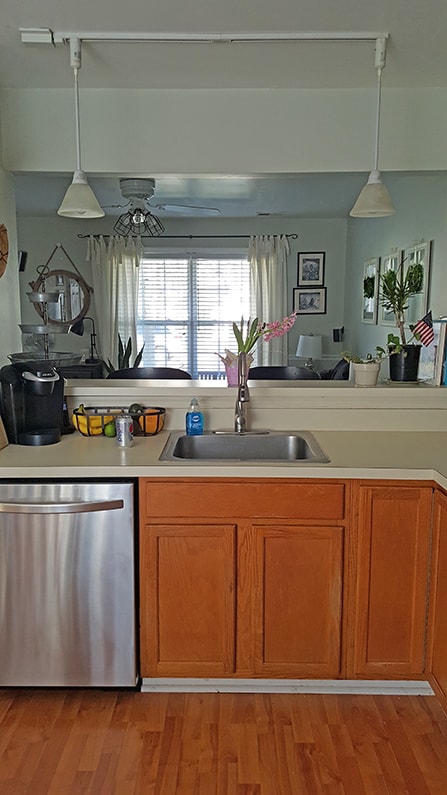 The kitchen opens up to my living room. You can see my pendants with the track lighting which have been a thorn in my side for years. I'm happy they have been switched out!
Do you have any suggestions for the cabinetry above my fridge?
Week 3- Kitchen Pendant Lighting
Week 4- Installing Cabinetry Hardware