This post is a little overdue.  We remodeled our kitchen almost two years ago, and I realized I never showed how we extended and customized our builder grade kitchen cabinets.  I like the look of tall kitchen cabinets that extend to the ceiling and I figured out a way to do this on a budget.
The existing cabinets had a gap between the tops of the cabinets and the ceiling.   I wanted to close that gap completely.  I knew doing so would make the kitchen look and feel bigger and reduce the amount of visual clutter that accumulates up there.  It would also give a more custom look and provide more storage space.  For those of you who didn't see the before photo of the space, here is what it looked like.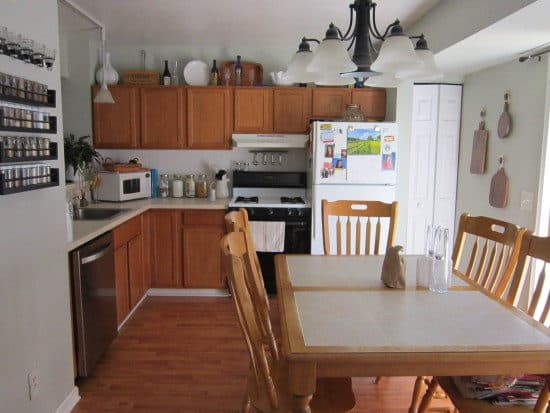 We had 18 inches of space between the top of the cabinets and the ceiling. The set of cabinets that were originally over my fridge (circled below) measured 12 inches in height.  I figured 12″ cabinets would be perfect because we could fill in the remaining 6″ of space with molding.   When we began the renovations, we removed that cabinet above the fridge and installed it above the cabinets.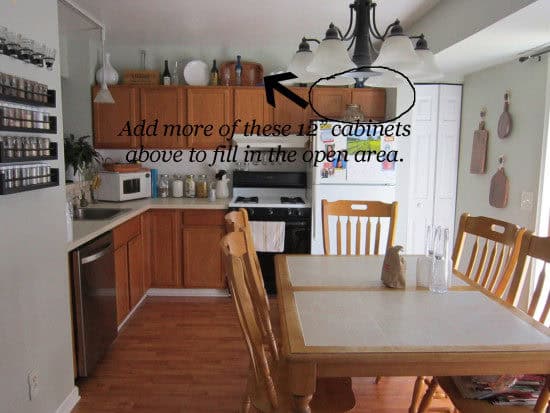 To finish off the construction of the tall kitchen cabinets, he filled in the rest with wood.  We also had an awkward space over the fridge due to a soffit.  We had to customize this space as well.  I opted for wine racks to help maximize storage space here.  Because my kitchen is small, I try to make displaying kitchen items pretty as well as functional by storing things in plain sight, as I did with my kitchen spice rack.  The last thing we did was add a slim slide-out pantry.  That 8″ of space packs in a lot of storage!
The tall kitchen cabinets really do make the space look and feel bigger.  You can see all the details of this kitchen makeover here and the updated flooring here.