DIY Mini Book Page Wreath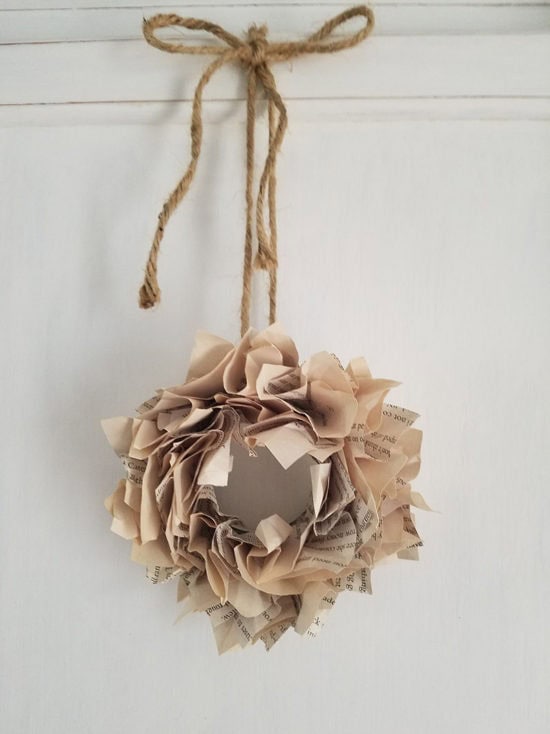 Happy New Year friends! I hope your holidays were happy! I took a short blogging break last week, but now I'm back now and I am ready for a new year and lots of DIY's. I recently noticed some really cute book page wreaths on Pinterest, so I thought I would make my own, in a mini version. I started out with the idea that these would be ornaments for my Christmas tree and that I'd embellish them with holly berries. I ended up keeping them neutral, to be used all year. I hung them on my kitchen cabinets for now. These are so cute,  and really easy to make. My husband was really surprised when I told him they were made out of book pages!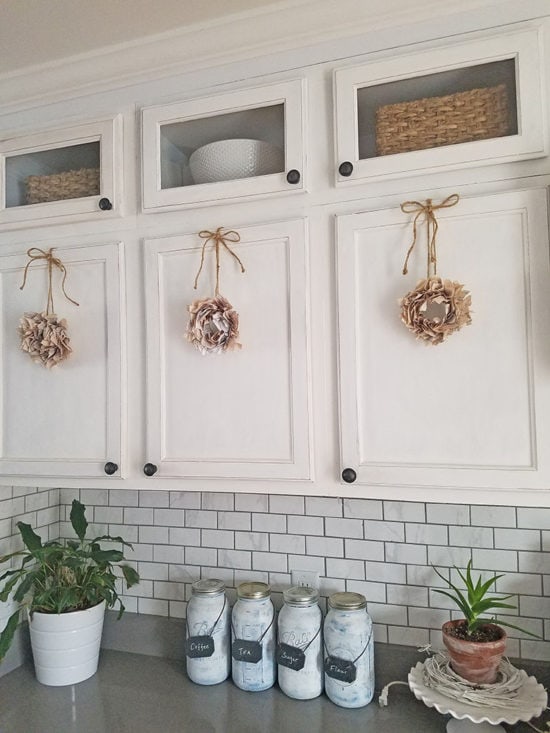 You will Need:
An old Book
A Mason Jar Lid
Hot Glue Gun
Twine
I saw a few different versions on Pinterest, but I changed some of the steps to make mine mini. The first step is to cut up the pages of your book into squares. I made my about 2″ X 2″. Then, crumble them around a pen or a marker to give it the ruffled look.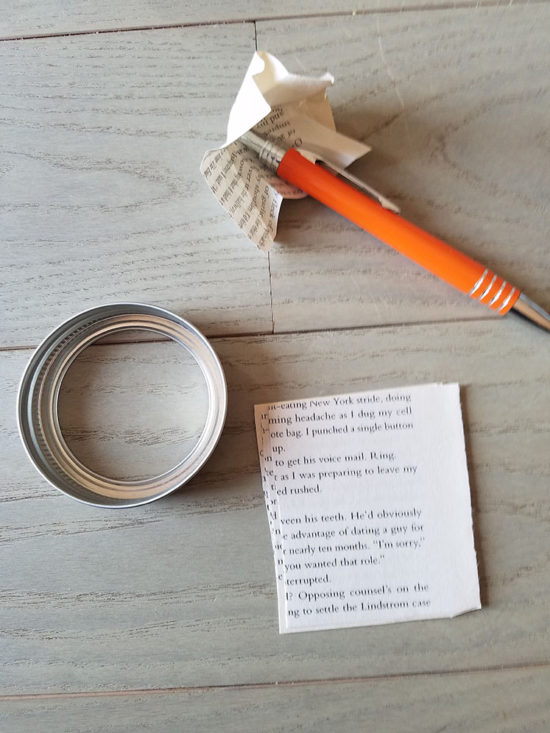 Next, remove the inner circle of the mason jar lid,  you only need the outer ring.
I put a piece of parchment paper over my table, for easy clean up and to keep the hot glue from getting everywhere. Place a dab of hot glue on the inside of the ring and then attach one of your crumbled book pages onto it. I ended up using a sharpie marker rather than the pen shown to crumble the paper. It helps if you keep the paper around the sharpie when placing it on the glue, so you don't burn your fingers.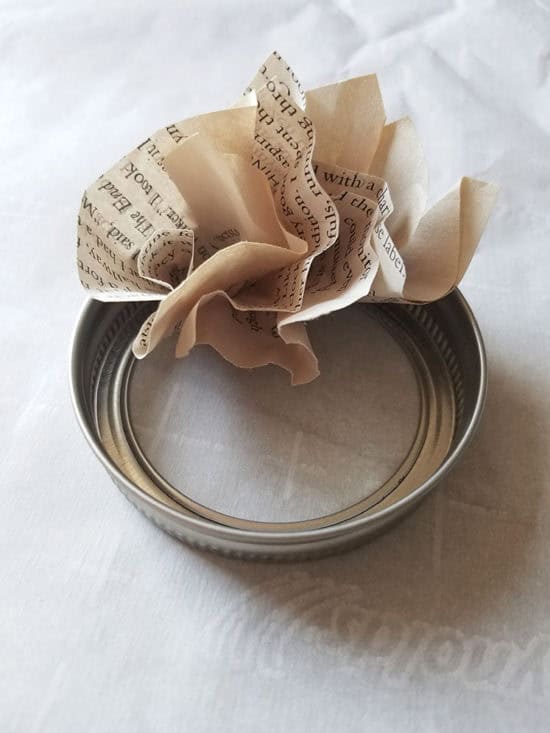 Once I had the inner portion of the lid filled, I added another layer around the outside of the lid.
When it's finished, look it over to see if you need to add a little in some spots, or trim it down in others.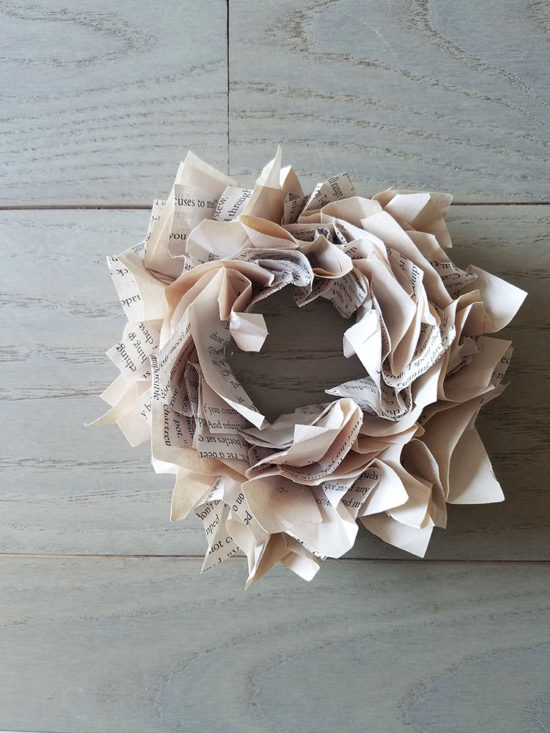 Lastly, I added a piece of twine around the outer portion on the back of the wreath. My friends Vicki and Jenn used ribbon to make a similar wreath, you can see theirs here. I attached the twine with hot glue, but only in sections. That way, I was able to add a second piece of twine through that one, to use as a hanger. The back looks like this: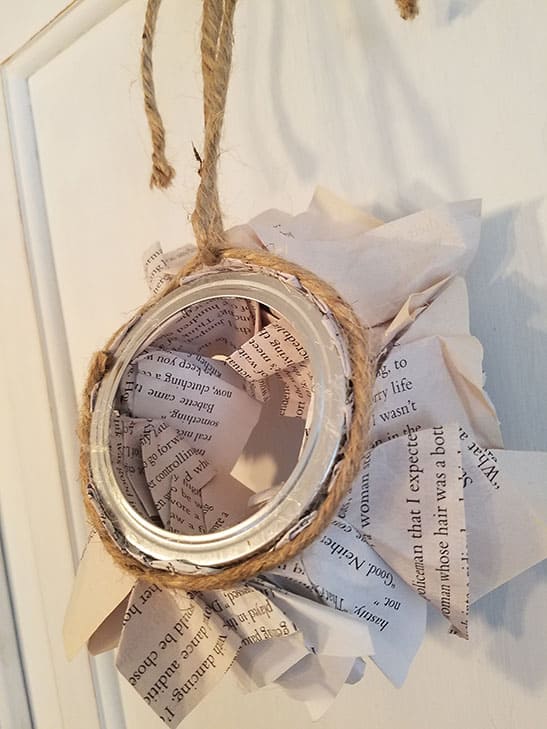 Once I got the hang of it, it only took me about 15 minutes to make each wreath.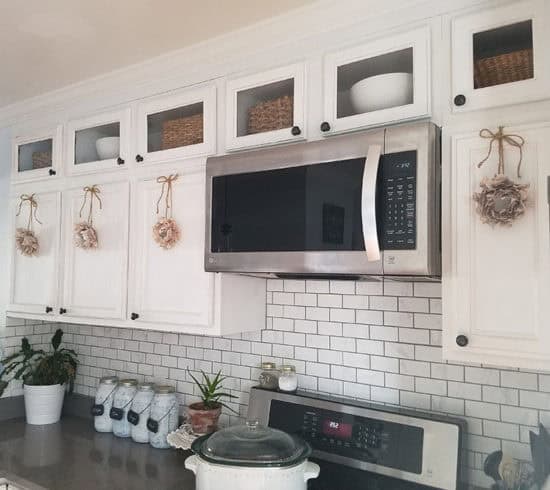 I like these so much, that I will probably make a full-size version soon.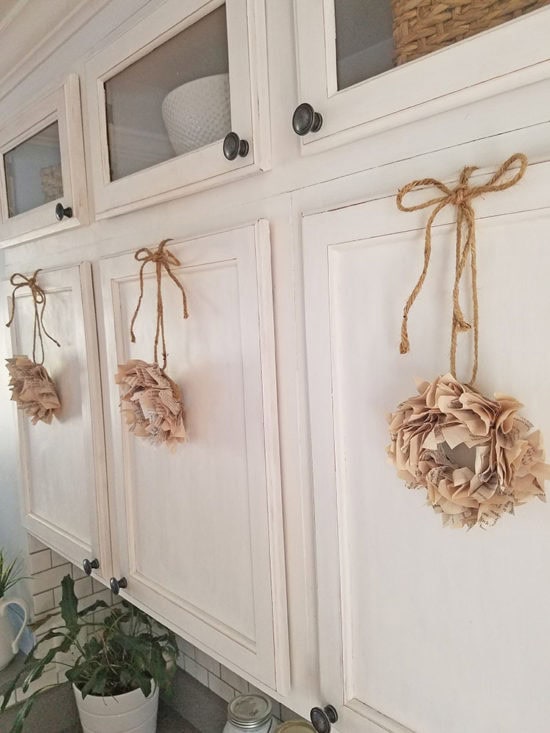 What do you think, aren't they adorable?