Organized Slide Out Pantry
Although you've already seen this photo in my kitchen makeover reveal, I had to follow up and share with you the now-organized slide out pantry. This was such a great addition to the kitchen for much needed storage space. Because it's narrow, you can see everything that is in there without digging. Most of my kitchen pantry items were in my family room for months during this renovation. Now that I'm finally able to get these things where they belong, I'm trying to do it in an organized way.
I would say the food we buy is about 80% the same items each week so I want to set it up where everything has its own place. No more searching for items or accidentally buying something that I may already have 3 of buried in the back somewhere. I am using this system not only for the slide out pantry, but also for organizing the refrigerator and the kitchen cabinets.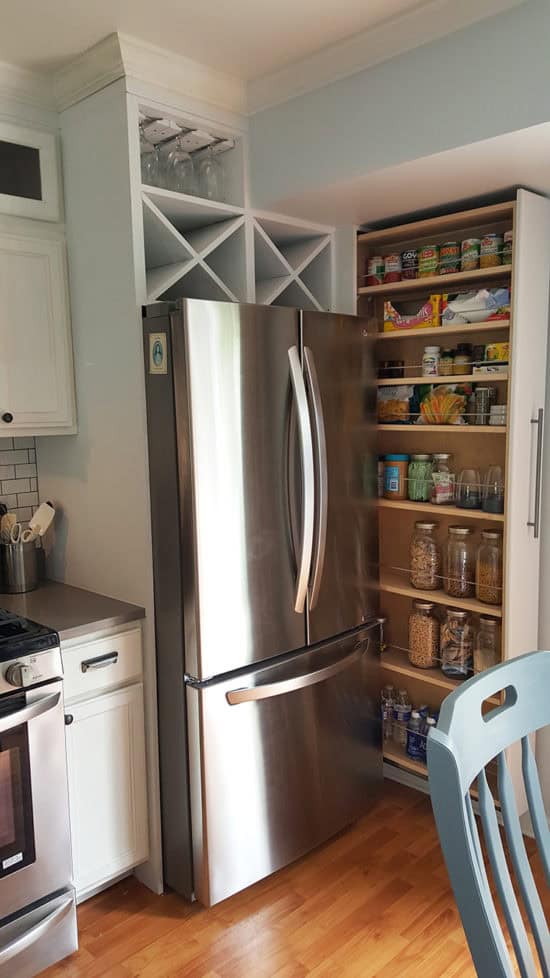 I was looking for clear containers to put all of my boxed goods in so they would better fit in here. I was surprised at how expensive some of them were. I found these food storage containers* in Target that I liked but at around $20 each it would've been pretty expensive to fill the shelves with these. So of course, mason jars to the rescue. At under $5.00 each in Michael's, theses half-gallon mason jars were a much more affordable option. And I had a 20% off coupon.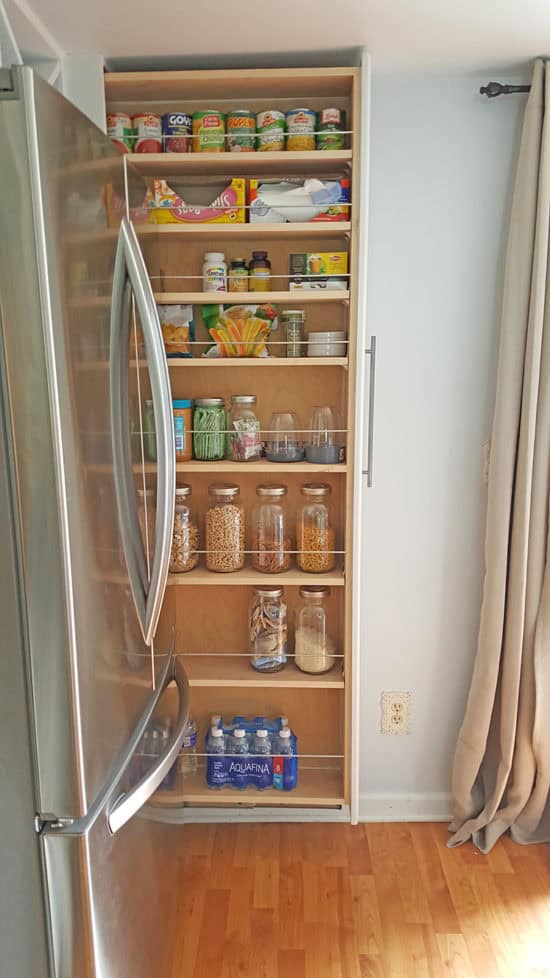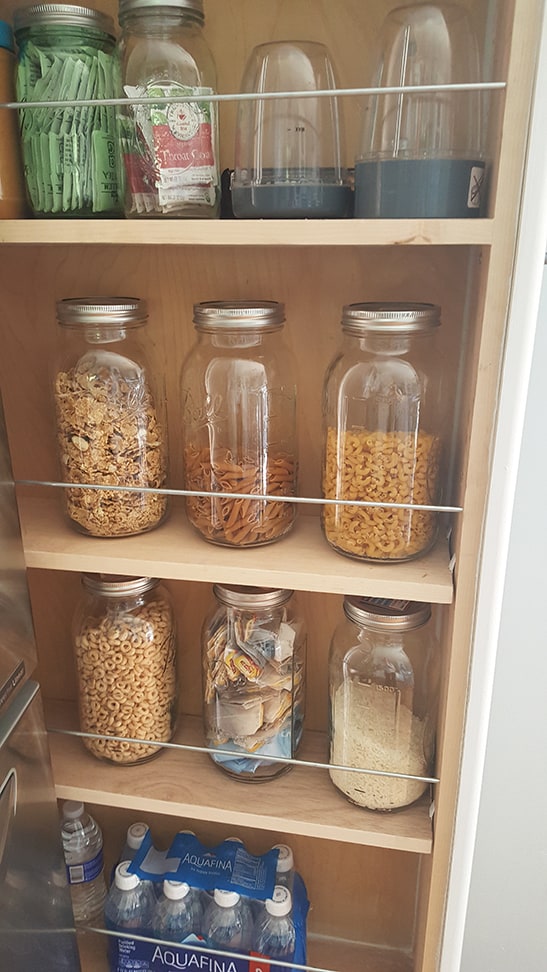 Not only can I see what we have at a glance,  I can also see when I need to restock each of these items.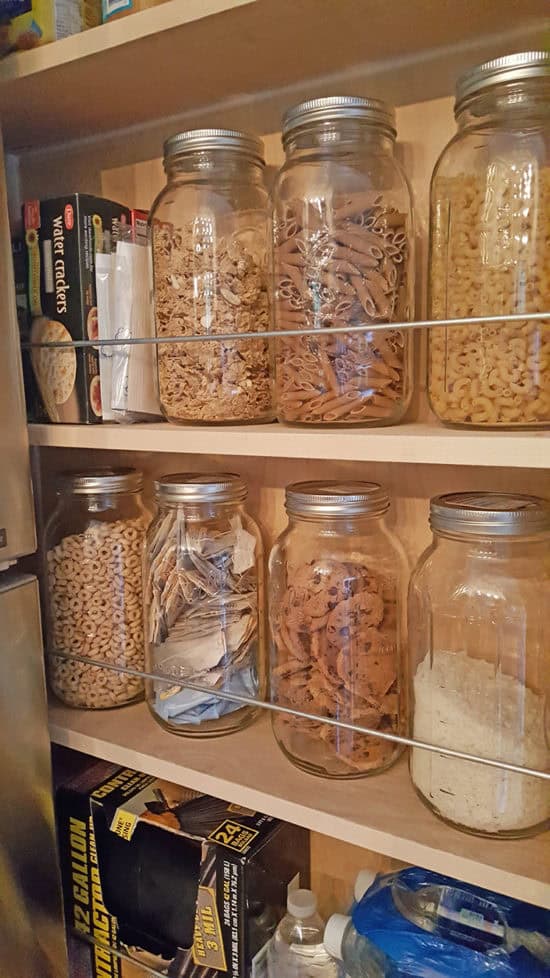 You don't need a slide out pantry to do this. Whatever type pantry storage you have, the mason jars will make it look and function so much better!
When we were planning the kitchen, I forgot to plan a handle for opening the slide out pantry. Once it was in, I wanted to get something up right away because we need it to open the pantry. I really wasn't sure what type of handle I wanted, I was thinking about something different but I don't know what exactly that is yet.
I looked up some large cabinet pulls at Lowe's and Home Depot and was surprised to see they were all in the $100-$250 price range and special order. When we were in Lowe's one day (we made a ridiculous amount of trips to both Lowe's and Home Depot during the reno) my husband noticed these pulls on clearance for only $7. It wasn't the style I was going for but the price was right for now. It was stainless steel and my other cabinetry hardware is a more rustic finish.

So I went over to the spray paint section and I found a can that perfectly matched the hardware from Amerock that I chose for the kitchen cabinets and drawers.
It's by Rust-Oleum and it's called Forged Hammer in Antique Pewter. For under $10, this handle stays for now until I find something that I like better. I will know what that is when I see it. Any suggestions?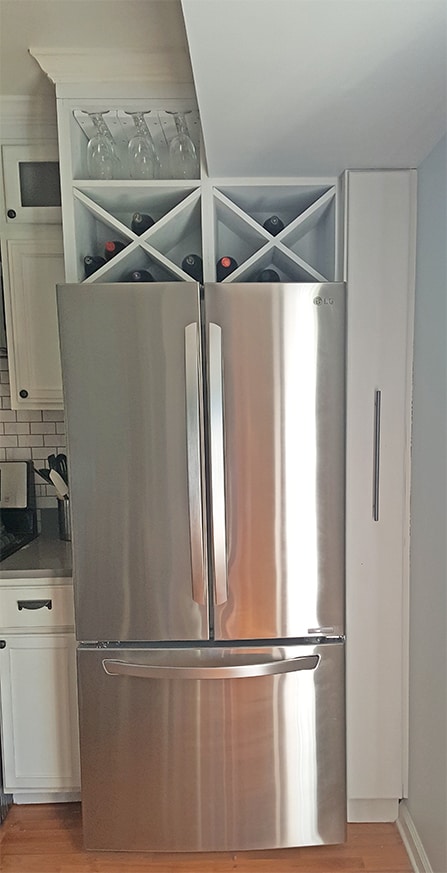 *This post contains affiliate links, see my full disclosure here.