Mixing Antiques with Modern Decor
via BHG
Hi guys, I have a treat for you today. My friend Hannah is guest posting here today. You may remember she popped in here once before with 9 Easy Ways to Freshen up Your Living Room. Today we are talking about Mixing Antiques with Modern Decor. Here's Hannah.
Did you just move into a modern home or apartment with a load of antique items in tow? Conventional wisdom will have you believe that old-style furnishings and modern decor don't mix with a contemporary interior. This is not true at all; you can absolutely adorn your home with antiques from any period. The antiques, though, have to be displayed in a certain way; otherwise, your home runs the risk of looking more like a museum than a living space.
1. Group items together as a focal point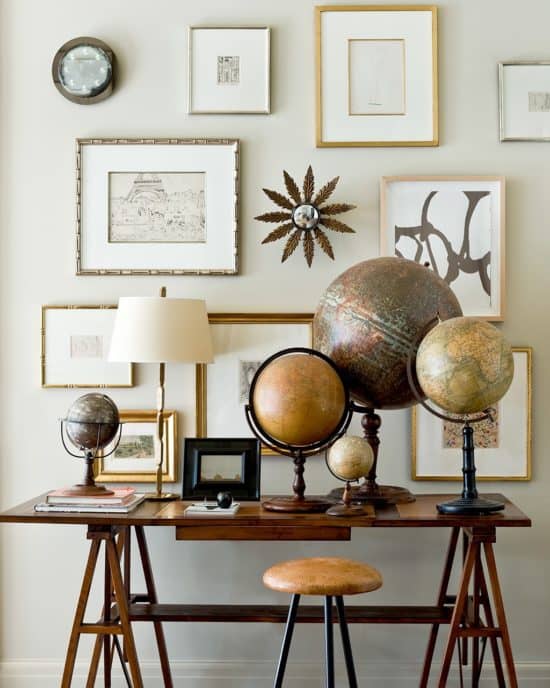 As we just mentioned, it's important that you achieve a harmonious look and don't turn the interior into a museum. For this reason, it is better to keep the antiques concentrated in a single area as opposed to having them scattered. Plus, by having them in a single location, that area becomes the room's focal or accent space, or the area you want to draw eyes towards.
Some good spots for antiques include:
● In a living room corner
● Behind a sofa (where you may normally place a coffee or halfmoon table)
● The fireplace mantel
● Where the entertainment center would go (use an antique secretary for your TV, game consoles, etc.)
2. Group antiques by color palette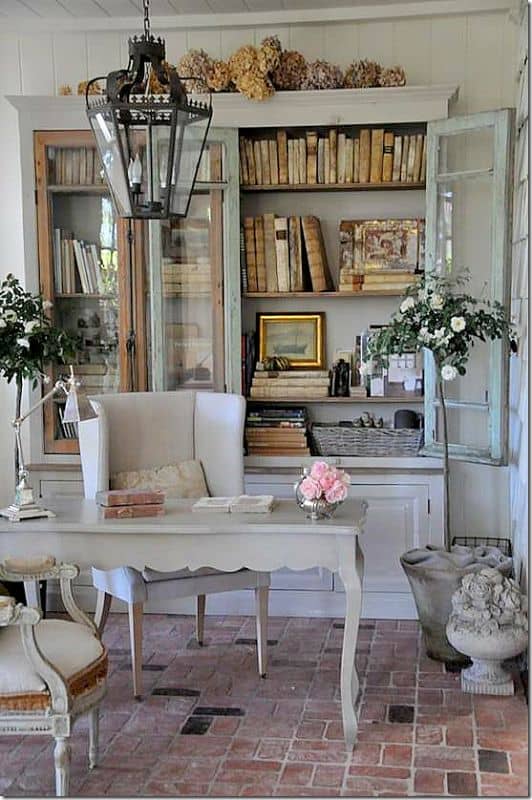 In museums and exhibits, antique collections are usually grouped according to antique type, geographical region, time period, etc. Since your home is not a museum, you do not have to group according to any of these parameters. With that in mind, though, we do recommend grouping by color. This helps create uniformity; it strains the eye and creates chaos when the room is dominated by non-matching hues.
When it comes to color grouping, you can also take into consideration non-antique décor. In other words, feel free to put that brown antique candle holder on the contemporary brown coffee table you purchased from Pottery Barn.
3. incorporate vintage leather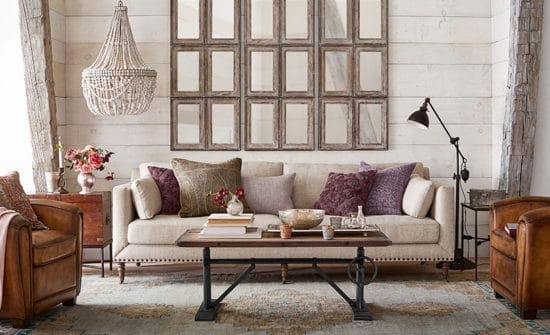 via Pottery Barn
Leather goods often don't come to mind when it comes to antiques. People often think more along the lines of ceramics and wooden items or furnishings. Leather, though, has such versatile use when it comes to display.
Leather especially goes great in a home office. Concentrate leather décor and accessories around your desk. This is quite easy to achieve using everyday office items. Consider a leather mouse pad, leather blotter, leather document case, etc. This takes away some of the white-collar and corporate vibe and more of an elegant yet adventurous appearance.
Leather is also great if other antiques around the home are of the rustic and country variety, such as cottage and distress-style cabinetry. If country living is the theme you're aiming for, then certainly incorporate leather for a western or outback ambiance.
4. keep them accessible
via Honestlywtf
There's a natural instinct to keep valuable antique items out of reach. Common areas include the top of a shelf or behind a display case. This is reminiscent of how collections in a museum are displayed. This gives off almost an "off-limits" look. Since we are trying to move away from the museum look, keep the antiques close by. By close, this means on a coffee table, in the center of the living room, or even use an antique rug. Of course, this means you'll have to take greater care and exercise more caution to keep the items in good condition, but this helps retain a homelier appearance.
5. mix the old with the new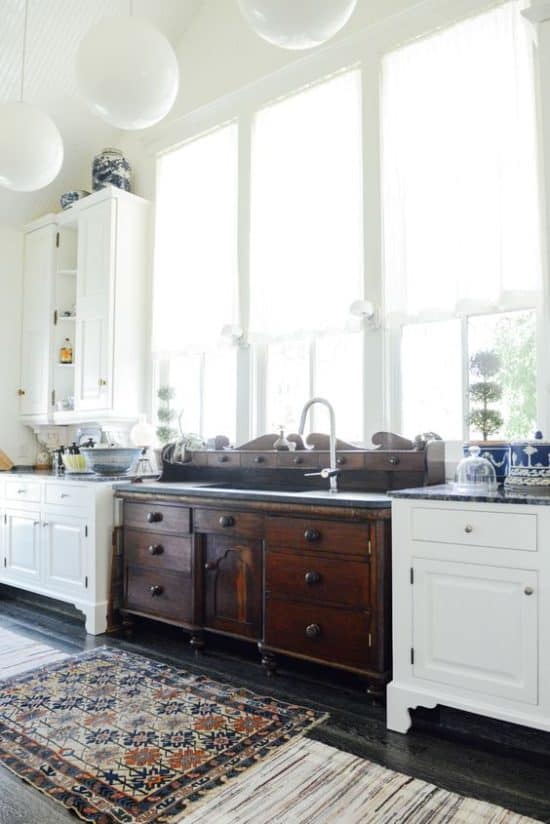 via Design Sponge
This was touched upon briefly, but it warrants more analysis. Just because you have antique furnishings doesn't mean you can't have modern decor style items as well. In fact, it makes sense to include modern items since the home interior is based on modern architecture. Seemingly incompatible items can complement each other. If you have a 17th-century floral or portrait painting, for example, feel free to place it next to a work from a contemporary artist. This works well because it shows the evolution of the different types of art.
If you have antiques, don't be afraid to proudly display them even if you have a 21st-century home. Blending past with present is in fact a creative way to decorate your home and create immense visual appeal.
---
You can read more on mixing vintage with modern decor here:
Decorating With Flea Market Finds
7 Flea Market Finds to Never Pass Up
---
---
---
---
Thank you Hannah for this inspiring post! I'd like to add that opposites attract and mixing vintage with new creates a beautiful contrast! Learn more about Hannah below!
Hannah Hutchinson is an interior designer based in London, currently blogging for Westland London. She's always chasing new ideas and likes thinking outside the box when it comes to incorporating fresh ideas to her clients new homes.