7 Flea Market Finds to Never Pass Up
You guys, it's finally flea market season here in NJ and I could not be happier! Most of my favorite home items are vintage or second hand. Before we get to the best flea market finds to never pass up, I do want to mention preparing for the flea market.
I prepare like an athlete in training before the flea market. No alcohol the night before, and get to bed early. You want to get there as early as possible to get the best finds. Don't worry, it'll be worth it!
If you do get there late, don't worry. Vendors will be more willing to negotiate pricing later in the day so you may get the best deals at that time!
Dressing in layers is also suggested. On hot days bring plenty of water and if it's boiling out consider bringing frozen water bottles to help cool you down. I have one friend who loads a cooler with frozen water bottles and frozen cloths to cool down with!
Once I get there I always do the first lap fast to get a look at everything. Then I go back and do a second lap slowly to really examine things closer.
THE BEST FLEA MARKET FINDS:
1. Baskets
You can fill them with flowers, use them for storage or use as decoration. I have some form of baskets in every room of my house. One for shoes, one atop an armoire for extra blankets, another for magazines, etc. I even have a gallery wall of baskets in my daughter's room.
One thing to watch for when buying baskets is to make sure that they're in good condition. Not only visually but be sure to make sure they are level when sitting flat. That can be hard to tell if they're sitting on the ground. I've made this mistake before.
2. Vintage Pottery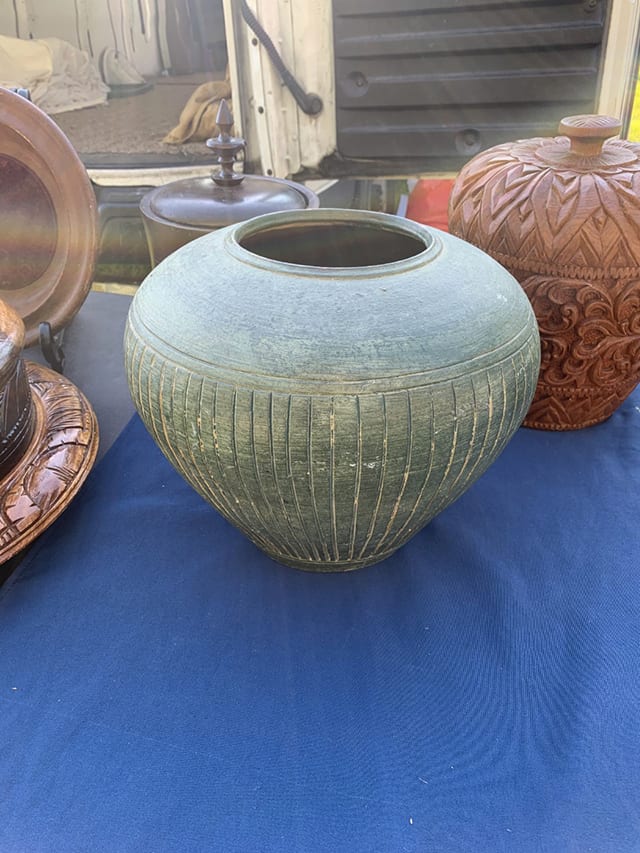 Vintage pottery is always a great score at the flea market. There aren't too many places in the home where pottery wouldn't look good. Most pottery will work regardless of your design style. It's a staple across the board.
3. Antique Furniture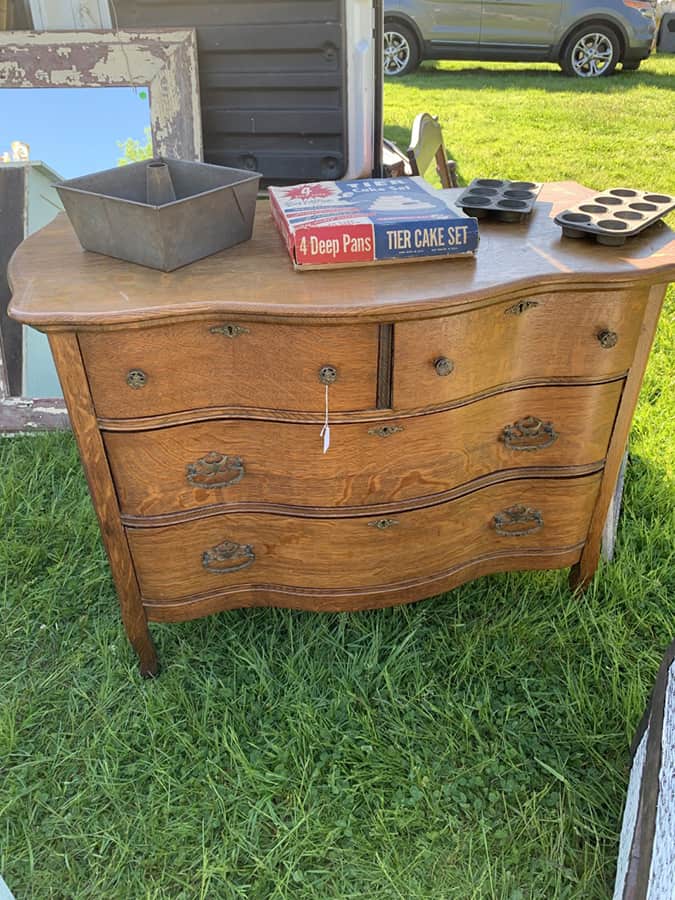 The absolute best flea market finds are vintage furniture in good condition. You can tell if it's a solid piece if you open up one of the drawers and see dovetail joints where the drawer connects to the drawer front. Even with new furniture that is a sure sign of a quality piece.
This piece above with its curved front is a stunning example!
4. Multifuntional Items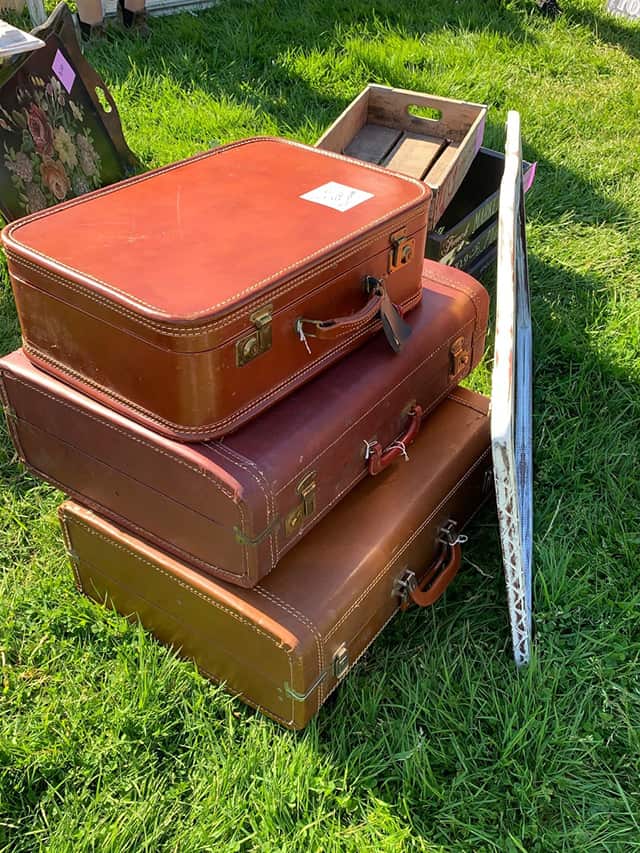 Anything that is beautiful and useful is a no-brainer! These vintage suitcases are a good example. Stack them up and use them as an end table with storage! Stack a few on a tall dresser for the same purpose.
5. Terra Cotta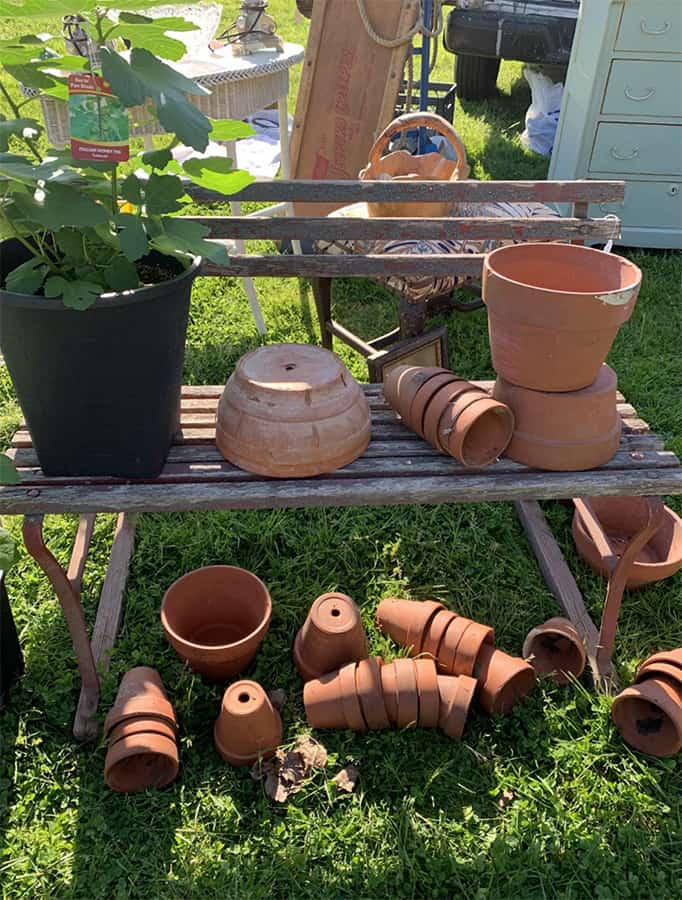 I'm obsessed with terracotta and almost never pass it up at the flea market. You could say I hoard them but I prefer to say I collect them!
6. Unique Items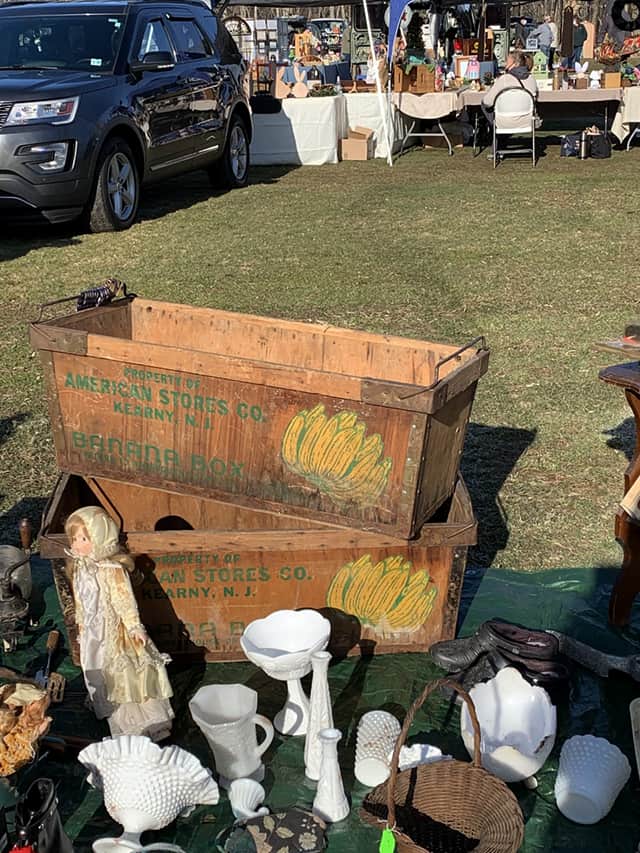 Rare finds are the best finds! The vintage banana boxes above were one such thing I spotted at a recent flea market. The seller was asking a lot for these because they were such a rarity.
7. Vintage Mirrors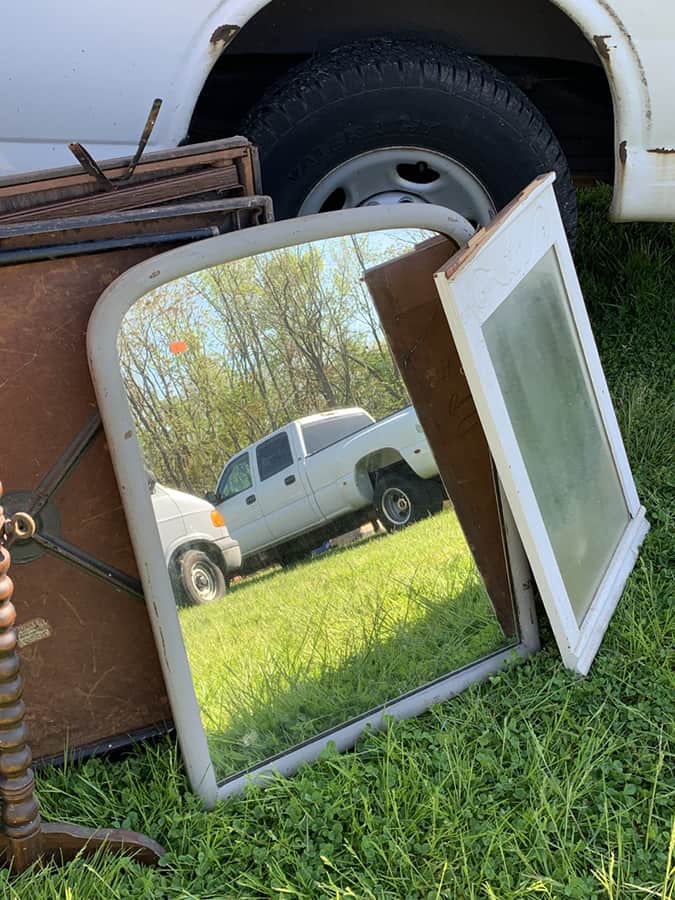 When it comes to mirrors, vintage is beautiful. I love the patina the older mirrors have. Chances are good that if you bring one home you will find a spot for it. Is there any wall that doesn't look good with a mirror on it?
Be very cautious though, with these. Carefully check the hanging hardware is intact and strong if you plan to hang it up. And if it's not, consider the fact that you'll have to install hardware to make it safe.
There's nothing I love more than decorating with flea market finds! What about you??
If you're from in and around the area, here's a list of some of the best flea markets in the tri-state area!
What's your best-ever flea market find?