Small Home Office Ideas – Creative Solutions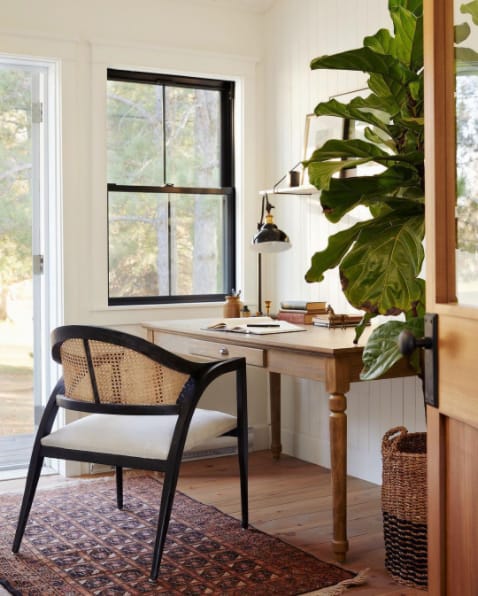 I heard recently that even as the country begins to reopen, a large percentage of people will continue to work from home permanently. Having a functional office space is more important now than ever before. If you live in a small space or just don't have a dedicated room for an office, here are a few ideas on how to carve out a home office that is functional and stylish!
Home Office Space in a Bedroom
Ideally, you aren't supposed to work in the place that you rest. But if you're short on space and need a home office away from distractions, having an office space in your bedroom is a good solution.
Placing a desk next to the bed rather than a nightstand is a great space saver. I did this in my daughter's bedroom to give her a quiet place to study.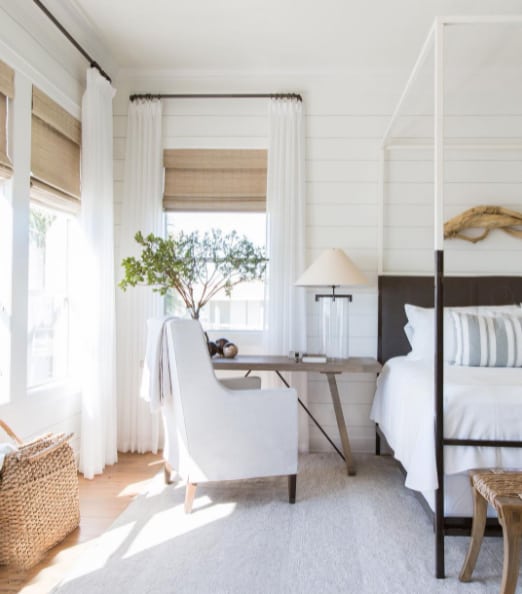 Or use a small desk in front of a bedroom window for a home office with a view.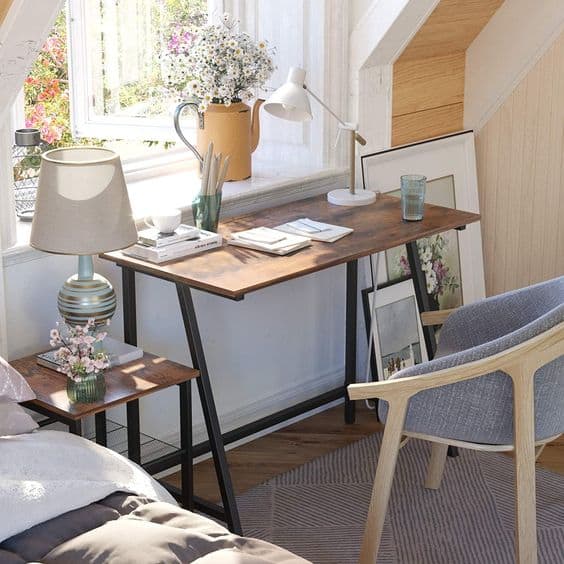 When using the bedroom as your home office it's a good idea to keep it as uncluttered as possible so it doesn't stress you out when you are trying to rest.
Living Room Office
If you don't mind every day distractions, the living room may be your best bet for carving out home office space. Usually, it's the most spacious room in the house.
Below, a desk is neatly placed just outside the main sitting area. The simple wood shelves offer storage space as well.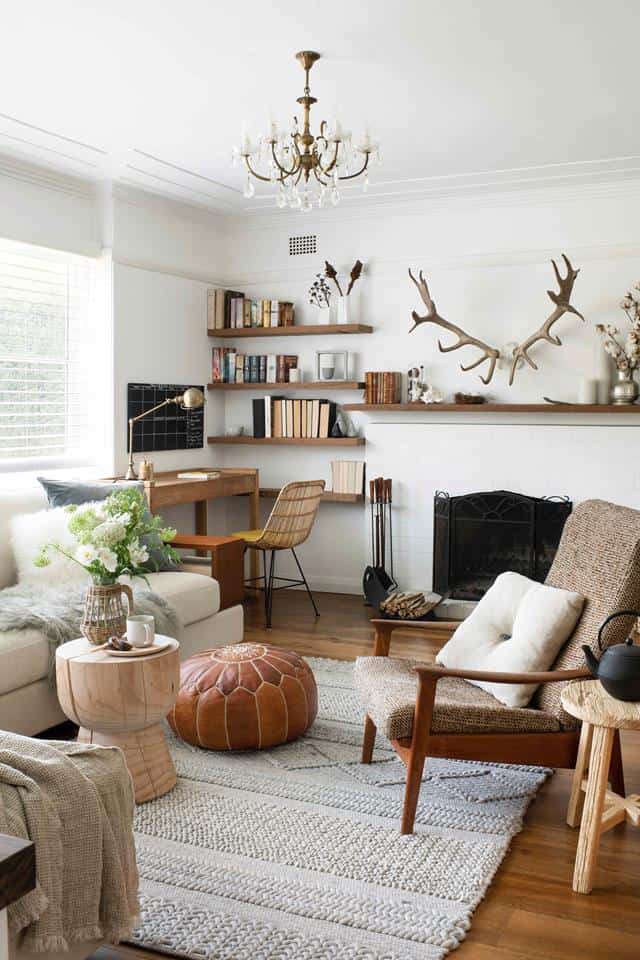 If you have room behind your couch, a sofa table with a chair would be a clever solution.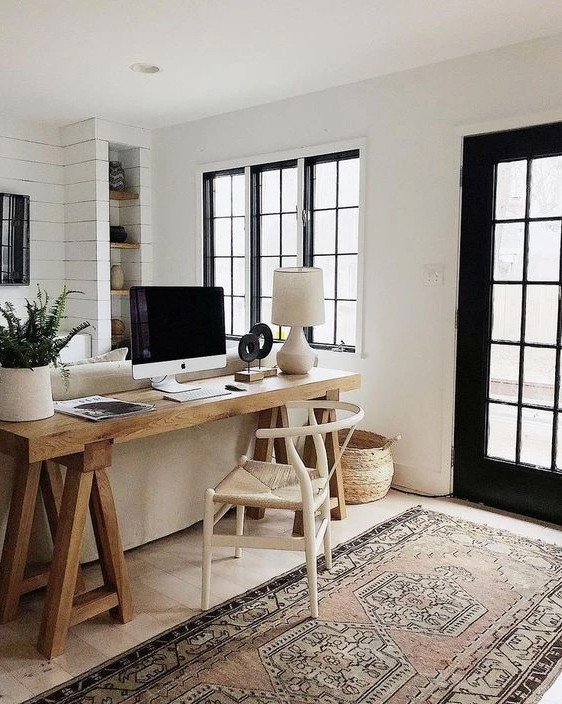 Additionally, using a piece of furniture that opens up to a desk when needed but closes up when not is a great way to keep your living room office hidden from view.
If you have enough wall space, use a large desk with wide shelves above to make it very functional.
via: Mark D. Sikes
Home Office Nook
Just about anywhere you have a bit of solid wall space will work for your home office. It could be a nook between rooms or even a passthrough space like a hallway.
The office space below is a great example of maximizing unused space just inside a back door.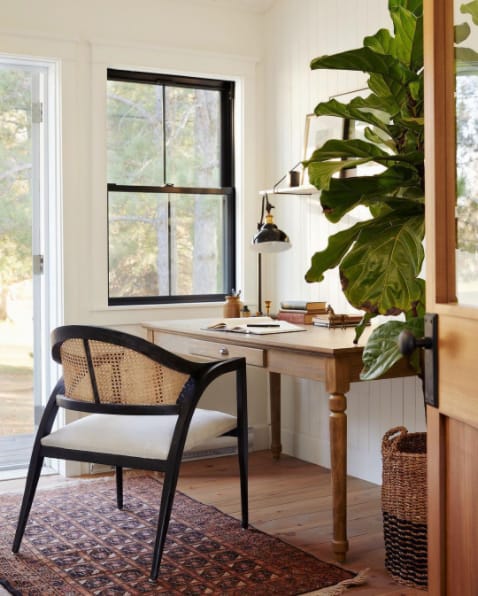 via: Pottery Barn
Define your office space with vertical plank boards and a dramatic paint color.
via: railia ca design
This next office nook uses unused space between a stair case and another room. Very creative use of space.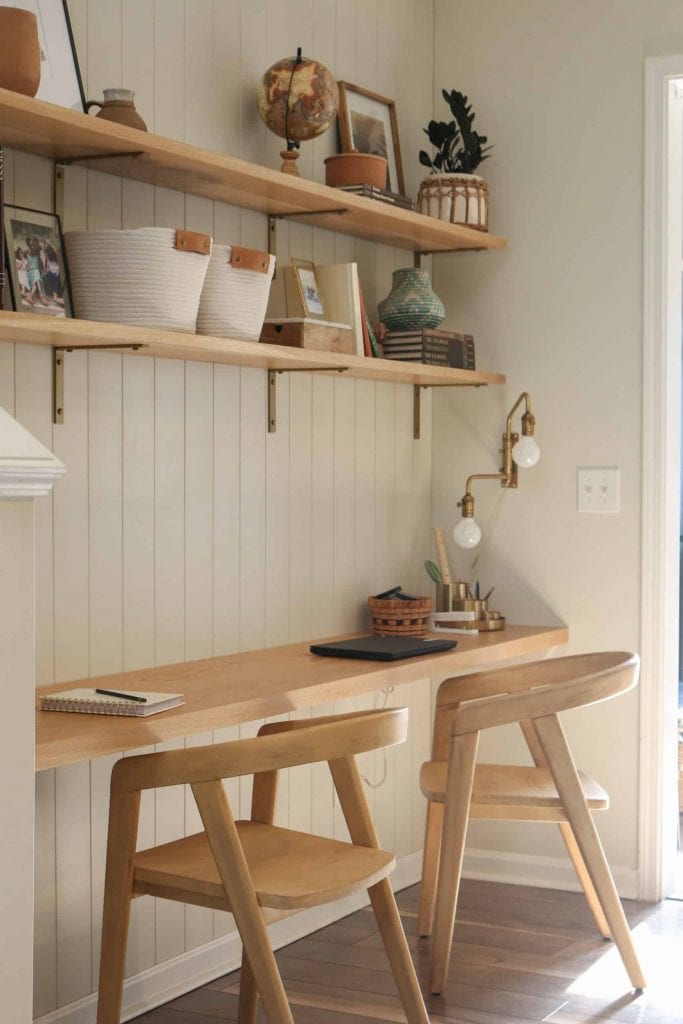 Closet Office
Another trend in home office ideas is the "cloffice". This is when you turn a closet into your office space. If you have a decent size closet, this may be an option for you.
The closet space below is fortunate enough to have a window which is one thing to consider. A windowless dark closet wouldn't be very inspiring.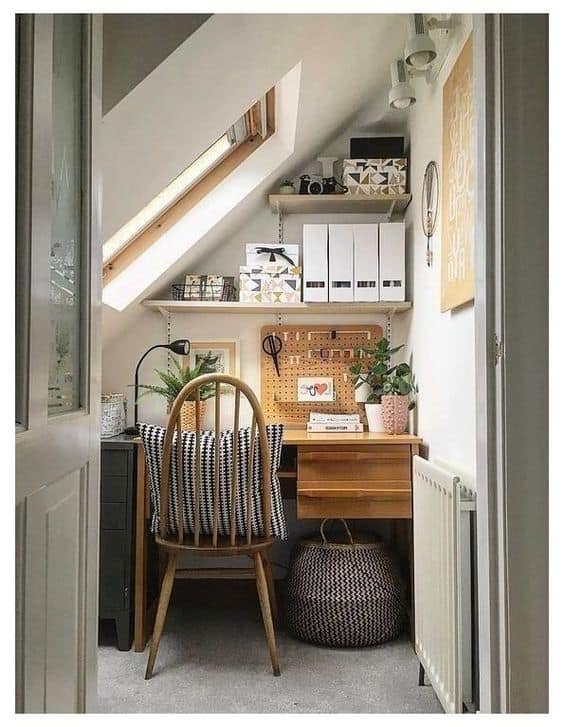 via: Pinterest
If you're willing to give up your walk-in you could have a very generous office space.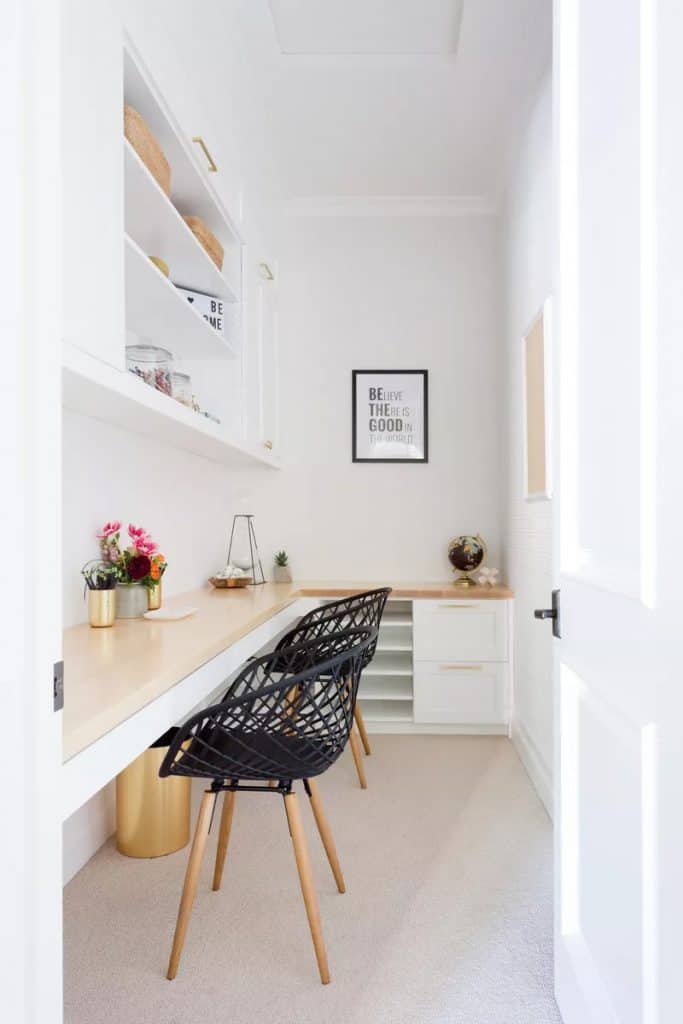 via: My Domain
Of course, most of us need all the closet space we can get. If you are able to sacrifice a smaller closet that can also be an option for you.
Adding floating shelves above the desk area is a common trend I see when carving out home office space. Going vertical with storage is always a good idea when you need more storage space.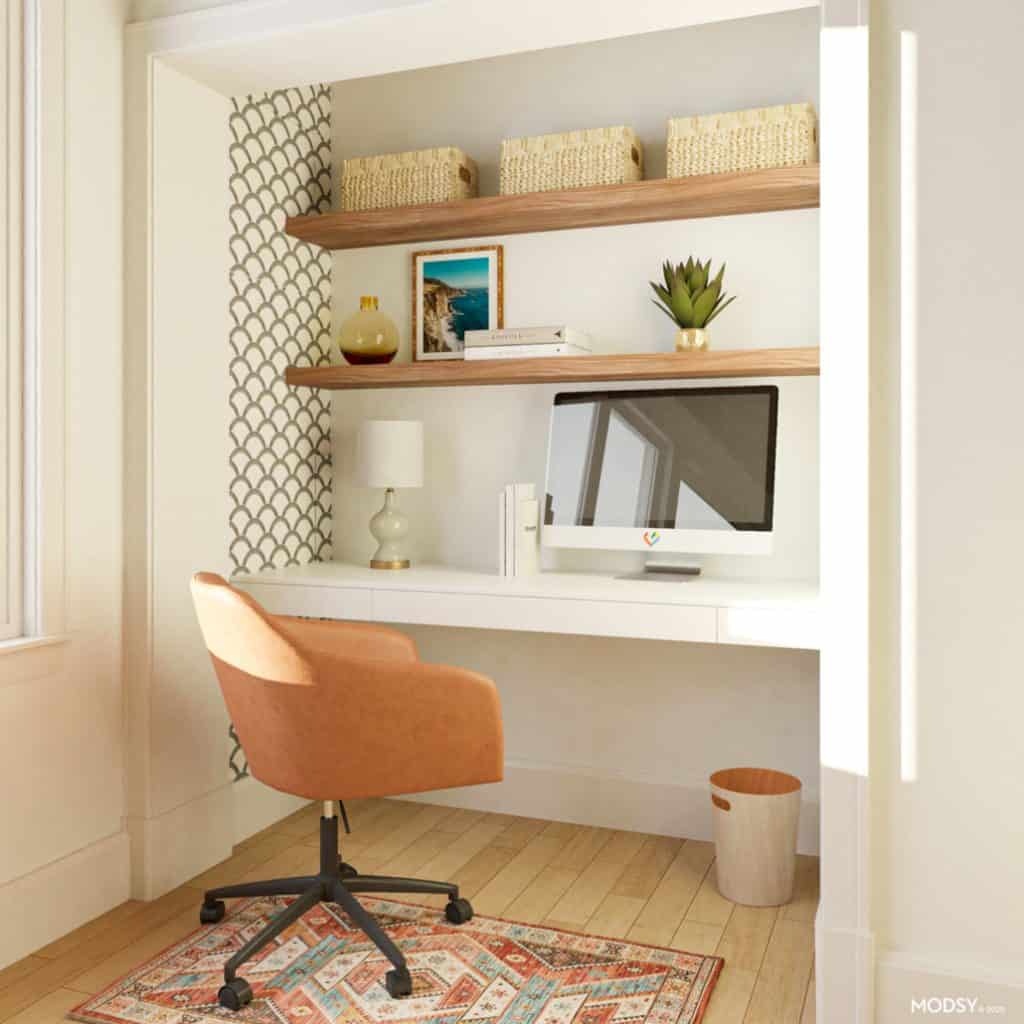 via: Modsy
Office on a Porch
One option I don't see often in home office ideas is using porch space. If you have a sunny porch this could be another option for you. If it doesn't have heat or air conditioning it may be worth investing in. Especially if you use your office daily.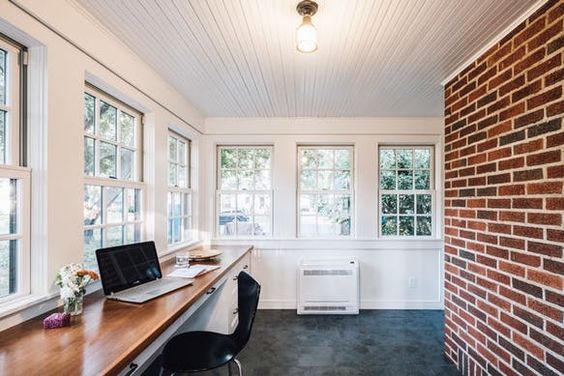 Because porches are generally wide this may be a good solution if you're in need of more than one desk. It will likely have enough room for two side by side or one long desk.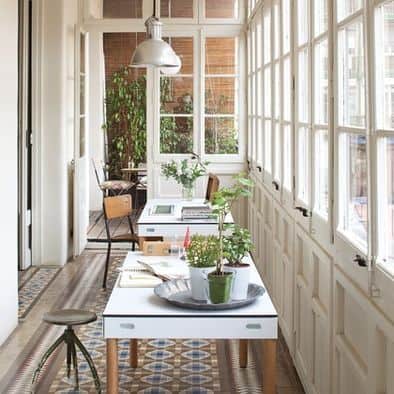 via: Pinterest
Wherever you carve out your home office, make sure it's a space that inspires you!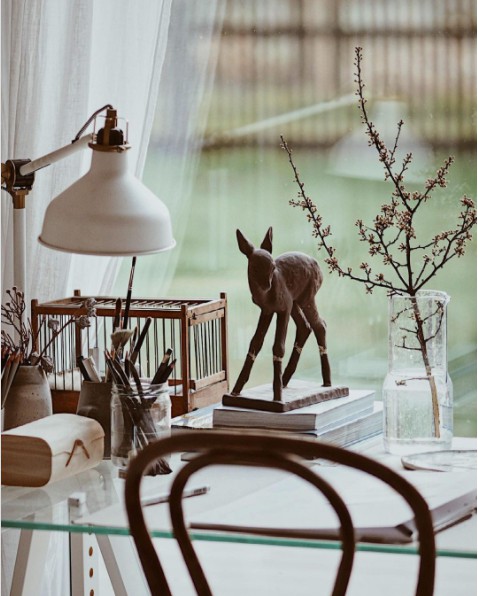 via: Margo Hupert
Have you seen any creative home office ideas not mentioned here? Share in the comments!