Bedroom Decorating Ideas from My Lastest Makeover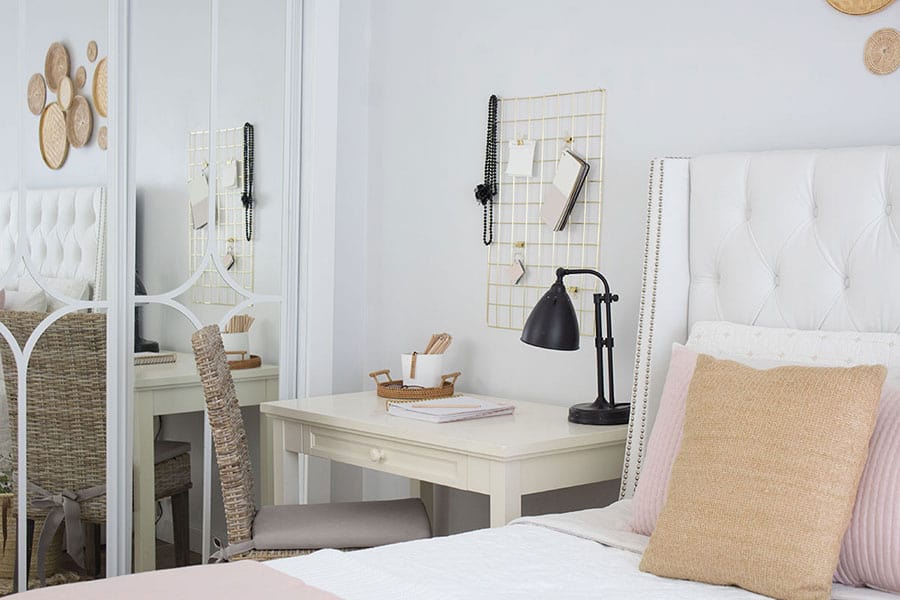 I don't know how the heck it took me seven months to makeover my oldest daughters room, but it did. Not because there is anything over-the-top crazy in here but because I worked on it little by little. After doing a few One Room Challenges (see the kitchen, bedroom and living room), I decided it works out better in the end if I take my time. Even if one room does take months and months. I'm sharing this as finished today in hopes that maybe you'll find a few bedroom decorating ideas for yourself.
Though nothing is ever really finished around here.
This makeover started in January when my husband agreed to finally help me rip up the old carpet in here and install new floors. When my husband agrees to a project, I like to get started asap. Before he changes his mind. Which means didn't think to take before pictures of this room. But you can be sure those old carpets were in terrible condition. It had a stain or two from Icee drinks my daughter would sneak up there. Then, as she got older and became a one-woman animal rescue crew, it became a foster shelter for pets.
Now that I think about it, it's a good thing I didn't take before pictures. I don't want to remember those carpets! Since I've been sharing the progress on this room as I went along, I'll just update you on the finished details.
Finding the right headboard took the longest. I knew the one that I wanted from my original design plan, but it was pretty expensive. After entertaining other options, I decided that the initial white tufted headboard* I envisioned had to be the one. But I waited and waited for it to go on sale, which it did on Memorial Day weekend. I snagged it on sale, along with a 20% off coupon and gift cards. I ended up getting it for about half of the original price!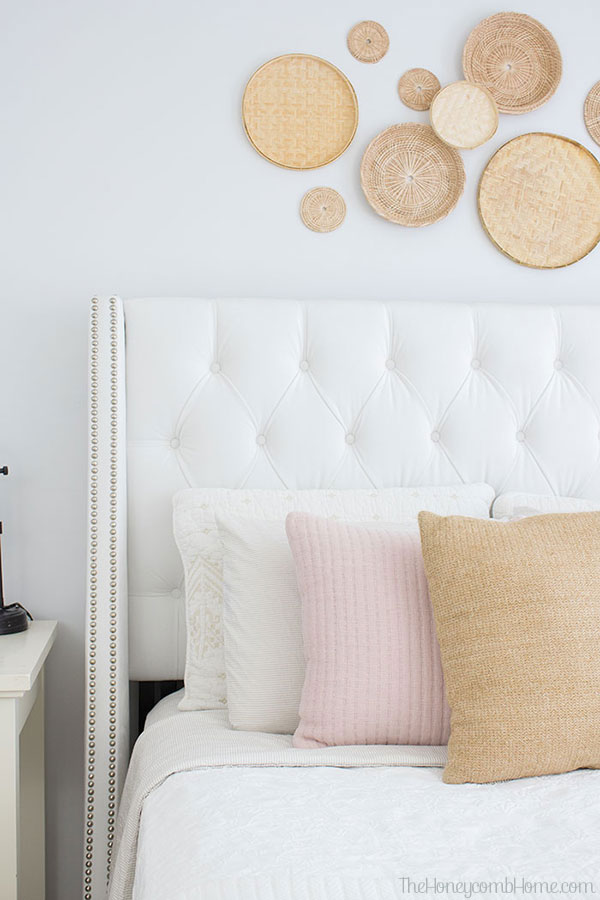 Once I finally had the headboard, I was able to hang the gallery wall of baskets that I had purchased months before. The chandelier was a great bargain, I'm really happy with its quality for the price.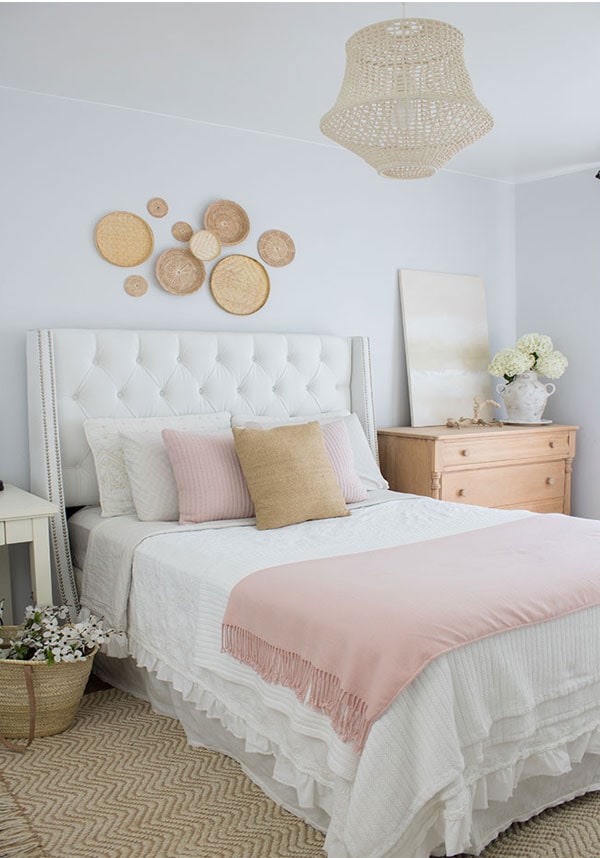 I had gotten this dresser from Facebook marketplace and refinished it by removing the paint for a natural look. I'm still debating on whether to add a light wash of white wax as I did on these hutch shelves, but that's something I haven't gotten around to yet.
I never spend money on real paintings for my home, but I fell in love with this artist's work when I went to Bloom Market in Virginia. It's quite unique and I love how subtle yet pretty it is.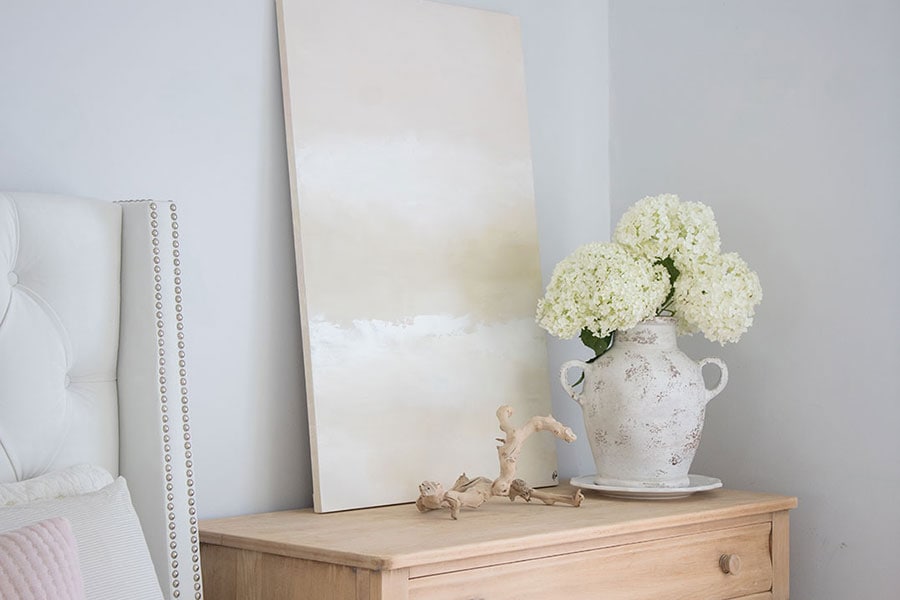 The big dresser was already in the room, I gave that a makeover with white paint right after we did the floors.
We don't have a dedicated office in our house, so I incorporated desks into both of my daughter's rooms. There used to be a horse picture over this desk, which I still love but it really didn't go with the new look so I replaced it with this metal grid instead. The horse picture will eventually be used somewhere else. I wanted to purchase a new desk chair (love this one) but for now, I'm using this wicker chair from my dining nook.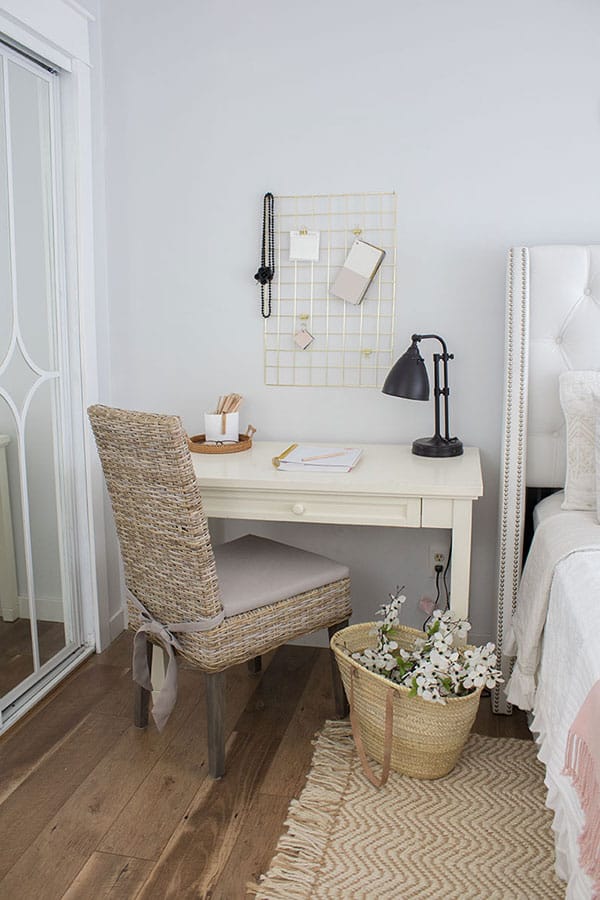 I added a small basket as a catch-all and the pencil holder is really a planter.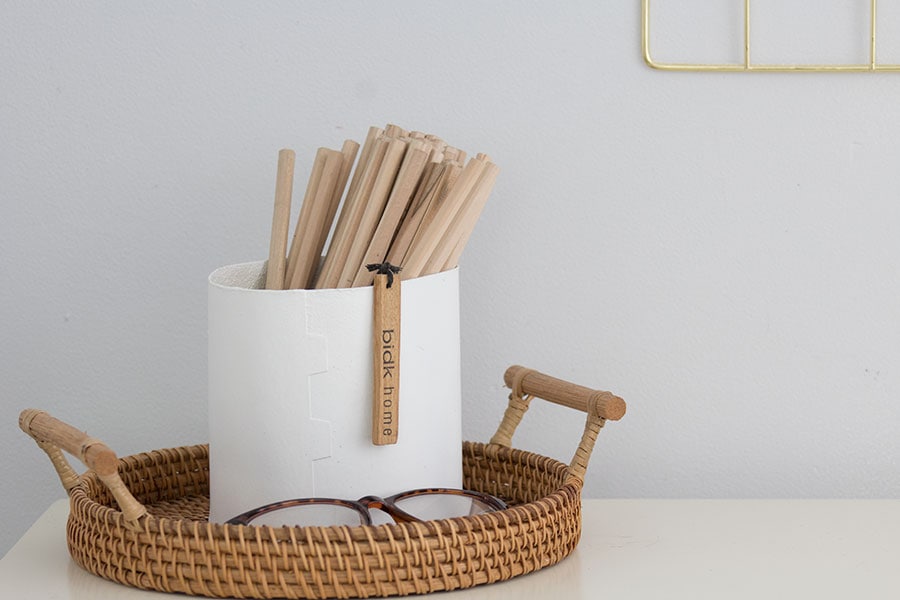 When my husband and I replaced the flooring, he also redid the molding throughout the room with craftsmen style moldings. That made a huge difference in the room and really made the DIY mirrored closet doors stand out as well. I'd have to say that is my favorite thing about the room now.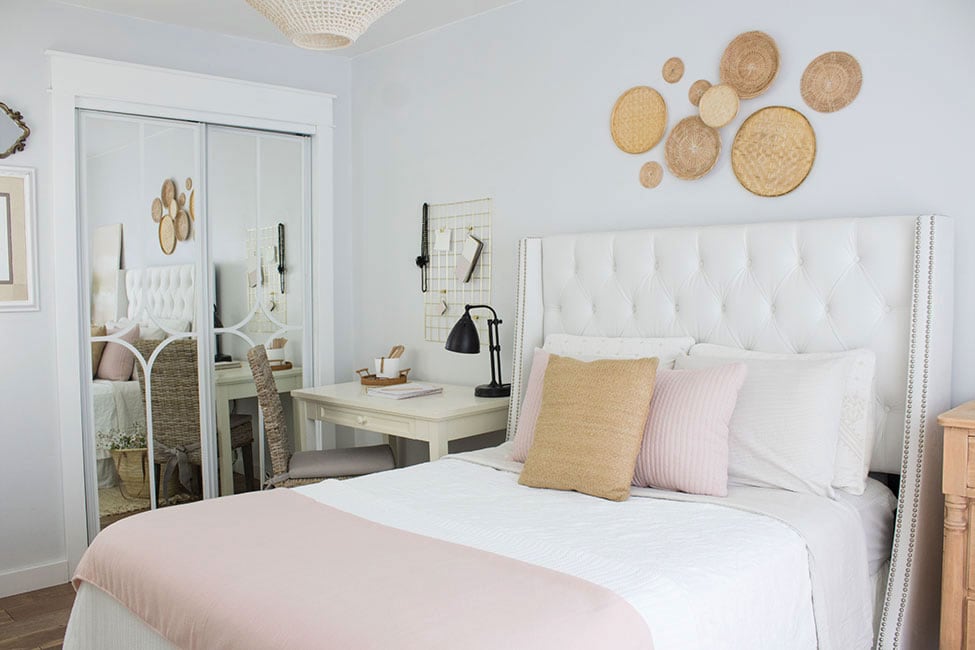 What do you think of the pink accents in here? Pink wasn't part of my initial plan, but it goes nicely with the painting.
I managed to fit two dressers and a desk in here without it feeling too cramped. As for bedroom decorating ideas, having a desk next to the bed serves double duty and is a good use of space in smaller rooms.
So as you see, even though the room is done, it's never really done around here. 😉
You can shop the look below.

*This post may contain affiliate links, you can read my full disclosure here.