Ambrosia Recipe Using Fresh Coconuts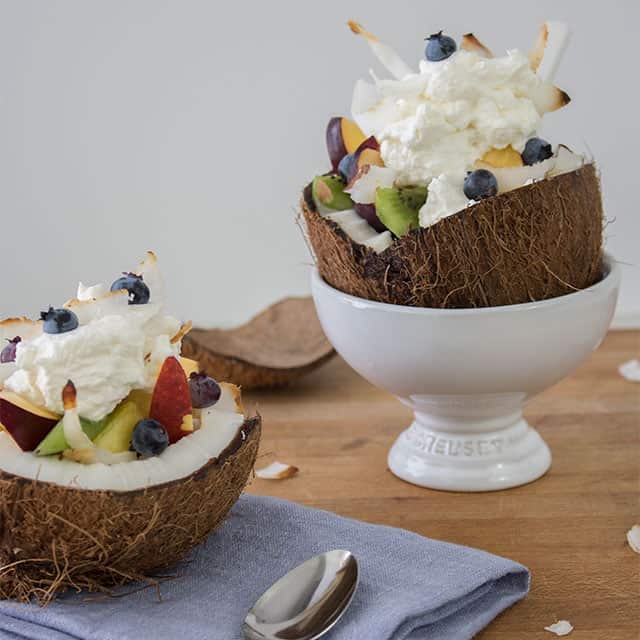 I'm not normally big on fruit salad, but I have been wanting to try Ambrosia. Because my taste tends to be a bit on the pickier side, I opted to make it myself. I made this the day before we were having a birthday party at my house for my mom and my niece so that if it came out good, there would be plenty to share.
And you guys, it did come out good. Really good.
I researched Ambrosia recipes and took bits and piece of what  I liked to make my own. The fruit I used are as follows:  Pineapple, peaches, plums, kiwi and blueberries. This can be easily switched out to what you and your family prefer.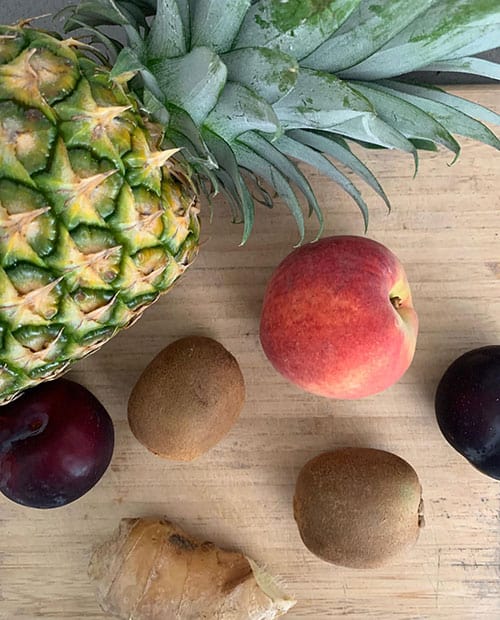 Some Ambrosia recipes call for mini marshmallows but I didn't want to use those. And since I was making this anyway, I decided to get really fancy and serve these up in coconuts. That's a little more work and not necessary to make the recipe, as you could just buy shredded coconut. But the presentation is fantastic when you do!
Making the Whipped Cream
I topped mine with fresh homemade whipped cream. If you want to further cut the time down, you could buy a can of whipped cream instead. To make it yourself is really easy. You pour heavy cream into a mixer and let it mix until it firms up. It takes some time to turn, but the higher the speed on the mixer,  the faster it'll fluff up. I added a few tablespoons of confectioner's sugar to sweeten it up. It came out just right, not too sweet.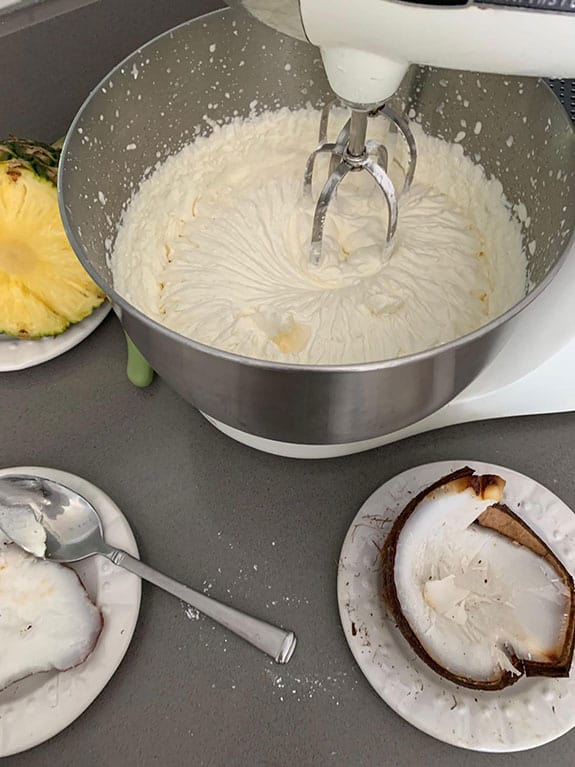 If you wanted to give this recipe an adult kick, you could add a few tablespoons of amaretto.
How to Split a Coconut in Half
Opening the coconuts was easier than I expected. Poking a hole through them to drain them took a bit longer than cracking them open. To poke a hole, use a sharp object like screwdriver or knife (be careful) and pierce through one of the coconuts "eyes" and drain. You won't use the coconut water for this recipe, so you may want to reserve that for something else, like a smoothie.
To crack your coconuts open, you wrap it up tight in a dishtowel and twist the two ends.
Then you bang it against the ground until it cracks in half. It only took me one or two times to get it open. I would recommend draining, opening, and shredding the coconuts first.
Ambrosia Tips
As you will see in the recipe, there will be two instances in which you'll be waiting for the coconuts in the oven. During that time, I made my ginger syrup. The syrup also needs to simmer on the stove for 20 minutes, so during that time, I cut up the fruit. If you plan the steps out like that, it will cut way down on prep time.
Though there are a few steps to making this Ambrosia from scratch, the final results are SO worth it.
My daughter even said it was better than what she usually gets at one of those fruit bowl places.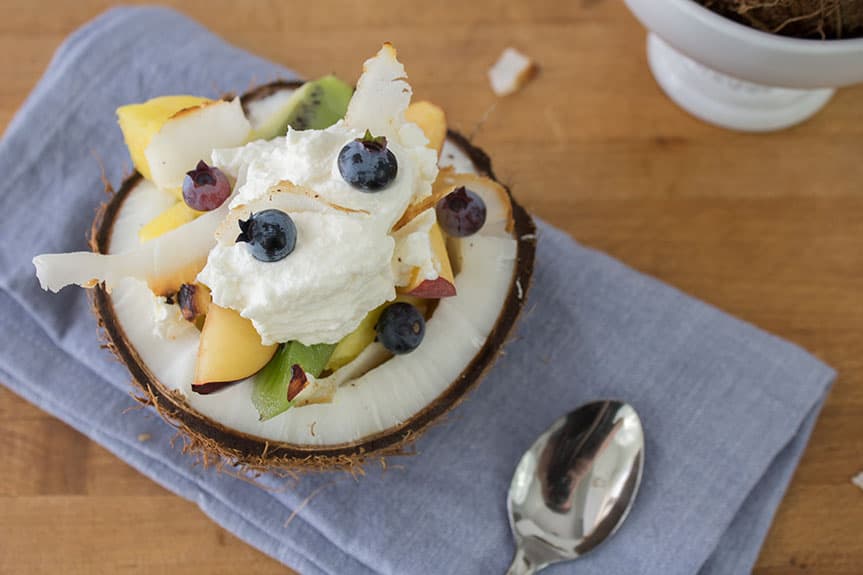 And how darn cute is this little pedestal ice cream bowl?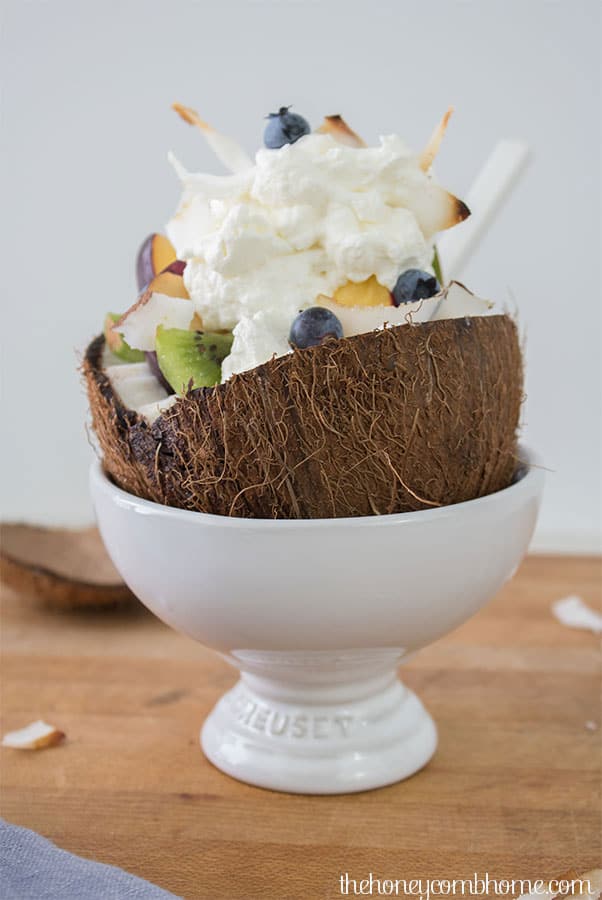 You can print the recipe below. Enjoy!
This post may contain affiliate links, you can read my full disclosure here. Linking up with BNOTP.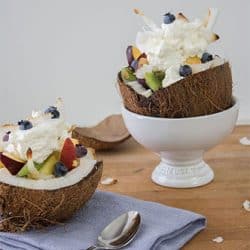 Ambrosia
Ambrosia salad using fresh fruit, ginger syrup and coconut shavings, topped with homemade whipped cream.
Ingredients
4

Coconuts

1

Cup

granulated sugar

2

Plums

Cut in Wedges

2

Peaches

Cut in Wedges

3

Kiwis

Peeled and Cut in Wedges

1

Pint

Blueberries

1/2

Pineapple

Cut into Cubes

1 1/2

Cup

Shredded Coconut

2

Cups

heavy cream

3

Tablespoons

Confectioner's Sugar

1

2-Ounce Piece

Fresh Ginger

3

Tablespoons

Amaretto

Optional
Instructions
Pierce one of the coconut "eyes" with a screwdriver or sharp object. Drain the liquid (discard or save for another recipe).  Repeat with remaining coconuts. 

Wrap each coconut in a kitchen towel, twist each end to form handles.  Bang the coconut against the ground until it cracks in half.

Use two halves to make the coconut shavings.  Place these two halves, flesh side down, onto a baking sheet.  Bake in the oven at 350 degrees for about 20 minutes or until the coconut skins begin to peel away from the shell.   Remove from oven, let cool for 5 minutes.  Pry the coconut skins from the rest and use a vegetable peeler or cheese grater to shave the coconut into strips.  Place the coconut shavings back onto the baking sheet in an even layer.  Bake for 10 minutes or until the edges turn golden.

Slice the ginger into 1/8" rounds.  Place ginger, sugar and 2 cups of water into a saucepan.  Bring to a simmer and stir to dissolve sugar.  Continue to simmer about 20 minutes.  Strain and put in refrigerator to chill.

In an electric mixer, pour cream, and confectioner's sugar (add amaretto if using) and beat until it fluffs up.

Add the pineapple, plums, peaches and kiwi to a large bowl and toss with 1 cup of the shredded cocount and the ginger syrup.

Place the remaining coconut halves into bowls.  Add a large spoonful of the whipped cream into the bottom of each coconut with the remaining shredded coconut.  Spoon fruit mixture in next.  Top with another spoonful of whipped cream, garnish with blueberries and toasted coconut.