Rescue Restore White Dresser Makeover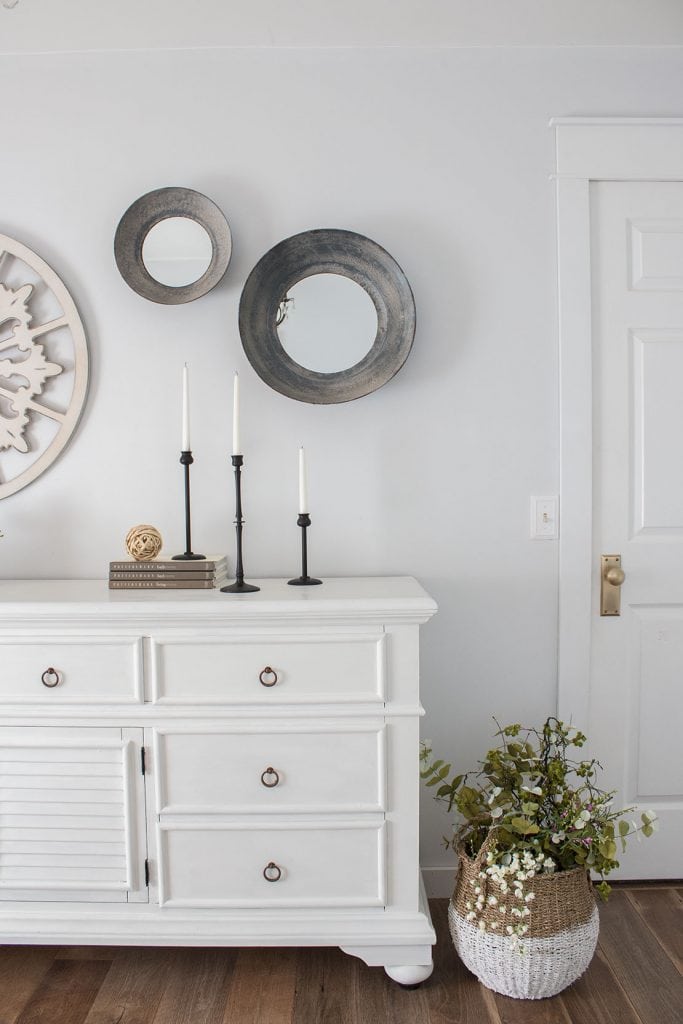 We all have that one (or more) outdated piece of furniture that we mean to replace but never seem to get around to it, don't we? One of those pieces in my house is my daughter's dresser. I have a specific idea of what I'd like to replace this with, but I'll probably only find it at an antique store or second hand. In the meantime, I gave the old one a fresh coat of paint and new pulls. The now- white dresser looks so much better. This photo below was the before.
I was really over looking at the faux barn wood finish and the mirror above it was too small. The mirror has been gone for a while, and it's basically just been a blank wall for a year or two.
For the white dresser, I decided to try Amy Howard Rescue Restore paint* this time. I've heard so much about it and wanted to compare it to my usual brands. With the Rescue Restore paint, you can paint over just about any surface you can think of. The brown dresser was painted with chalk paint and sealed with wax, and the Rescue Restore covered it with no problem. And much like chalk paint, no sanding or priming needed.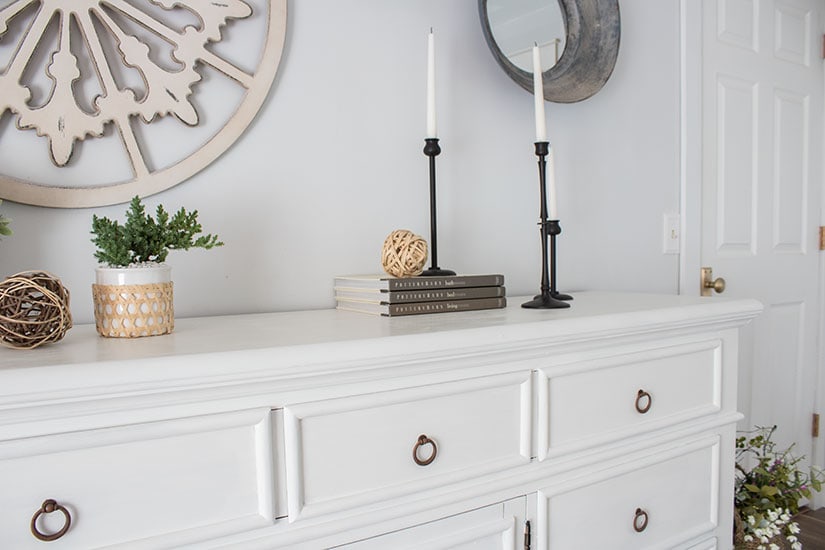 After looking at the brown dresser for so long, I went with a color called Blessed, a beautiful white. The directions say you can mix it with a little water (much like the chalk paint I've used in the past). For my first coat of paint, I did not do this and it ended up caking up a bit in some spots. And I used much more of the paint than I would have if I had mixed it with water.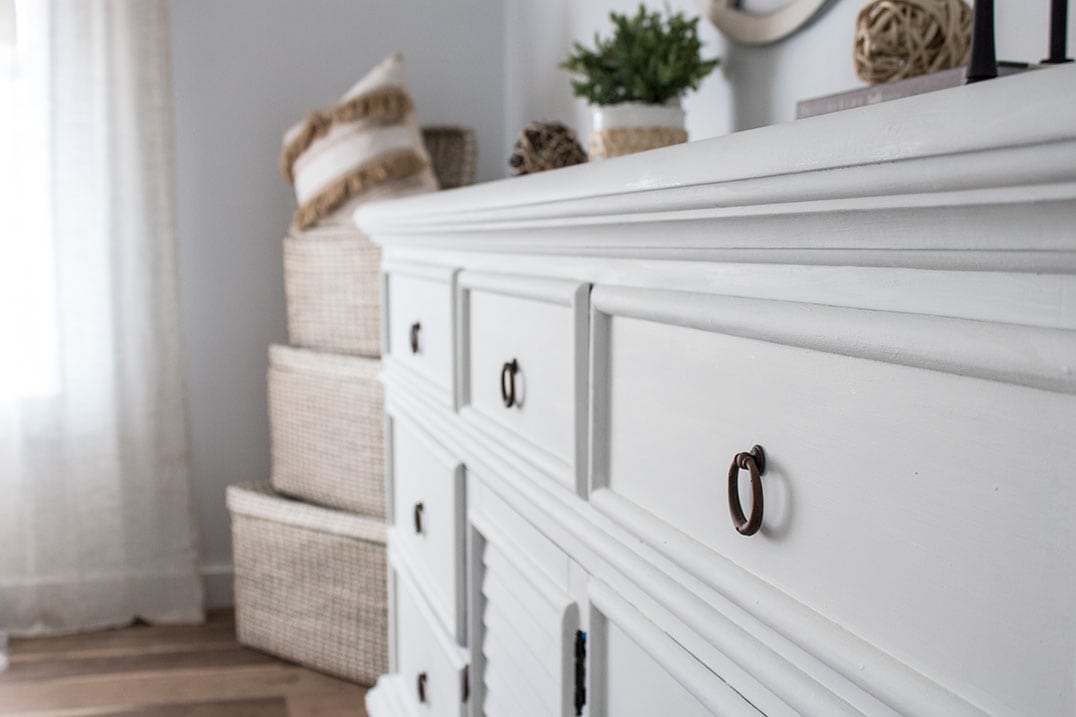 What I've found with this particular brand is it's definitely best to dilute it with water and to apply thin coats, of which I needed three to fully cover the previous dark finish. This paint is said to be durable enough to not need any top coat or sealers, which is an added bonus. With my chalk paints, I always applied wax after which can be annoying because small pieces of pet fur or particles can sometimes get into it. Old habits die hard so I did go ahead and add a coat of wax to the top of the dresser just in case.
I replaced the old dresser knobs with these antique looking pull rings in the finish Terra Rustica.
What stood out to me the most about this paint, is the color of the white. It's a beautiful, slightly warm white with no undertones. Although I'll still be on the lookout for the perfect antique dresser, I'm not in a hurry anymore. I guess you could say that Amy Howard paint really did rescue & restore this old piece.
You can find the mirrors over the dresser here and here. I'm loving how this wall came together but the smaller mirrors might get relocated due to my design plan for this bedroom that's now coming together.
So even though I started off with a bit of a rocky finish on this white dresser, I have to admit it was due to my not reading the directions first. I have another piece of furniture to paint, so I'm going to give this paint another try on that before I pass final judgment on it.
But before I get to that I am going to finish this bedroom. We finally replaced the old carpet with these new floors which I'll share with you soon. They were such a bargain!
See anything you like? Shop the look below!

We love social shares, please pin: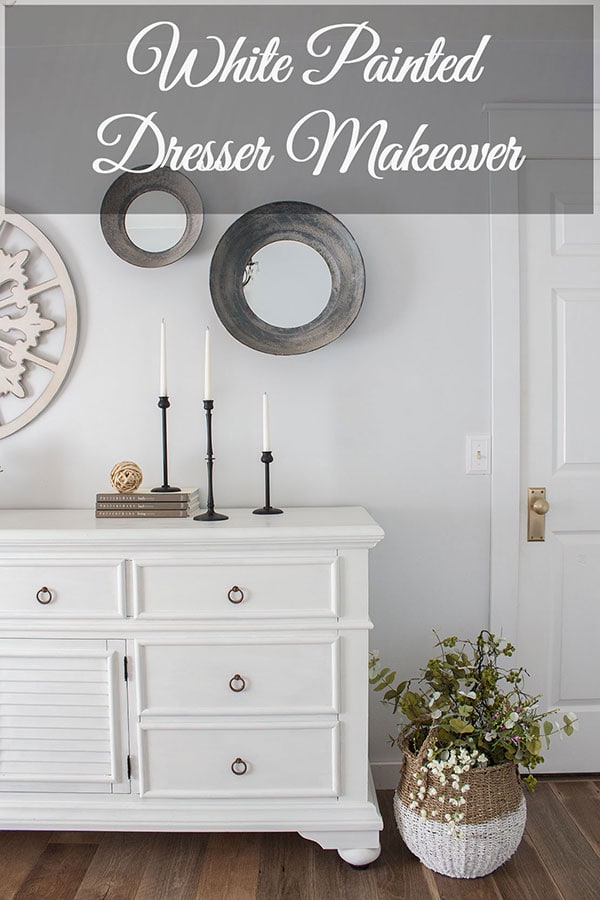 *This post may contain affiliate links, you can read my full disclosure here.