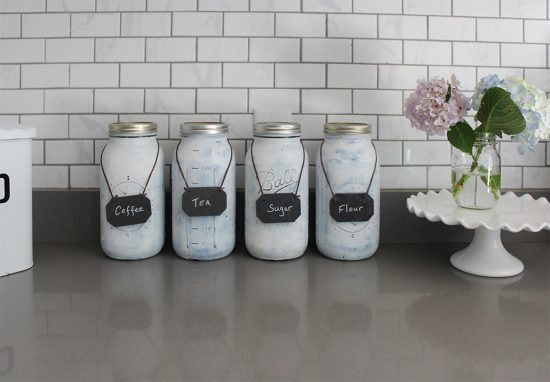 Painted mason jars are nothing new, I know. Mason jars painted with chalk paint just go together so well! And as a DIY blogger, it was time for me to finally try out Annie Sloan chalk paint and see what all the fuss is about. Since it was my first time with chalk paint, I started with mason jars before I get too crazy painting up all the furniture in my house. My idea was to turn them into mason jar canisters for the kitchen.
I had the larger size mason jars and I've been using them for canisters for a while now. They make good canisters because you can fit a lot in them without taking up much counter space. But because they were clear, it looked messy.
I ordered the sampler kit of Annie Sloan Chalk Paints (you can choose which 5 colors you prefer) and a jar of the wax. The wax also came with the towels to apply it. This paint is only sold in select retail stores. You can look up local retailers here.
For anyone new to Annie Sloan chalk paint, this paint adheres to almost anything without any sanding needed. I started with the shade Louis Blue, the jar on the left has two coats and the one on the right has just one.
I had one extra mason jar so I used that one to experiment. Next, I added the pure white to one side of the extra mason jar to see how that would look.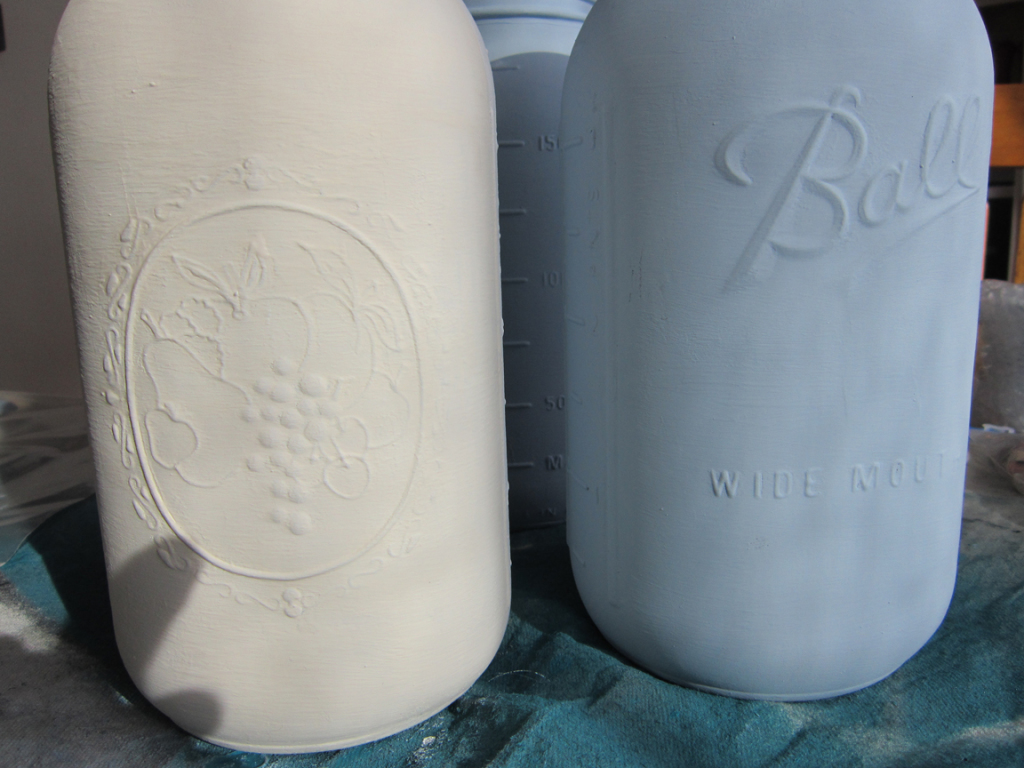 Then I added the shade of Old White to the other side for comparison.
I wanted to achieve a distressed, layered look. In the next photo,  the first jar had 2 coats of blue and 2 coats of white, with a lot of sanding. I didn't love that one. The middle is two coats of blue, 1 coat of white, that was much better. The third has 2 coats of blue, and two very light coats of white, that was my favorite.
I found that adding water to the paint gives you a much smoother finish and fewer brush strokes. When it gets too dry, you get a crackled effect. It also dries quickly, so I poured a bit of the paint into a paper cup and shut the lid on the sample pot to keep it from drying out. I think it's best to work in small batches.
You can see the chalky effect of the paint here. You can sand it smooth once its dry.
Next, I added the clear wax, in a circular motion, with the provided towel. Immediately after applying the wax, you go over it with another towel to buff it (wax on, wax off). I used only 1 coat of wax, but I've read for heavily used items it's recommended to do 2 or 3. The jar of wax is large and will last you a long time. The purpose of the wax is to seal and protect the paint and to enhance the paint color. The wax is also sold in a dark color if you prefer an aged look over the paint. This picture illustrates how it looks with and without the darker wax applied.
Design, Drapes and Decor
Here are my completed mason jar canisters.
I found the little chalkboard hangers at Home Goods, here are some similar chalkboards I found online. This set has a decorative edge* which I like.
This set has a cute little frame around them.
My opinion on chalk paint is that it's worth the money, I'm definitely hooked. A little paint goes a long way, I have plenty left from these little sample pots for more projects. I love that there is no sanding needed unless you want to distress it after. It dries quickly between coats (good if you're impatient like myself) and it has no odor. The instructions say to use in a well-ventilated area, but since it was about 2 degrees the day I painted these I didn't open any windows, and still, there wasn't any odor.
I'm so happy with my new mason jar canisters! You can see my entire kitchen makeover here.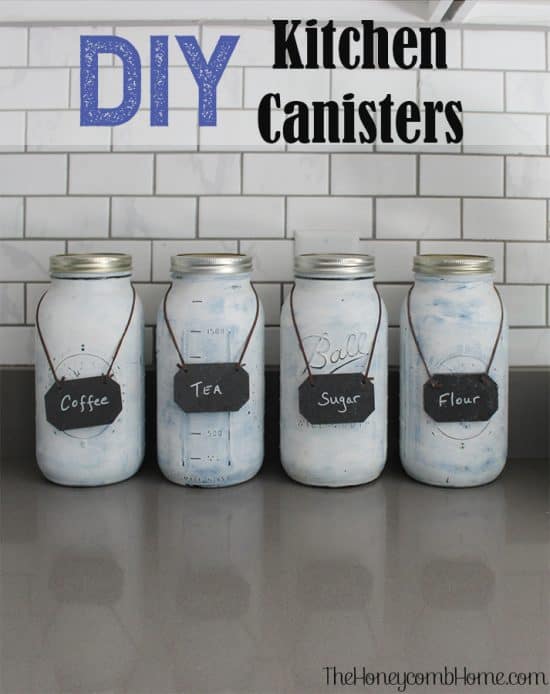 This post may contain affiliate links, you can read my full disclosure here.