Small Space Organizing Tips
Keeping any space organized is a daily battle. This is especially true in small spaces where every square foot has to count. The key is getting your organization systems in place so it becomes automatic to put things where they belong. These small space organizing tips will help you do just that!
Keeping organized saves you from the frustration of searching for things, especially annoying when you're trying to rush out the door. I've read somewhere it can also save you money, as you're not buying things you may already have but you just can't find. I've broken down organization ideas by categories:
Organizing Jewelry
What I like about this jewelry organizer (find similar here) is that you could see everything at a glance. This could be a DIY project too. A serving tray with sides would work as the base. Going vertical in a small space is a great small-space organizing tip.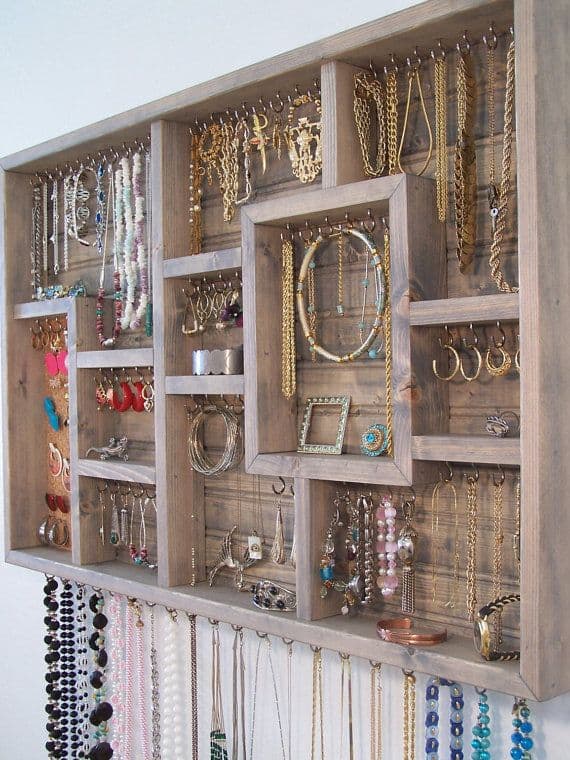 Here is another simple idea that would easy enough to recreate.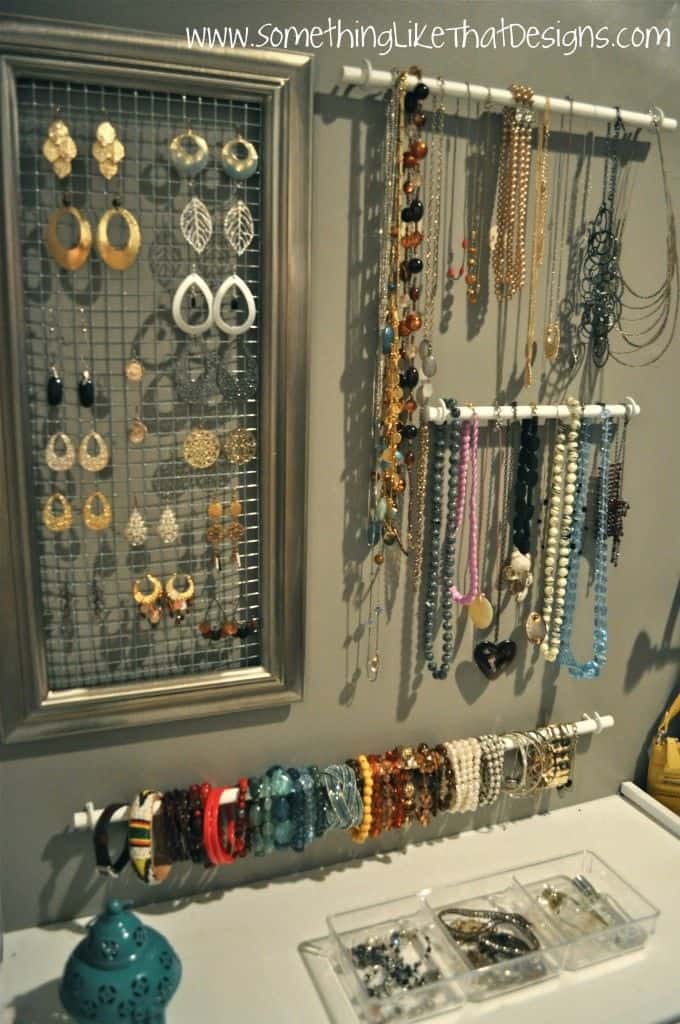 Using an inexpensive set of little bud vases as bracelet storage is useful and pretty!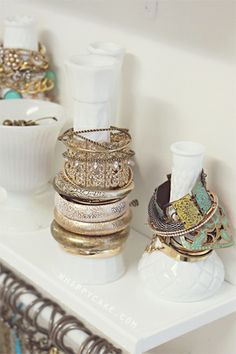 Kitchen Organizing
A great tip from the Container Store on organizing your fridge; "Since many shoppers like to buy the same brands (with the same packaging) over and over again, taking time to set your shelves and drawers accordingly will save you time in the long run." So true! Refrigerator bins are a great way to keep like items corraled together.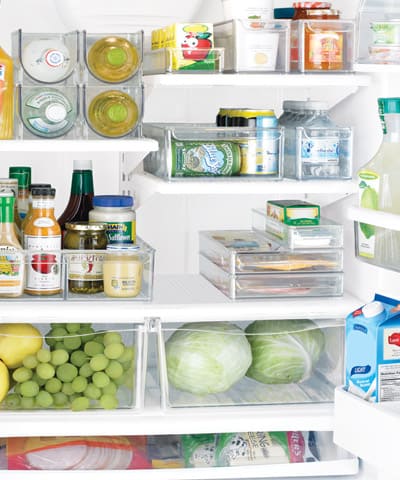 Another great idea is using inexpensive tension rods to divide your larger items such as cookie sheets. This way you can pull one out without the whole stack coming with it.
Via Pinterest
Use a sink caddy inside the pantry to group smaller items that can get lost in the back. So smart!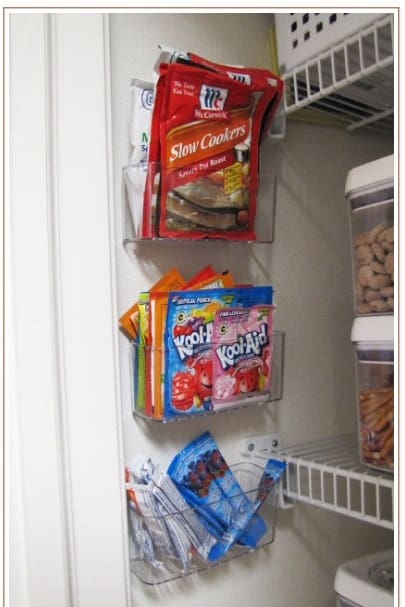 I have a recipe binder, but mine isn't as pretty as this one. I like the idea of having my recipes offline. When we spend so much time on the computer, its refreshing to just open up a book, instead of waiting for pages to download. I keep each recipe in plastic sleeves to keep it safe from food splatters. All you need is a binder and organizer tabs.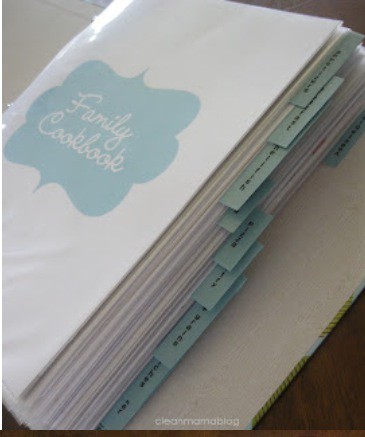 Keep the front of your refrigerator free from clutter by installing a magnetic sheet inside one of your kitchen cabinets. Or to maximize the space inside of a medicine cabinet. The round storage circles shown in the picture on the right are actually magnetic spice jars.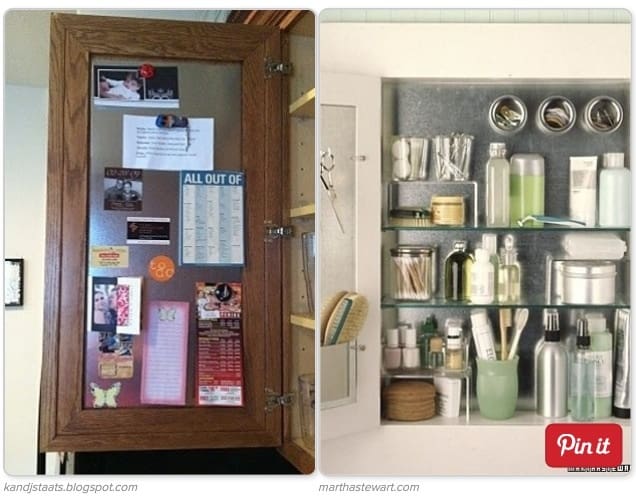 I have one of these wall-mounted broom organizers inside of a closet that I use to store my broom and mop. This is a handy way to keep them stored flat and off the floor. It takes up virtually no closet space this way.
Shoe Organization
It seems in my house there is never enough storage space for shoes! In this next picture, the shoes are stored so beautifully you wouldn't even want to hide this in a closet.
Use Ikea picture frames or a large a shadowbox frame to store and slide your shoes (or anything else) under furniture. I did this in my daughter's room with a shadowbox frame I wasn't using. I put all of her make-up in it and slid it under her night table.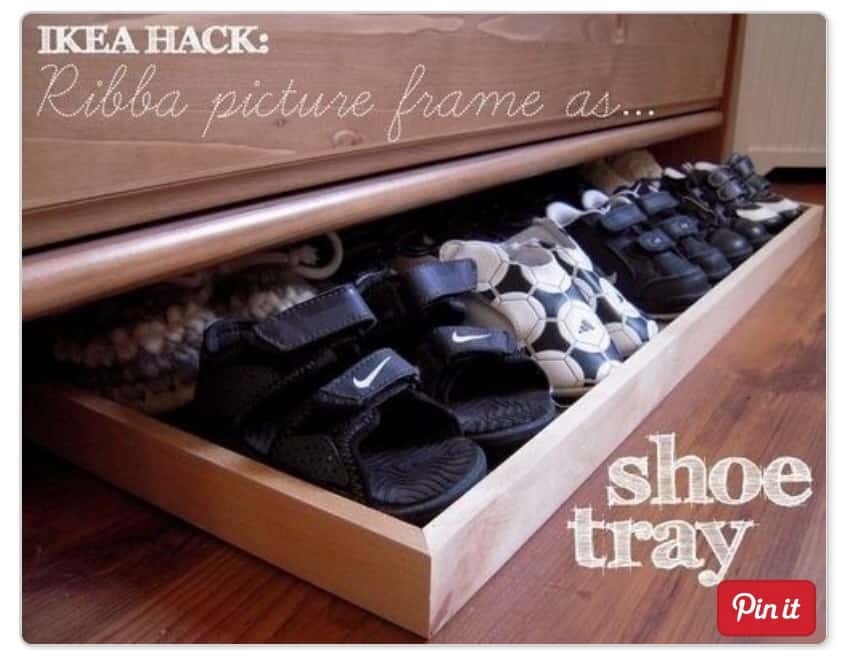 Another great shoe option is this HEMNES or the STALL cabinet (both are under 9″ in depth) from Ikea. It's super slim so it doesn't take up much floor space.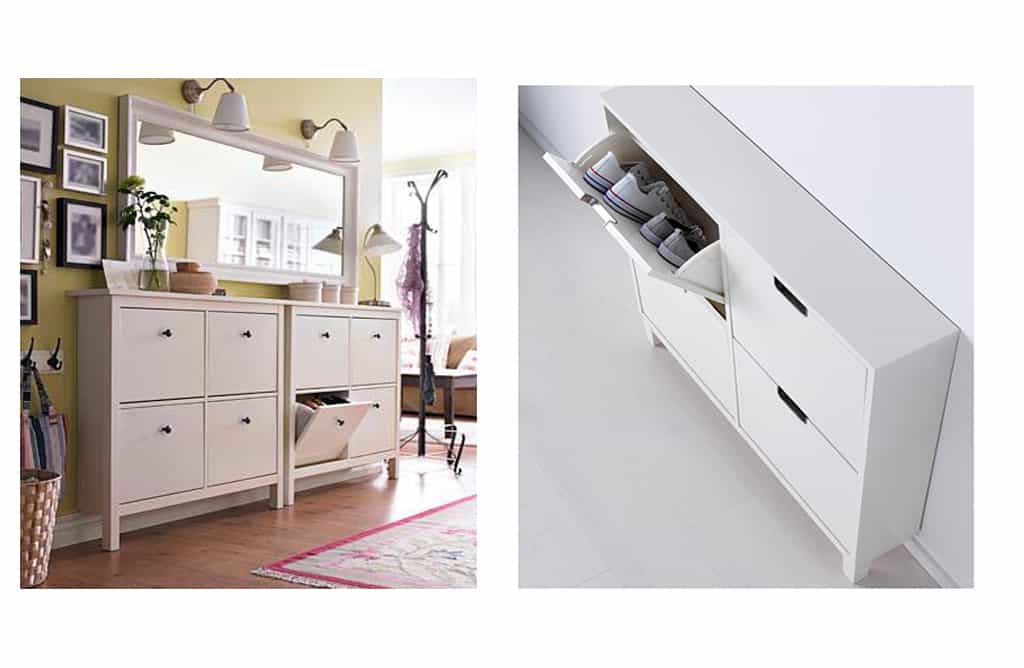 Or keep a beautiful lidded basket near your entry to easily toss your shoes in. It's decorative as well as functional. You could store this one right under an entry table.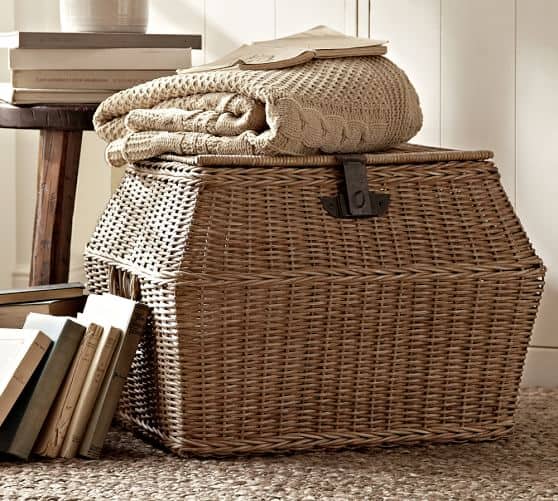 Organizing The Closet
Organizing the closet seems to be the most challenging space of them all to keep neat! At least for me, it is! I've gotten my linen closet organized, but my walk-in closet definitely needs some help!
I love this first closet from a bowl full of lemons. They really maximized every inch of space here and it looks great!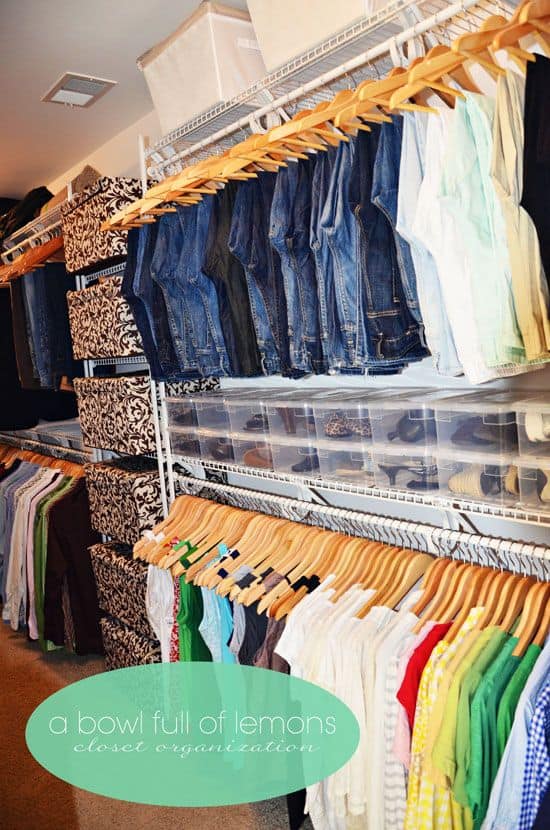 To double your hanging space without an entire renovation, you can buy these inexpensive closet expanders.
Here, shelves are hung upside down so the brackets become shelf dividers. Brilliant!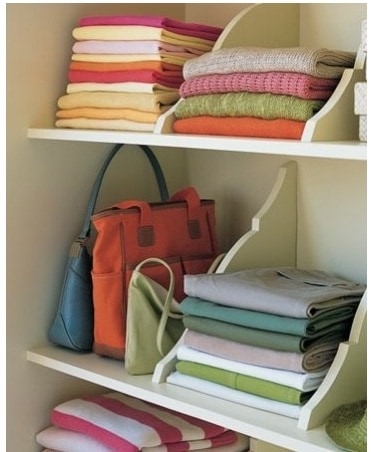 This genius over the door organizer is targeted towards men but would work for anyone. Great to corral all the small accessories.
This next one is a great idea if you keep a lot of wrapping paper around, but it could also be used for other items. I'm thinking of sports equipment, tennis rackets, skis, skateboards, stray gold clubs, or camera equipment such as tripods. Or cleaning supplies like brooms and mops, or vacuum attachments.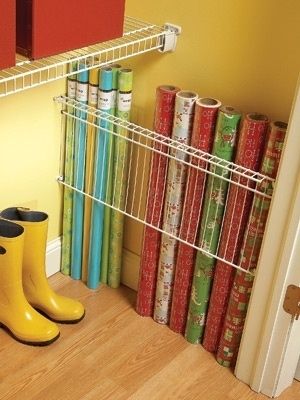 Office & Paperwork Organizing
You can easily create a pretty mini office with just a few shelves and some useful accessories.
Organize your filing cabinet by color-coded folders.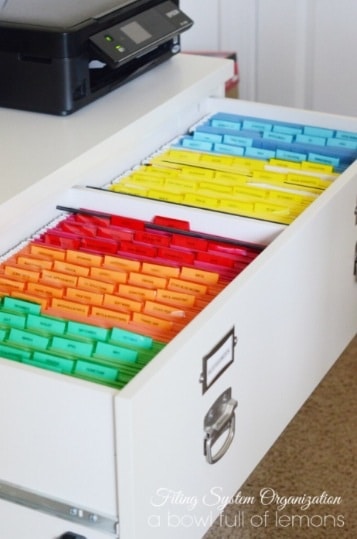 A Bowl Full of Lemons
No space for a filing cabinet? Use a multifunctional piece of furniture. This could double as a coffee table or extra bench seating.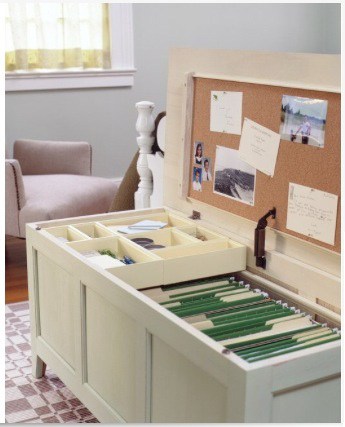 Or to use very minimal space, try one of these expanding file boxes. A friend suggested this to me and I've been using this idea ever since. Use 1 box for each year. Genius!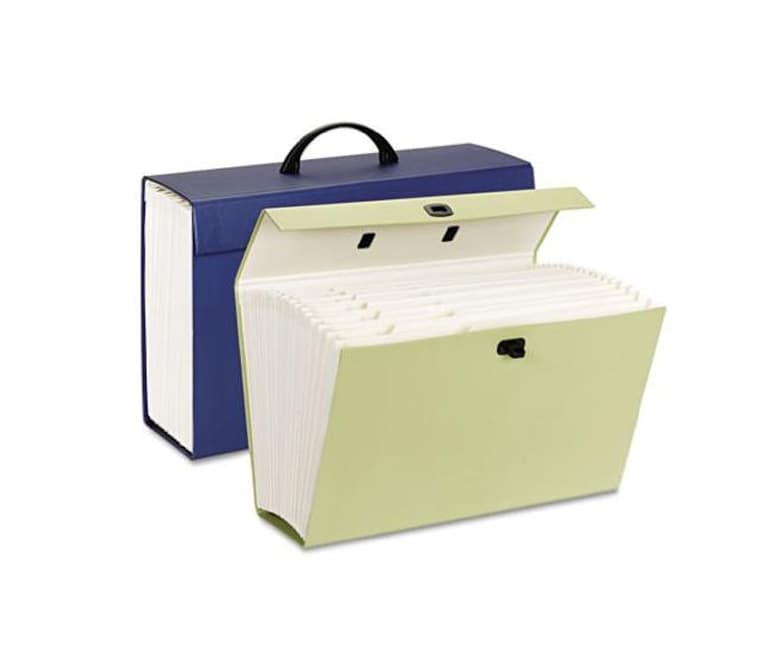 And how cute is this little mini office on wheels?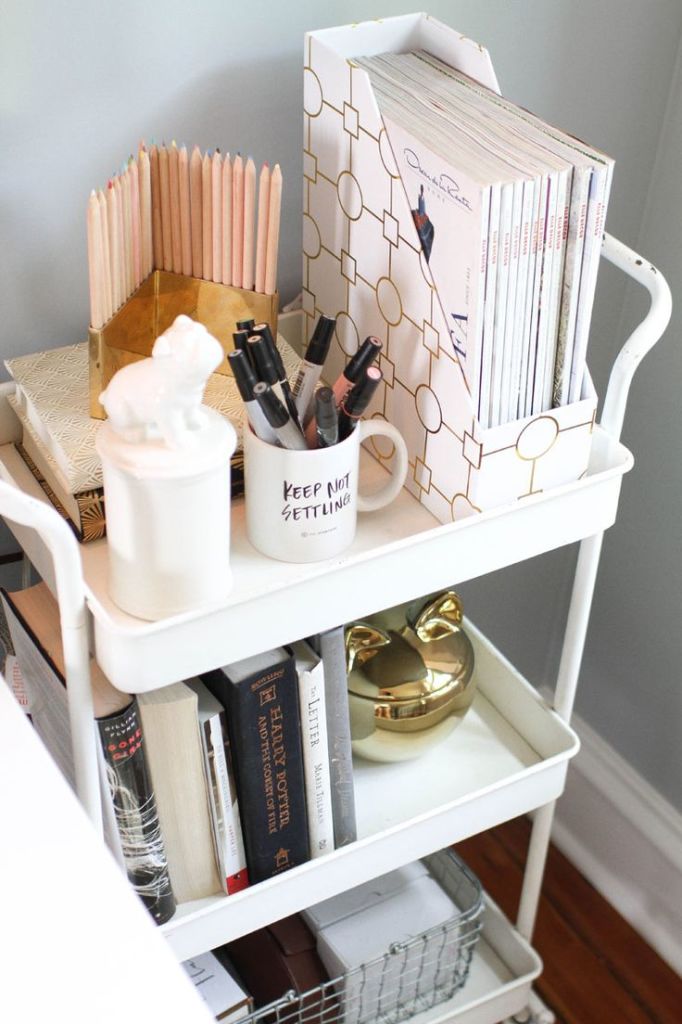 Organizing The Little Things
Keeping the little from taking over a space is always tricky. They havea way of creeping back in. Here are some ideas for sunglasses, keys, remote controls, chargers, mail, etc.
This first one would be great inside of a drawer in your entry.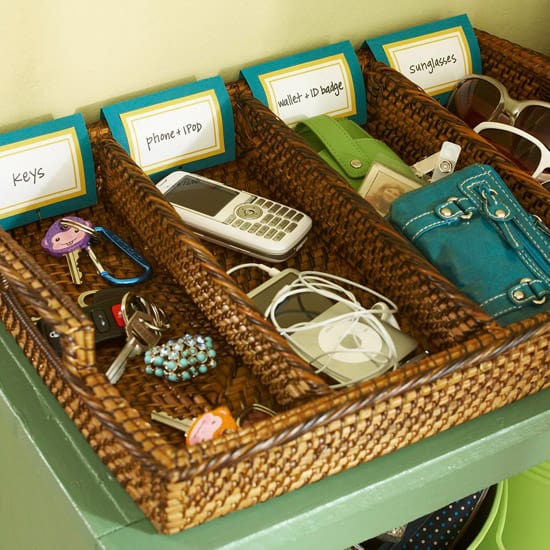 Small to medium-sized lidded boxes or baskets are great for your coffee table or bedside table clutter.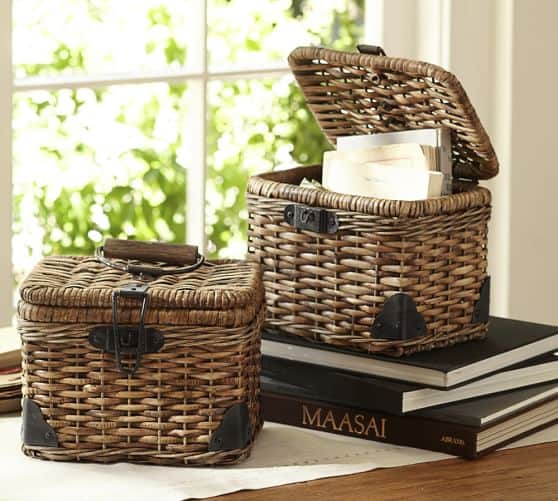 Lidded storage boxes like these are always useful in small space organizing.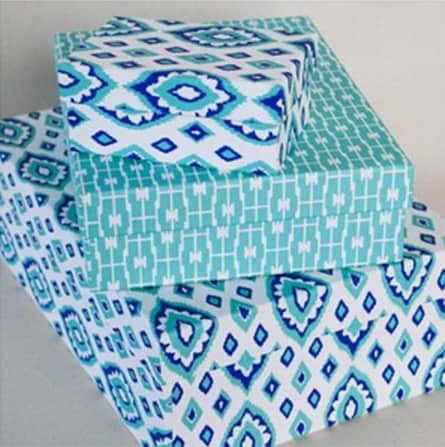 A few final tips for small space organizing:  Use the one in, one out rule. When my husband or I get a new article of clothing, we have to donate one from our closet. I keep a box inside the closet for this purpose. When it's full, I donate it.
Also, using multi-functional pieces is a must. Such as storage ottomans and coffee table trunks. I also learned how to convert my photos all to digital which also saved a good amount of storage space.
How do you stay organized? I'd love to hear!
Please Pin: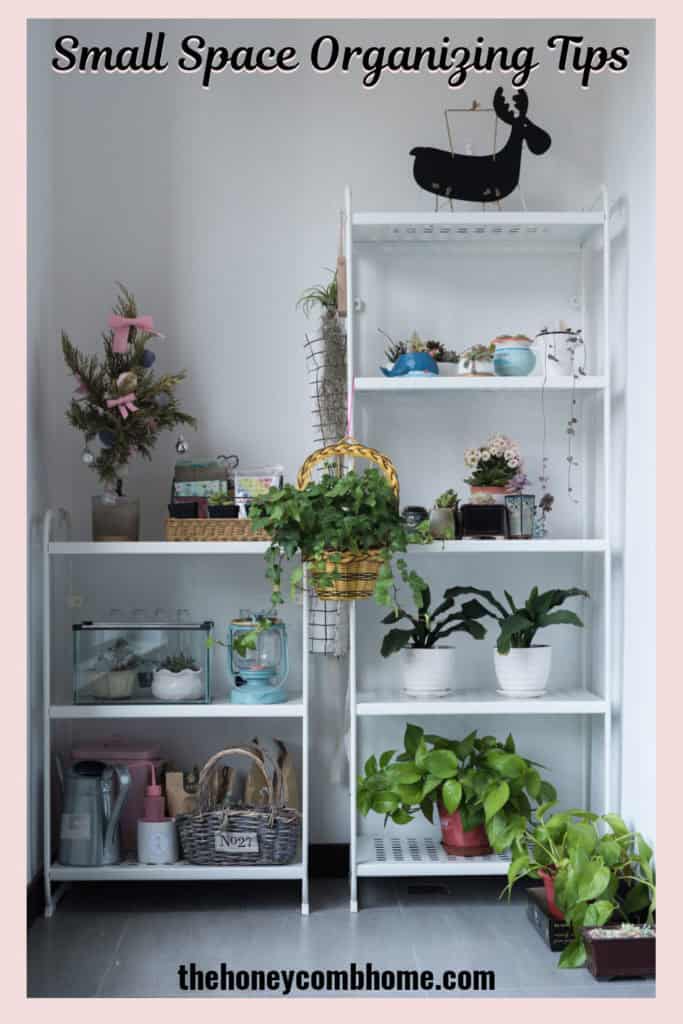 This post contains affiliate links.