Bedroom Makeover Design Plan
My husband and I have been bouncing back and forth over here between working on my daughter's room to making some updates to our bathroom to buying furniture via Facebook marketplace to refinish. We have got half-started projects all over the place! I've spent so much time on the design plan for this bedroom that I feel like I haven't gotten much else done.
I really do enjoy this part of the process almost as much as seeing it all come together so I thought I'd share my plans for the room with you today. Several years ago I painted the walls in here the color Rhinestone by Sherwin Williams. I haven't gotten tired of it yet, and I've used it in other makeovers as well. It's such a perfect light wash of color. It looks almost white until you see it actually paired with white.
After we removed the outdated carpeting and installed these inexpensive floors, my husband added craftsman style moldings. Obviously, I still have to paint them but I couldn't be happier with how these turned out. I'm really hoping he'll continue this molding throughout the rest of the house because they made a tremendous difference.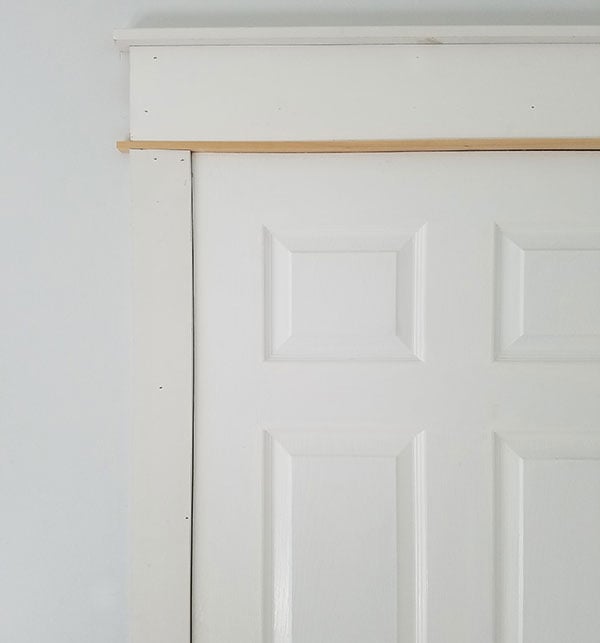 One design element I knew I wanted for the room was a collage of wall baskets. I searched high and low for the perfect set and found these from Olive and Iris. They go perfectly with this wicker chair* I picked up on sale for the room.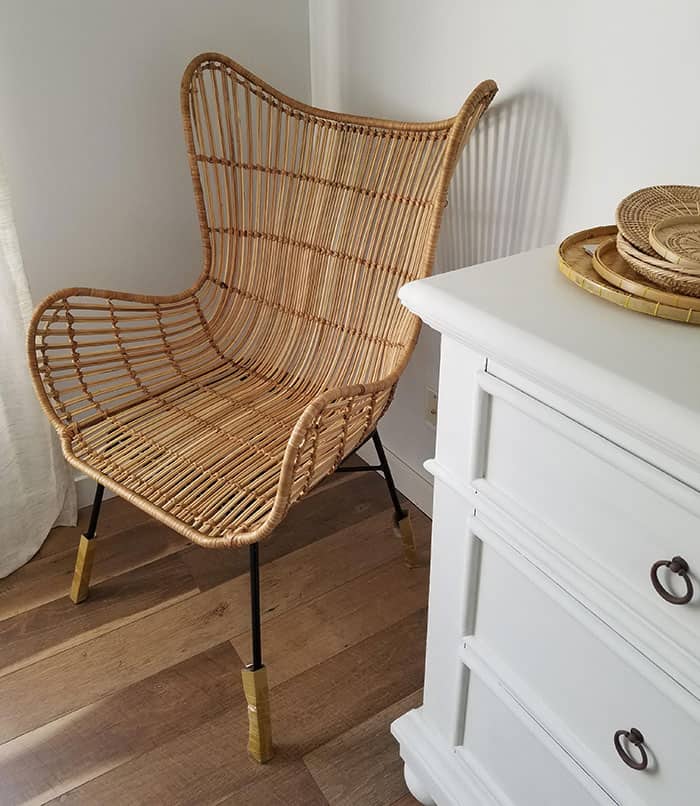 Then I spent at least a week looking online for chandeliers, as the existing fixture was as outdated as the carpeting. I took a chance on this inexpensive one and was beyond happy with it once I received it. It looks as pretty when it's off as it does when it's on.
To the right of the bed, I've been wanting to add a 3 drawer chest to balance out the desk on the other side and to incorporate a bit more storage space in addition to the existing dresser. I've been looking for one of these chests since well before I started this makeover. I finally decided on this one to bring in some natural wood tones.
However, before I went ahead a bought that I found something on Facebook marketplace that was less money and so full of character that I changed my mind. It's a vintage Whitney style chest of drawers that I'm really in love with, so much character! The only problem with it is that it threw off my design plan a little. It's already painted beautifully but that shade of gray is too close to the wall color and I still want something with a wood tone. So I will be removing the gray paint from this piece and refinishing it differently. I'm still working out the details on that one.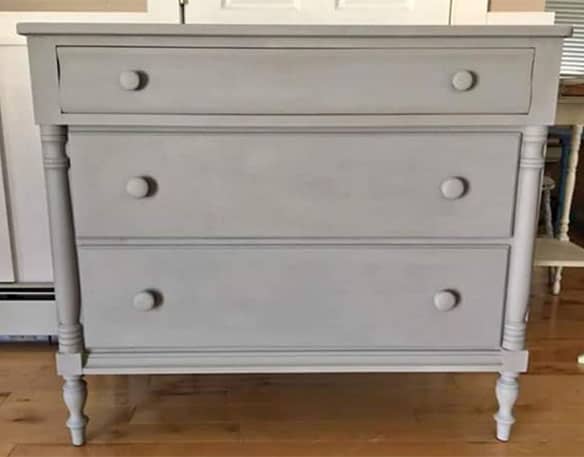 The point I'm at now is finding the perfect headboard so I can get those pretty baskets hung. I'm thinking white upholstery with tufting. Most I find are some shades of linen, which are beautiful but I really want pure white. And finding that in a full-size headboard is difficult. I did consider something along the lines of an antique or wood headboard but those are so uncomfortable. When my daughter comes home (she's away at school) I want it to feel plush. I really like this one a lot, but it's a bit more than I wanted to spend on a headboard.
After that, I'll just need new bedding. I did order these pretty sheets already but I'm waiting to see which headboard I end up with before I decide on the bedding.
What do you think of my design plan so far?
*This post may contain affiliate links, you can read my full disclosure here. Linking up with BNOTP.