One Room Challenge Bedroom Makeover Reveal
Last week one of my blogging friends posted that this One Room Challenge is making her feel like the mayor of crazy town. Hilarious, but so true!
I thought choosing a bedroom for my ORC makeover would be easy, especially after completely renovating my kitchen in six weeks. I should know by now with any renovation project it always takes longer and is more involved than initially planned. But after 6 weeks of actual blood, sweat and even a few tears, here is my finished space!
This is what we started with…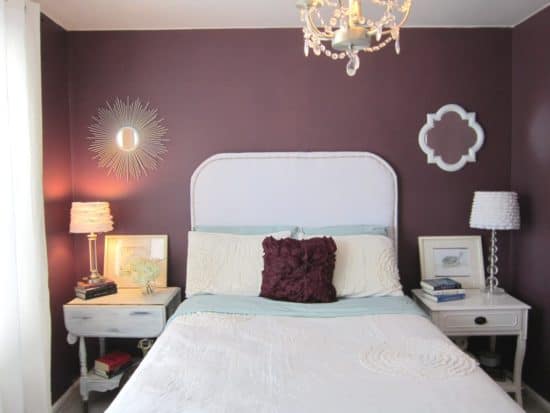 and now…
Before…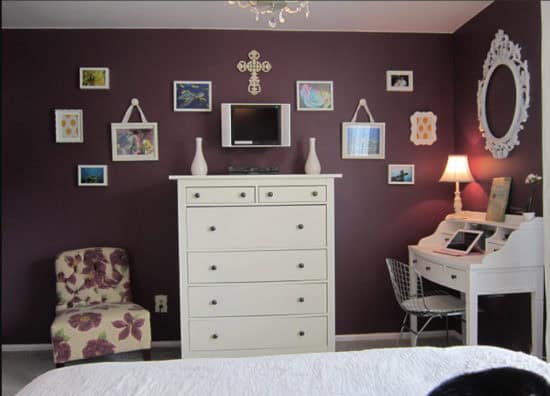 And after….
A drastic improvement for sure even though not everything went as I had planned. I had to make a few compromises and find a few substitutes for my original plans. One of which was the desk chair. The one I really wanted was just not in budget at this time. I found the cane chair at an antique store for $20 and gave it a makeover to better suit the room.
Finding the right headboard was a huge stress factor in this makeover for several reasons. When I was in the very beginning stages of planning my design, I visited an antique store where I found the perfect headboard that ever existed. It was completely unique and only $40! But sadly, it was a king size and I needed a full. There was no way to make it work. So I planned my design still with that in mind, thinking maybe I'd find something similar somewhere else. I didn't. In addition to that, not all full beds are created equal in size and I needed exactly 55″ width or it wouldn't fit with my nightstands. Every time I found one that worked with the design, it was the wrong size. Then my husband and I decided to DIY one. But with the clock ticking, I realized two weeks ago that there was no way we had time for that too. Finally, I found this one from Wayfair* that fit the space and the design. I love it, but honestly I don't know if I'll ever get over that first headboard from the antique store. First world problems, I know.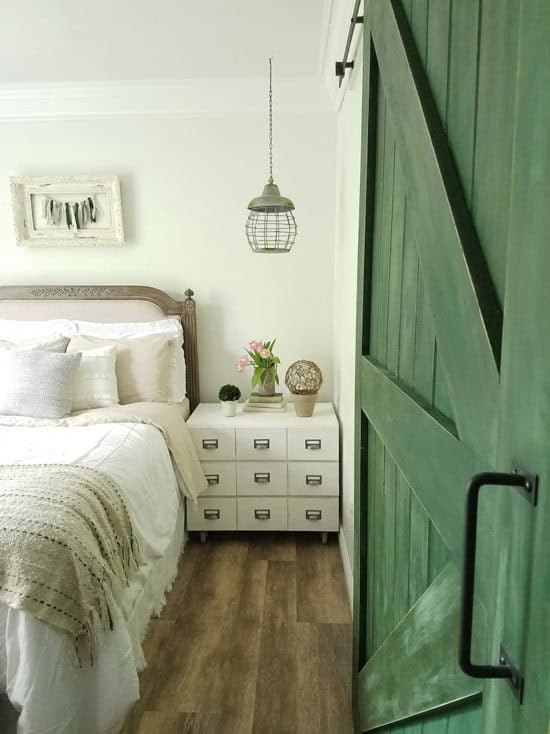 For the bedding, I knew I wanted a white and linen combo. However, buying linen duvet covers or blankets can get really expensive. To get the look for less, I found these amazing linen sheets from Bed, Bath & Beyond. I used them in combination with white bedding to achieve the white and linen look without having to spend hundreds of dollars.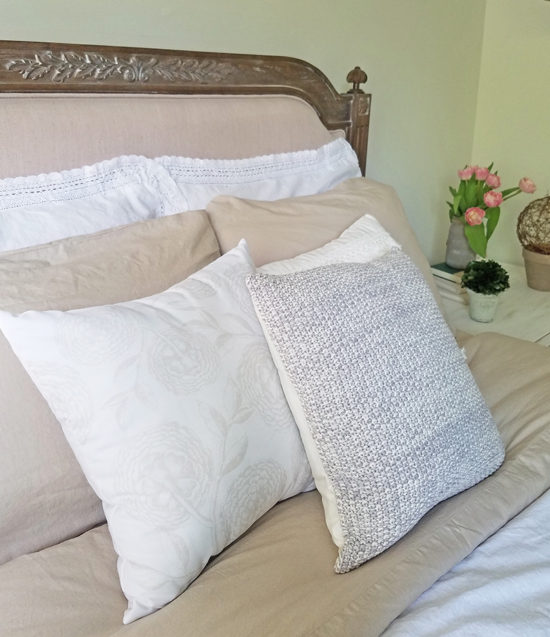 I also spent an asinine amount of time picking the right throw pillow combination. Again, there were pillows that got away, sold out just when I needed them! I do love what I ended up with here though. (You can find the floral pillow here and the neutral textured pillow here).
Of all of the projects in the room, I have to say the barn door that my husband built might be the showstopper of the room. My daughter's favorite color is green, so I painted it green, with a farmhouse distressed finish. No more bi-fold closet doors!! You can see how we built the barn door here.
chandelier
As for the hanging orbs, I've had those in a closet for at least a year waiting for the right place to use them. My plan was to turn those into chandeliers for over the nightstands. I had bought pendant lighting kits to do that but at the last-minute I decided I really didn't want a wire hanging down the wall. Since my daughter wanted me to add string lights somewhere in the room, I wrapped these orbs with glimmer strings for now. I still plan to make those chandeliers in the future. (To my husband, you're not getting out of that DIY project!).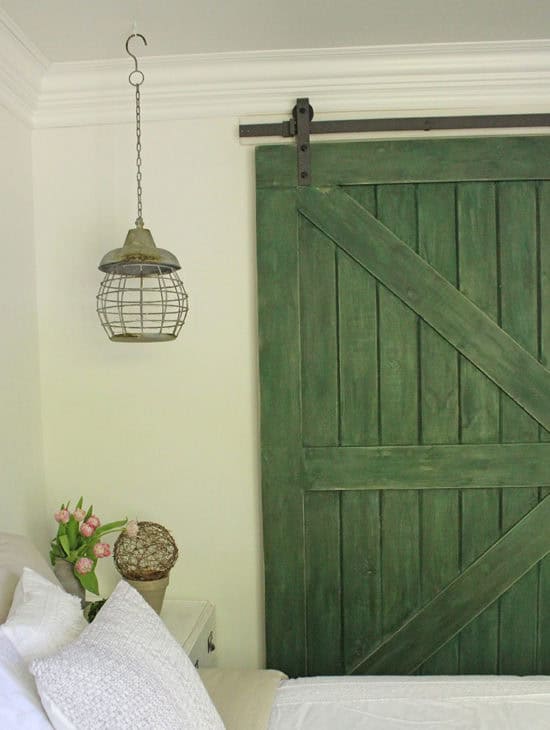 Of all the projects in this room, it was the curtain rod that nearly put me over the edge. As I was hanging it on the wall, the nails weren't grabbing. So I started again, using the anchors this time. Even the anchors were falling out. It was as if the wall was crumbling around it. SO frustrating. Luckily my husband came home and was the voice of reason in my distress (this is a role reversal for us!) and fixed it all up for me. He said the screws were too short and so were the anchors!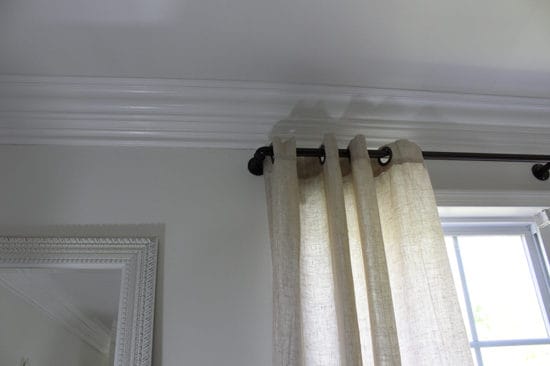 For the desk area, I wanted to pack in as much storage space as possible to help keep things organized. This little desk organizer is perfect. In a small space sometimes you have to hide things in plain sight.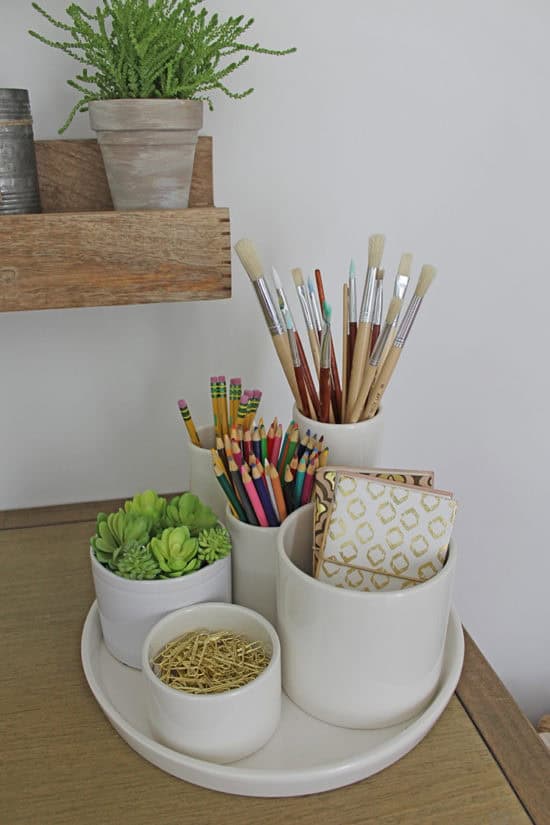 I also picked up this multi-functional rolling cart. This will be used for my daughter's extra notebooks and text books as well as for her makeup. She can roll it right over to the mirror when she needs it. I could think of a use for this in every room.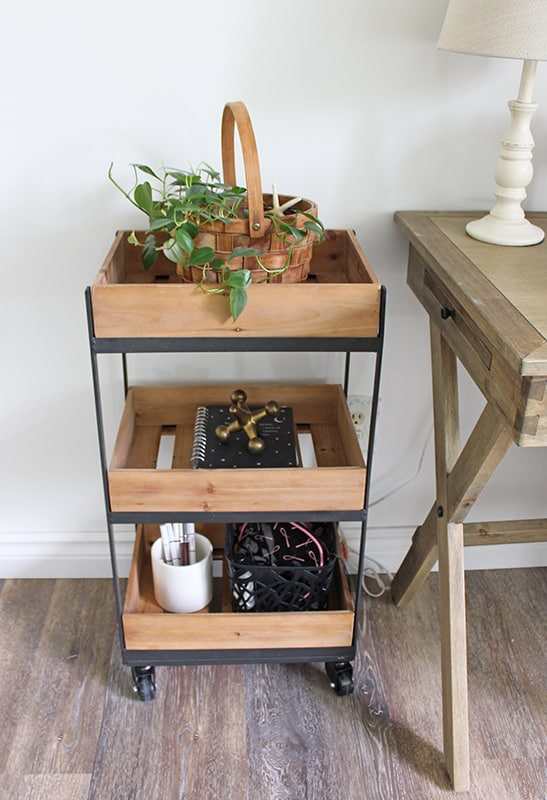 I added an ottoman to the end of the bed for extra clothing storage. With the nightstands and this storage ottoman, it eliminated the need for a dresser, freeing up space for the desk.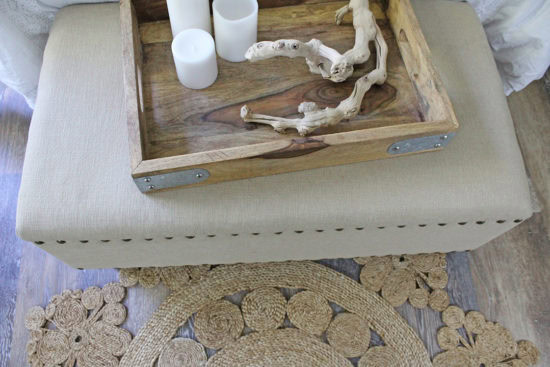 rug/serving tray (similar)
I kept things mostly neutral but I did add a few pops of green to echo the barn door. I added books with green to the nightstands.
I also added a bit of green to my DIY garland above the bed. The beautiful wall decor I originally chose for this space is still on backorder, I still plan on using it when it comes in. In the meantime, I pulled that frame right off my bathroom wall to hang above the bed. I made the garland because the frame looked a little bare and I wanted to incorporate a little more green.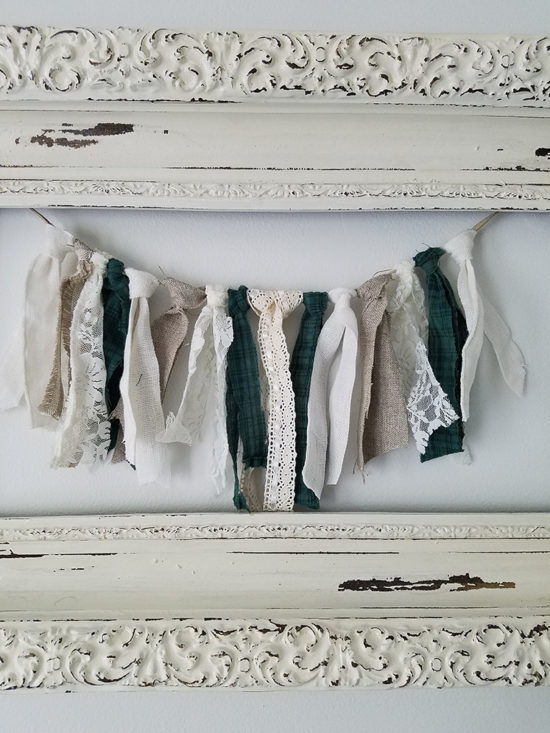 I also brought a few touches of green in the artwork above the desk. (You can find the art shelves here, the barn print here and the cow print here.)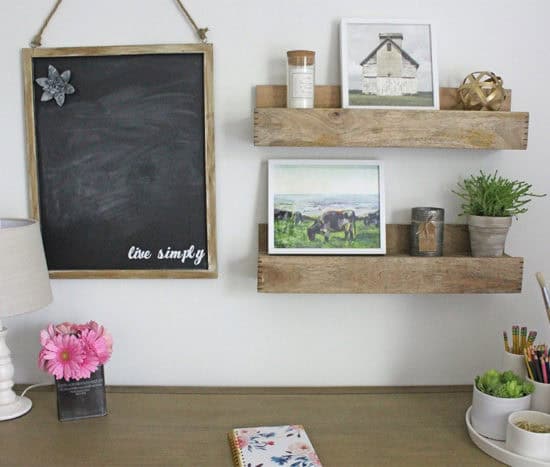 Because the room is mostly neutral in color, I relied heavily on textures for this space.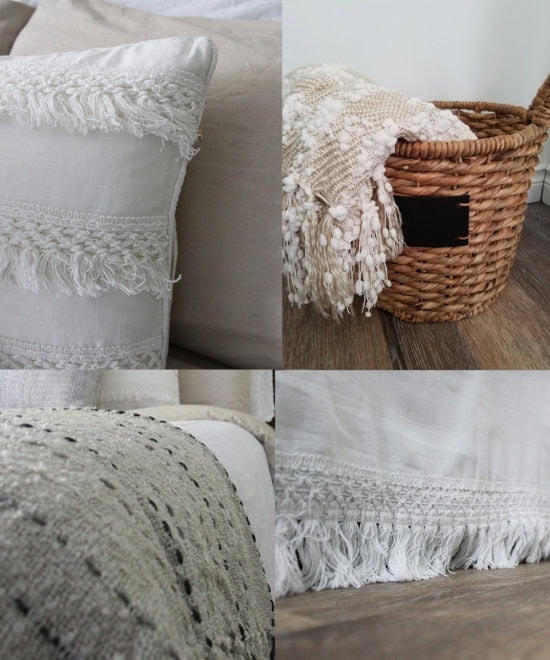 Clockwise:  fringe pillow, basket and textured blanket, fringe bed skirt, textured woven blanket
Now that the six-week challenge is over, it feels a little like Christmas. It was a whirlwind leading up to it and now I have a lot of catching up and cleaning up to do.
Thanks to my husband for getting on board the six-week crazy train with me again. For building the beautiful barn door, helping me install the flooring, fixing my curtain rod disaster and all of the other details, too long to list here!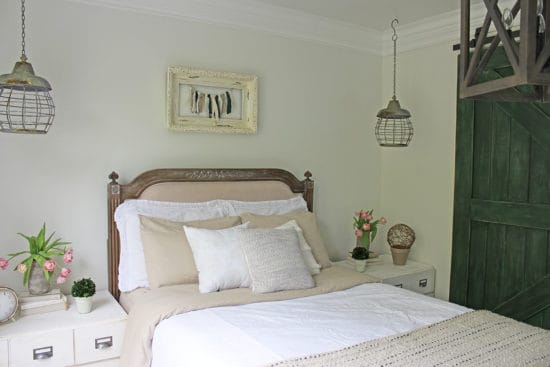 Thanks also to my wonderful sponsors who made this makeover possible: The Home Depot (flooring) , Metrie (crown molding), Bed Bath & Beyond, Minted, Antique Farmhouse, and Flowings Etsy shop. Thanks also to my contractor for installing the beautiful crown molding.
To say this was an exhausting six weeks is really an understatement. I can't wait until the next one, lol.
If you missed weeks 1-5 you can catch up below.
Week 1- One Room Challenge Bedroom Makeover Before
Week 2- One Room Challenge Bedroom Makeover Progress
Week 3- One Room Challenge Bedroom Makeover Wall Art
Week 4- Installing Crown Molding – One Room Challenge Bedroom Makeover
Week 5- Installing Vinyl Floors – One Room Challenge Bedroom Makeover
*This post contains affiliate links, you can read my full disclosure here.