Thrift Store Cane Back Chair Makeover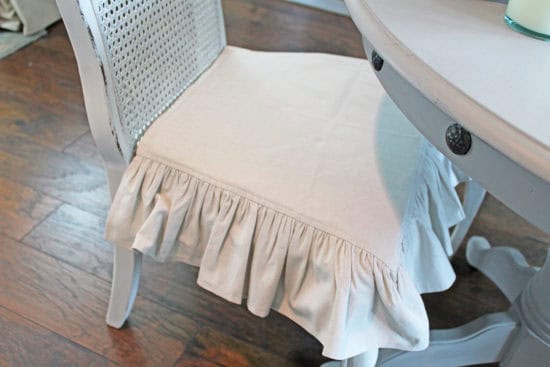 I was browsing my favorite antique store recently  when I came across this caned back chair that I couldn't pass up. Knowing that the  desk chair I really wanted for my daughter's bedroom makeover was just too far out of my budget right now, I decided that a thrift store chair makeover was in order.
I paid $20 for this chair and was on my way.
I had thought about recovering the cushion with some leftover dropcloth I had used on these fabric covered books. Then I got to thinking that I'd really like a ruffle on this cushion. I don't sew and I never will so I started checking out Etsy*.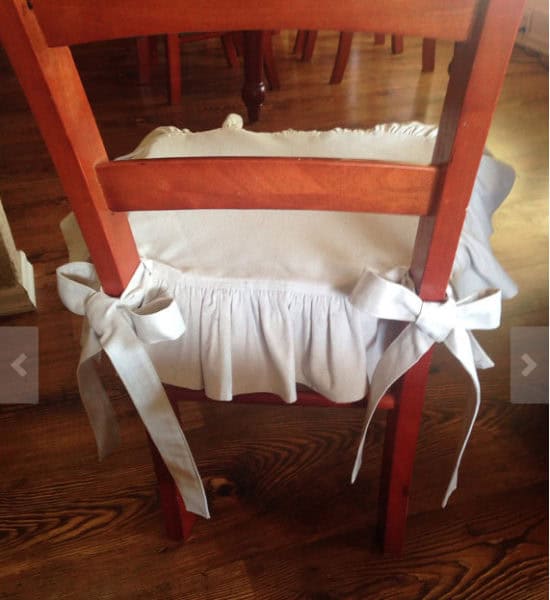 I found this adorable ruffled cushion from the Etsy shop Flowings*. I contacted the shop owner to see if she could make something similar for me. I would need it customized for my chair due to the cane back which wouldn't allow for the ties. Fortunately, she agreed.
I didn't take photos as I went along on this chair makeover, but it's very simple. First, I unscrewed the cushion from underneath the chair and removed it. I painted it white with Annie Sloan chalk paint. (If you ever have a design question, the answer is most likely white paint. It never fails!)  So I pulled out the chalk paint and lightened this piece right up. When that was fully dried, I sanded around the edges for a distressed look. Lastly, I sealed it with clear chalk paint wax.
As for the actual cushion, I removed the ugly floral fabric and recovered it with a dropcloth. Even though you can't see it with the ruffled dropcloth cover, I feel better knowing that it's cleaned up with new fabric. In this shot you can see the distressing I did around the edges of the chair.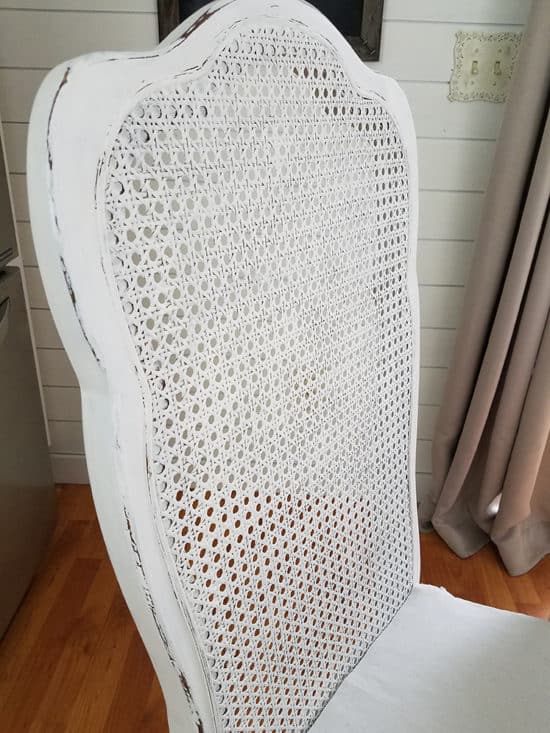 This ruffled cushion cover really makes the whole chair.
I plan to attach it to the cushion underneath with a little velcro to keep it from sliding around.
I now have a desk chair for my daughter's room and I didn't have to spend $350 to get it. It may not be an exact knock-off but I'm happy with it! A big thanks to Flowings Etsy shop for sponsoring the beautiful ruffled cushion for this post!
UPDATE: See my daughter's bedroom makeover here!
*This is a sponsored post and may contain affiliate links. All opinions are 100% my own, you can read my full disclosure here.