Bedroom Makeover Progress
Week 2 already of the One Room Challenge? I'm sure I'm not the only participant feeling a little bit like maybe I bit off more than I can chew with this one! I'm so thankful that I painted the room before the challenge officially began (is that cheating?), because I have a few big projects to knock off the list. If you missed last week's post, you can see the before pictures here as well as my plans for the space.
The difference that paint can make never ceases to amaze me. The dark walls are gone and the new color is Dove White by Benjamin Moore. My go-to paint color. Both my family room and my bedroom are painted this same color. Here is a look at where we are at now.
It's a blank slate now, with tons of potential. I mentioned last week that this campaign desk* was the first thing I planned to buy for this space and here it is. I've wanted this forever and it was totally worth the wait. I love the wood tone, and the desktop is really spacious.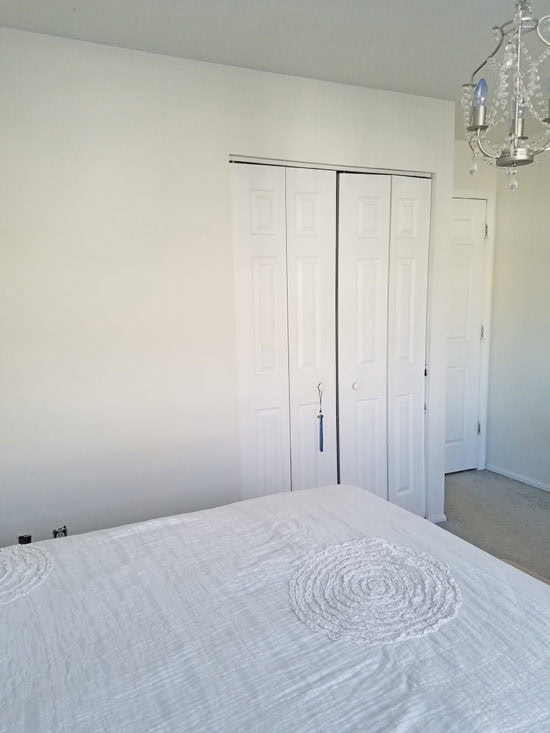 As for the closet wall, these bi-fold doors are coming out and we are going to add a sliding barn door instead. My builder-grade house had bi-fold doors in three rooms when we moved in. In my older daughter's room, I changed them out with DIY custom mirrored doors. Bi-fold doors are the worst. The good news is my husband has gotten the sliding barn door built for me already, I just need to finish painting it. We also need to install new flooring before we can hang it. You really have no idea how excited I am to be getting rid of this old carpeting and installing new floors! I can't wait to get that project done and share it in the coming weeks.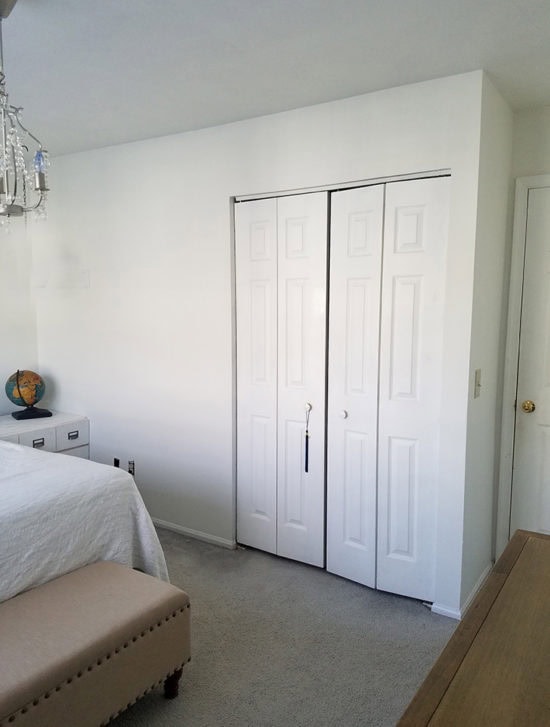 I also bought the storage bench for the end of the bed that was on my design board, you can see it in this photo. Another thing I didn't show last week is the mirror. This is one thing that I had prior to beginning the bedroom makeover that will be staying in the new space.
I've also been putting together some idea boards for the bedding. I'm definitely going for a neutral linen and white look. If you follow along with me on Instagram, you may have seen this already. I do happen to love the white quilt that is currently on the bed, but it's old and getting really worn, so it's time to replace it.
The next two things on the list are installing the crown molding and the floors. I am hoping to get at least one of those done this weekend. Decluttering the room and lightening up the wall color already feels like a huge transformation. It's as if the room lost 20 lbs!
UPDATE:  See the completed bedroom makeover here!
*This post contains affiliate links, you can read my full disclosure here.