Mirrored Closet Door Makeover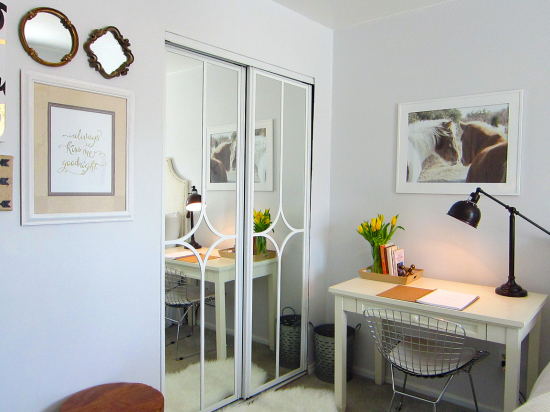 Today I'm excited to share with you the mirrored closet door makeover I did in my daughter's room. Her room had existing basic mirrored sliding closet* doors, the kind you can find at any Home Depot or Lowe's. I've wanted to do something with these for years. I didn't want to get rid of them, because they are functional and we all use them.
Ideas for Mirrored Closet Doors
A while back I had the idea of using Overlays to add some detail and interest to them. If you haven't heard of My Overlays yet, here is the description from their website: "O'verlays® are lightweight, decorative fretwork panels that come in several patterns and sizes. They are paintable and easily attach to furniture, mirrors, walls, and glass. " Over on the My Overlays website, I noticed this style that I've always liked.
So I sent them an email a few months ago asking if they would like to work with me on transforming my mirrored closet doors. I didn't hear back from them for quite a while. In the meantime, I found new inspiration. These beautiful custom doors sparked an idea that was even better.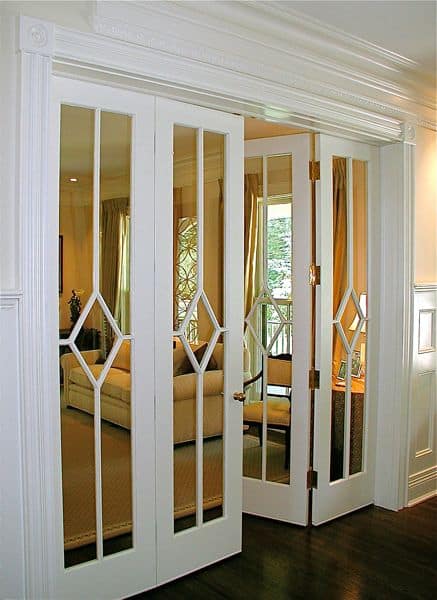 I just loved the trim detail on these so much. I knew this was the look I wanted for my daughter's closet. So I decided that maybe I could make these myself with some trim. I went out and picked up some thin trim and a miter box. When I got home and started figuring this all out, it hit me that I am actually not a carpenter. To achieve that diamond pattern, would take many precise angled cuts. It would all have to be really exact. I was discouraged so I gave up on it for the day and went to check my email.
Ironically, that was the day I heard back from the people at My Overlay's. They said they would love to work with me on this and that they would absolutely be able to replicate something very similar to those custom doors.
Customizing Doors The Easy Way!
I went back over to the My Overlay's website and I found this pattern that I hadn't noticed before.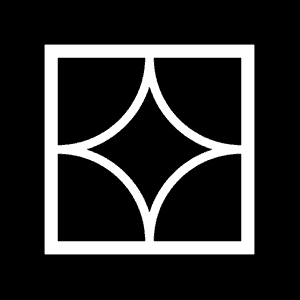 This would be perfect for achieving the look from my inspiration photo. I emailed back and forth with a representative from My Overlay's. I showed them the inspiration photo and they created some mach-ups for me to pick from. Framed or unframed. I picked framed because it looked more like the inspiration picture.
Once, we settled on the design, I sent them the door measurements and a short time later, I received my Overlay's in the mail. Here is what they looked like when I opened it up.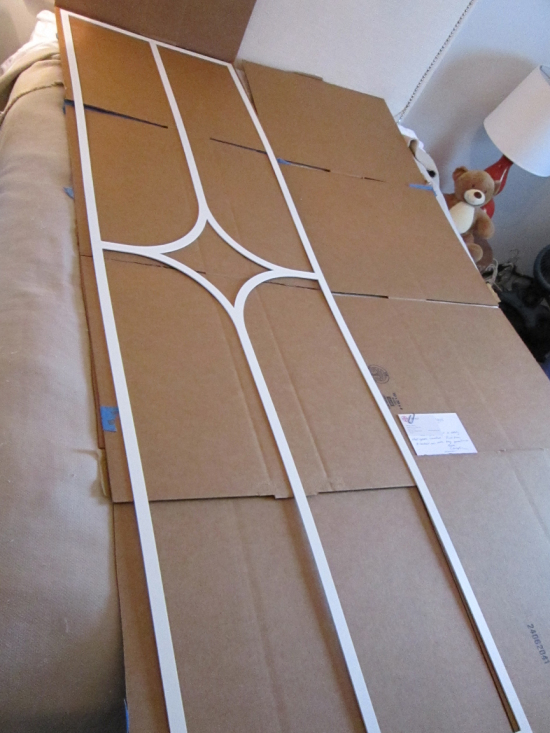 They do come with directions for attaching to different surfaces.
How To Install The Trim
First, you have to lightly sand the overlays. Then you add your adhesive. For mirrors, they suggested liquid nails. My husband said liquid nails was not a clear glue, so I didn't use that because I worried that if there were any excess, you would see it in the mirror.
Instead, I went to my local hardware store and found Goop glue. Not only is it clear, but it has a 2 minute set time which gave me enough time to apply it to the entire Overlay and get it up before it started setting on one end.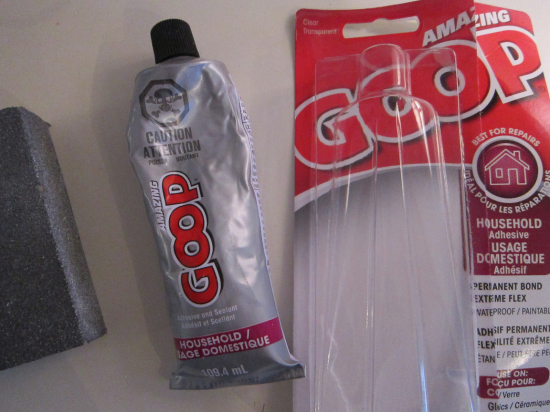 I used only small amounts of glue because I didn't want it to seep out. It's been a few weeks now, and it's holding up very well.
Here are the mirrors with one side up.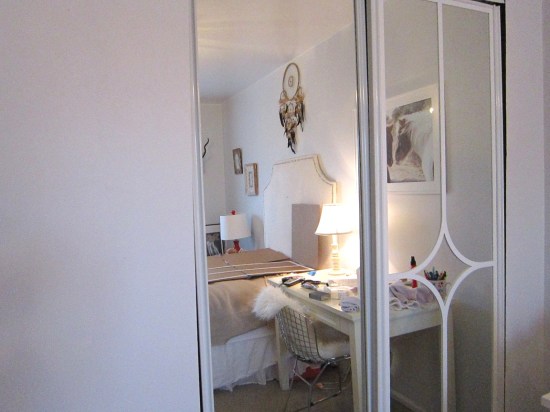 I cannot even tell you how easy this was! I had these on the doors in 30 minutes or less from start to finish. It definitely tops my original idea of attempting to make this type of molding myself!
Isn't it amazing what a difference that made?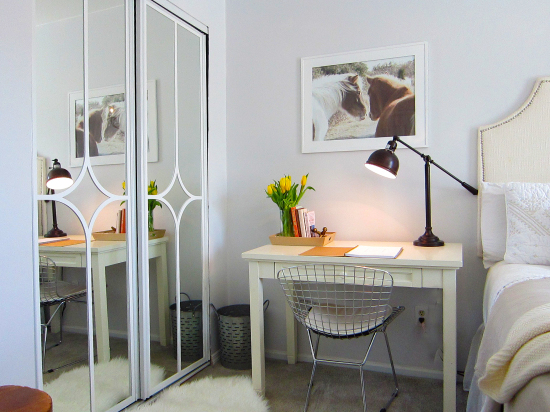 Here is a look at them closer up, they do not interfere with the doors opening and closing at all.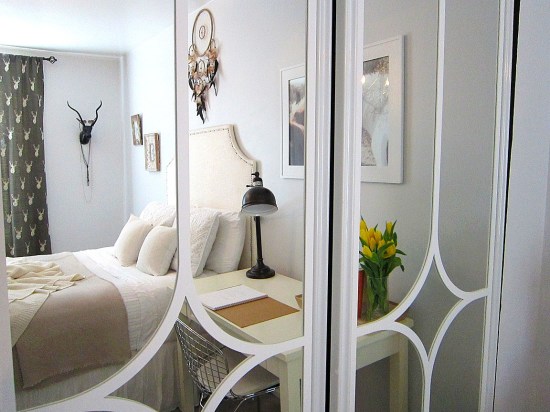 And remember when I told you about the knock-off designer bedding in this room when I mentioned that my daughter painted one of her walls black? Well, I can't believe I'm going to show you this, but it's true, I let her.
She was very insistent and I thought maybe I could make it work. But because this room only has one window, it was just way too dark to pull off black. So here is the real before.
And after.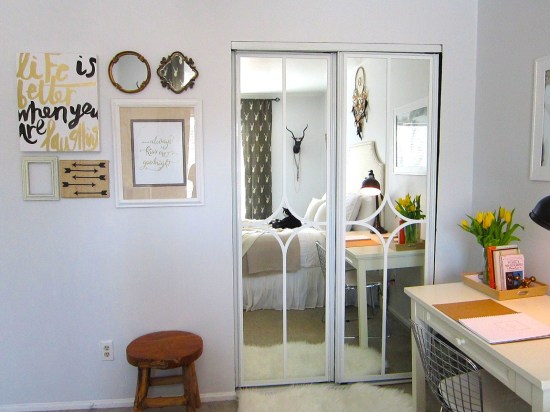 Thank you to the people over at My Overlay's for designing the Overlays for my mirrored closet door makeover! I really loved the product and will definitely use it again. I still have some ideas for the Anne pattern!
Update: It's been several years now and this has held up amazingly! The rest of the room has since changed, you can see how the bedroom decorating has evolved since the mirrored closet door makeover! Here's a peek at that!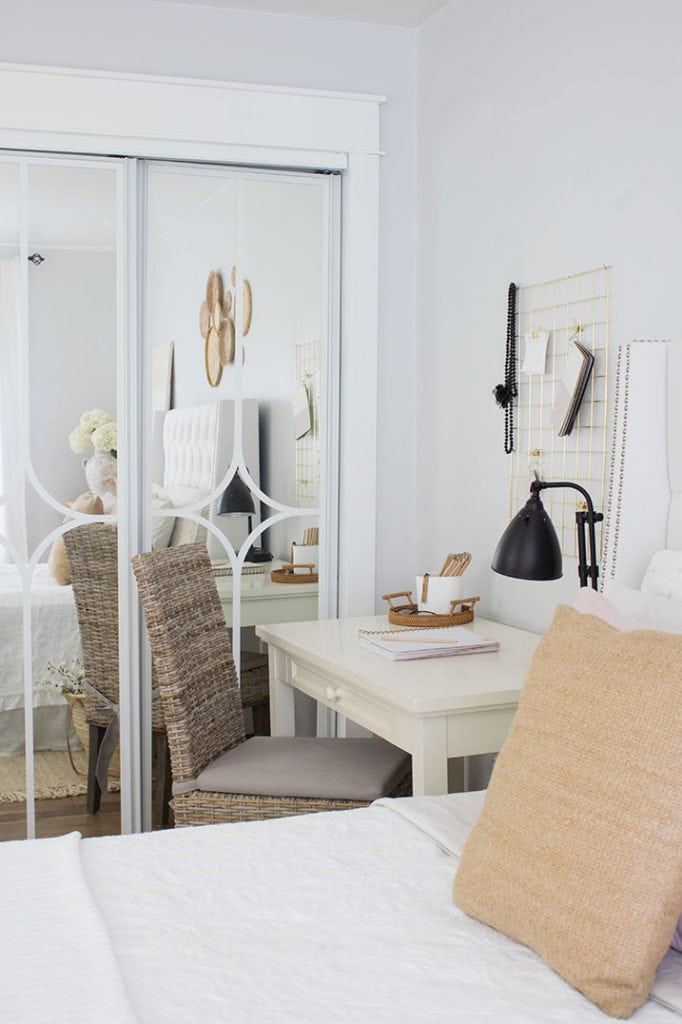 PLEASE PIN: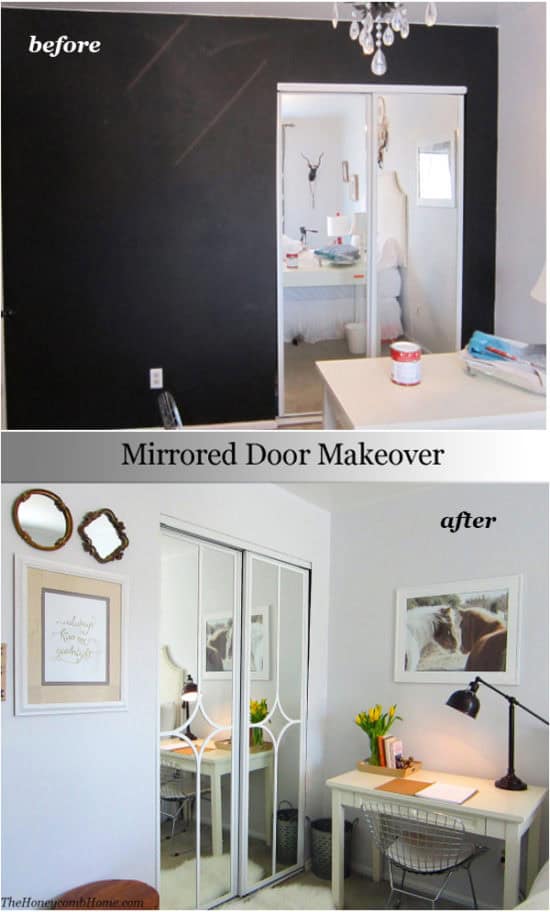 For more decorating ideas you can also follow me on Instagram and Facebook!
*This post may contain affiliate links, you can read my full disclosure here.