Ideas For Your Closet Doors
In my daughter's bedroom, we have a set of sliding mirrored doors on her closet. They are very basic, from The Home Depot. I've been wanting to do something with them for a while now. I want to keep the mirrors because those are the most used mirrors in the house. But I need to amp up the style.
While searching the web for inspiration, I found plenty. So much so, that I wanted to keep track of them all. I've included all closet door ideas here, not just mirrored.
This one is my favorite, I love the trim. I would need a very thin trim to pull off this look because my doors slide over one another. (Update: I found a way to mimic this look with amazing results, see my closet door makeover here!)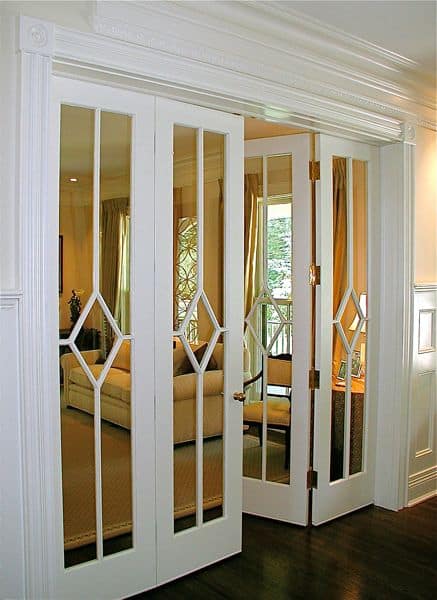 Here the homeowners swapped out the closet doors for beautiful mirrored French doors. This is a timeless idea because French doors never go out of style!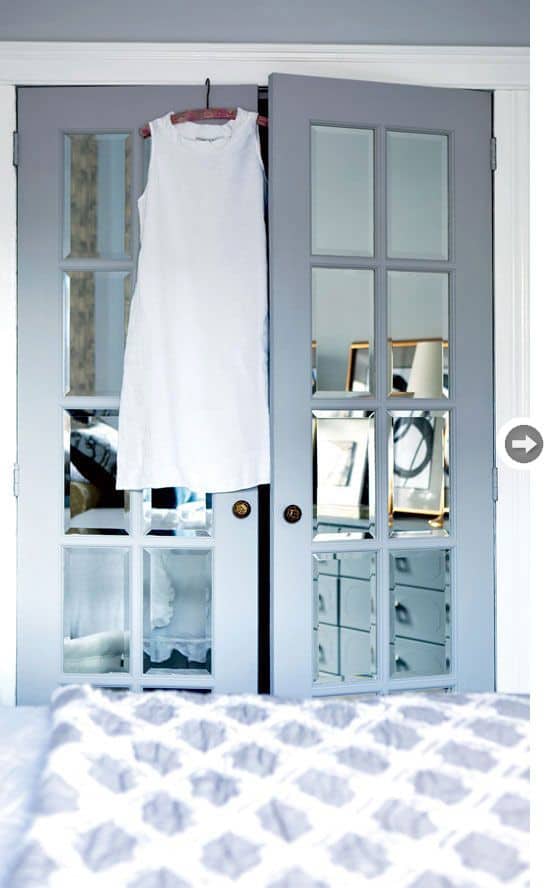 via Style at Home
In the next photo, the mirrors were given an antiqued look. I've been noticing a lot of this antiqued mirror style around. The 2015 Dream Home even has this in the master bath. You can achieve this look with some paint stripper and muriatic acid. Read the full how-to here.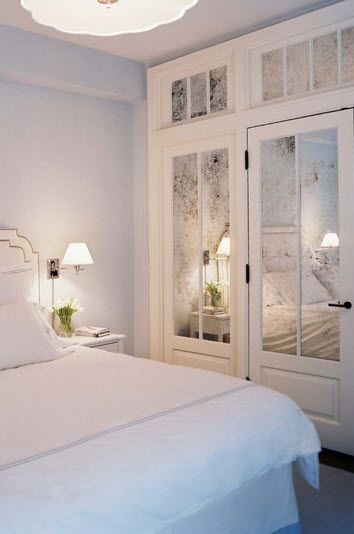 via Loft and Cottage
Once again, adding trim gives the doors a custom look.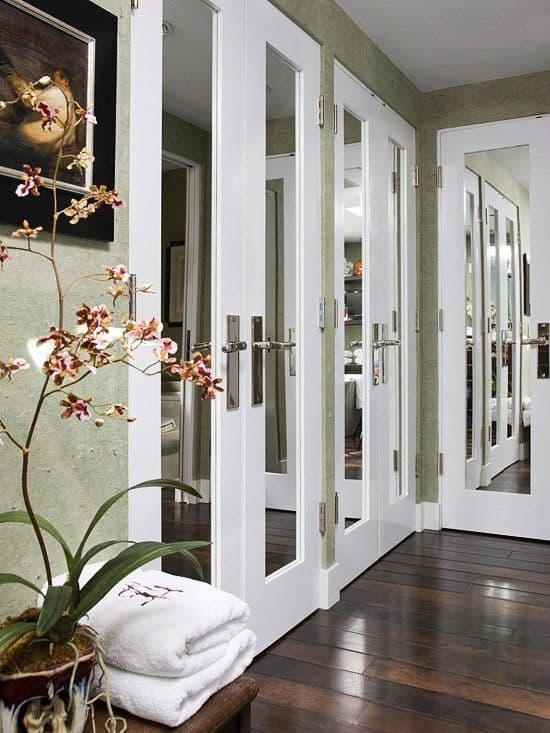 A similar idea was used on these his and her closet doors.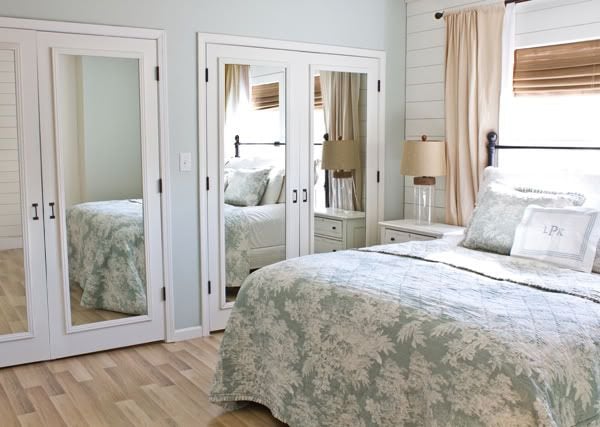 And here is a non- mirrored closet door inspiration. I love the distressed look of these french doors! Though I don't know if I would want my closet visible to the room all the time!
via Picklee
Sliding barn doors and bypass doors are also great space savers. They are a good alternative to pocket doors. You can see how we built our own sliding barn door for less here.
More barn door inspiration. Here it looks as if the trim was added to existing doors for more interest.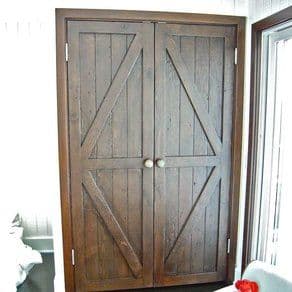 These barn doors were a DIY project, and were actually built from scratch!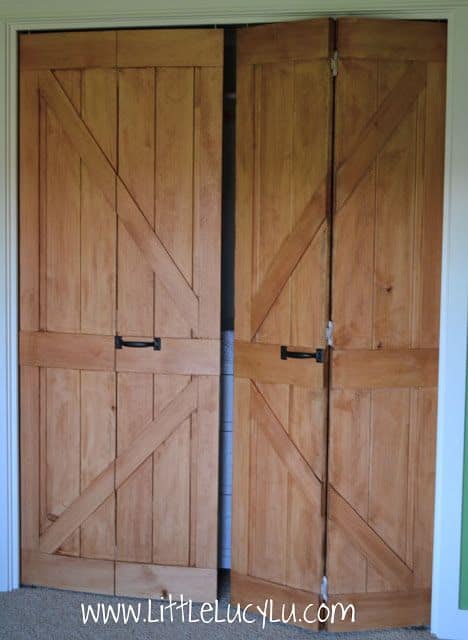 Little Lucy Lu
If you're not into building doors from scratch, you'll like this next idea. Here they used their existing bifold doors and turned them into barn doors, on a tiny budget, too!
At Beneath My Heart, they removed the ugly existing doors and replaced them with these. She found 2 flat panel doors at a Habitat store and added the molding and decorative hardware. Such a great idea!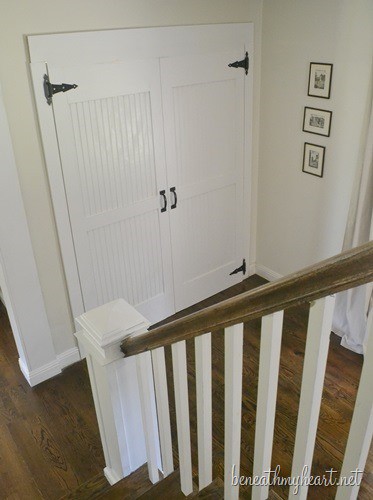 Or you can lose the doors altogether and use beautiful curtain panels instead.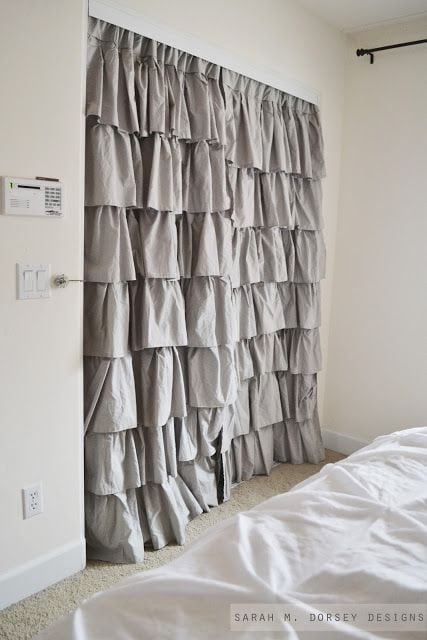 Sarah M Dorsey
Do you have any suggestions for mirrored closet doors?
Here's a peek at how my daughter's closet doors turned out. You can read how I did it here.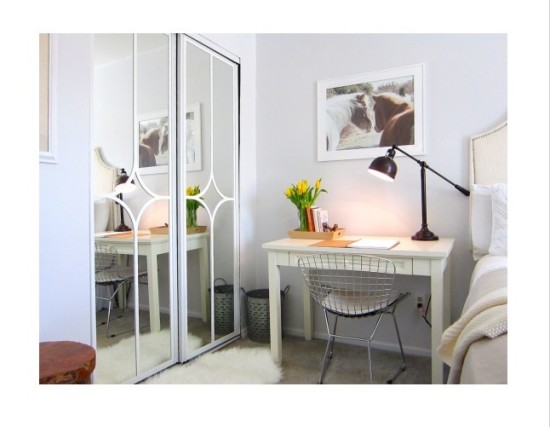 ---
More Closet Door Ideas You May Like: