How to Paint A Porch Floor With Concrete Paint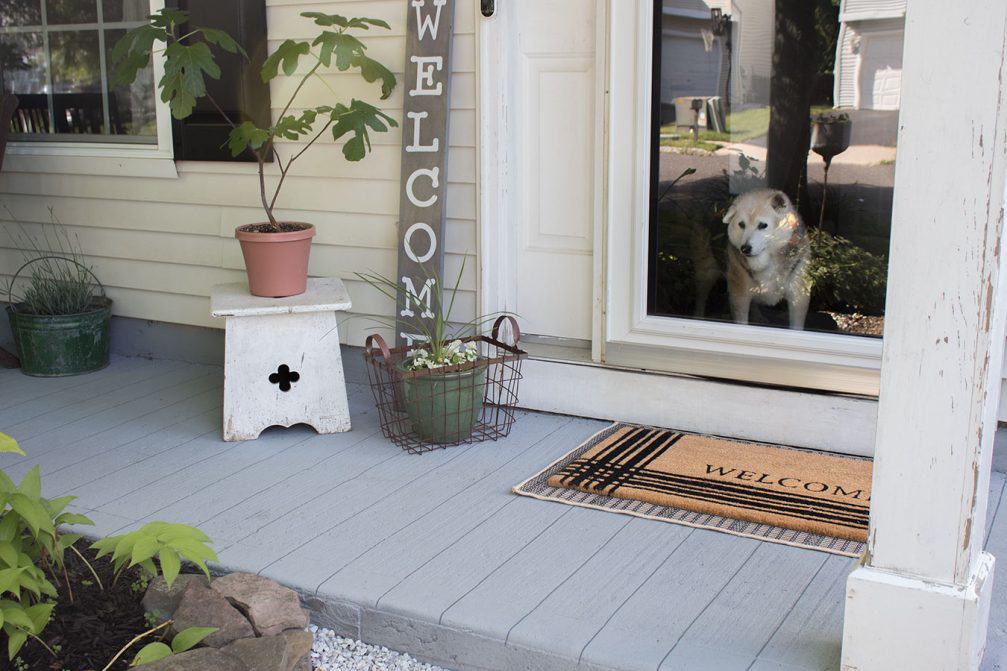 One project that I've thought about doing for years is updating my porch floor with concrete paint. This year I moved it up on the priority list and finally got it done. It has made such a tremendous difference that I can't believe I didn't do this sooner!
This is how it looked before. I had removed the furniture and power-washed it about a week or two before I took this photo. You can hardly tell it was even power washed because the concrete was badly stained.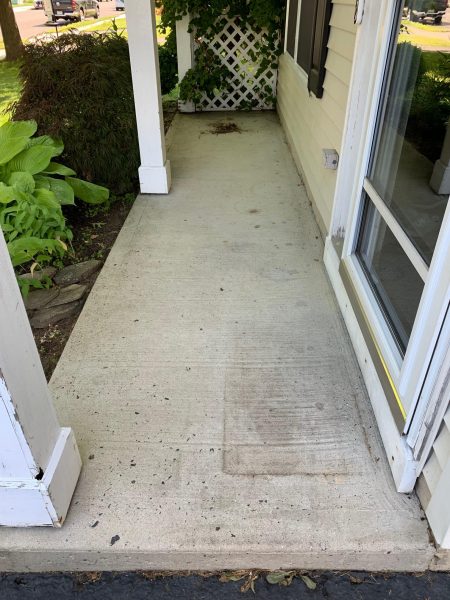 What You Will Need to Paint Concrete*:
One reason I waited so long to do this is that I wanted to do a good amount of research before choosing concrete paint. Using something that would hold up to the elements (even though it is a covered porch, it is open) and daily foot traffic was most important. I had used Behr granite grip on a small patch of concrete in my backyard and that has held up well for over a year. However, that is not the look I wanted for the front so I had to find something else.
My plan was to paint this to look like wood planks, much in the same way I did the painted shiplap wall in my bedroom. One day on Instagram I saw another blogger's video showing how well her painted concrete porch floor had held up after two years. After contacting her, I was confident about choosing the same paint she used. It's called Olympic Maximum and it's actually a stain that comes in colors much like paint.
I bought this stain in two colors. The darker shade is called Corundum, shown below. The gallon of the lighter shade of paint didn't have the sticker on top identifying the color so I can't tell you for certain the name of that one but I think it was Stonehedge.
How to Paint Concrete:
After giving the porch a thorough sweep, I used painter's tape all around to protect the house. My paint sprayer was perfect for this project, I couldn't imagine painting this with a roller or a brush. No matter how well you clean it, dirt and debris will get on that roller. I sprayed on the darker shade of paint first while my supervisor watched. 🙂 He was not happy to be inside that door.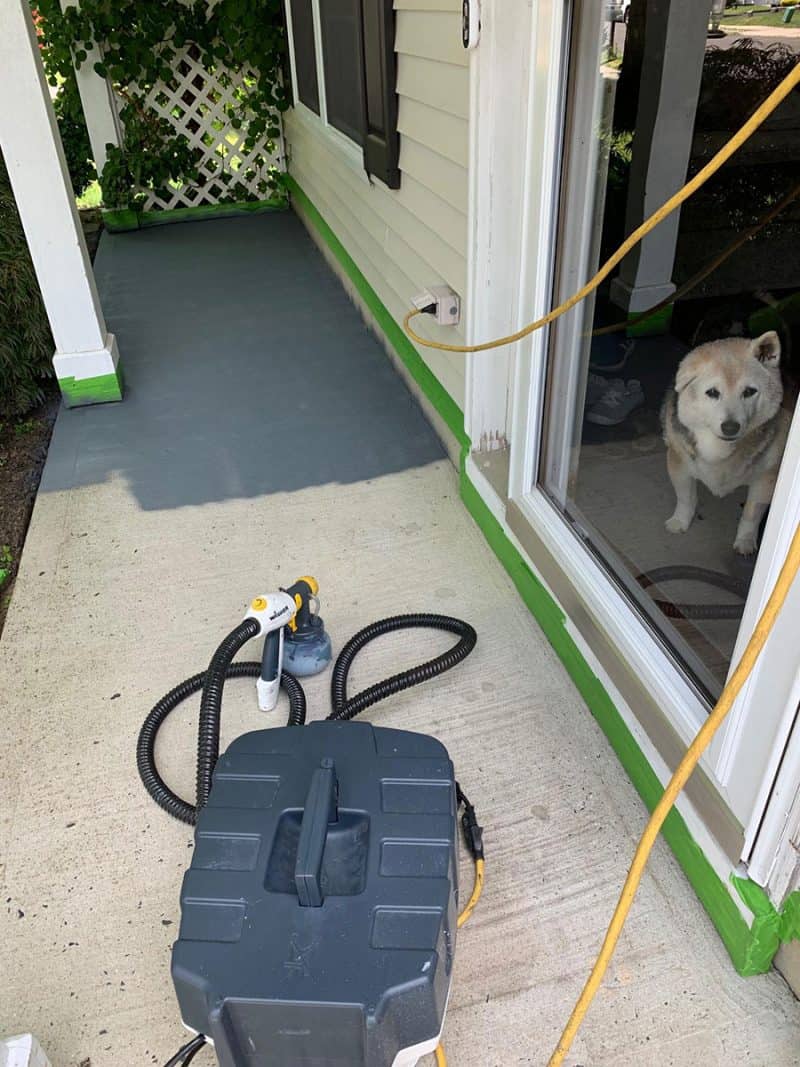 After the first coat of paint was complete this is how it looked. You can see that along the house I didn't go up that piece of concrete yet, but I covered that with the second coat.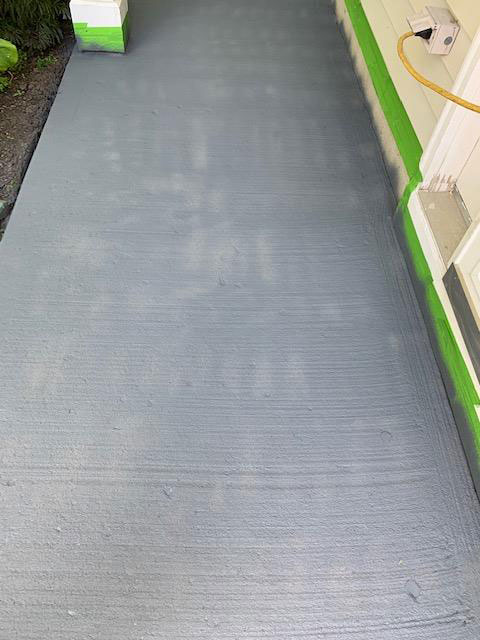 After letting the first coat dry for about 6 or seven hours I applied 1/8″ thick painter's tape over it. I had the spacer left over from the bedroom walls, so that helped me space them evenly. You could use a ruler or a tape measure for that. I used my husband's laser level to shine a line across the porch floor. This helped me get the tape straight.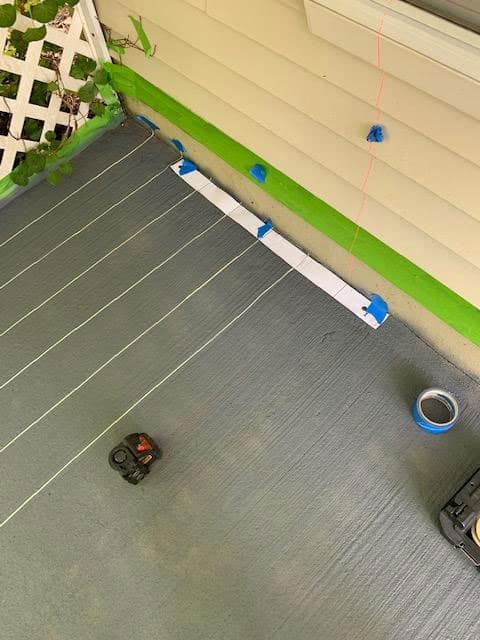 Don't Miss This Trick!
The next step I also picked up from the other blogger and this one is genius. I used a small roller to paint another thin layer of paint in the same color over the painter's tape. This helps to seal the tape, giving a crisper line!
After that's dry, it's time for your second coat. On this day I used my new Wagner Flexio 5000 sprayer. It's much like my Studio Pro sprayer but they improved a few key things. I'm really happy with the new model.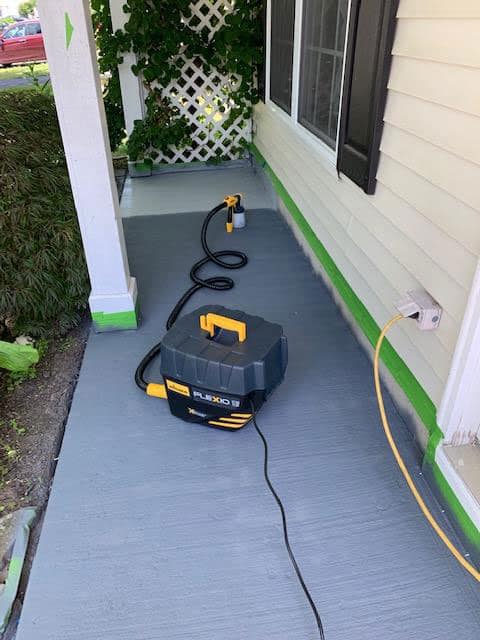 I let that dry for several hours until it was safe to walk on and then I began slowly peeling up the skinny painter's tape. Let me tell you, that was very satisfying! Here I had the first two rows of tape pulled up. The grooves in the concrete kind of resemble wood, giving this a more realistic look.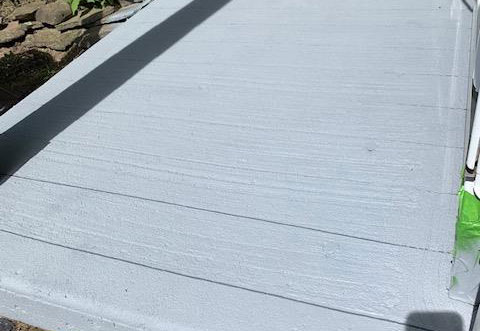 I let it dry for another 24 hours to be safe before returning the furniture. Look at the difference this concrete paint made on my porch!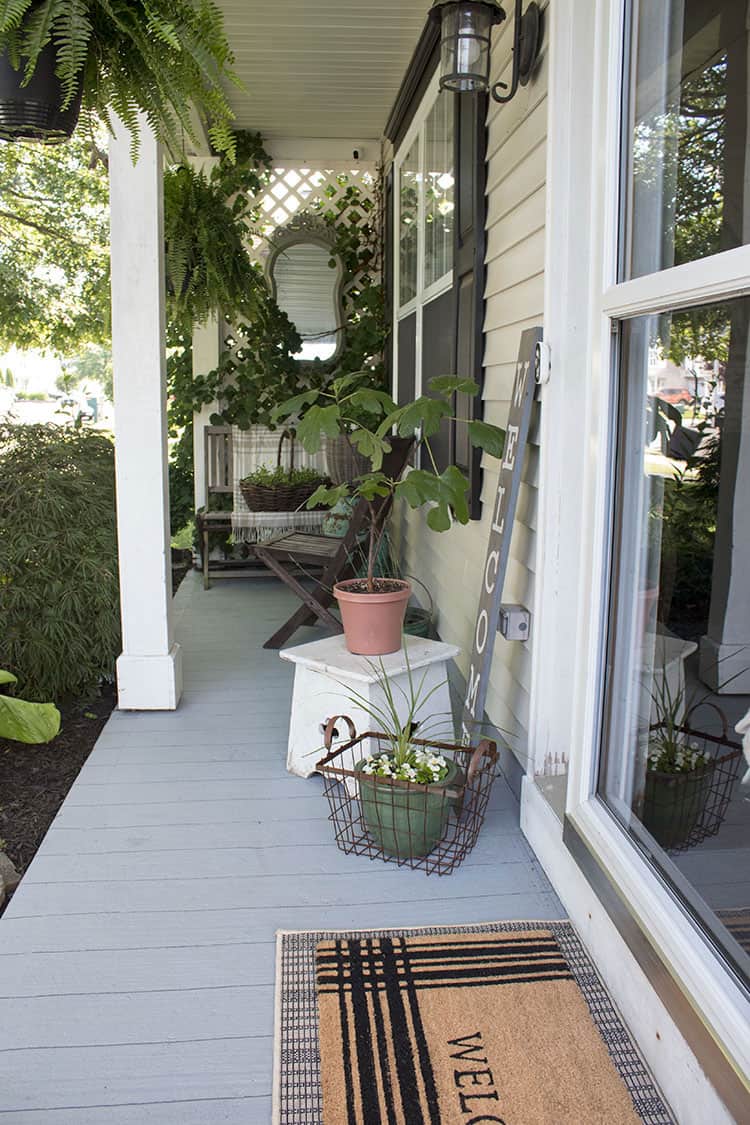 Porch Decor
Mostly everything on my porch is from a flea market with the exception of the furniture and the wooden sign was a DIY. I did splurge on new doormats. I bought the outdoor rug on the bottom first and then decided it needed a little something more, so I found this welcome mat for the top. Layered doormats are trending big right now, so I went for that look and I have to say I like it a lot.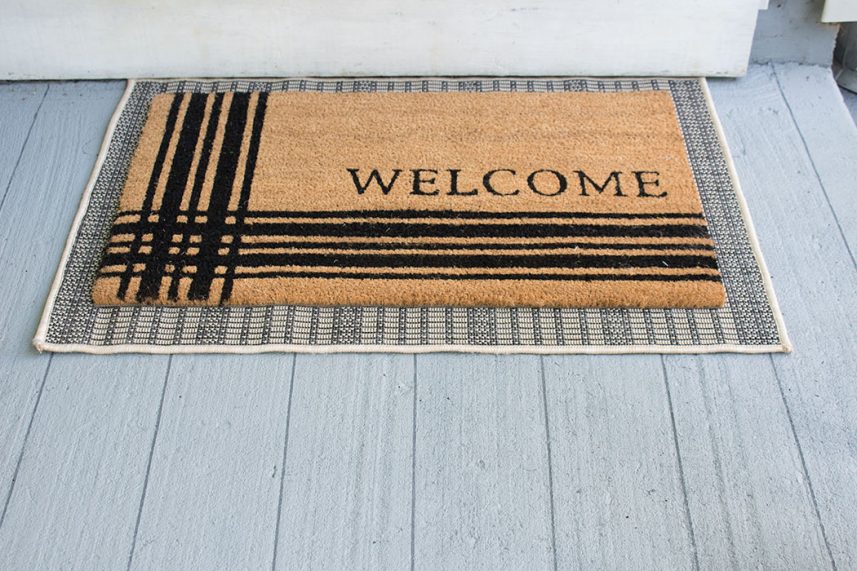 I also added a mirror to the trellis. That was a flea market find also. It was an old brown mirror that looked like it had come off a dresser.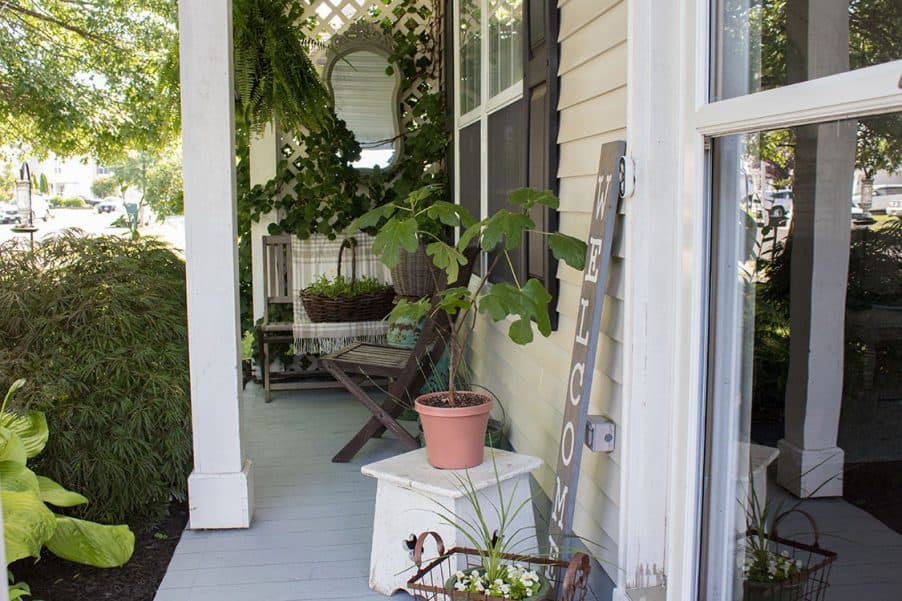 I painted that first with DecoArt Metallics paint in gold and layered on Fusion mineral paint in Sacred Sage. I tucked it in between the vines for interest.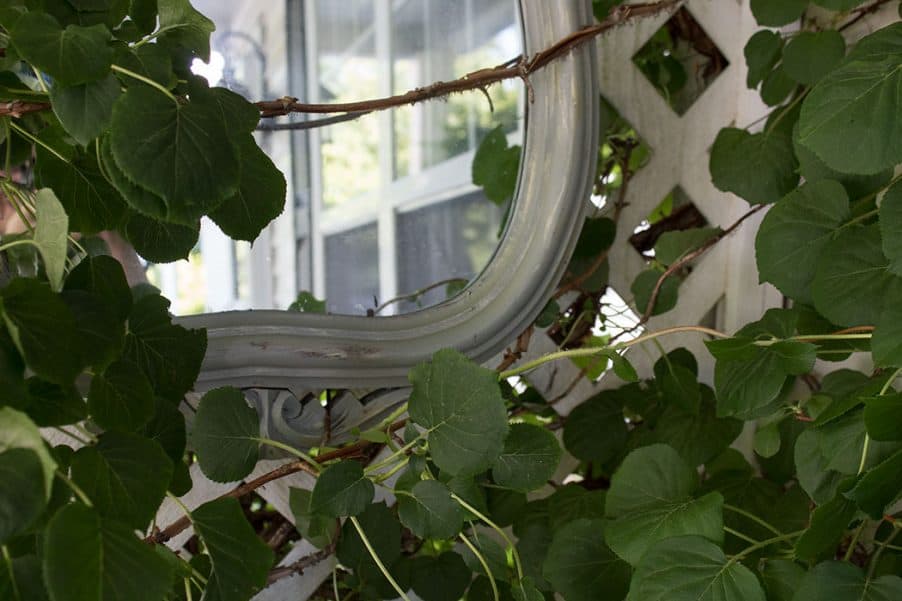 My front porch is small, but I definitely made the most of what I've got out here.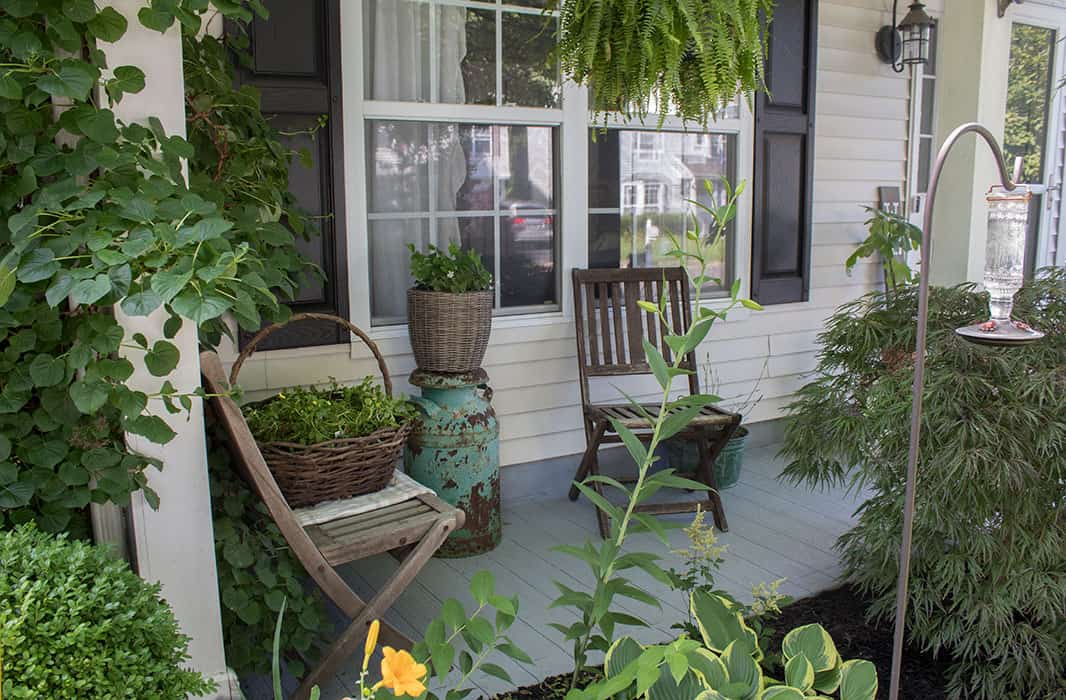 I couldn't be happier with the painted porch floor. You can see the lines are pretty crisp. The texture of the concrete made it a bit more difficult to get it super crisp. When you're working with a flat surface and a paint sprayer the lines come out perfect, like when I painted my niece's kitchen floors.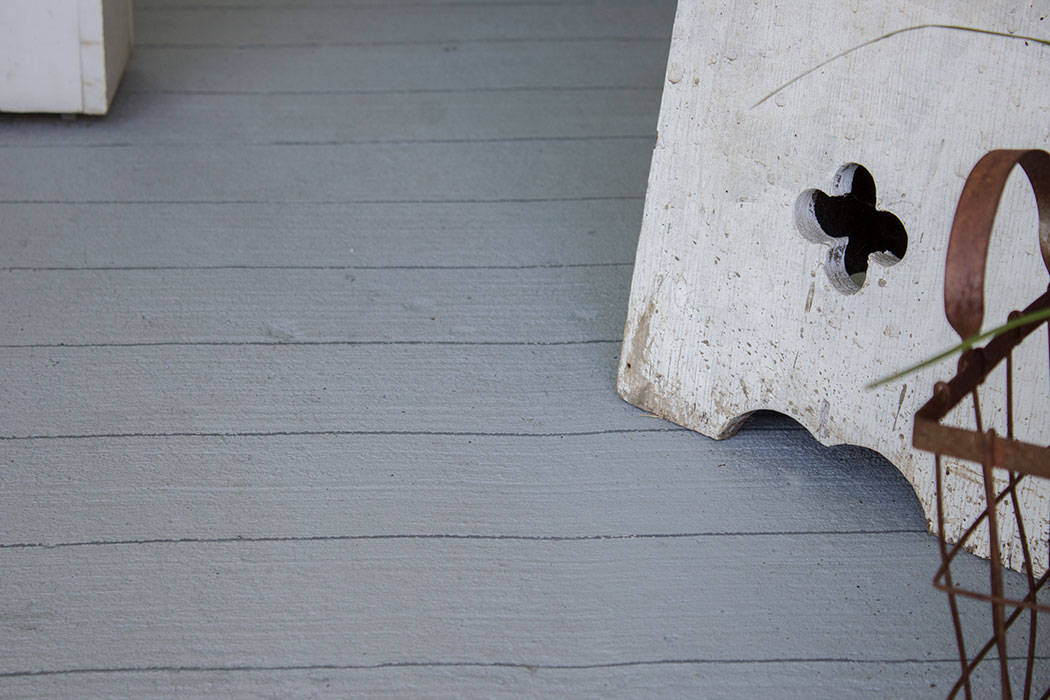 I think I'll add a little bit more color with some flowers out there but overall the porch is much more welcoming than it was before!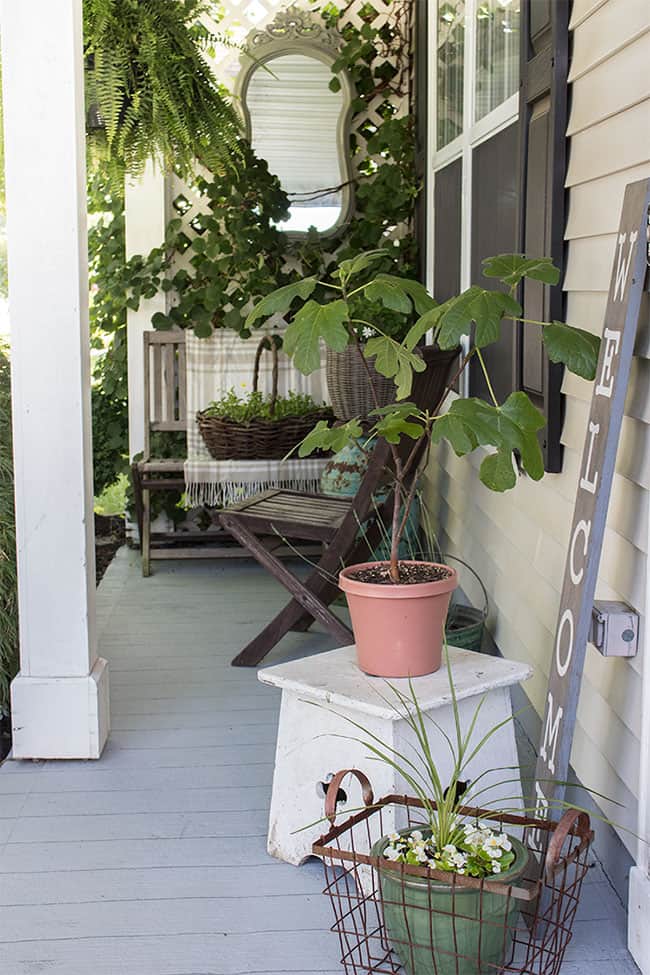 One more thing you should note regarding the Olympic Stain paint. Be sure to read all the reviews before you decide. What I learned was that it is an outstanding concrete paint, but you might want to research it a bit more yourself if you plan to use this stain on a deck. The reviews were mixed on that.
Update on concrete paint
(April 2023) It's been almost three years now since I painted my porch floors and I have to say this paint has held up AMAZING! The only chipping I got was in one spot where I put down a little too much rock salt one winter! Other than that, not a single chip! I would absolutely use it again.
---
If you like our little front porch, check out what we did to the patio here! You may also be interested in several of my interior floor transformations that were done on a budget: painting linoleum floors, floor stickers in the bathroom, and refinishing hardwood floors for a whitewashed finish.
---
See how we update this small front porch with seasonal decor! Links to the individual blog posts below the video!
---
PIN IT: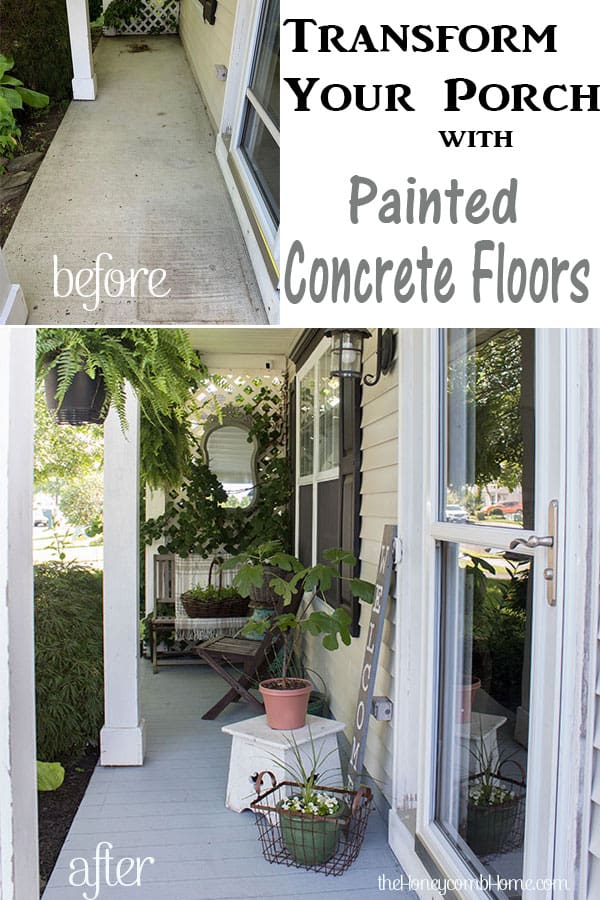 ---
I'm also including a quick video review of this project for those of you that prefer to watch rather than read the details!
---