Vintage American Flag DIY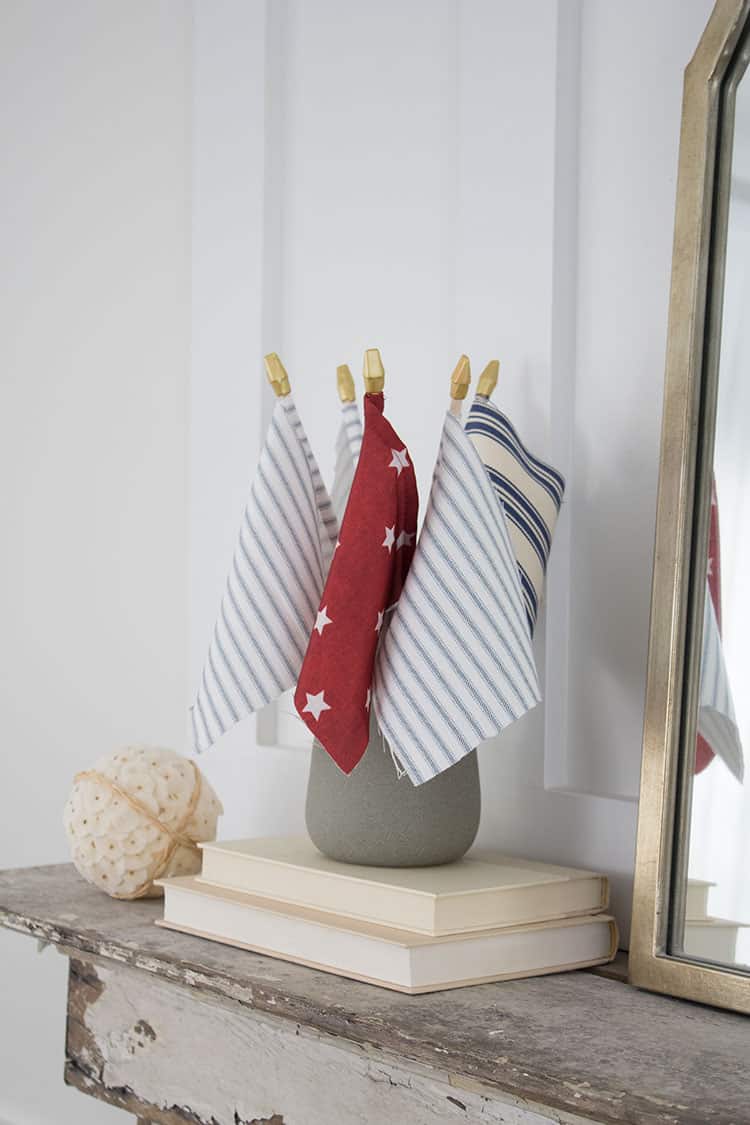 After last weeks post on DIY Fourth of July ideas, I was totally inspired to make something of my own. That led me on a search through my fabric stash and I decided on a small American flag project.
I had blue and white ticking stripe fabric left over from the armoire makeover that I liked for this project. There was also a fabric sample of bolder striped blue fabric in the basket, so I used that as well. I couldn't find anything red but I remembered I had some never-used cloth napkins that were a fit for this idea.
Get creative with the fabric you have around the house, maybe you have old Fourth of July t-shirts that have since been outgrown. I will sometimes save outgrown clothes if I like the pattern or fabric. I think it's part of being a DIY'er, you tend to save everything because chances are you will find a use for it another day!
What you will need*:
Fabrics in Red, White, and Blue (I used this ticking stripe fabric)
Gold Paint (I used this one)
First, I cut my fabrics into 8″X 6″ pieces (approximately). I cut out five of them to start. Next, I placed them upside down onto a piece of wax paper. I used the wax paper to protect the table from the hot glue. Line the wooden dowel up with the edge of your fabric as shown and glue into place.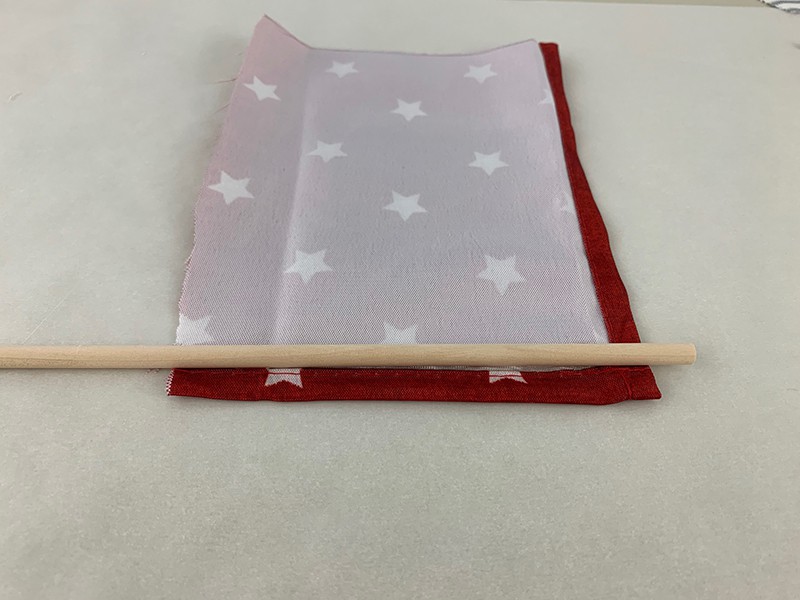 I sort of wrapped my fabric around the dowel to cover it completely but l left a little bit of the wood exposed at the top.
After I had all five glued, I set them aside. I needed a finial for the top.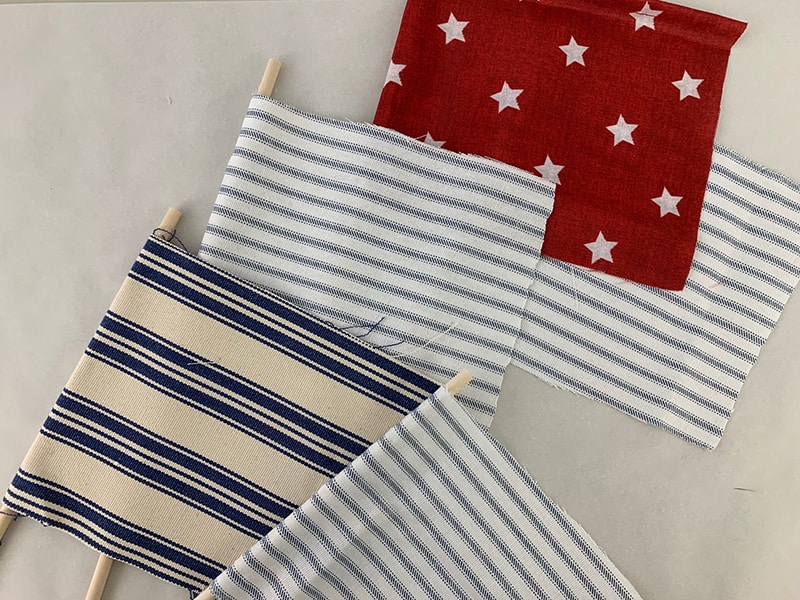 A pencil eraser looked to be about the right shape and size, it just needed to be painted.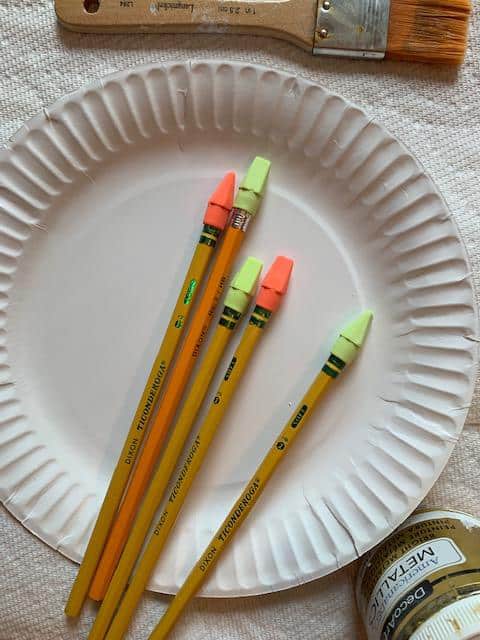 I dipped each of them into my gold paint until they were covered.
Once they were no longer dripping, I placed them standing up in a cup to dry overnight. The next day when I was sure they were completely set, I pulled them off the pencils and placed one on each flag.
This is really such a simple idea, but they're so darn cute. I was going to trim the frayed edges, but I liked how that added to the vintage feel of my American flag project so I left them as is.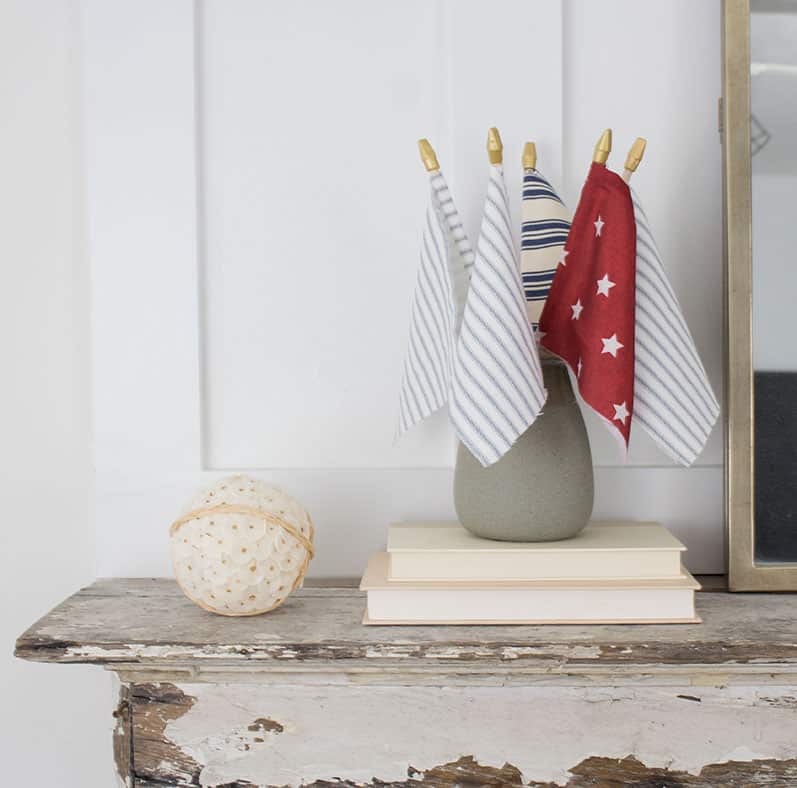 I tried them out in several containers for display, this small vase was a perfect fit. It was purchased from Pier 1, but I don't believe it's available anymore.
If you want to make a larger project for the fourth this year, check out my DIY Wooden Flag from awhile back. I still keep this in my garden. Have a happy and safe fourth!
PIN IT: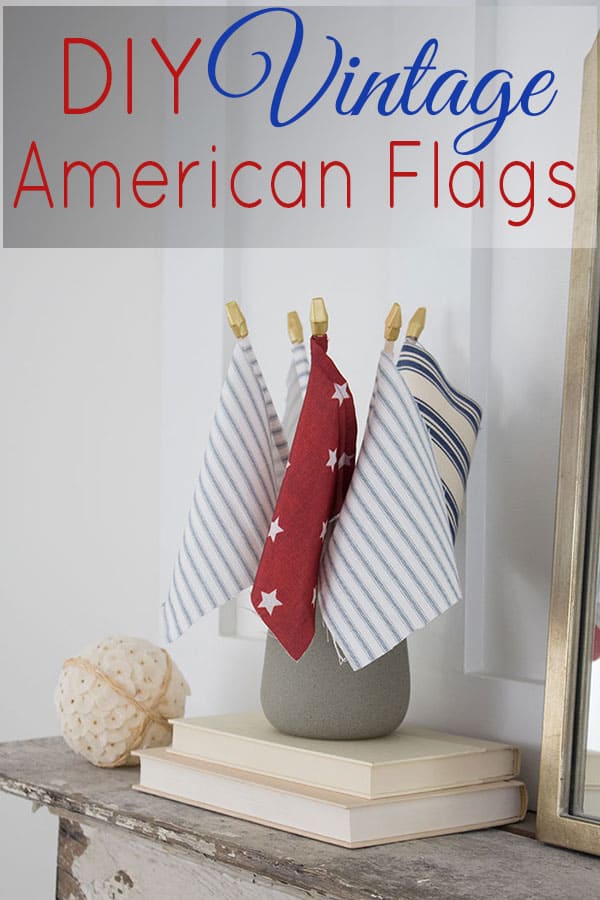 This post may contain affiliate links, you can read my full disclosure here.
Learn more! You can sign up here to have our latest DIY and home decor posts sent right to your inbox!