Painted Furniture – Armoire Makeover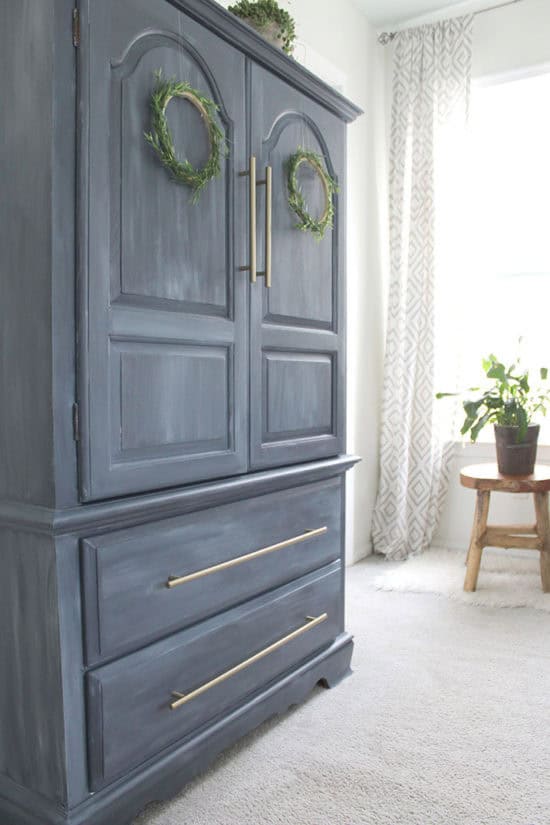 The one room in my house that always seems to get neglected when it comes to decorating is my master bedroom. I guess that is because it's a room that guests rarely see so it's not a priority. We purchased a matching set of furniture for the room when we first moved in that now looks super dated. It's an ugly orange wood tone, but the scale still fits the space well. Giving it a new look with paint is an easy way to make a dramatic change. Painted furniture can look as good as new. The armoire we have in this space was a huge eyesore, but it offers a lot of storage so I wanted to keep it. Here is what it looked like before.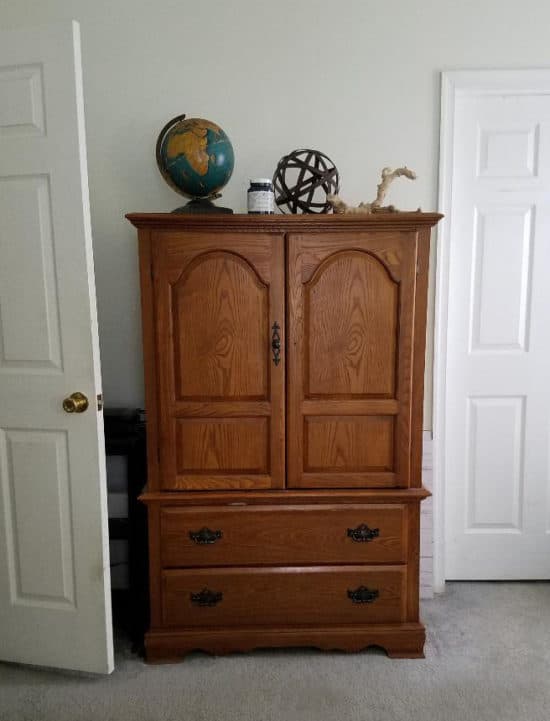 Not only is it an ugly wood tone, it was also missing a door pull. I went back and forth in my mind whether to paint this a distressed white or a dramatic dark blue. I really could not decide, so I ended up doing a combination of the two. I first sanded the entire piece, inside and out, and then I primed it with a white primer that I had in my paint stash. Then I began painting the inside of the armoire with my blue paint, which I mixed with white.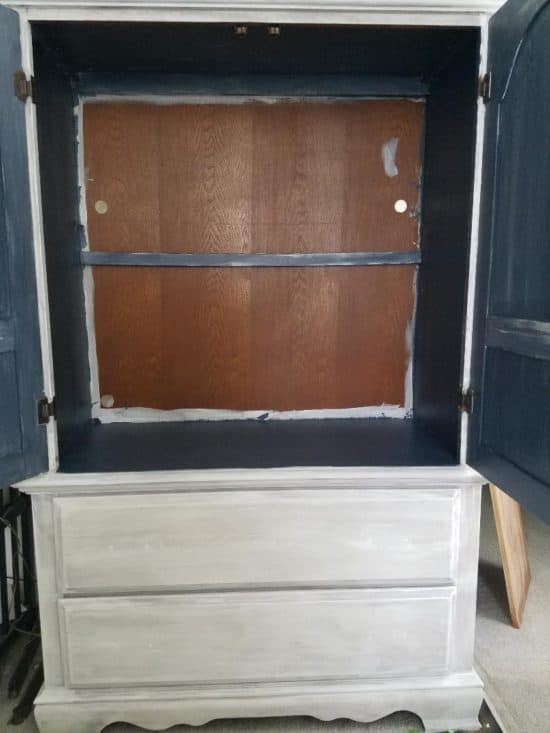 I left the back wall unpainted because I wanted to line that with fabric. Remember the blue ticking stripe fabric I mentioned in this post? I went back to buy it so I could use it here. I measured the back wall, cut the fabric to size and attached it to the back wall using Mod Podge. To smooth the fabric as I was applying it, I used a large plastic ruler that worked perfectly.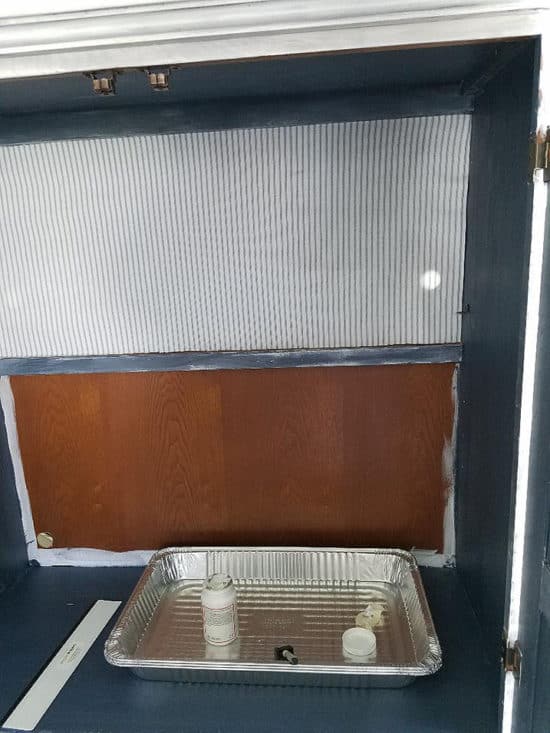 Once that was done, I began painted the exterior. I used Fusion Mineral Paint in Midnight Blue. I love this shade, but I wasn't sure if I wanted this armoire quite that dark, so I began mixing it with white. I experimented on the inside until I found the finish that I liked, which is a bit of a stippled effect.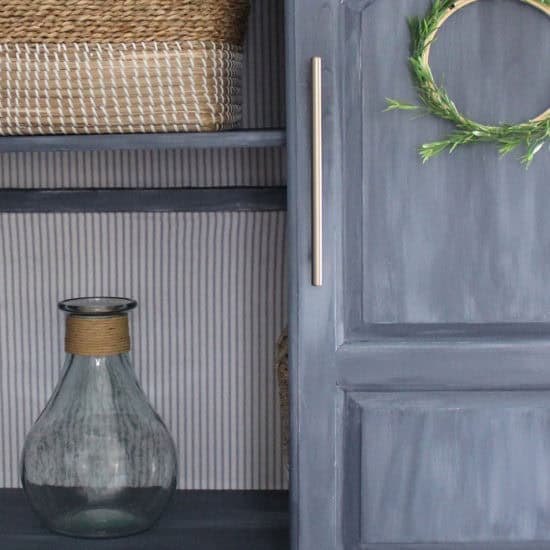 To get that effect I poured white paint (I actually used the white primer) and my blue Fusion paint side by side in a large pan.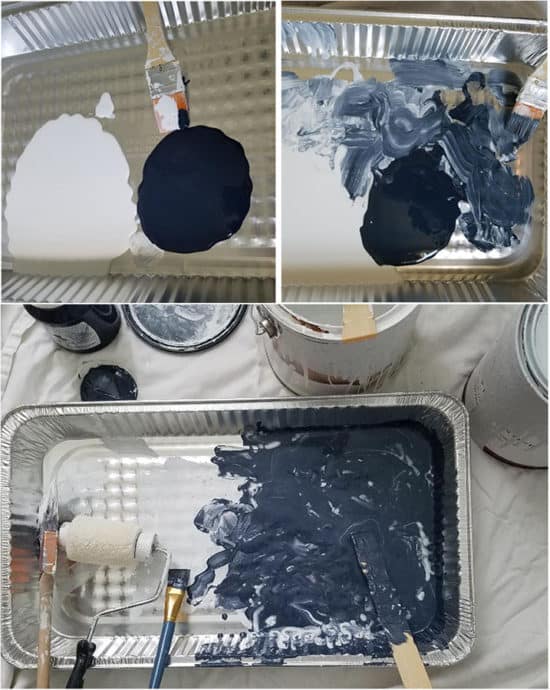 Then I dipped the brush in each and swirled it around. In some areas, I used more of the white and in others, I used more of the blue.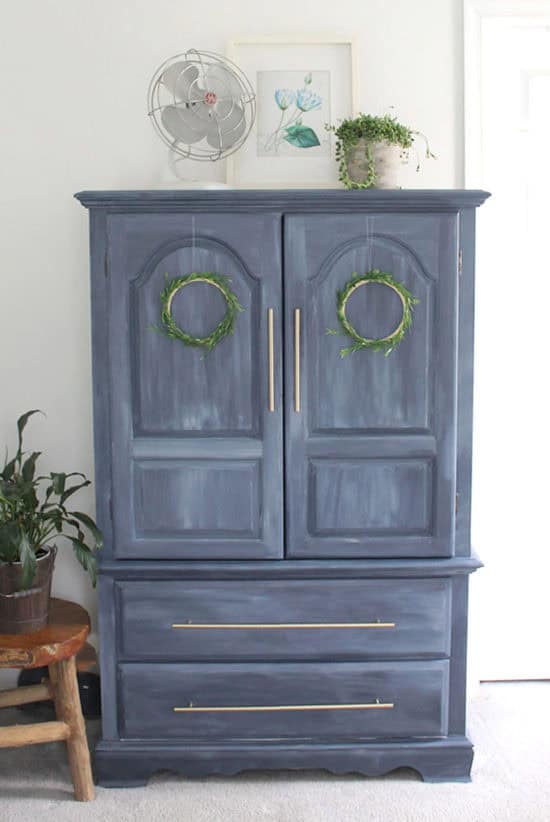 We replaced the outdated drawer handles with these new champagne colored pulls from Amerock. After spending hours searching knobs and pulls on Wayfair, I finally decided on these bar pulls. For the lower drawers, I used the 18 7/8″ center pulls and for the doors, I used the 7 9/16″ length pulls. I love how they contrast with the blue. Then I styled it up with storage baskets inside and mini wreaths that I made on the doors.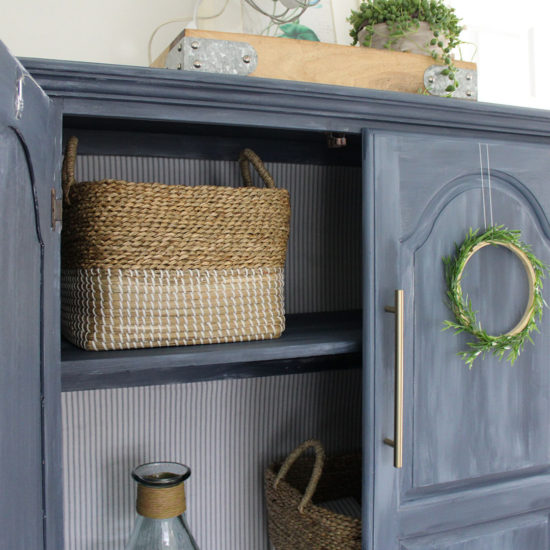 I have to say painted furniture really can make a dramatic difference in a short amount of time, it's like night and day.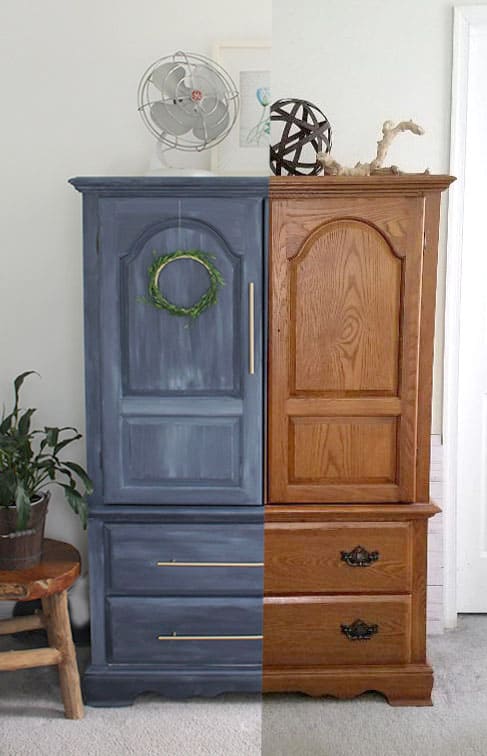 I still have the dresser from this set to refinish (or possibly replace), you can see what I did with the nightstands here. I went with blue here to match the DIY knock-off wall decor I added above the bed last year. I am really loving the pop of color in here.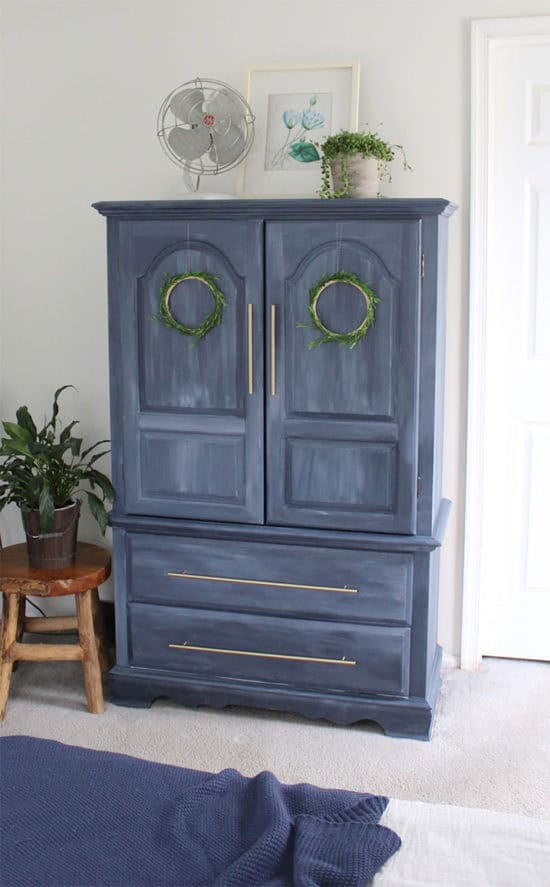 I usually seal my painted furniture with some kind of furniture wax. I haven't sealed this piece yet, the fusion paint is pretty durable and this is not a high traffic area so I may skip that step with this piece.
*This post may contain affiliate links, you can read my full disclosure here. Thank you to Amerock and Wayfair for supplying the hardware and to Fusion Mineral Paint for the paint! All opinions are 100% my own.