DIY Wooden Sign For The Porch
Every good home decor blogger knows you never throw out leftover wood. Or fabric. Or pretty much anything else because you never know when inspiration will strike next, or what you will need when it does. You basically become a hoarder. That's how it all began with this DIY wooden sign.
When we do have unusable scrap left from projects we load them into the bed of my husbands truck so he can bring them to the dumpster. As I was adding some scraps in there awhile ago I found a perfectly good piece of wood leftover from our sliding barn door that my husband snuck by me. Which gave me an idea. I'm still loving the wooden sign trend, so I made my own welcome sign for the front porch.
I started out by staining the wood,  using the same technique as when I aged these wooden crates. First I stained it with Rust-Oleum weathered gray stain*,  once that was dry, I went over it with Annie Sloan dark wax to give it a distressed look and to seal it.
While that was drying, I got out my Cricut machine to create the lettering. To determine what size I wanted the lettering to be,   I measured my piece of wood and divided that number by 9. Seven for the lettering and 2 more for spacing at the top and bottom. My piece of wood measured 4'H X 5.5″ W and I made my letters approximately 3.5″W X 4.5″H.
I couldn't fit them all on one mat, so I had to make two separate sheets. I used the Cricut alphabet font for this project.
I cut out each letter and used the Cricut transfer tape to apply each letter. Once I had them all cut out, I figured out my exact spacing on the wood. I drew pencil lines to divide each of the 9 sections to keep me on track. Each letter section was approximately 6″ H.
When I applied the letters I lined them up with the top pencil line of each section, this way the letters are spaced evenly in between without much effort.
You can read how to use the Cricut transfer tape here.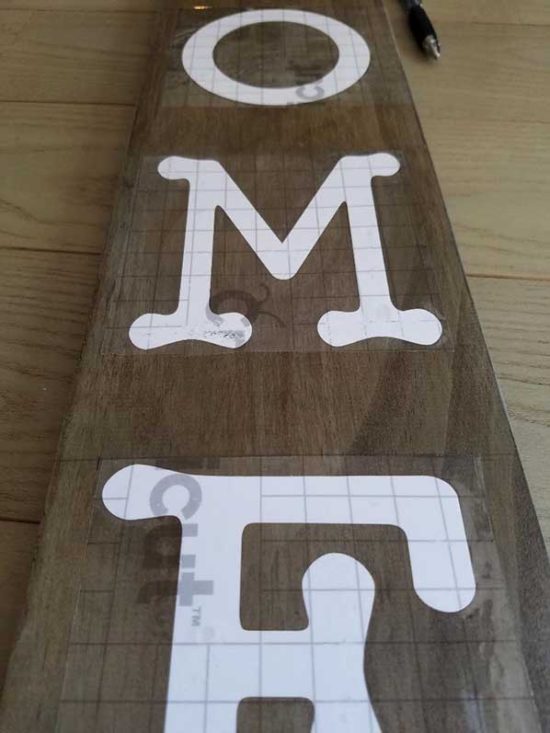 I've had my wooden sign outside on my covered porch since last fall and it's holding up really well.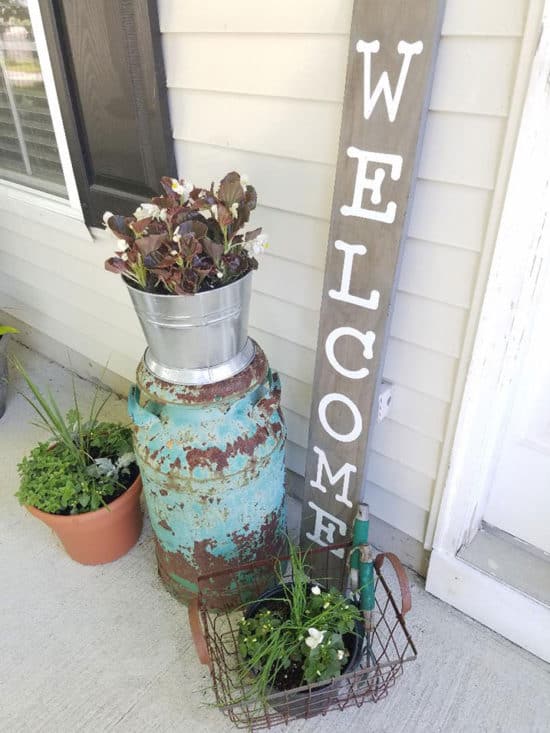 I have seen double-sided welcome signs at flea markets, which I didn't do but I might add lettering to the back later. I'm thinking the word Autumn would be nice for fall and since it has 7 letters in it, I know the spacing will work out the same.
You can see my front porch all decked out for summer here.
*This post may contain affiliate links, you can read my full disclosure here.