Steal My Small Front Porch Ideas On A Budget
Our front porch is small but I've really figured out how to maximize every inch of it. It's my favorite spot to decorate seasonally so I thought I'd share with you my small front porch ideas on a budget!
First, I set it up not only to be a shady area to sit in the summer, but also so I can swap out seasonal elements for an ever-changing display.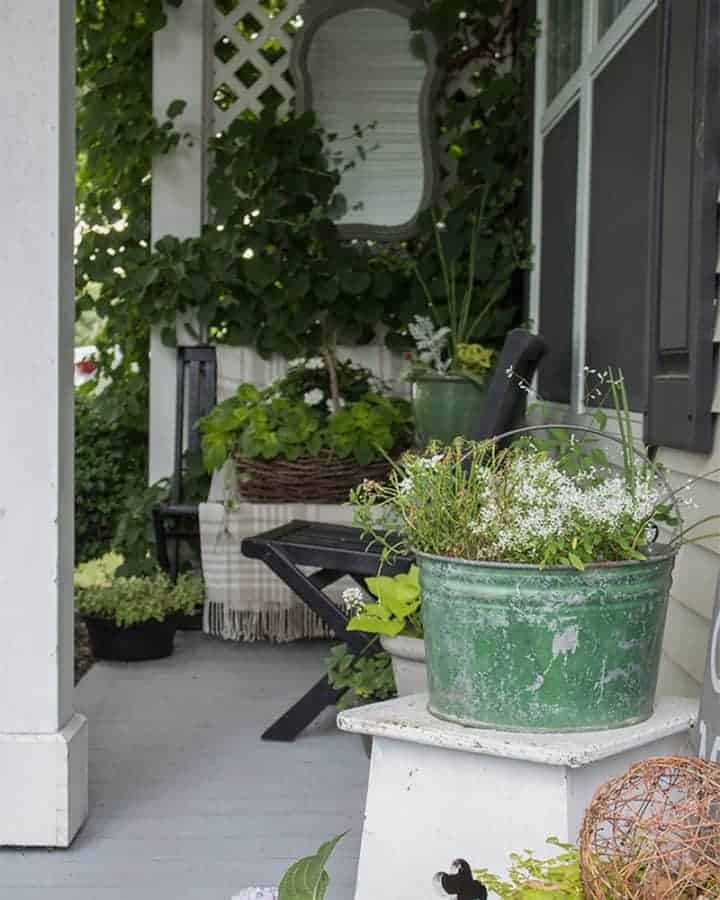 1. Small Porch Ideas on a Budget: Shop Secondhand
You guys know by now I love flea market finds. Using them outdoors is especially great. The older items have already stood the test of time and rustic finds look amazing paired with greenery and flowers.
Almost everything on my porch is from a flea market or thrift store. For example, I hung a small second-hand mirror that I got for $10 on the trellis. You don't see many mirrors hung outside so I thought this would be a fun focal point!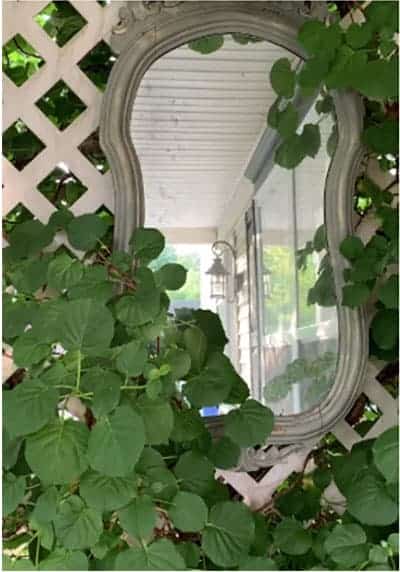 Another great flea market find is the large basket with a handle. This is actually one of my favorite ever finds. I've never seen another like it since. When it's filled with seasonal flowers it really looks beautiful.
I did find this basket online that would give you a similar look.
2. budget Small Front Porch idea: add height with climbing vines
Sometimes in a small space, there's no place to go but up. We planted a climbing hydrangea vine next to the trellis. I did this to offer a little privacy on that side. Climbing hydrangeas grow slowly so I haven't had to worry about them invading or taking over.
It's especially pretty as it grows around the mirror. I'm planning on planting another along the back of my house with possibly a water feature on the wall above it this year.
3. Small porch furniture
You can have a fair amount of seating on a small porch. I found a size-appropriate bench and chair at Target several years ago. They fit the space perfectly.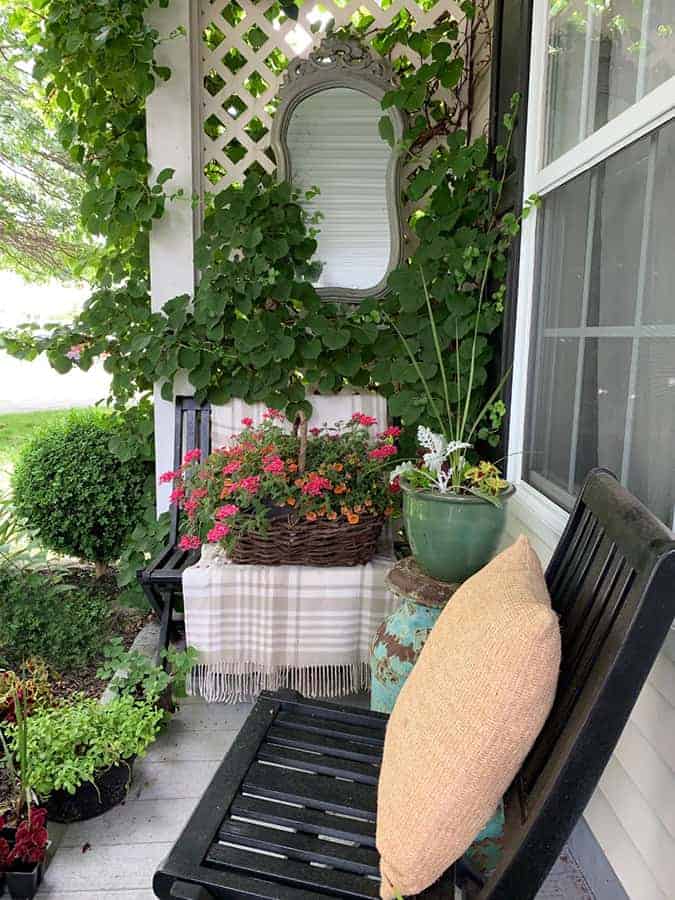 They both fold up for storage so that's another plus for this set. I've thought of switching these out for comfortable wicker chairs with armrests but I know they won't fit the space as well.
4. Use Multifunctional small porch Decor
The white wooden stool (also from the flea market) is usually used as a plant stand but it can also function as an extra seat.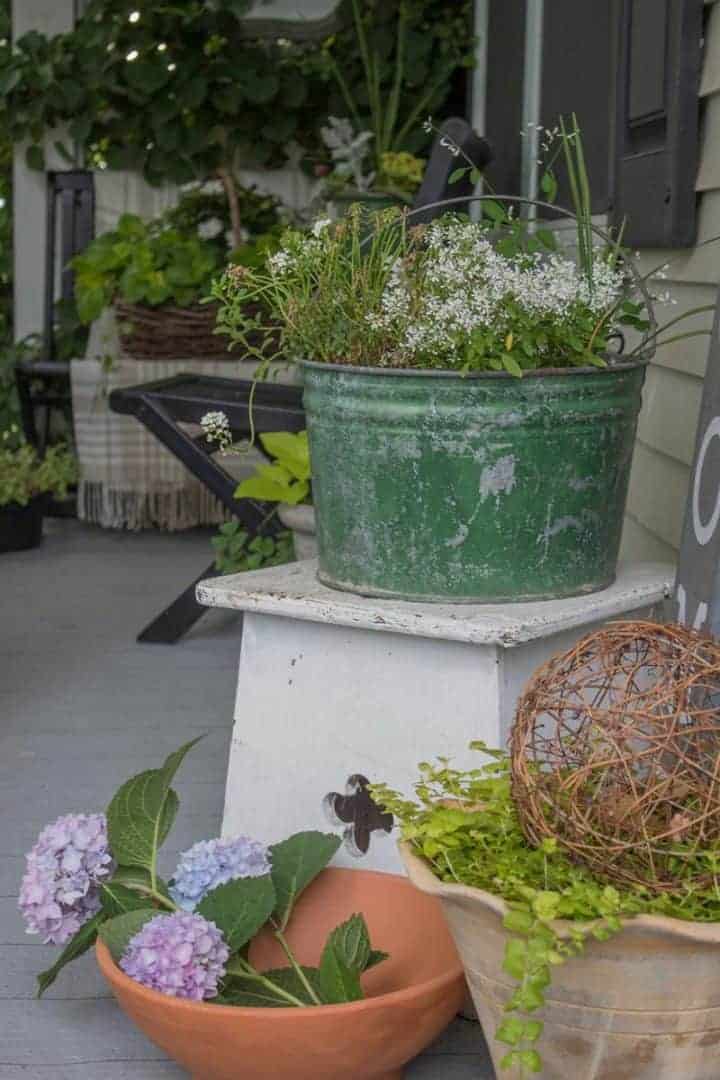 Even the bucket is useful. I love it filled with plants, like I said nothing is better than rustic flea market finds paired with pretty flowers. However, I also use it for carrying garden items around to the yard. It's perfect for small shovels, gloves, plants, etc.
Currently, I have tulips planted in that bucket. While I'm waiting for them to bloom I've been cleaning the porch and prepping it for spring and summer.
5. Swap Out Budget Friendly Seasonal Decor
Though seasonal elements are changed out regularly they are kept to a minimum as to not overwhelm the small space.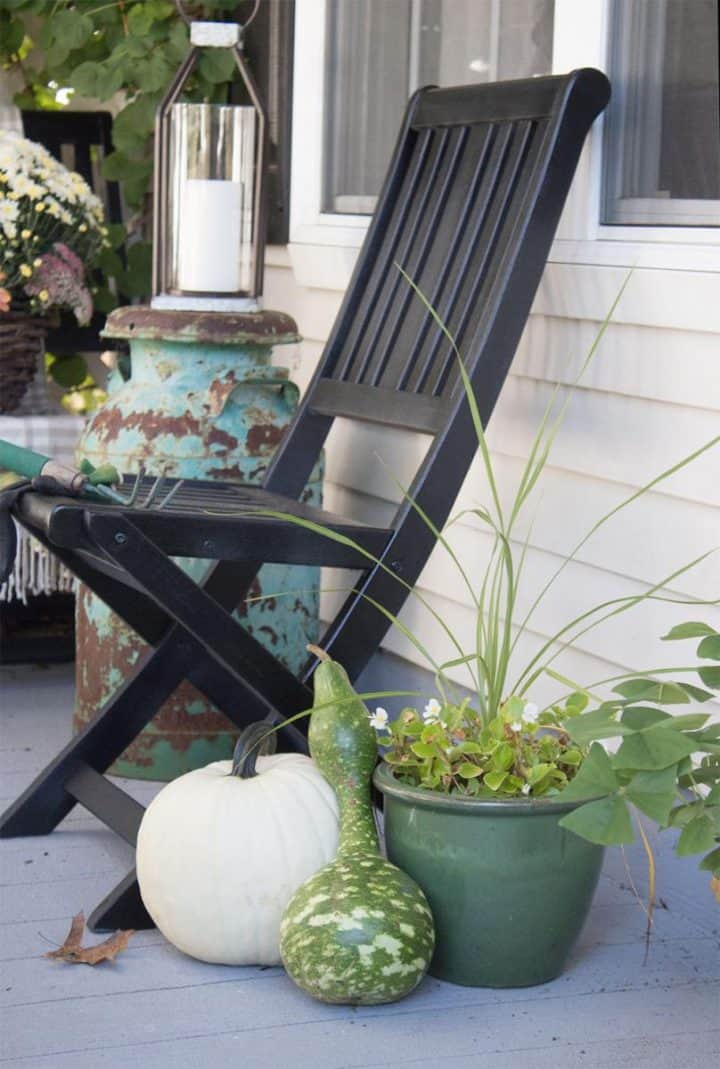 I usually pick up a few inexpensive things from a local nursery to liven it up for each season.
The rustic milk can was a gift from a friend. It also does double duty as a table for drinks when we sit outside.
That's been out here for years but gets moved around from time to time. Just like inside, sometimes I change the arrangement out here when I get bored of it.
6. Porch Decorating ideas: Bring the Indoors Out
A pretty throw blanket on the bench brings a bit of interior decor outside. I leave that blanket out all year long and bring it inside to wash every month or so. It's holding up amazingly well.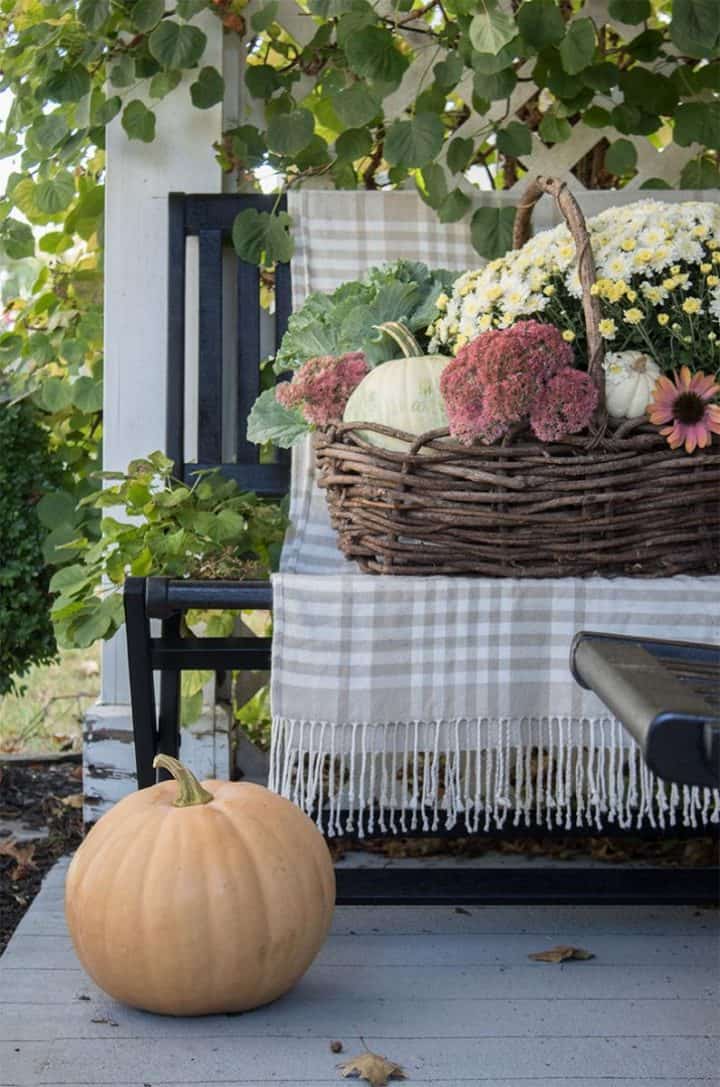 Just like with the mirror, a blanket outside is an unexpected element that adds a lot of interest.
7. Small Front Porch Ideas on a Budget: Tuck In Greenery Wherever You Can
Creeping Jenny does really well on my shady porch. It must be a shade garden plant because when I plant it in my sunny backyard it doesn't do so well. I have an old terracotta pot planted with just that. The wicker orb that sits on top lights up and creates a pretty glow at night.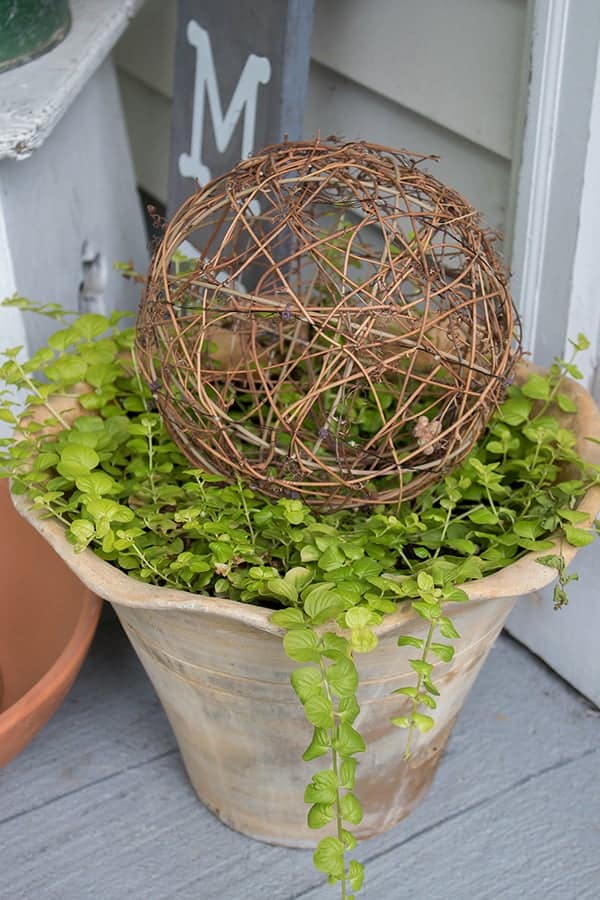 I try not to add too many planters out here or it'll end up looking cluttered. Add as many as you can with plants without going overboard. It's a fine line in a small space! Sometimes I'll take one or two pots away to see if it looks better and it usually does.
8. Budget Porch IDea: Lighting
During Christmastime, the porch is aglow but not over the top.
Even throughout the year, adding ambient lighting is an excellent way to make a big impact without taking up any square feet. Use lanterns, string lights, or even a lighted orb in a planter!
8. Paint The Concrete Porch Floor!
Our porch floors were concrete when we bought the house. The porch floor was stained and discolored after a few years so I decided to paint the concrete .
Best decision ever!
I used painter's tape to make it look like wooden planks. That project took some time but was worth every minute. It was an incredible transformation, looks so realistic, and has held up perfectly!!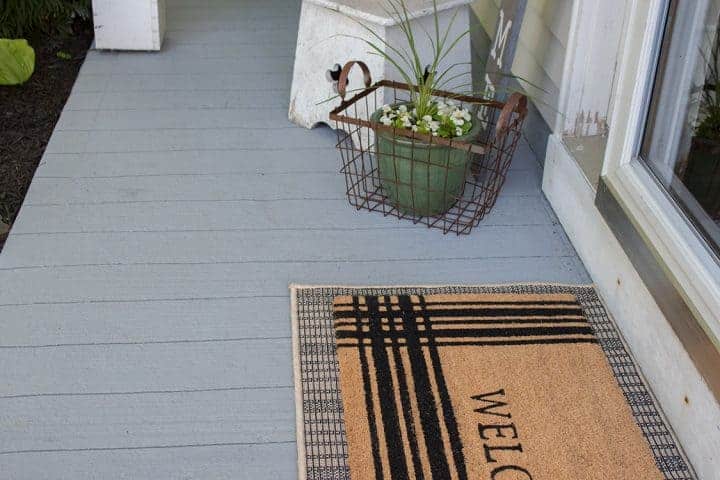 how to paint concrete porch floor
That is the best of small front porch ideas on a budget. Hope you found some inspiration! If you have any ideas to share, leave them in the comments!
---
---