DIY Patio Arbor Using String Lights
HOW TO CREATE AN ARBOR OF STRING LIGHTS OVER YOUR PATIO OR DECK
I've always wanted to add string lights over our patio area but it's been one of those projects I never seem to get around to. Until now! Our house is situated on one side of our patio making it easy to string lights on that side, but there was nothing on the other side to attach them to. My husband offered to put wood posts in the ground next to the patio,  but I really didn't think I would like the look of wood posts sticking up out of the ground.
Then I found these 8-foot poles with hooks, specifically made for stringing lights and I had the aha moment. I could place these inside large planters and fill the tops with flowers to make it more visually appealing. Plus it gives me more room to plant flowers. I stocked up on several varieties of flower seeds and couldn't wait to get them planted. If the poles we bought are no longer available, you can find similar poles here.
For the planters,   I needed something as tall as possible without being too wide. The stakes on the bottom of my poles are 10″ so I needed the planters to be tall enough to keep the stakes stable. I discovered when shopping around for planters that large-size pots can be very expensive! After much searching, these pots were the right size and price. Bonus that they came in 5 different colors and a variety of sizes. I chose a color called "living green".
Once I received the pots I filled them about 1/4-1/2 the way up with rocks to stabilize the metal pole. The rocks came from my friends who happen to have a landscaping business so I lucked out there.
When I had what seemed to be enough rocks (or I was just tired of hauling them around), I filled the planters up the rest of the way with potting soil. It took about 6 bags of 40lb potting soil to fill the four pots.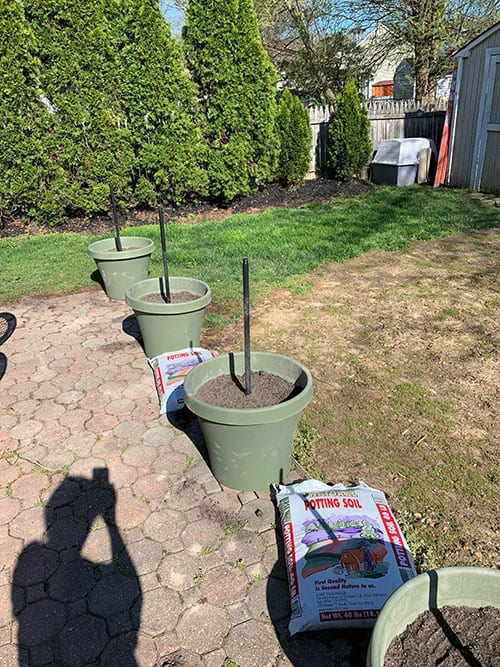 Next, we assembled the rest of the poles which came in 3 pieces. My daughter is home from school on spring break now and helped me with this project. First, we cleared off the patio and set up the ladder. Then we had to decide what kind of pattern I wanted the lights to go. I chose these string lights with the white wires since they'd be floating solo above the patio. I thought the white would be a bit prettier. These come in 50 ft strands and I ordered three of them which was plenty for our 16′ X 16′ patio area.
I had also picked up Christmas light clips in case we needed them and I was so glad I did because we did use them on the house side. It was a bit tricky to get the lights strung taut enough without them being so taut that they bent the poles or popped off the house. I wanted to make sure there was enough clearance underneath for my husband (who is 6'4″) to be able to walk underneath without being too close to the lights.
Each of the lights on the strand has a clip attached to them but it didn't always work out that they ended up on the house side. That is why the Christmas light clips came in handy. Plus it added further stability.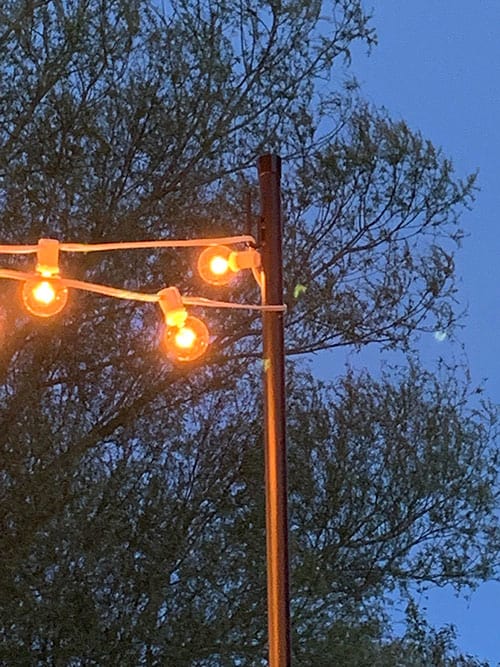 We did have one problem when one of the strands popped off the house while I was trying to get it secured. When the lights fell and hit the paver bricks about four of them broke. Luckily, we figured out we could take some bulbs off the end of that strand and replace the broken ones.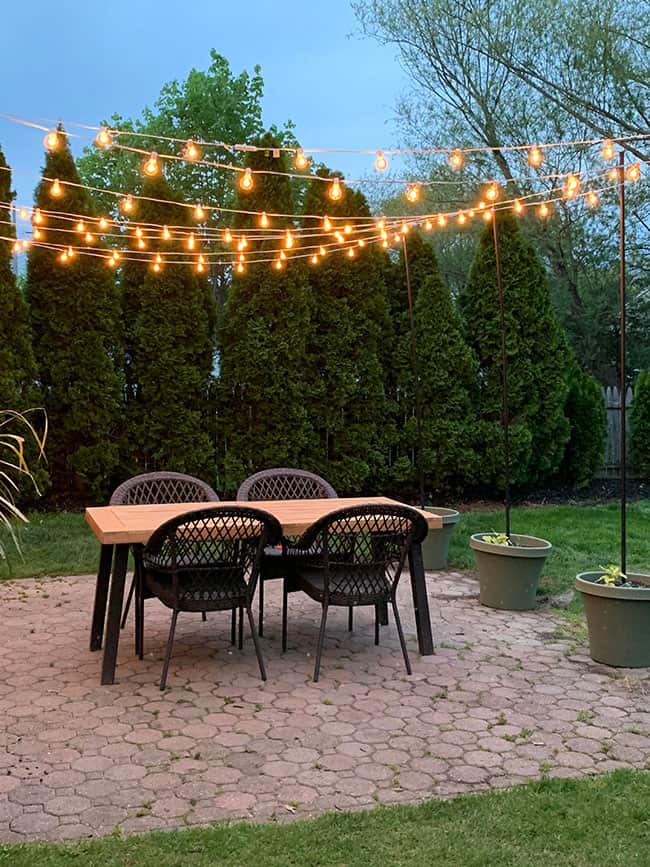 As for the planters, they will look even better when they fill in with flowers. I plan to have matching flowers and plants in all four of them. So far I've added a sweet potato vine that will spill over the sides when it grows a bit (see more on container gardening here) and some flower seeds. I planted morning glory seeds in the center which I'm hoping will climb up the poles.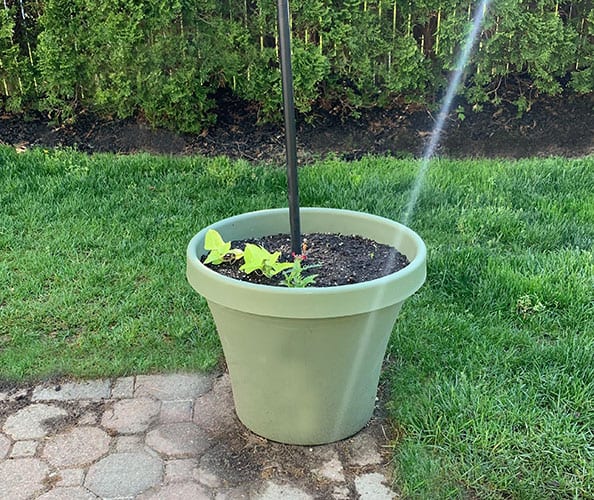 I'll share some more pictures of that once they fill in. Here's the view from the other side. The yard is still a work in progress.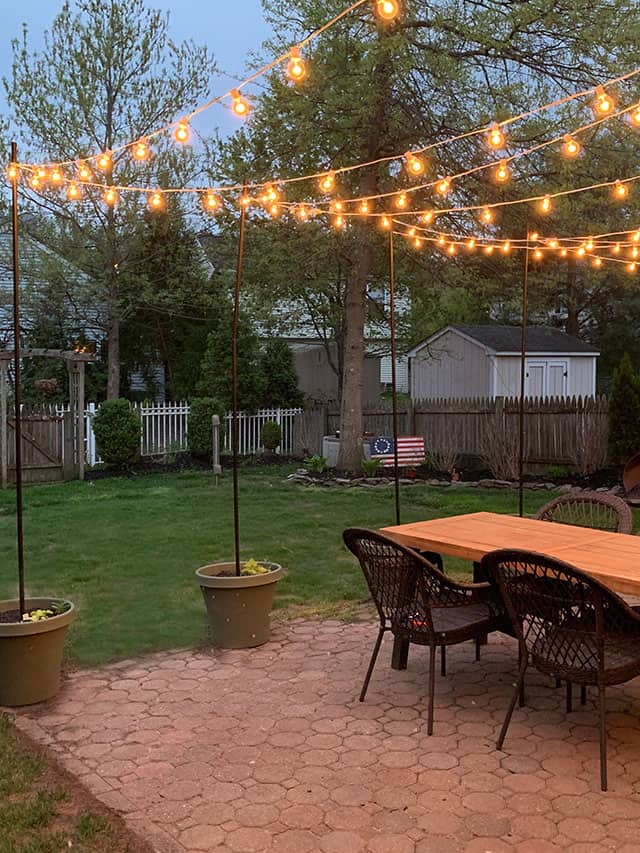 I have several other outdoor projects going on right now as well. I'll share more on those soon! Here is a quick video (about 90 seconds) showing the whole process of my daughter and I adding the arbor of string lights to our patio.
Update: You can see the yard spruced up with new patio cushions and outdoor decor here and what a difference painting our shed made here! 

This post was sponsored by Wayfair, all opinions are my own. You can read my full disclosure here.