Patio Cushions and Backyard Decor
DON'T OVERPAY FOR SEASONAL ITEMS! OUR FAVORITE AFFORDABLE SHOP FOR PATIO CUSHIONS AND OUTDOOR DECOR TO BRING YOUR BACKYARD STYLE UP A NOTCH*. 

If you've been following along here at all this spring, you know we've been focusing on sprucing up our backyard. After painting the shed and hanging a canopy of string lights, the patio was looking a bit plain. It was completely void of any color.
I remembered seeing a huge selection of patio cushions at the Christmas Tree Shops, so I took a ride over there to see what I could find. They defintiely didn't disappoint with the selection and I left with quite a bit more than just patio cushions.
The next day, I spend the morning weeding the patio and cleaning up the outdoor table which has weathered quite a bit since last year. I think I'm going to sand and restain that soon too. Once I had it all cleaned up it was time to add some much-needed color out there. You guys know I like neutral colors inside, but outside I like to see a bit more vibrant colors.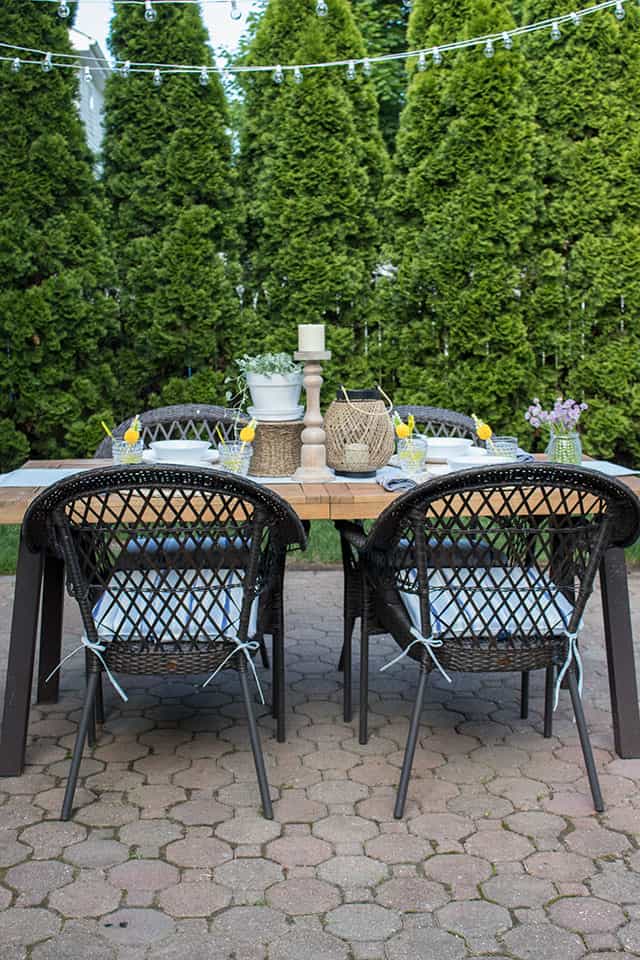 From the huge selection of patio cushions, I chose this set in shades of blue and white. These were under ten dollars each.
I really love the color of the outdoor table runner I found, it's like my favorite chambray shirt. They had chair cushions that matched this exactly which I loved, but mine better match the table decor as well as my shed. They tie everything together.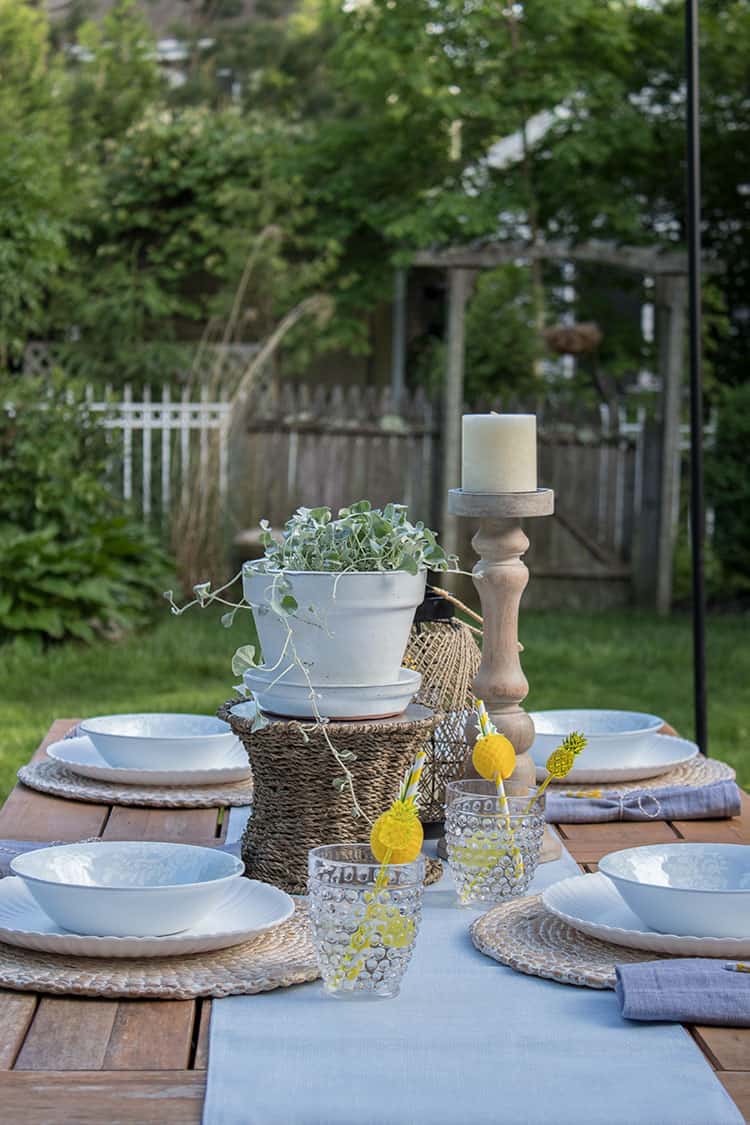 I also found the cutest outdoor dinnerware. These plastic bowls are prettier than my inside bowls and these plastic dinner plates will be durable enough for outside entertaining.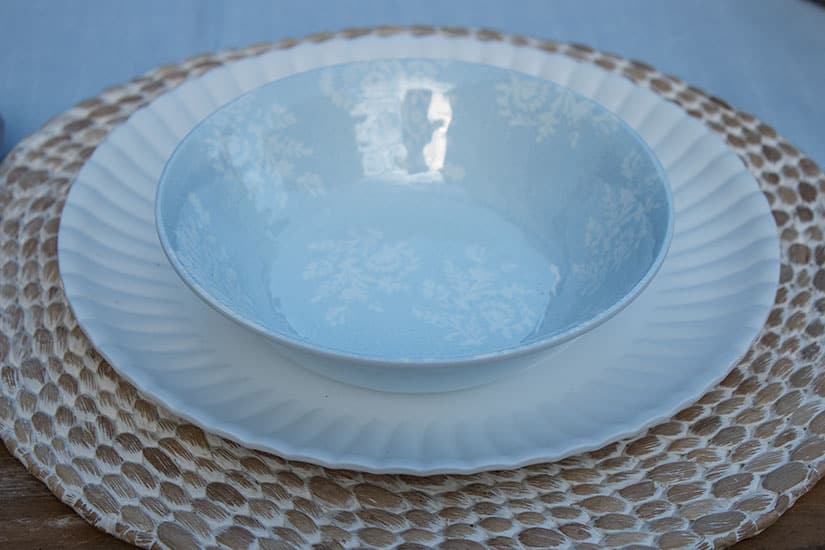 Hobnail glass has been trending awhile now, and these plastic hobnail glasses look like the real thing. Definitely couldn't pass those up.
Another really cute find at the Christmas Tree Shops was this shaker set. It's like a little party in a shaker. It comes with pineapple straws, umbrella picks, stirrers, and pineapple ice cubes.
Isn't that adorable?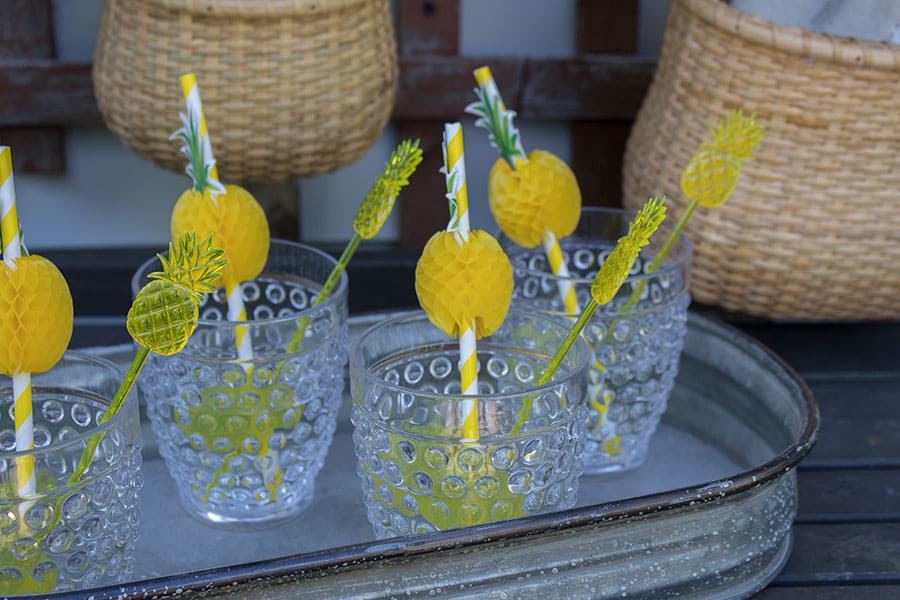 Bringing something from the indoors out is another way to up the style outside, which I did with this rustic stool.
No outdoor setting is complete without lanterns. I found two of these jute style lanterns with battery operated candles in them. They had plenty of other styles, without existing candles that would be good if you prefer citronella candles. Add that with a few mint plants and it helps to really repel the mosquitos.
The purple flowers are actually scallions I planted last year that came back again. I couldn't resist clipping some of those for an interesting floral display.
As you can see my shopping trip for patio cushions was successful. And with the prices being so affordable even my husband can't complain about this one. 😉
Someone recently mentioned to me that they thought the Christmas Tree Shops only sold Christmas items, but they actually have an ever-changing seasonal assortment. You can find some of these items in their online store, but there's much more to choose from in-store. Happy shopping!
PIN IT:
*This post was in partnership with Christmas Tree Shops, all opinions are my own. You can read my full disclosure here.