Painted Shed Transformation
Just when I thought I could no longer be surprised by the transformative powers of paint, I was proved wrong. My painted shed is another testament to what can be done with a gallon of paint!
I had been thinking of painting our shed for a year or two, but I have two beautiful vines growing up one side of it that was so large it made it impossible. Last fall, my husband cut them way back (when I wasn't home to stop him) so I figured now was the only time I'd be able to get in there with the paint before everything started growing. The before picture below is a bit embarrassing, but this was taken right at the end of winter so everything looked dull.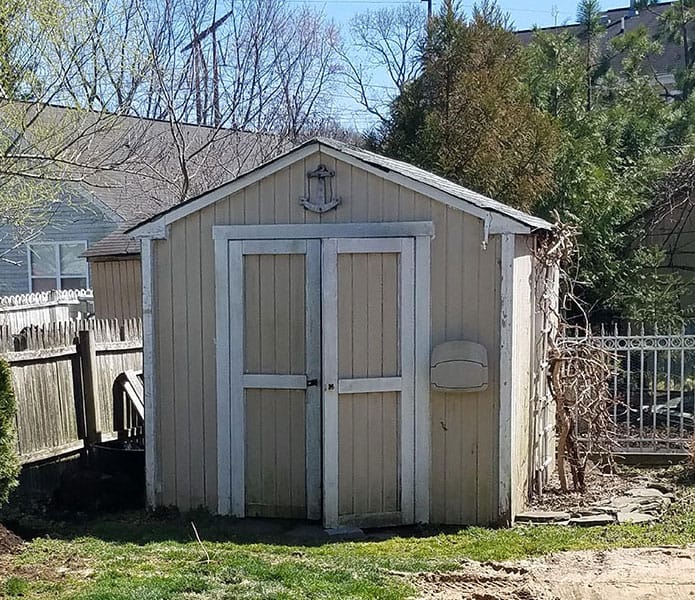 I gave it a good cleaning before I began, but it was so filthy you could barely tell. The only thing that's really exciting about painting a shed is the choice of color. I picked a color that looked to be a good blue/gray from Behr ( I think it was called Colonial Blue) and started by cutting in around the trim areas. Using blue would make a nice backdrop for the green vines that will grow up the sides.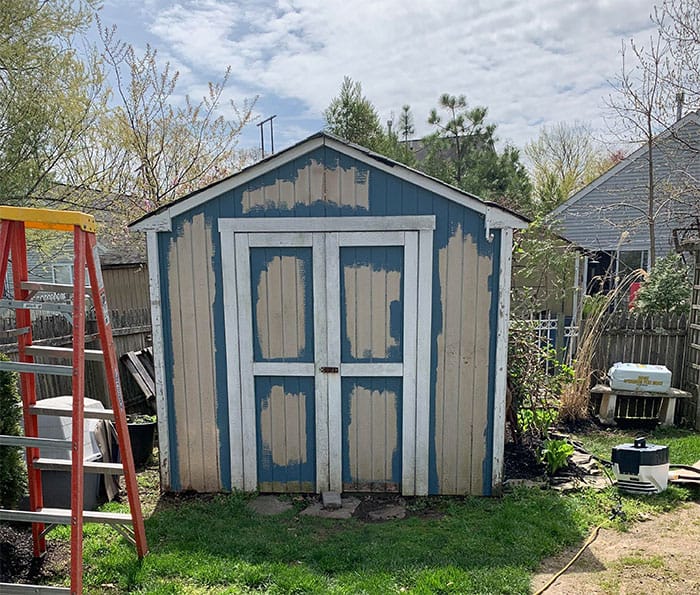 The problem with this project was painting behind the trellis. There was no way I was going to remove that because I didn't want to disturb the vines. My only option was to paint behind it. I found a flat edger with a handle in my hardware store which actually made this pretty easy. Other than getting poked with a branch here and there, lol.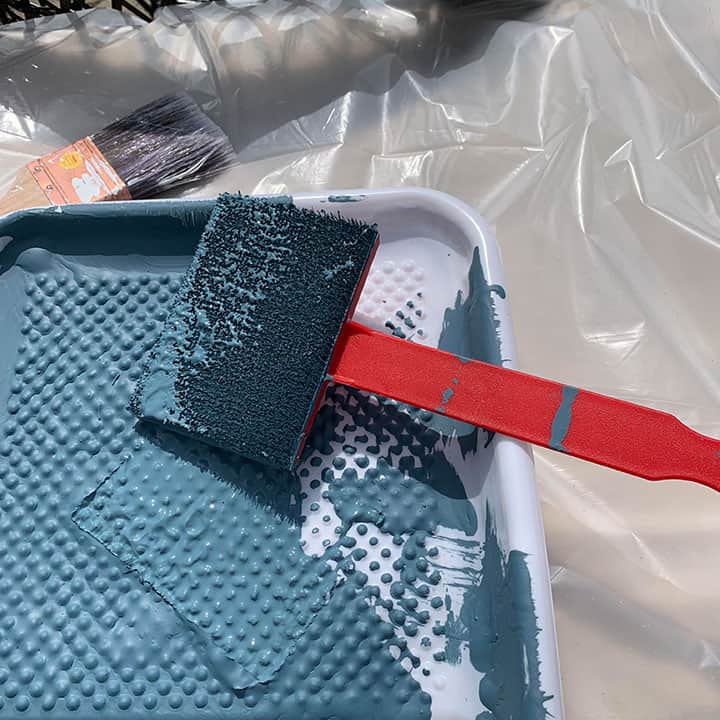 The Easiest Way to Paint a Shed
After I cut in and painted behind the trellis, I set up my paint sprayer to paint the rest. Because of the texture and grooves on the shed, I chose to use my Wagner Studio Pro Sprayer on it, however, halfway through the project I decided to buy this new sprayer which I love! This would give me the best coverage in a short amount of time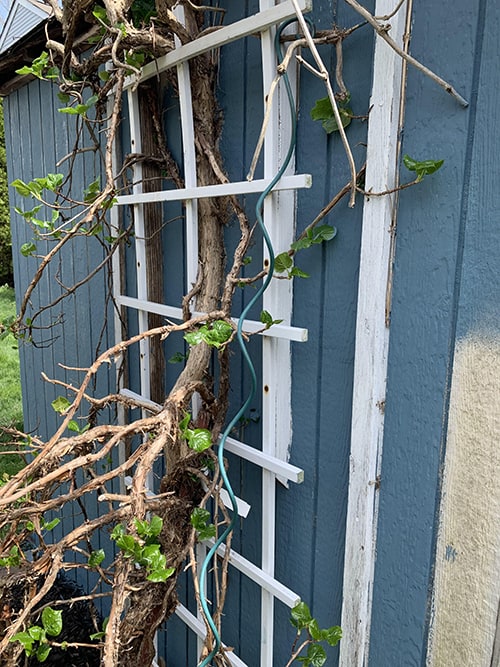 I love the control nozzle on my this paint sprayer because it lets me easily adjust the amount of spray that comes out. I always set it on low by rolling the dial to the minus setting to begin. If needed, I can increase it from there.
You can also control whether you want the spray to come out in a vertical or horizontal pattern by turning the dial on the front of the nozzle.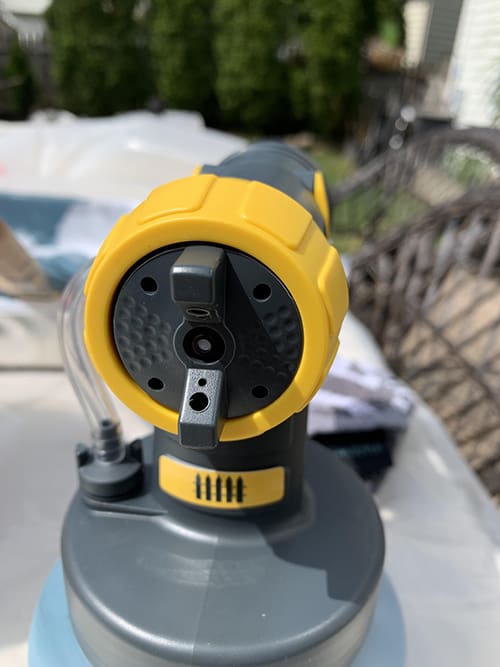 It took no time to fill in the rest of the shed with the sprayer.
Paint Color Choices
After I finished that side with the sprayer I started second-guessing my choice of paint colors. I decided to stop there and sit with this color until the next day. The next day I realized I couldn't live with that color. Not the wow factor I had in mind.
I remembered I had a Benjamin Moore sample pot upstairs. So I painted a swatch of a color called Hale Navy onto the front. I knew right away I liked that better. Though I didn't really want to start from the beginning again, I did anyway because I knew it'd be worth it.
Clean Up Tips
The darker shed paint is also great to help disguise the dirt and grass stains that inevitably will get on there. As far as cleaning the paint sprayer, it's easy. I empty the canister of any remaining paint and run water through the sprayer until it comes out clean. I also take the nozzle ring off and give it a cleaning with the small bottle brush that comes with it. It doesn't take any more time than it would to clean rollers and brushes.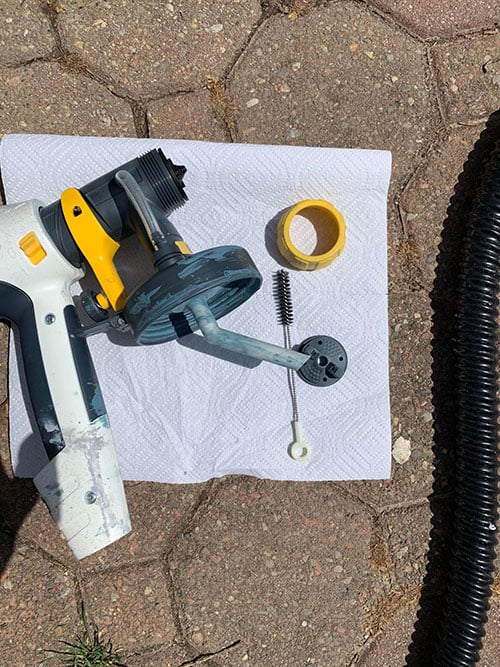 With the painted shed and the yard starting to green up, the view is so much better. It's like night and day from what it looked like before!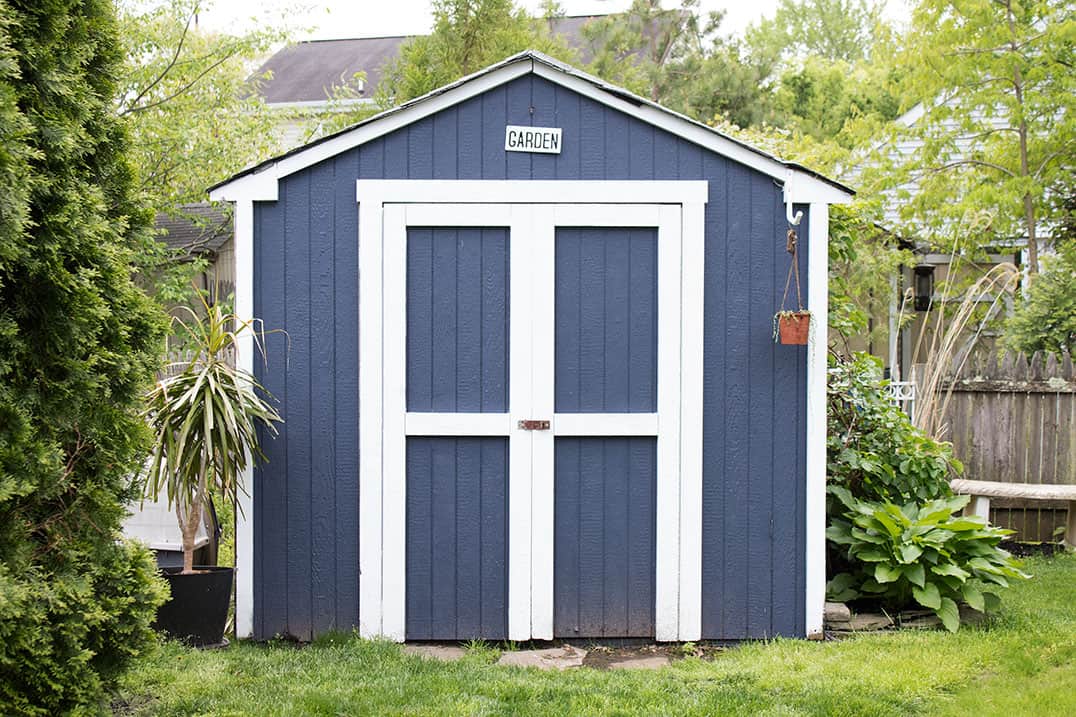 If you're wondering what the vines are, one is a climbing hydrangea and the other is a hummingbird vine. The hummingbird vine gets beautiful orange flowers that bloom almost all summer long. Those flowers will look beautiful against this dark blue.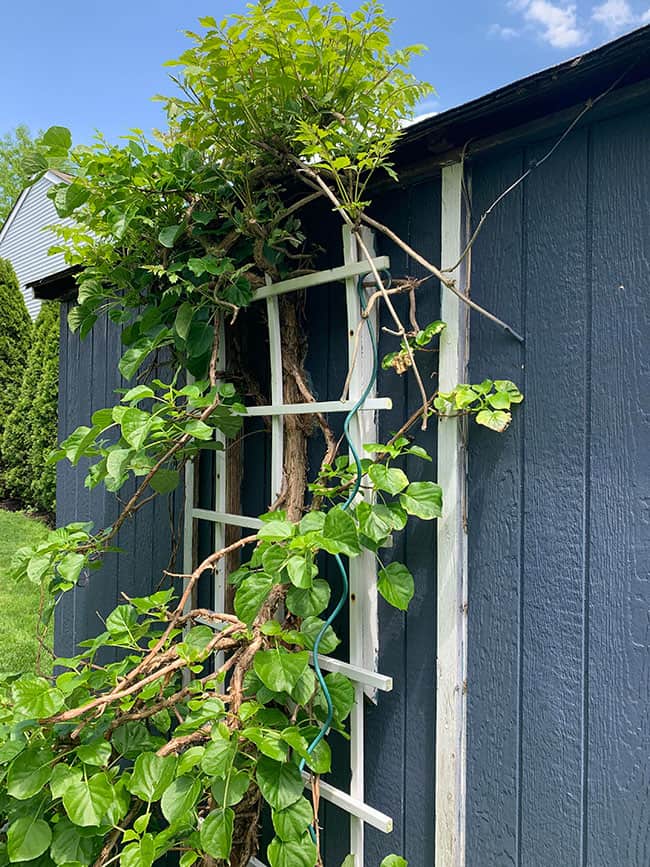 Now if only I could get my husband to help me paint the house to match. 😉
Did you enjoy our painted shed post? You can see more of our outdoor DIY projects below!
Please pin and share with your friends: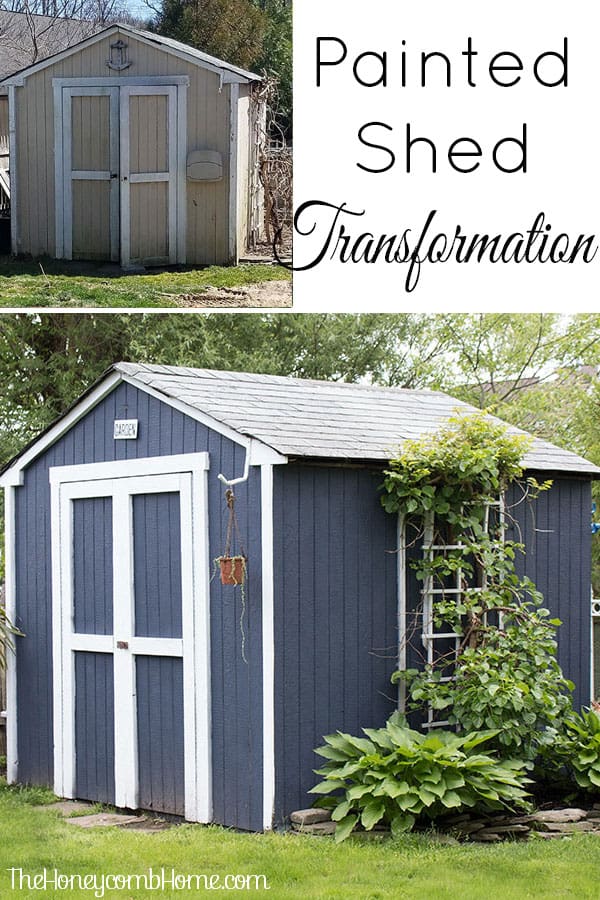 *This post was in partnership with Wagner Spray Tech. All opinions are my own, you can read my full disclosure here.