Home Accessories to Pull A Neutral Room Together
I like to keep all of the major elements in my rooms neutral. Mostly because I like a soothing color palette but also because that allows you to change out smaller home accessories seasonally or when trends go out of style without having to replace big-ticket items. You can completely change the look of a room by simply switching out a few items, such as curtains, throw pillows and wall decor.
I put together several design boards* featuring home accessories that will pull together any neutral based room. The idea is to have coordinating colors and textures without it being too matchy-matchy.
For the first board (which is my favorite of them), I started with the curtains and based everything else from those. The blue pillows and wall art distribute the blue around the room, letting the eye travel. The basket, candle holders, and lamp all bring out the tan in the curtains while also adding texture. The texture of the basket and lamp also works well with the hint of coastal vibe in the canvas wall prints.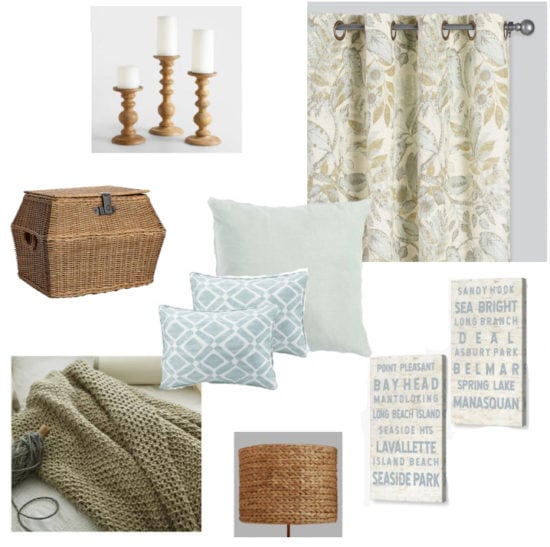 wooden candle holders/curtains/lidded basket/patterned pillows/solid pillow/throw blanket/sisal lamp/canvas wall art/canvas wall art
For this next board, I started with the floral pillow. I wanted to use the pink and blue tones without it looking too childish. The ice blue tone of the curtains works because if it were too vibrant it would appear juvenile. The soft throw has just a hint of pink and the cool silver in the lamp, mirror and candleholders add an elegant vibe.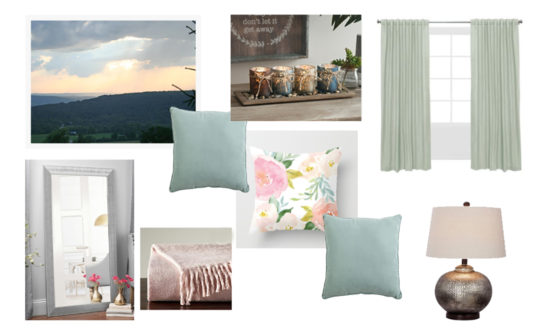 wall art/mercury glass candles/curtains/floor mirror/throw blanket/blue pillows/floral pillow/table lamp
Have you noticed the trend toward botanicals lately? For the home accessories here,  I wanted to use those as well as mix patterns. Even though there are several patterns going on in this space, they are all understated and work well together.
botanical wall art left/botanical wall art center/botanical wall art right/picture frames/curtains/floor lamp/area rug/floral pillow/solid pillow/table lamp/throw blanket/lanterns
I just discovered this area rug and plan to order it for my living room. I love the muted pattern on it, and how it goes so well with the soft stripes of the curtains. The curtains felt slightly coastal to me, so I went with that. That blue pillow has the word "home" embroidered with jute rope, which is just a touch of coastal, and the white pillow has a very subtle pattern that looks like starfish. The wooden bead chandelier goes well with the wood end tables (I have these and love them) and the art and the throw blanket tie the deeper navy tones together. The varying shades of blue help give this space a layered look.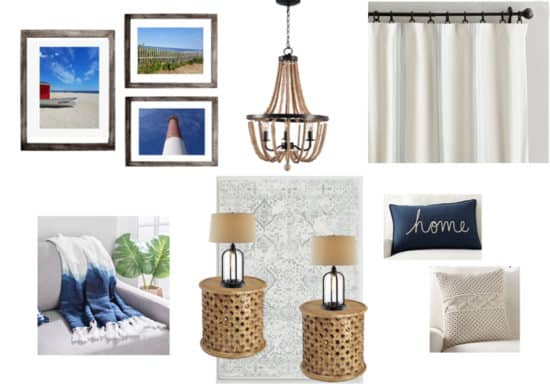 beach wall art/coastal wall art/lighthouse wall art/picture frames/chandelier/curtains/throw blanket/side tables/table lamps/area rug/blue pillow/white pillow
All of the wall decor featured on these boards is available in my new digital art shop. I haven't yet announced this shop on the blog yet because I'm still working on stocking it and getting it organized but it is up and running so check it out! If you'd like to see some other mood boards I've put together check out the design board section of my project gallery page.
Would you like to see more of these boards featuring coordinating home accessories? Any color scheme in particular that you are drawn to?
Pin it for later:
*This post contains affiliate links, you can read my full disclosure here.