White Slipcovered Sofa and Neutral Wall Decor
UPDATES TO THE FAMILY ROOM: A WHITE SLIPCOVERED SOFA AND NEUTRAL WALL DECOR MADE A MAJOR DIFFERENCE IN THIS ROOM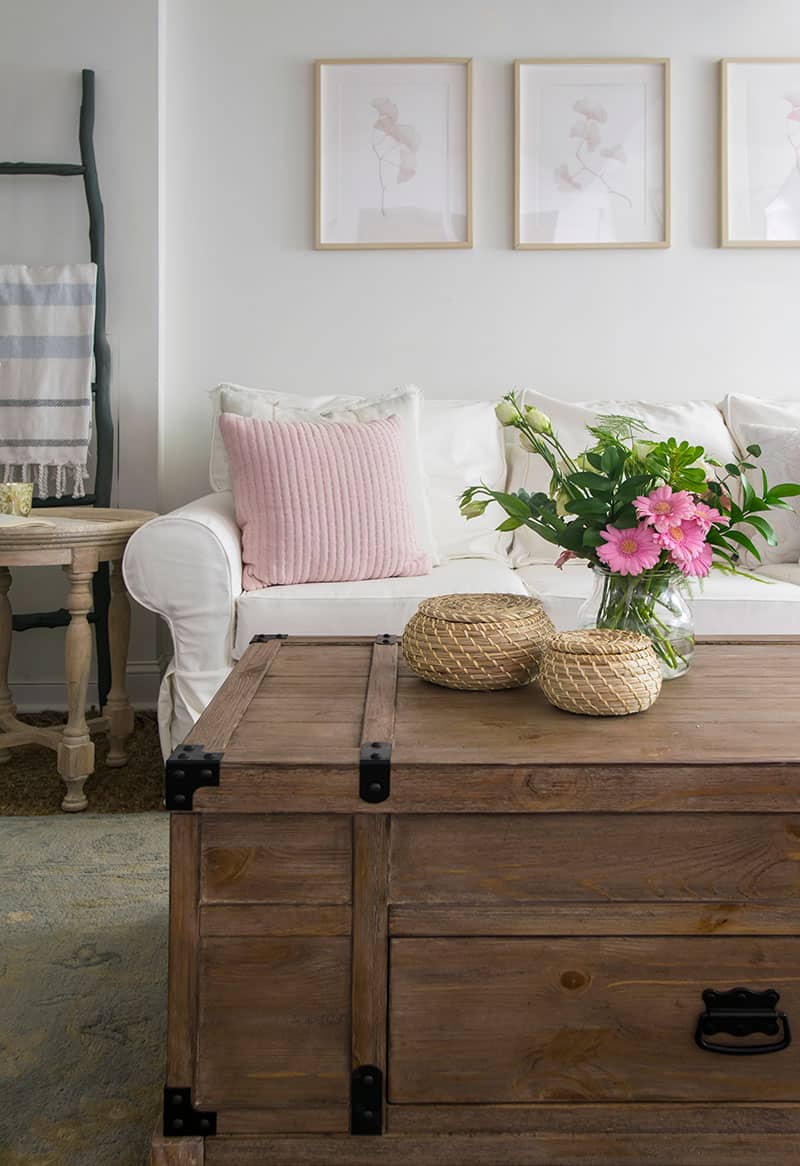 You guys, who knew a new slipcover for a sofa could make such a dramatic change??
There have been some recent changes in our family room, all sparked by that white slipcovered sofa. I bought this sofa years ago after we converted our garage to a family room. Back when I bought it, I was thinking of getting it in white, but a friend talked me out of it. But I never got over the feeling of wanting a white sofa (remember this post on slipcovered furniture?) so I went for it.
I worried that actually changing the slipcover would be a hassle, kind of like when you have to wash a duvet cover and get that bulky comforter back inside of it. Fortunately, this went on easily. I had it switched out in about 30 minutes. The change lightened things up so much in here, it feels like somebody turned on the lights.
I know what you're thinking. Won't it be difficult to keep this clean?
Because it's a slipcover, it's easy enough to remove and wash. And because it's white I can use bleach on it. I'm sure I'll have to keep it vacuumed a little more often due to pet fur but other than that, I don't anticipate it being a problem.
The neutral wall art* above the sofa is also new. It was supposed to go on the opposite wall where I have my framed burlap wall art so I had only bought two of them. I ordered them online and they were so much prettier in person, that I ordered one more and decided to hang them above the couch instead. These are 12 X 16, but they do come in other sizes as well.
The light wood frames came from Ikea, but if you don't have an Ikea near to you, you can also find them online here. I'm really liking those paired with the white slipcovered sofa.
The mantel decor got switched up when my friend Rachel from Craving Some Creativity came to visit me recently. We redecorated and did a mini photoshoot in here. She's a much more skilled photographer than  I am.
I added a few cozy accents on the other side of the room.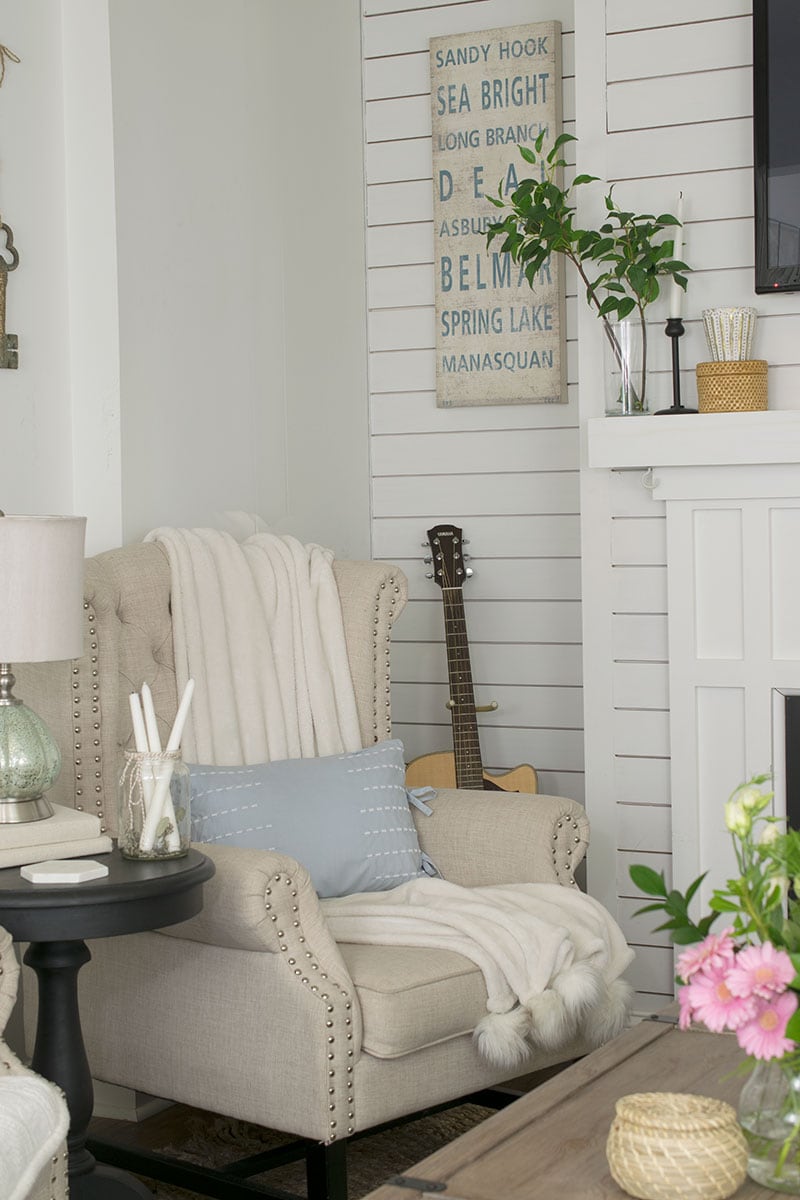 This couch is really comfortable for its somewhat compact size. We've had it about 6 or 7 years now and it's holding up very well.
The only negative on this one is sometimes people lean their arms on the top of the back cushions, causing them to scrunch up. (Update: I ordered inserts to help fix the flat couch cushion effect!)
I found a new blanket ladder at Home Sense in a pretty blue/gray. I love that it's still rustic, but feels a bit more modern with the color and shape of the wood. That is the direction my decorating is going these days. I'll always love rustic, but it's been a bit overdone with the Fixer Upper phenomenon. The end table is a new addition also. I saw it at Home Sense when I bought the ladder and regretted not buying it when I got home. Of course, when I went back it was gone, but luckily I found it online.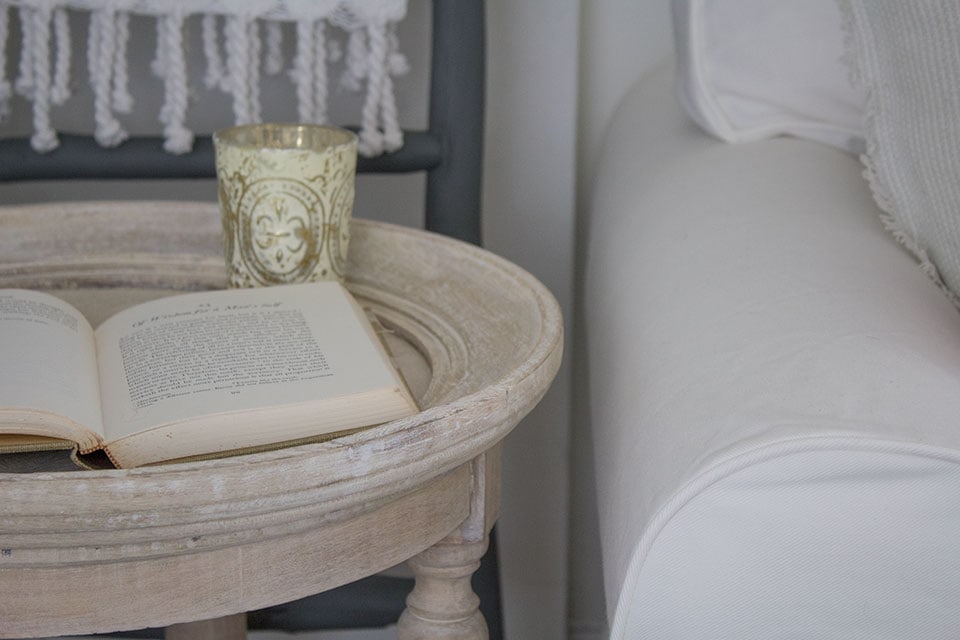 I borrowed the pale pink pillows that my daughter recently bought because they just worked so well in here. I'll have to replace them soon when she takes them back. The fringe pillow I've had for a while but could never find just the right spot for it. Until now.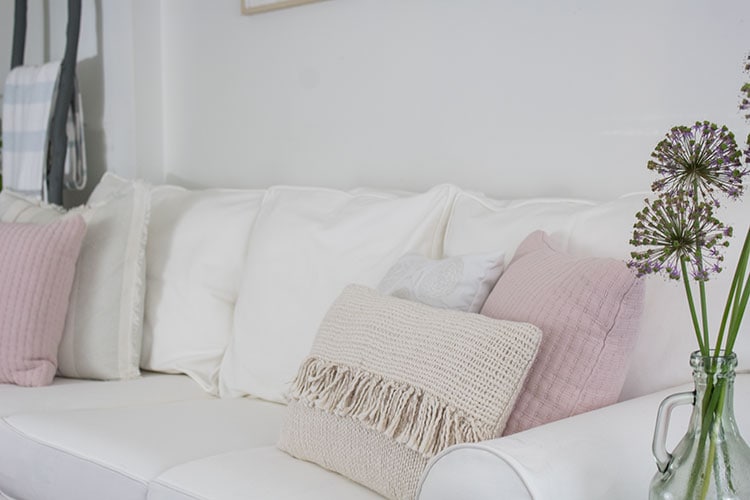 I'll keep you updated on how the white slipcover is holding up. Would you go with white furniture in your house?
Shop the post:

*This post may contain affiliate links, you can read my full disclosure here.