Countertop Cabinets in the Kitchen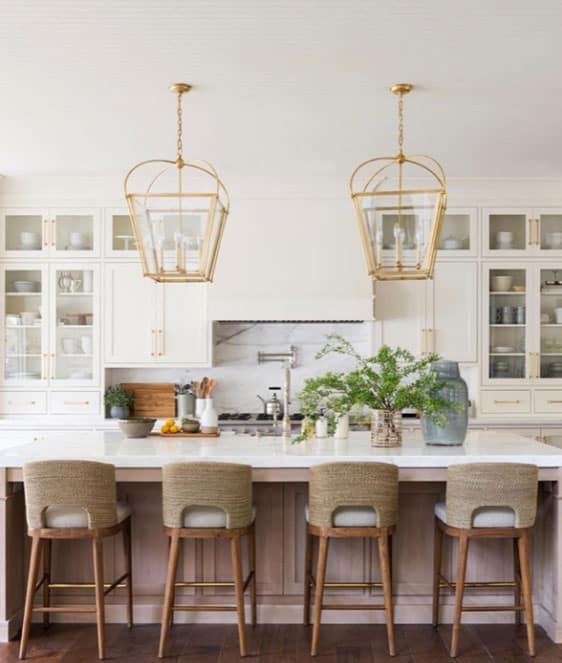 Kitchen from Studio McGee
Countertop cabinets or cabinets that sit on the kitchen counter are something I've been noticing a lot lately. When I look at kitchens that I have saved on my Pinterest and Instagram, this is always a common element I find. My friend Deb did this in her new kitchen remodel so I called her up to ask her what exactly this design feature is called. After a call to her cabinet people, we found out they are just referred to as kitchen cabinets that sit on the counter, lol. We both got a laugh out of that.
After seeing SO many kitchens that inspire me lately I wanted to share a few with this feature here today. I'm kind of itching to do another kitchen makeover (to my husband, don't worry not in this house!) and my sister in law recently mentioned to me that she's thinking of doing hers and she'd like my help. I'm hoping that project comes sooner rather than later, but in the meantime here are several stunning kitchens!
First up is my friend Debs kitchen. She recently built a new house and every bit of it is design perfection.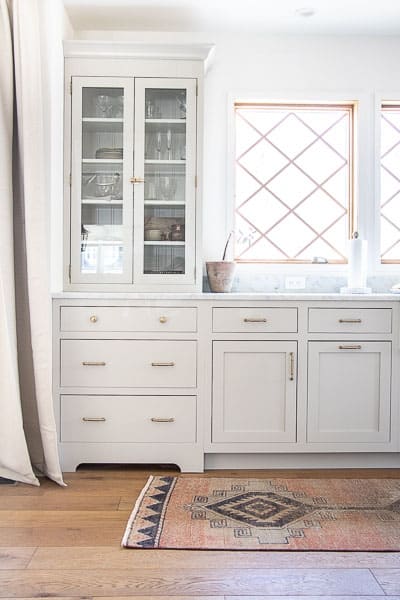 I find that most kitchens that inspire me usually contain a bit of rustic wood. Not only is this kitchen incredible, but the entire house tour is a must-see.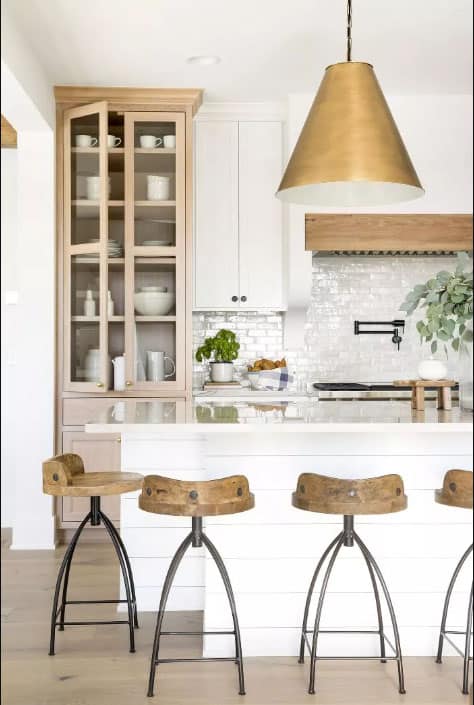 I really love these cabinets with the unique addition of sliding glass doors.
Adding countertop cabinets or glass fronts to the cabinet doors is a good way to break up a large wall of solid cabinets.
The doors on countertop cabinets don't always have to be glass though. They can be closed off like in this kitchen from Amber Interiors.
I love the all glass upper gray cabinets here, but the pressure to keep the cabinets tidy would be tremendous, lol.
Hands down my favorite kitchen right now is this stunner from Studio McGee. It the perfect mix of modern and vintage that I love. And that door!!
Another thing I like in most of these kitchens is how the cabinets extend to the ceiling. We did that in our kitchen (DIY style) and it made a huge difference. It makes the room feel bigger, not to mention the extra storage space it provides.
One way to plan out your space when starting to redecorate a room is to go through your saved photos. Whether you save them online or have clippings from magazines, chances are you'll find a few common elements throughout the photos. Then you can plan similar elements into your space and go from there.