Hello! Today I'm heading home from my weekend at the Country Living Fair, which I'll tell you all about soon. While I'm catching up, I have my friend Hannah Hutchinson back for another guest post (see her previous post here) this week. Today we are talking about antiques in the garden!
How to Implement Vintage Pieces Outdoors 
Antique placement isn't relegated to the home interior. Outdoor spaces are just as much a part of your home; don't treat it as an afterthought. This space can especially benefit from a few vintage pieces. This really gives the yard the vibe of a secret garden or a garden forgotten by time.
Wagons and Wheelbarrows
via: Headmistress
Some items look better with signs of age. This is especially true of metal items designed for outdoor use. Vintage wagons and wheelbarrows are good décor options here. Since these items don't really have a place indoors, they're right at home sitting outside. If you have a 1950s-era wheelbarrow for transporting dirt and/or soil, treat it as a makeshift piece for propping your prized plants and perennials. Clear signs of rust and corrosion really bring out the piece's age, and that's a good thing in this instance.
Vintage Bird Cage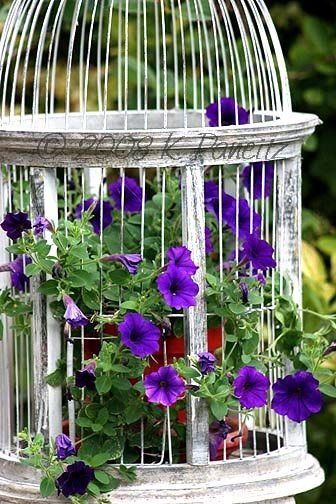 via: Pinterest
Hanging a birdfeeder or birdhouse makes for a nice prop that draws a few chirpers here and there. However, why not take that concept to the next level with a vintage wire birdcage? Hang it on a tree or roof overhang. There are various applications here. You can place a few plants and flowers, letting some of the vines and branches protrude beyond the wires. You can also keep the cage door open, disperse a few seeds, and add a water bottle or bowl. This will help attract some of nature's feathered beauties as they move in and out to help themselves on some free grub.
Some bird cages also come with an ornate base with legs, making them suitable for placement on the ground.
Repurposed Tins
via: Pinterest
Old metal tins make great antiques. This includes aged food tins that at some point in the past stored cookies, baked goods, crackers, pet chow etc. Old metal lunchboxes work well here, too. Display these together and use them as makeshift pots. Again, since we're dealing with metal and aluminum here, the more rust the better.
Old tins and aluminum cans really achieve a retro 1950s appearance. Canned goods, after all, became prominent during this era as they were produced in mass quantities. A small cylindrical tin is especially nice for a small cactus plant.
Vintage Patio Furniture
via: BHG
An outdoor space isn't livable without the very basic patio furniture set. Go for vintage here with styles made from wrought iron or aluminum with lavish floral designs. If you add padding or cushion, aim for a 1970s hipster floral pattern.
With an antique patio furniture set, you kill two birds with one stone. You achieve a timeless look while also adding a basic functionality. You can enhance the look further by incorporating some smaller vintage décor as add-ons. You can, for example, use the repurposed tins from the previous tip as a table décor piece, or mixing it up with some modern garden furniture pieces.
Vintage Dresser
via: Vintage Porch 
If you own a vintage dresser that is damaged beyond use, then relegate it to the outdoors. Open the drawers and use them as staging areas for potted plants. Do the same for the top portion of the dresser. If you decide to go this route, we recommend treating the wood. Untreated wood is susceptible to rot, and rot creates a breeding surface for mold and fungus. Rotten wood also attracts burrowing insects. While not a major health hazard outdoors, they are still factors to consider.
Mason Jars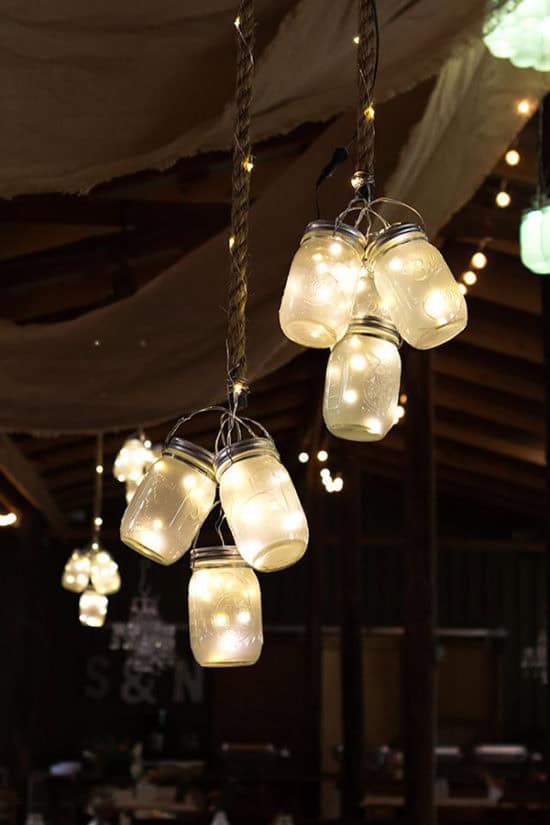 via: Elegant Wedding Invites
Before food was mass produced and distributed in aluminum cans, they were bottled by hand in mason jars. The jars, by the way, are a trend in their own right. Some people use them daily as a drinking cup. Others use them as a storage/décor combo for the kitchen.
Mason jars also have a country and cottage-living vibe to them. For this reason, they make excellent outdoor decorations. Use them in place of the traditional terracotta pot. You can even get more creative and make DIY mason jar lanterns. Feel free to mix and match rusted metal tins and mason jars.
The garden offers a whole new space for exercising the creative imagination. The use of antiques creates a scenery of nostalgia and returning to simpler times. Don't be shy about proudly displaying your most aged furniture and accessories.
Hannah Hutchinson is an interior designer based in London, currently blogging for Westland London. She's always chasing new ideas and likes thinking outside the box when it comes to incorporating fresh ideas to her client's new homes.
Thanks Hannah! You can see how I use vintage finds on my porch here.