Wood Floor Refinishing and Whitewashing
You guys, this post is a long one so get comfortable. There were a few ups and downs with this wood floor refinishing project so I want to be honest and break it all down for you.
First, a little back story. A friend of ours bought her first house about a year or so ago and it was definitely in need of some serious cosmetic upgrades. You may remember, I helped her paint the bricks on her back porch earlier this year. Before that, my husband and I had helped her get started updating her living room.
You won't believe what it looked like when she moved in. Look at this.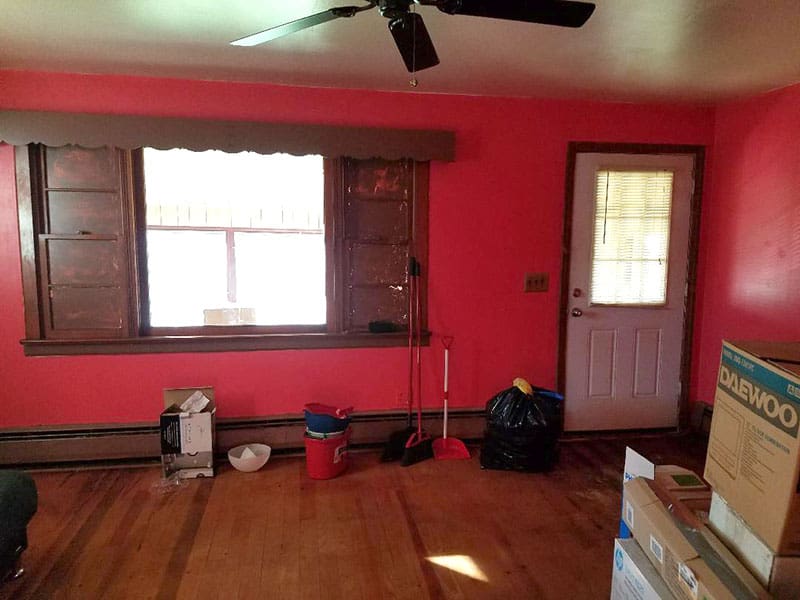 I don't know what was worse, the bright red walls or the windows painted over in brown paint to match the trim. Even the baseboard heater was painted brown.
So we helped her paint the walls and remove the paint from the windows. My husband added some baseboard moldings where they were missing and I gave her a chandelier that he installed for her as well.
We had discussed refinishing her floors at that time but never got around to it until now. My husband wasn't on board for this project so I was on my own. Which only makes me more determined to do it. 😉
Here is what the floors looked like before I began.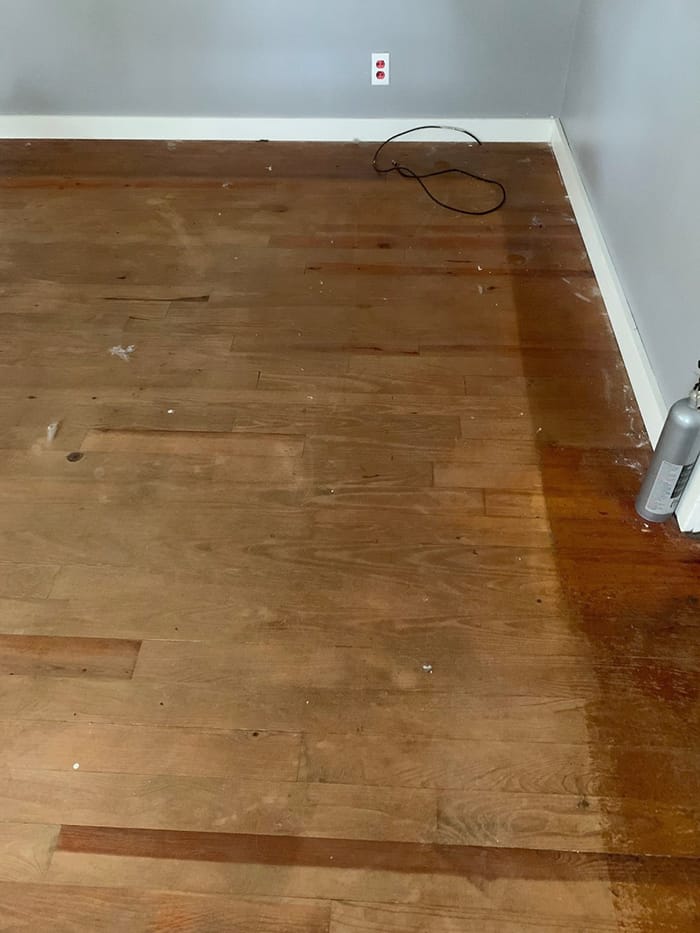 They were very uneven, especially where there had apparently once been an area rug. And they looked a little dirty even though my friend cleans them weekly. Here's another angle where you can see the progress we made in the room prior to doing the floors.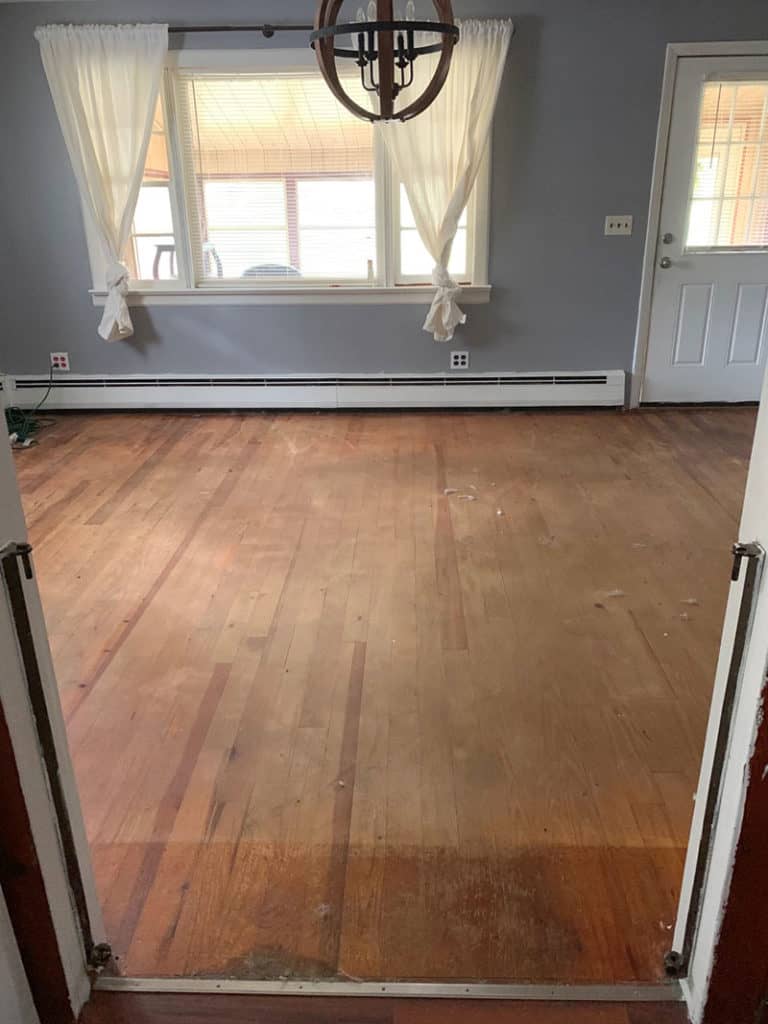 This was my first time attempting wood floor refinishing so there was a bit of trial and error. I share these parts with you so hopefully, you can learn from it before tackling it yourself.
Sanding Wood Floors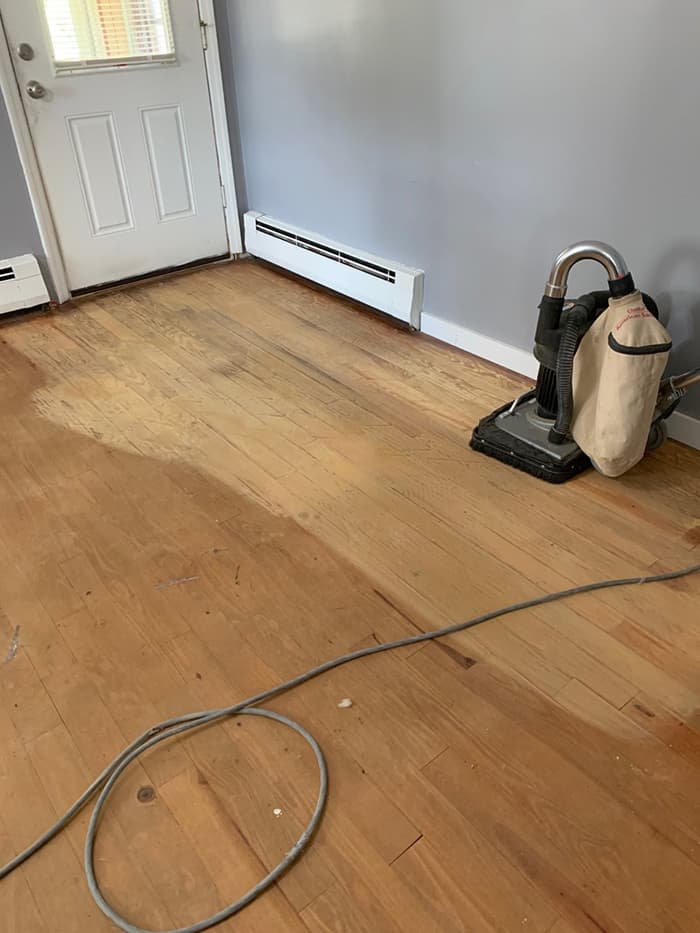 I had scheduled this project in advance with my friend because she works a lot of hours and needed to clear her schedule. Unfortunately, when the day rolled around I was more than a little under the weather. But I persevered and got myself over there.
We went to the Home Depot and rented the floor sander. We rented a square buff sander as opposed to a drum sander. The drum sander is more powerful and difficult to use. The square buff sander is easier to use and though gentler, is was all we needed for these floors. If your floors are in extremely poor condition and need several layers removed, I would suggest the drum sander.
Two more benefits to the buff sander over the drum is that it gets up close to the edges of the walls and is slightly less expensive to rent.
The biggest problem with the floor sander was getting it into her house. It weighed well over 100lbs. We got it up her front steps by each holding one of the handles, counting to 3 and lifting at the same time.
It really was sheer determination to get it inside. Once we did, we were laughing and high-fiving that we did it ourselves.
The machine was easy to use once we got a feel for it. What shocked me was how little dust it generated. The bag on the sander did a great job of keeping it contained. We were planning to put a plastic drop cloth over the doorway but we didn't even need to.
Though the sander we rented did get up close to the wall, there still was an area it couldn't reach. I used a palm sander around the perimeter of the room where the buff sander didn't reach. Not fun.
Staining Wood Floors With Pickling Stain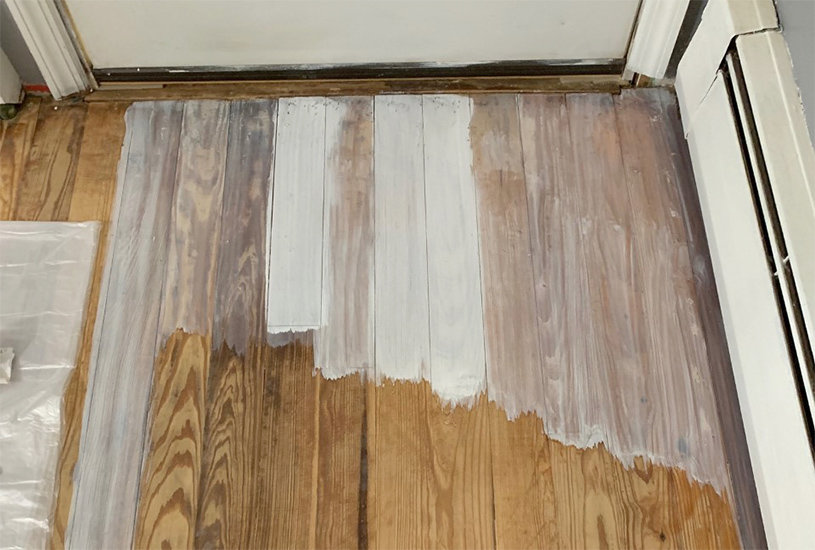 On day 2, I went back over for the staining. My ultimate goal was to achieve a pickled finish on her floors. I picked up a can of pickling stain in white. We started experimenting with the finish in one corner of the room. We both noticed that we really liked the look of the stain when we left it on and didn't wipe it off.
I should mention here that before staining, some people recommend using a wood conditioner on the floors. We skipped that step because from what I understand wood conditioner gets down into the pores of the wood, sealing them for a more uniform finish. I didn't want the porous areas closed because I wanted my stain to get in there for a cerused look.
The wood conditioner is designed to help give your wood floors a more even finish overall, so I'm not sure if I was right in skipping that. You can read more on wood conditioners and how they work here.
Back to our staining. Unsure of whether it was a good idea as far as drying time to leave the stain on without wiping, I called the hardware store where we bought it and asked their opinion. They said it was absolutely fine. I asked around a bit more and got mostly the same response. An internet search did say it would take longer to dry this way. How long, we weren't sure of.
But my friend agreed to proceed with this finish. We stained the whole room by hand. Here is how they looked when we were done. I was happy with the results. I liked that they had a whitewashed look but that you could still see some of the wood showing through.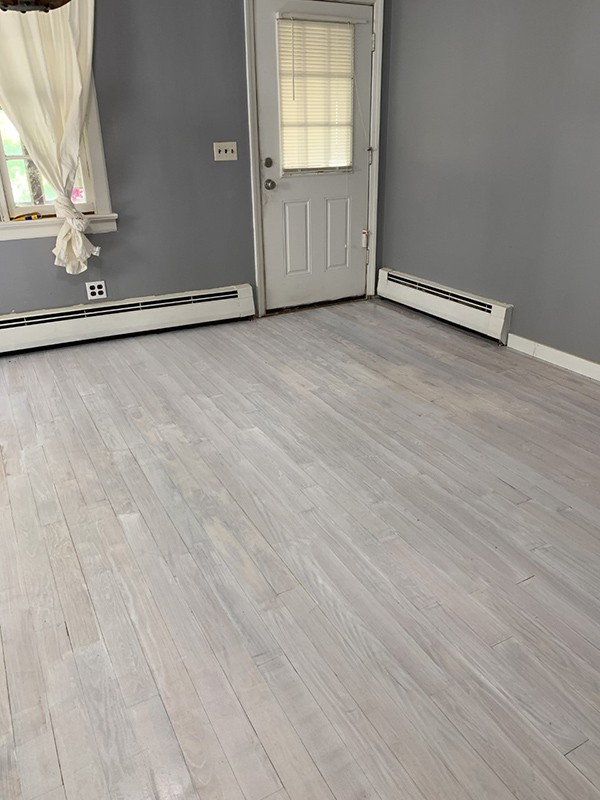 When I went back over the next day the floors were still very tacky. My friend was a little stressed with regards to not knowing how long this really might take. Her entire sofa was in her kitchen and the rest of the furniture was piled in the hallway and bedroom, so I could understand her concern.
To further add to the dilemma, I was leaving for vacation 2 days later and wouldn't be returning for another five or 6 days after that. My friend was not comfortable with leaving her house like this until that point so she opted that we remove the stain and put her house back together.
This pained me to do (both literally and physically) because I loved how it had turned out. However, the hardcore DIY life really isn't for everybody. My husband and I are used to living with our house upside down. Moldings, flooring and furniture are often all over the place here during renovations. Not everyone has the patience for that I guess.
How To WhiteWash With Paint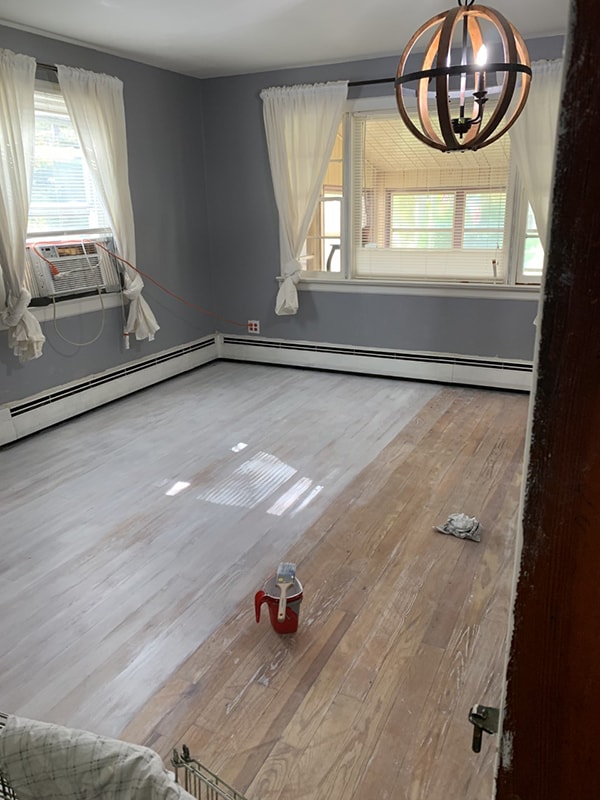 When I returned from vacation, I went back over to finish these floors once and for all. After round one, I wasn't going to attempt the stain again so I decided to try a whitewash finish with paint instead.
I used Behr's Porch and Patio floor paint in Ultra Pure White. To achieve that sort of pickled finish again, I added some water into the paint mix. The recommended amount is 1 part latex primer-sealer to 3 parts water. We already had the porch paint, so that is what I used. I also didn't measure out the water as I added it, I just eyeballed it.
Using the dry brush method, I painted it onto the floors. How that works is, you brush on the paint very lightly and keep going until there is absolutely nothing left on the brush. I applied it heavier in some spots than others to cover up some of the floor's imperfections and to give an overall weathered look. If you want it more even, wipe the brush off onto cardboard before applying to the floors.
Sealing Painted Wood Floors
Once I was finally done with the finish on the floors, it was time to seal them. I used a clear polyurethane in a matte finish. From what I understand, it doesn't matter if you use polyurethane or polyacrylic, but what you need to be aware of is whether or not it's water-based. The water-based sealers are much less likely to yellow over time than the oil-based. The water-based sealers dry faster as well.
I expected this polyurethane to smell terrible, but it had a surprisingly low odor. It dries quickly and left a perfectly clear finish. I was really happy with this product.
To apply my polyurethane, I used the SMART Roller from Wagner Spray Tech. It has a built-in reservoir that holds up to 22 ounces of paint, eliminating the need to continuously stop and reload the roller.
To be honest, I had tried one of these rollers years ago from another brand and I wasn't that impressed. So I was a bit skeptical that this one would be better.
I'm happy to report this SMART roller was so much better in every way. To assemble it, you attach the roller by holding down the clips and snapping it in. (It took me a few minutes to figure that out).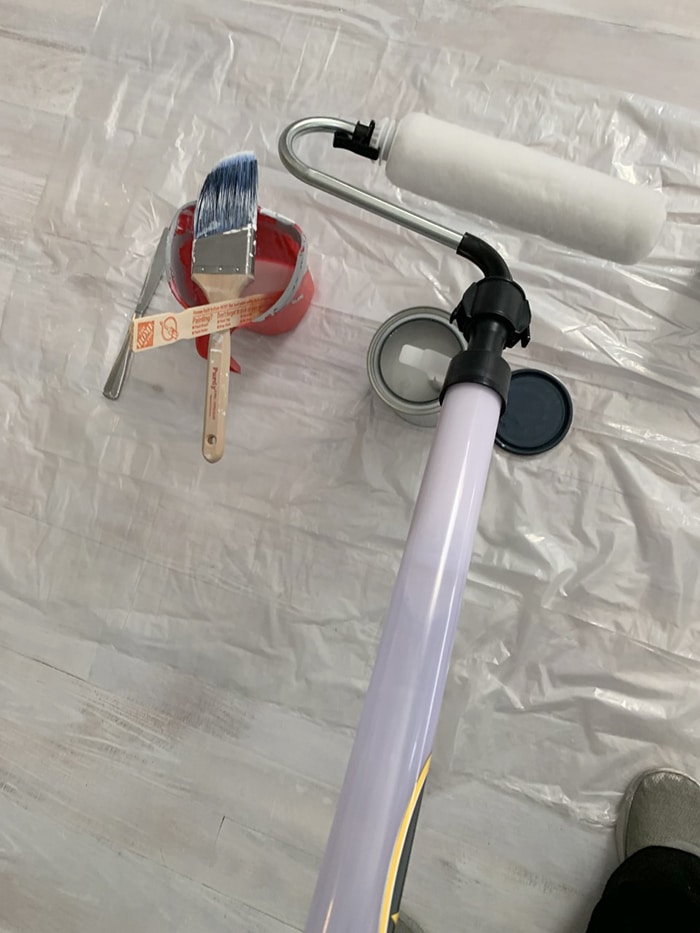 It comes with a nozzle that clips onto the side of your paint can. My can was a mini can, so it was too short to clip onto. However, I was still able to use it. You put the nozzle right into the paint roller and pull back the handle to load up the paint.
To disperse the paint, you squeeze the lever near the handle. It's crazy how much quicker this went without having to run back to a paint tray and reload every few minutes. Definitely, a welcome relief after hand-painting these floors. Twice. In fact, I didn't need a paint tray at all.
I applied two coats of the sealer, letting it dry for about 2-3 hours in between as stated on the can. My friend did a third coat after that.
And finally, here is what the finished floors look like now.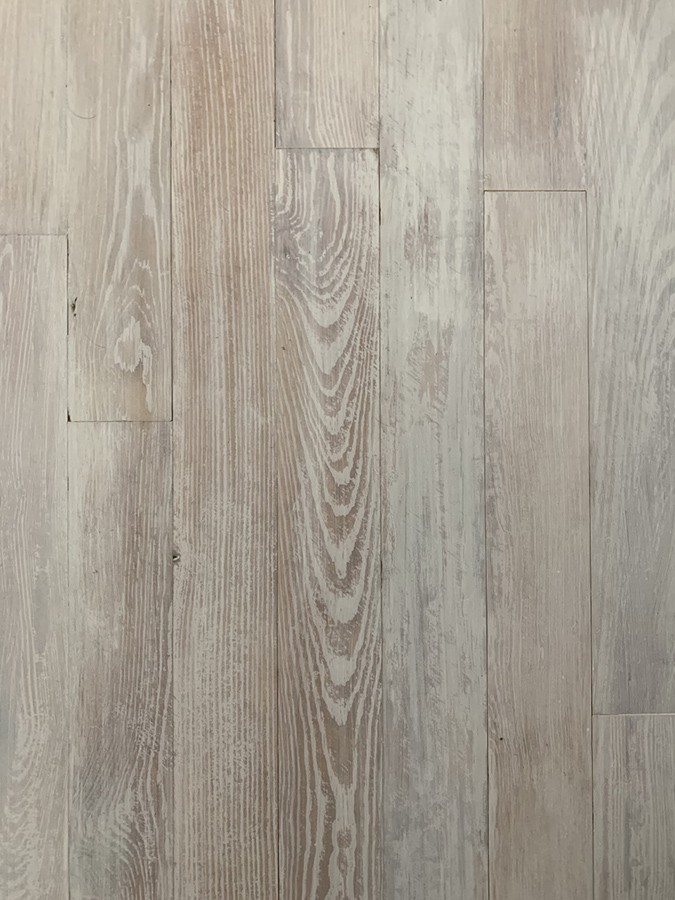 In the end, it was worth all the effort because they look amazing.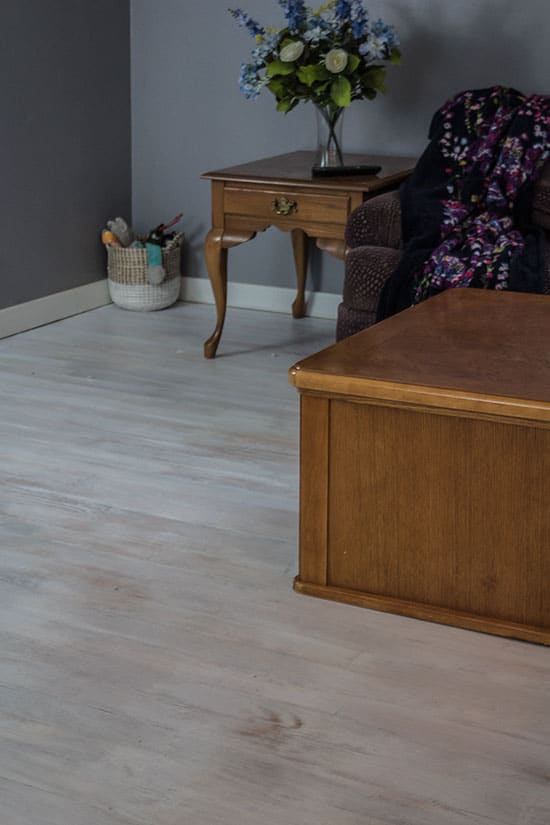 The fuller rooms photos honestly don't do them justice at all.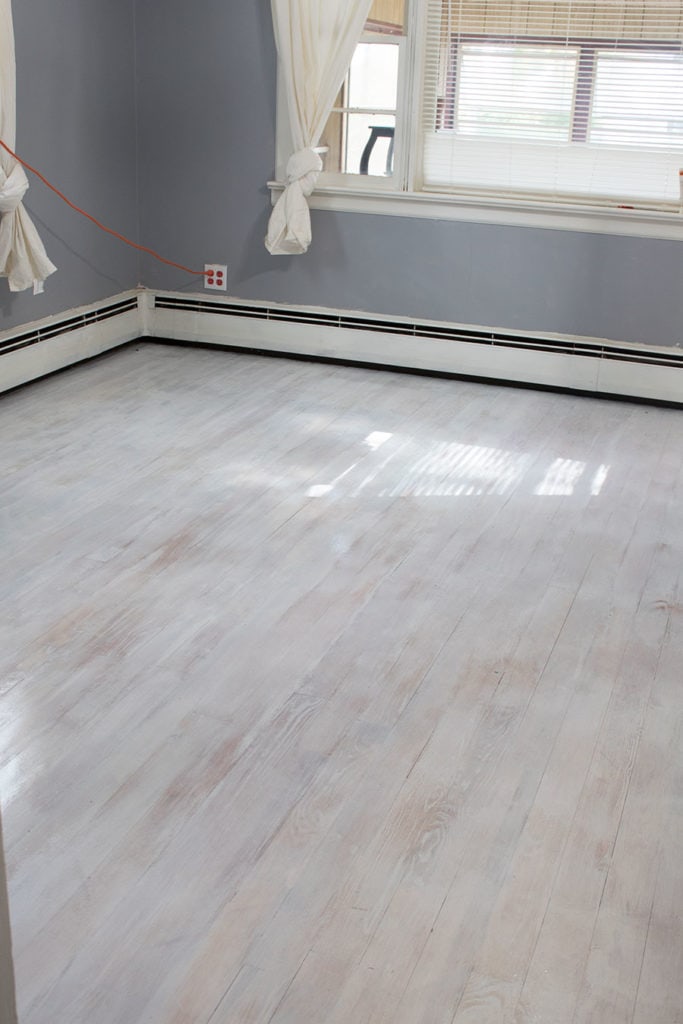 The close-up photo is a more accurate depiction of what they look like.
We still need to do a few more things in this room. My friend is going to order a slipcover for the sofa, we plan to add some art to the walls and possibly paint the front door a fun color.
For More Flooring Ideas Check Out These Posts:
PLEASE PIN: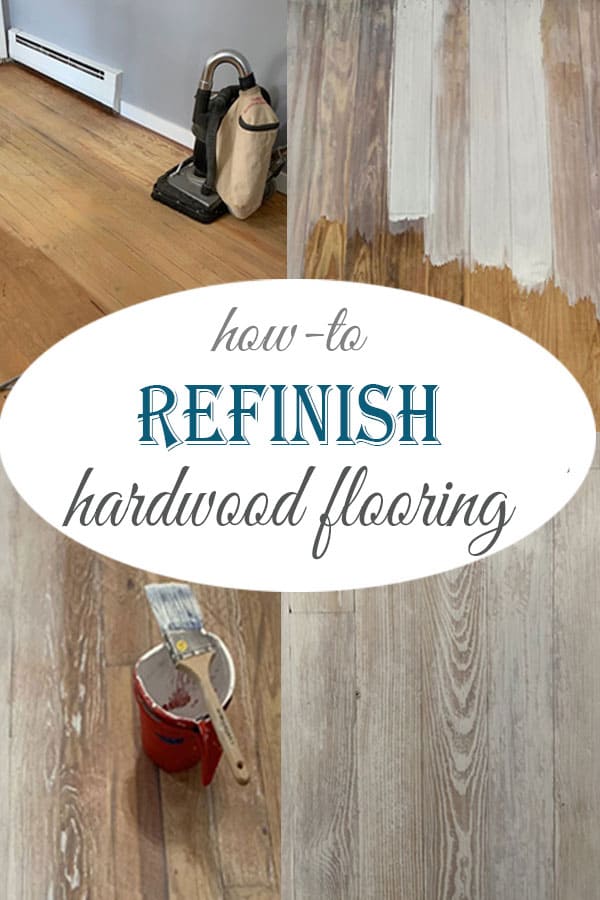 This post was in partnership with Wagner Spray Tech, and may contain affiliate links. All opinions are my own, you can read my full disclosure here.