How To Paint Linoleum Flooring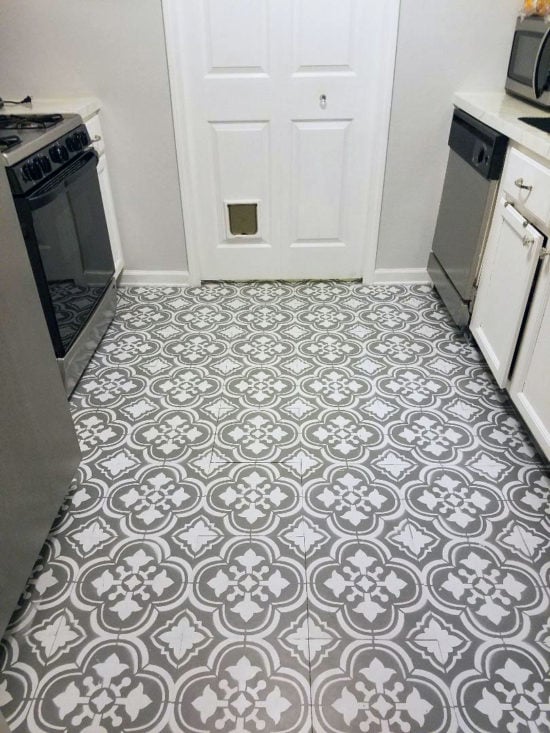 It's been a while since I've shared any progress on my niece's kitchen makeover, but I've finally tacked the one project that I've wanted to do the most since we started updating this space  – we painted the linoleum flooring! I saved this for last for 2 reasons. First, because we were painting everything else, I didn't want to get anything on the floors, and second,  it would keep me motivated to finish everything else.
Linoleum flooring has come a long way in recent years. I have some in my bathroom that looks like wood flooring* and I love it. It's not a bad choice for bathrooms, where you know they will be getting water on them. Tiles are too slippery and wood flooring wouldn't hold up to water damage. But in this kitchen, the outdated yellow-ish looking linoleum had to go!
I love the patterned cement tile look that is popular right now, especially these tiles from Home Depot. I wanted to recreate this look in my niece's kitchen.
What You Need to Paint Linoleum Flooring:
White Paint – (Plain White Eggshell Enamel Paint)
Slate Gray Porch & Patio Paint
Rust-Oleum Polyurethane Floor Sealer
I decided we could recreate the look with paint and a stencil. I picked this stencil that is a similar pattern. The squares on my niece's linoleum flooring measured 12″ X 12″, and this stencil was available in that size. Next, I started researching what type of paint to use for the floors. I read in several places that people used porch paint (meant for outside, thus being more durable) and I thought that sounded like a good idea (keep reading to find out why it wasn't such a good idea). My niece picked up a gallon of gray porch paint by Behr at Home Depot. First I cut in around the perimeter of the room.
I used an extension pole on my roller to roll the rest of the paint on.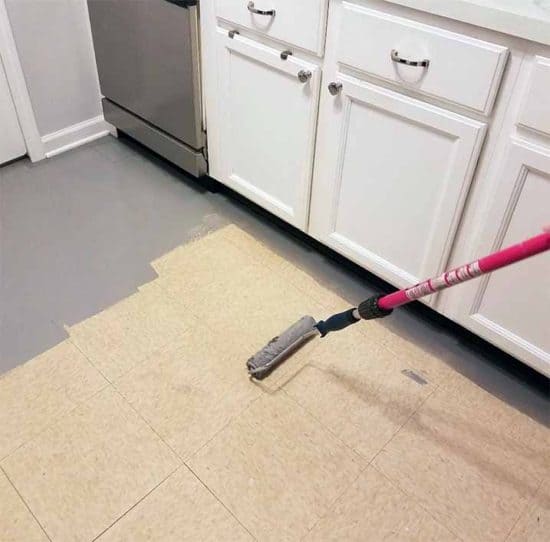 I was really ecstatic at this point to see that old linoleum flooring covered up. After it was all covered, we called it a day to let it dry a good while before stenciling. My niece texted me a day or two later and said the paint was getting scratched up. I was shocked when I saw it, the porch paint was not very durable at all! We decided to go ahead with the stenciling anyway, and do touch-ups after that. I also realized that now I would have to use a sealer when we were done, which is what I was hoping to avoid by using porch paint.
Next up it was time to stencil. When I attended the Haven conference in Georgia over the summer, I discovered Wagner paint sprayers. There was a man there demonstrating how to use one, and I saw they could be used with stencils. It got me thinking how much quicker this project would go if I used a sprayer as opposed to hand painting each of these squares.
Once I had my sprayer (I used the Wagner Studio Pro) and was getting ready to begin, I started to think that there's no possible way a paint sprayer is going to give me a crisp line with a stencil. Even though I was having a serious "What was I thinking?" feeling, I decided to give the sprayer a try anyway. I took an old stencil and attached it to a piece of cardboard and used the sprayer outside to practice, fully thinking that I'd be hand stenciling this floor after all. I couldn't believe it when I lifted the stencil and saw this perfectly crisp pattern underneath! My niece looked as shocked as I felt!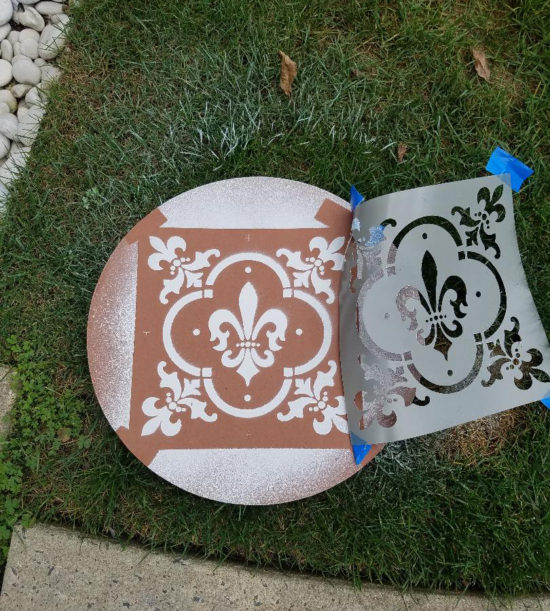 At this point, I was so happy because I knew the project would be much faster and easier with the sprayer. In retrospect, I cannot even imagine hand stenciling a whole floor, it would've been hell to do it that way! I took the time to read the manual, and adjusted my settings accordingly.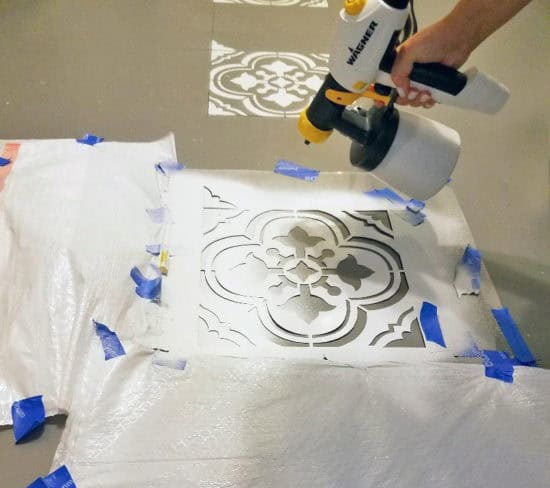 It may have been a user error, but even with my setting on low, I had a slight bit of overspray. Not terrible, but enough so that I had to put a barrier on the 2 slimmer sides of the stencil. My barrier being garbage bags in this case. Not professional, but that was all I had on hand. When I went back over the second day to finish I brought cut-up cardboard to use instead, which was much easier to work with.
I also want to show you, in one area where I missed a spot with the sprayer I went back over the stencil with a paintbrush to touch up. It further convinced me (not that I needed convincing at this point) how much better the sprayer is for stenciling.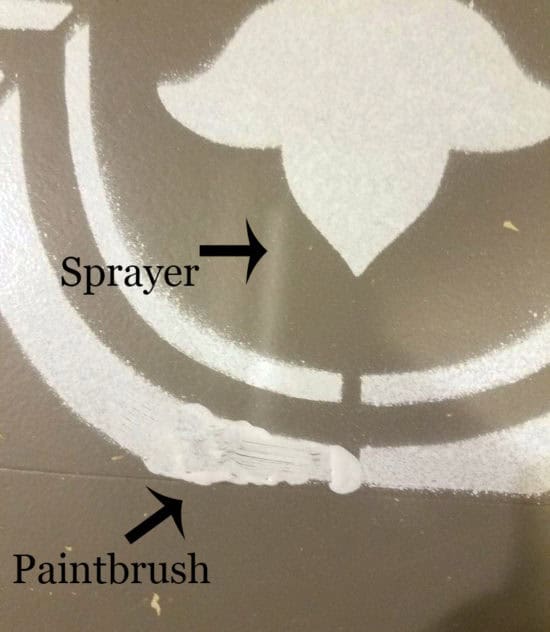 Stenciling the full squares was much easier than the end and corner sections. For those, it was a pain trying to get the stencil lined upright. You have to bend it for the end tiles, which is why I did those last.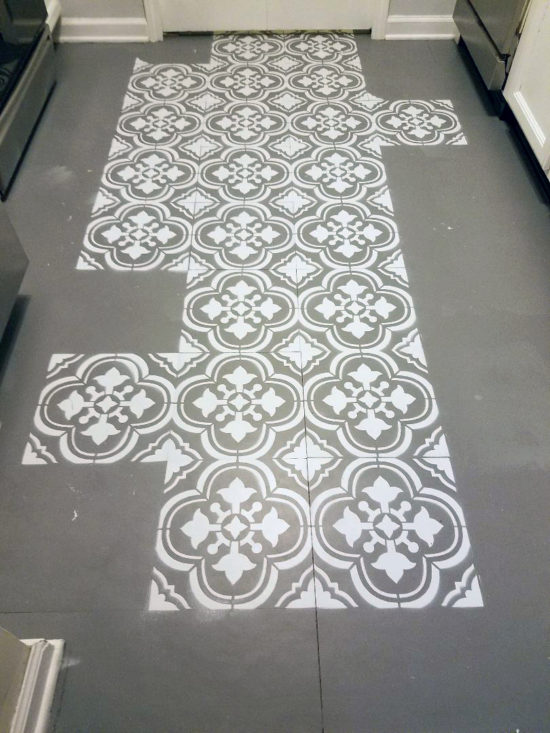 In all, it took me 3 trips to my niece's house to paint and stencil the floor. I went back this weekend and applied the sealer. We used Rust-Oleum Polyurethane Floor Sealer, it went on smooth, has a nice matte finish, and is clear with no yellow tones. On the negative side, it smells bad and you can't walk on the floor for about 24 hours after.
UPDATE Jan. 2019: After about a year, we have noticed slight yellowing in some spots. I believe this is due to the polyurethane sealer we used and I'd recommend going with a polyacrylic instead.
I still plan to accessorize this kitchen and then I will share a full before and after post on everything we did in here then. In the meantime, you can catch up below.
How to paint your appliances to look like stainless steel
Installing a subway tile backsplash
As a reminder, here is a look at the kitchen before I did anything to it.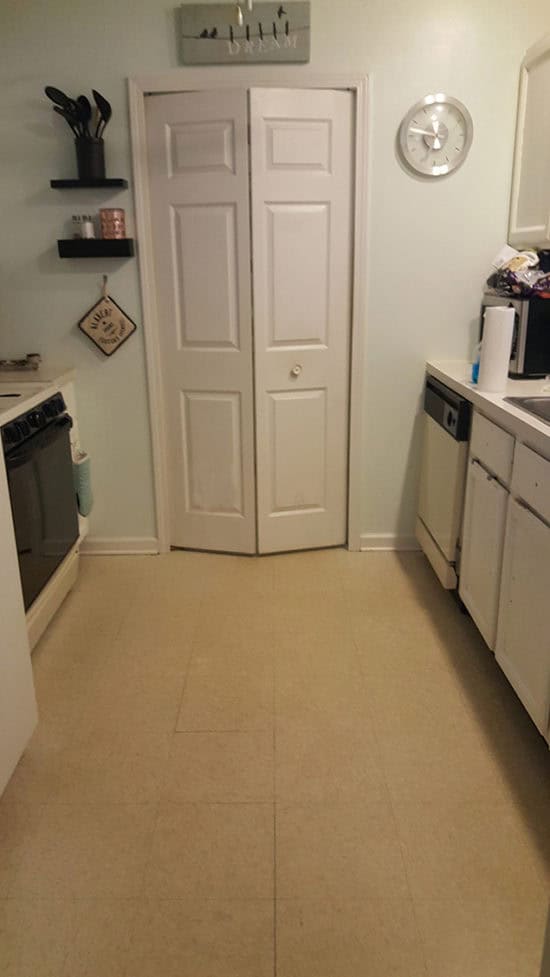 And here is where we are at now!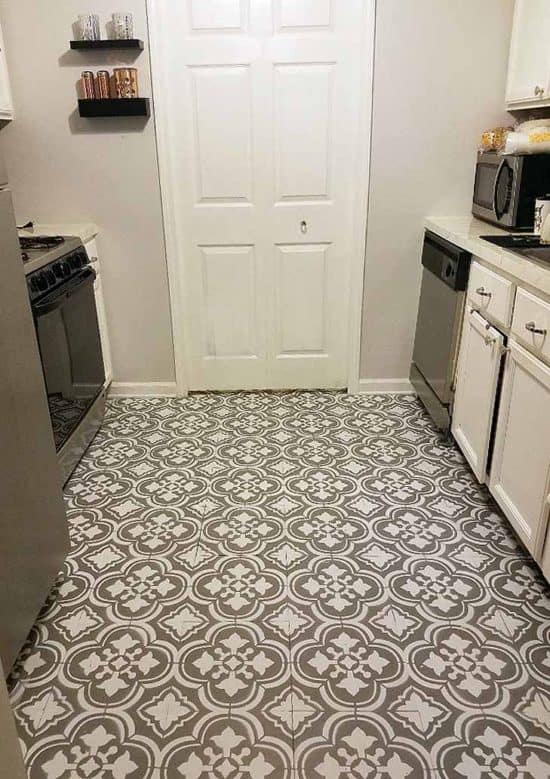 The floors made the biggest difference of all.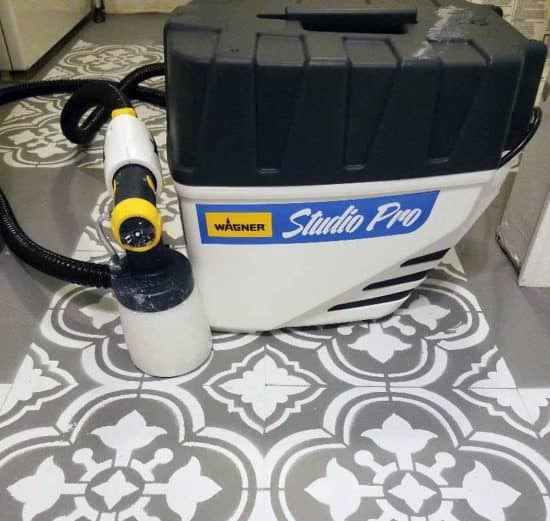 Now comes the fun part, accessorizing the space!
If you'd like to get this same look without painting and in half the time, check out this post on tile floor stickers.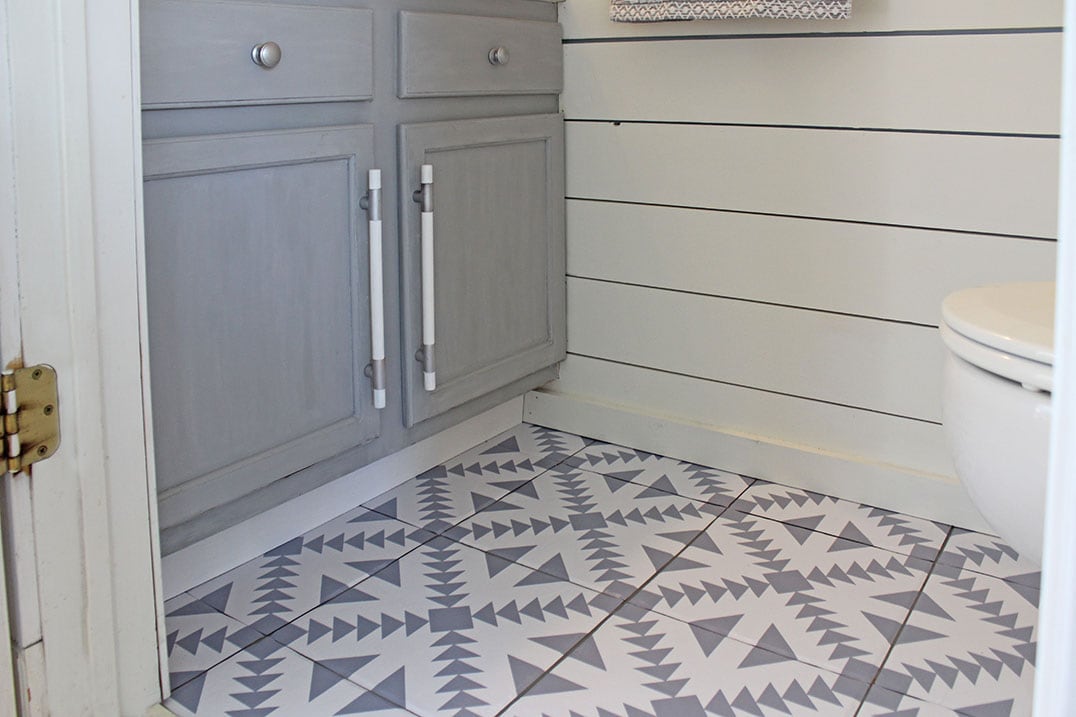 If you're looking for more flooring ideas, read how to install vinyl plank flooring.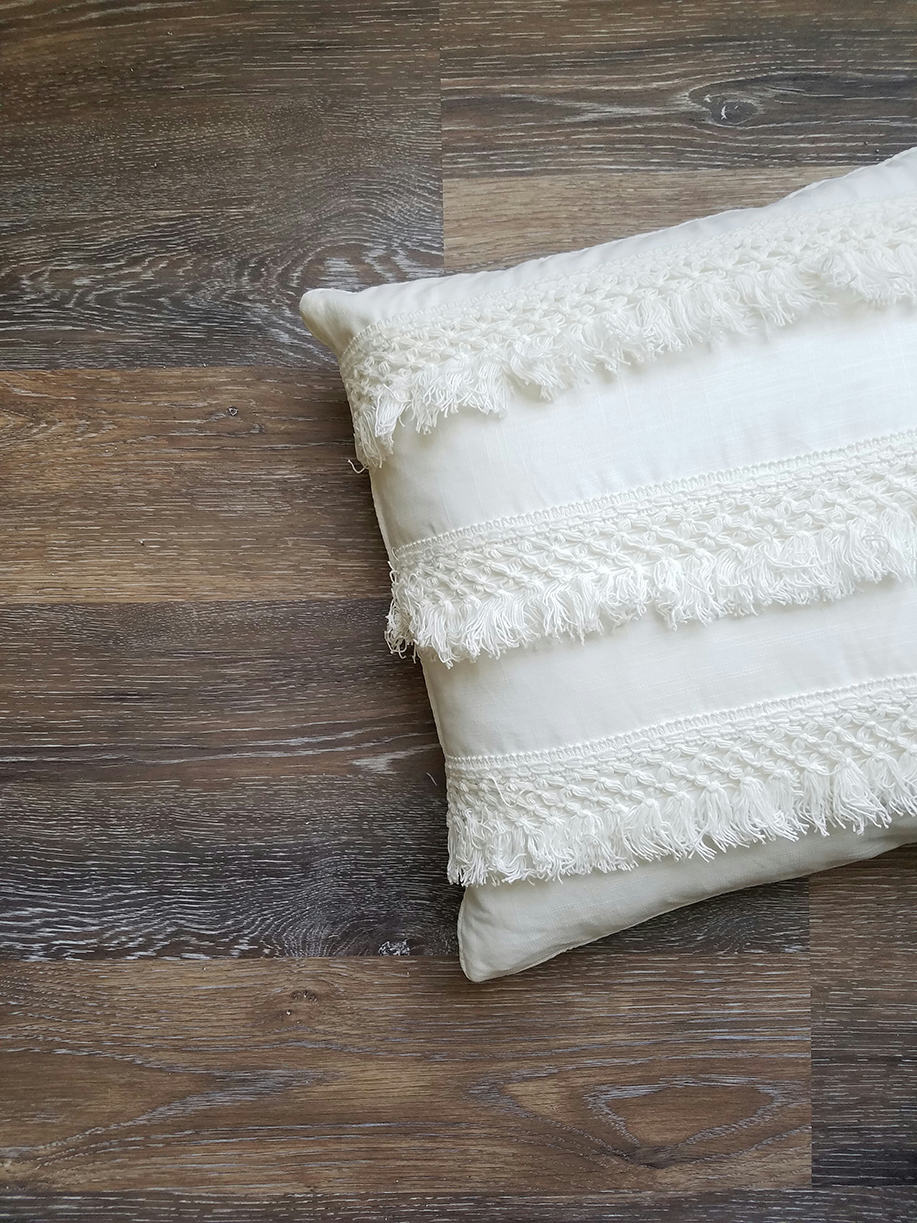 ---
You may also be interested in how I completely transformed our cement porch floor with paint and more budget flooring ideas here!
---