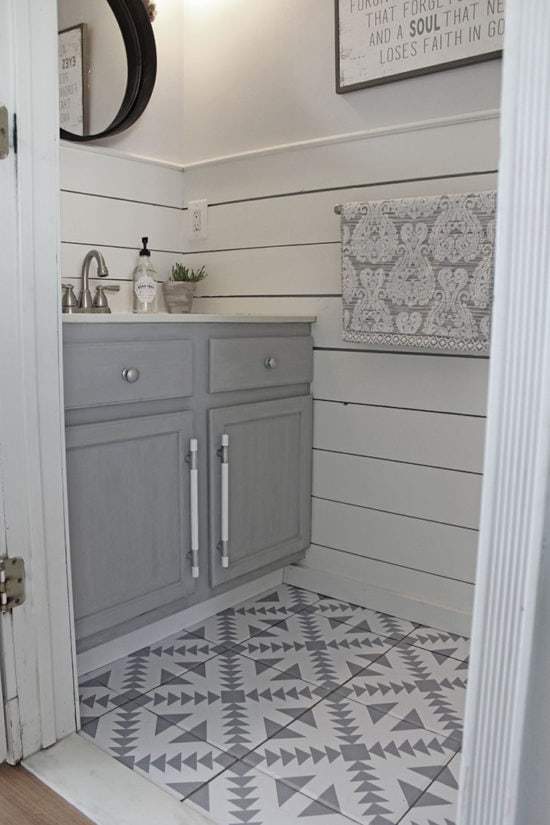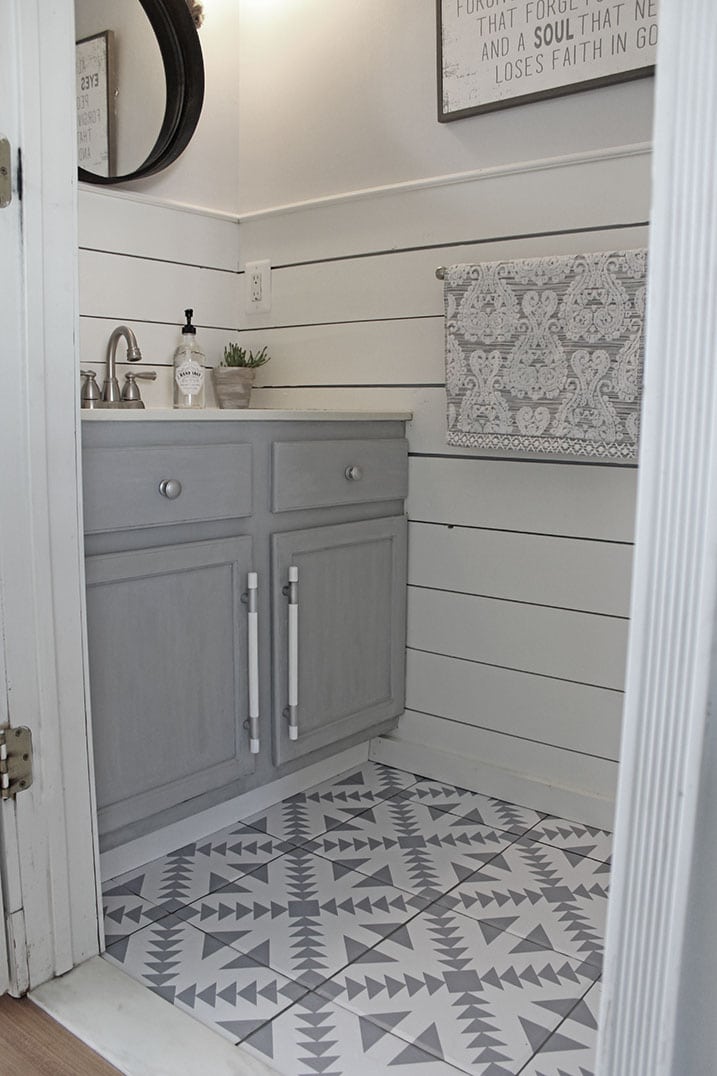 As I mentioned last week, I really jumped into this $100 Room Challenge without any kind of design plan, which is never good when you're on a deadline.  However, one thing I knew from the start was I wanted to try something fun on the floor in this little bathroom.   I had seen these removable floor stickers from Snazzy Decal* and wanted to try them.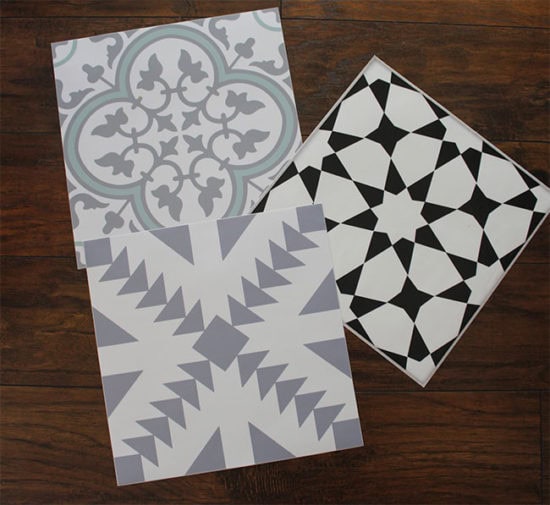 I chose this pattern which is exactly what I had envisioned from the start.  When I was browsing this Etsy shop, I noticed this pattern was only listed as available in black and white.  I sent the shop owner a message and she let me know she can customize the color of the stickers so if you don't see exactly what you're looking for, ask!  I started out applying the full sized tile stickers first.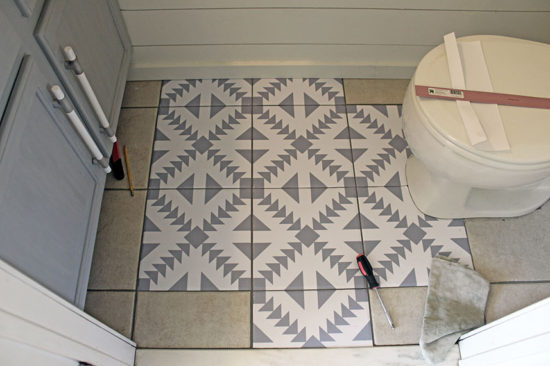 To apply the stickers, you fold down about one inch of the backing and line that part up on your floor so it's straight.  Then peel the rest of the backing off from underneath, using a ruler to smooth down the top as you go.  Snazzy Decal has a video you can view here that shows just how simple this is.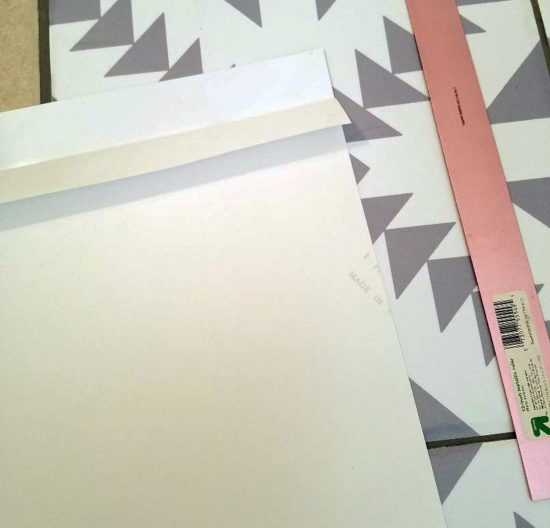 For the awkward area around the toilet, I put the sticker in place and traced with a pencil where I needed to cut it down.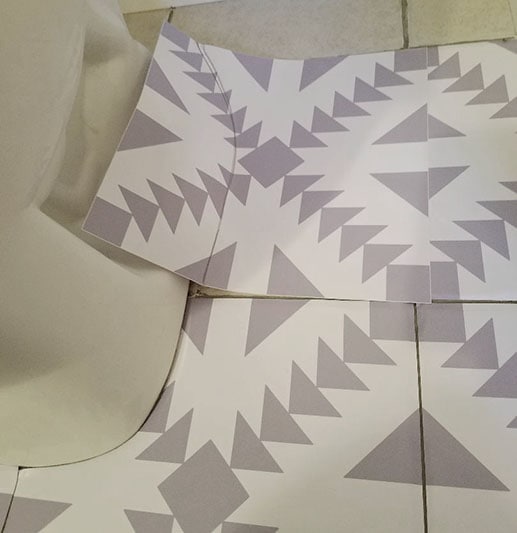 It really couldn't have been any simpler.  I have to say this is the easiest DIY I've ever done around here!  With amazing results no less!  I also painted the grout, which was previously brown, to gray so it would better match the new floor.  I'll share a separate post on how to do that next week.
This is the wall decor I mentioned in the budget last week.  I had a coupon when I purchased this, it was a total score for only $12 and perfectly fits this space!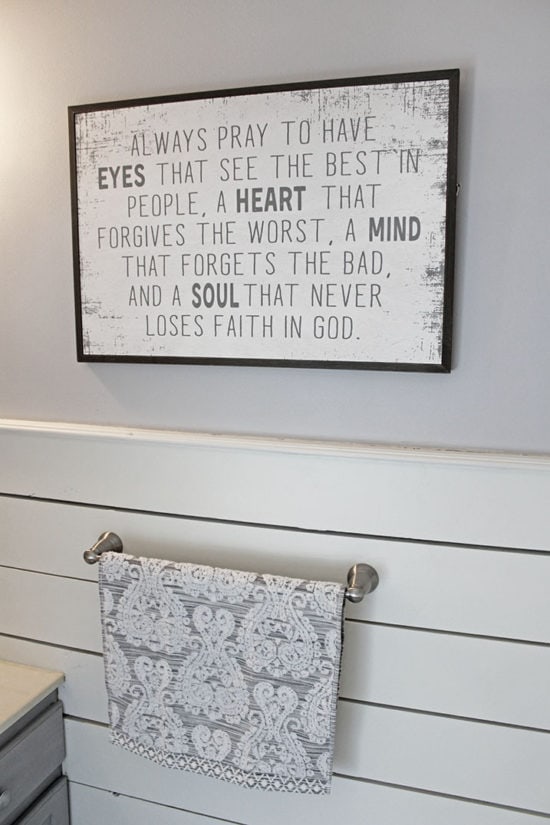 You can find the hand towel here.   I didn't count that in the budget because I used my saved rewards certificates to get two of those.  The art above the toilet is old.  I used to have these hanging in my family room but had taken them down about a year ago.  I'm glad I saved them, because they work well in here.  I wanted to keep a little bit of coastal vibe in this bathroom.   When I get tired of these, I can switch out the coral for photos.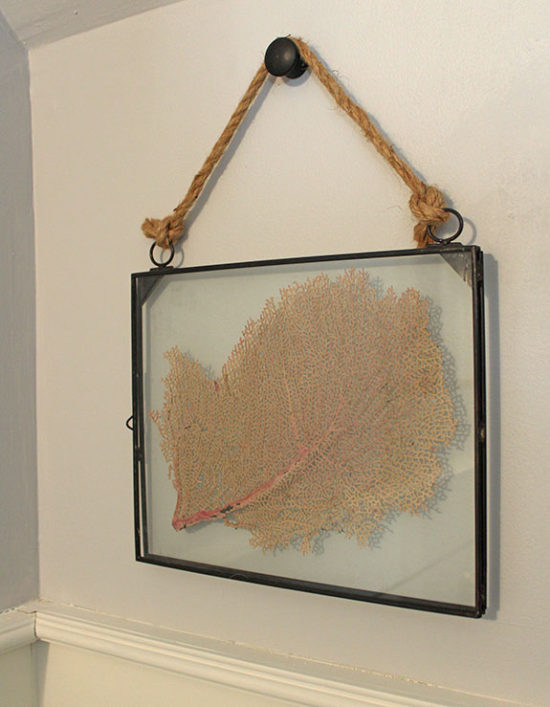 Here's a wider view of that side.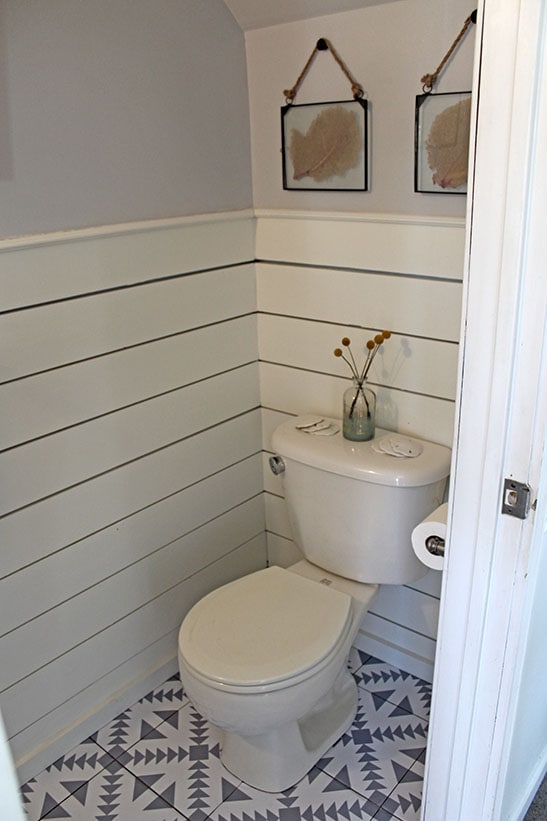 This isn't the prettiest view, but I wanted you to see how neat the floor looks here too.  These floor stickers are waterproof and can be cleaned with a mop as you would normally do.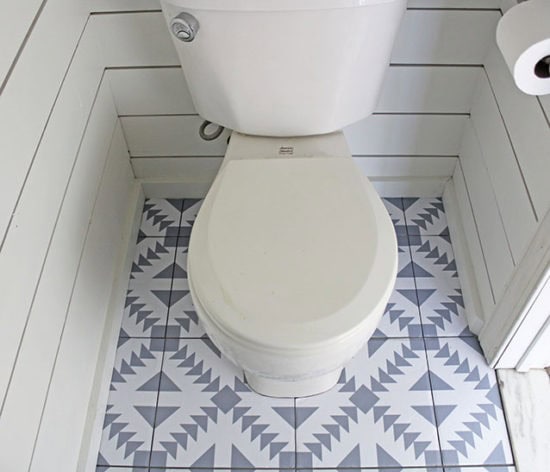 I knew this project was a success when my husband and both kids commented how much they love it.  They're so used to my DIY's they barely notice anymore, lol.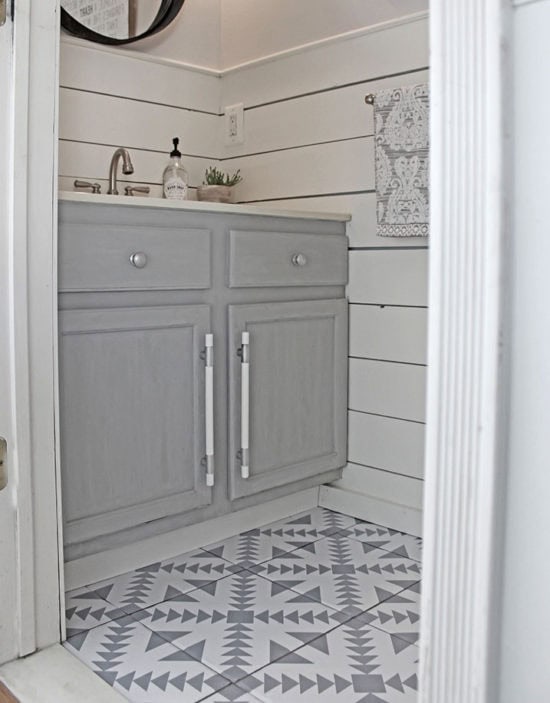 It took me longer to make those cabinet handles than it did to install these floor stickers!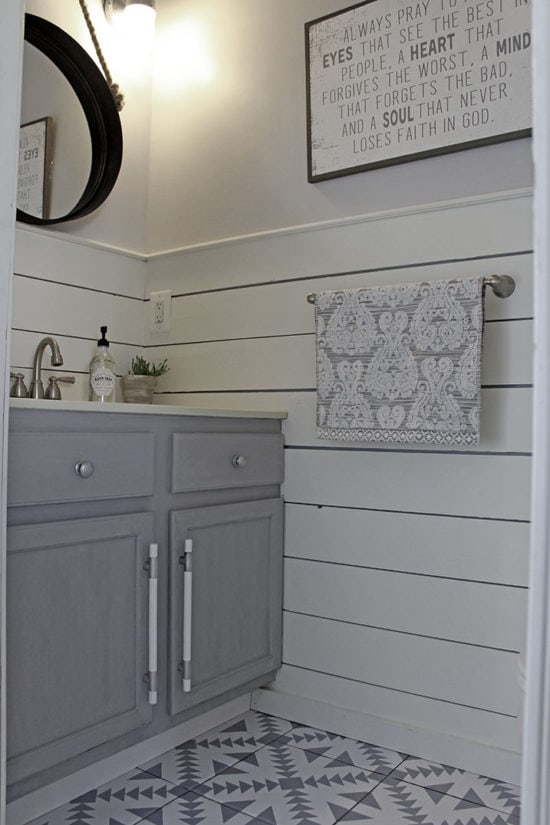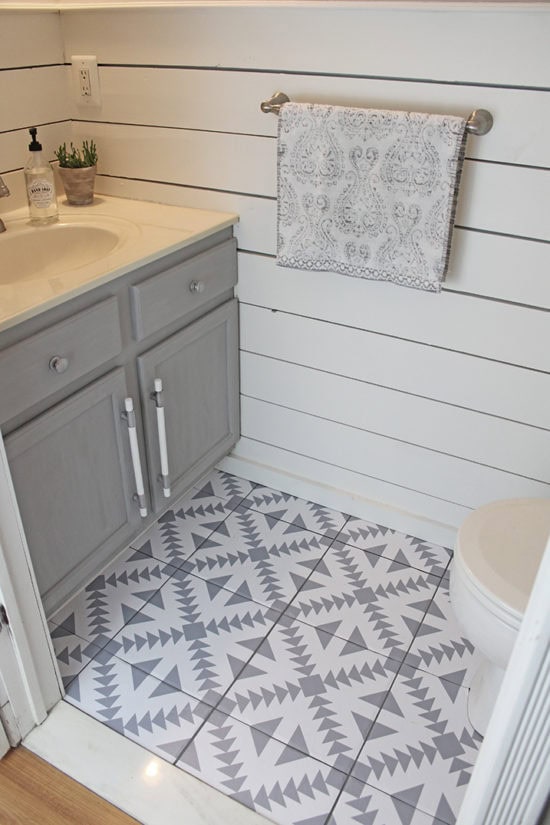 I should also mention, these decals come in a variety of sizes and can be used anywhere, not just floors!
As for the budget, here is a breakdown of what I spent to refresh this space.
Total spent:
Zinsser primer: $13
1 Gallon of Behr Paint: $24
Wall Decor $12
Materials for Door Pulls:  $6
Spray Paint: $6
Grout Renew Paint:  $12
Floor Stickers: $48 (this is what it would cost for a dozen 12″ floor stickers)
Total: $121
Thank you to Snazzy Decal for the amazing floor stickers!  Thanks also to Erin at Lemons, Lavender and Laundry for hosting this fun $100 Room Challenge.  It was just what I needed to get my creativity flowing for the new year.  Visit the links below to see my friends completed room makeovers!
*I partnered with Snazzy Decal for this project.   This post may contain affiliate links, you can read my full disclosure here.