Half Bath $100 Room Challenge
Today I have to start off by saying thank you to all of you who sent such kind messages and comments regarding my appearance on the Rachel Ray show.  I posted a message about it on Facebook last night, so I won't be redundant here, but thank you from the bottom of my heart! There is also a clip of my segment in that Facebook link in case you missed it.
To recharge my creativity for the New Year, I've decided to take part in the $100 Room Challenge (not to be confused with the One Room Challenge I've participated in before). The $100 Room Challenge was created by my friend Erin of Lemons, Lavender and Laundry. You can read how it all began here but the jist of it is to refresh a room in just 1 month for under $100! You know I love cheap decorating ideas, so this is right up my alley!
I've been feeling a little lethargic after the holiday hustle and I'm not sure what direction I want to move forward with in my house. I obviously have a love of decorating and redecorating everything, but I'm also craving a more minimal look in my home which is tough to achieve in smaller spaces. We really have to learn to live with less. While I'm working on that I thought a small bathroom refresh would be fun. Since most people (myself included) are reeling in their spending in January , the timing of this $100 room challenge is perfect.
I showed you the upgrades we made in this half bath a few years back. We added plankboard to the walls, removed the medicine cabinet and added a new mirror, lighting and fixtures, and I painted the existing builder grade vanity to look like barn wood.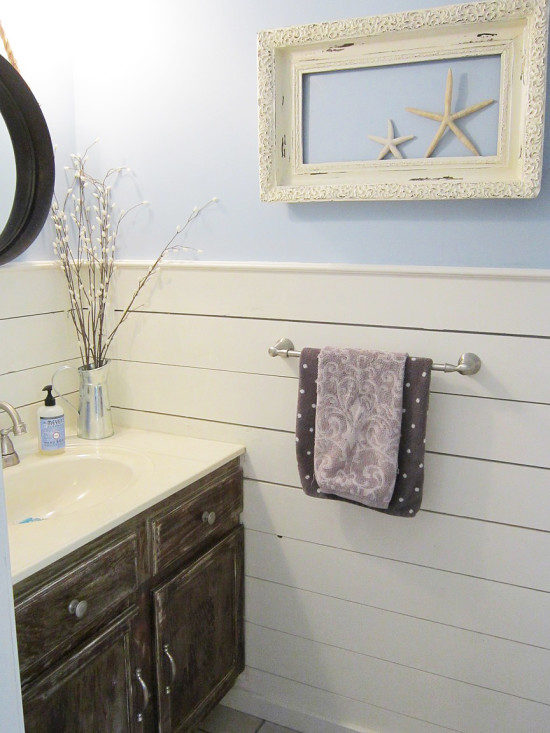 So why am I needing to redo this space already? For starters, the knots in the wood of the planks have started to show through the paint, making it looks yellowish and dirty in areas. Not a good look.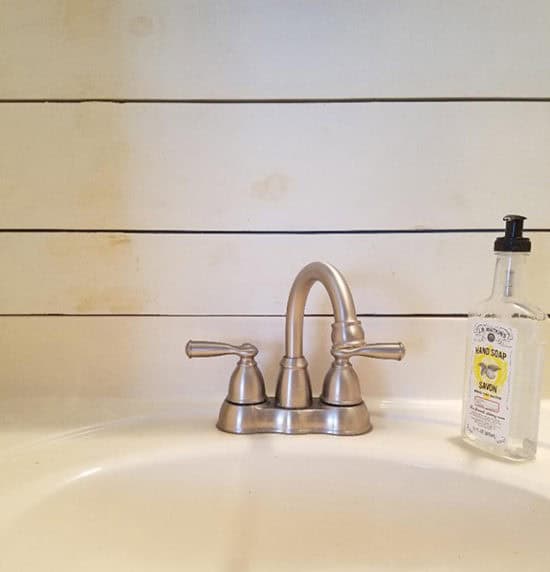 Also, last year when I was working on my daughter's bedroom makeover, the wall art I ordered didn't arrive on time for my deadline (this was part of the other challenge I mentioned) so I pulled the art from this bathroom wall. I never got back to replacing it, I just stuck a different frame in there that didn't even cover the holes left by the other one. I planned to repair that right away, it's amazing how time gets away from us and things just sit like that for so long. I knew I'd have to repaint the room after that, which is one reason why I haven't gotten to it. You can see below the hole and more of the knots showing through leaving a yellowish look. These photos are a little embarrassing to post, it looks worse in these photos than it does in reality.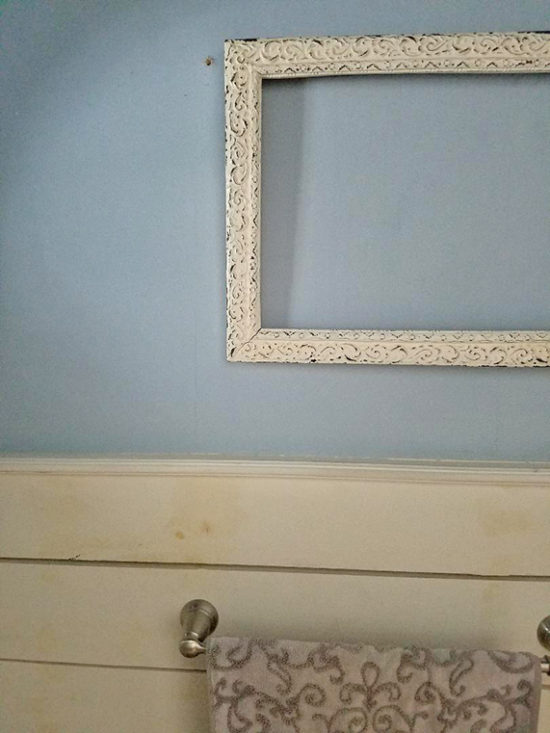 This bathroom has been blue for almost as long as we lived here. I really did love this shade, I even painted the upstairs bath the same color but now I'm tired of looking at it. I also was never really happy with how the barn wood cabinets came out, so I'm going to refinish those again now that I have a few more techniques up my sleeve.
Lastly, I am really not a fan of tile floors. Obviously, it's not in the budget to remove the tile in here, but I do have an idea for a new look in here, and it does NOT involve paint. Shocking, I know!
I'll be sharing the progress here each Wednesday this month. Even with this tiny space, sticking to $100 will definitely be a challenge! You can see the rest of my blogging friends who are also taking part in this $100 Room Challenge below.
Loading InLinkz ...