Best Potted Plants For Shaded Porch Areas
GARDEN CONTAINER MIXES AND BEST POTTED PLANTS FOR SHADED PORCH AREAS.
You guys, I haven't done a single thing on my porch since 2019…until now. Many of you know about my husband's extreme battle with Covid if you follow me on Instagram. When he was released from the hospital in 2021 we had to have a wheelchair ramp built for our front door. It didn't really inspire me to decorate out there.
Fortunately, by the late fall, we were able to remove it. Now that spring is finally here in NJ, I was excited to clean it up and get some greenery out there.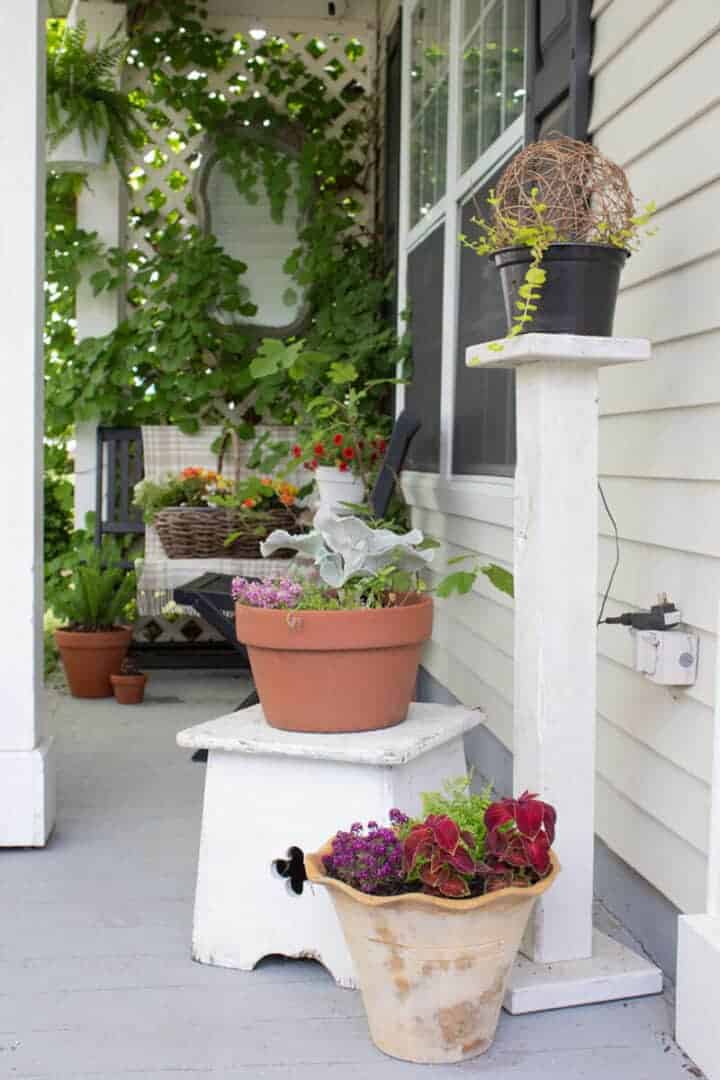 Today I thought I'd share my porch progress as well as the best potted plants for shaded porch areas. My house faces north, and the porch is covered so it's shady for most of the day. It gets a little sun in the late afternoons.
Gardening has been trial and error for me to see what works. My front yard shade garden has filled in really nicely. I have it filled with Japanese maple, hosta, heuchera, and lilies.
I just filled my porch planters so it'll take a while for them to fill in and really get going. On the tall stand, I keep it simple with creeping Jenny. That plant does well in either sun or shade.
The container on the ground is a mix of ferns and coleus, both excellent plants for shade containers.
The white-green colored plant in the other container is called Angel Wings. I've never heard of it before and honestly don't know what the sun requirements are for this one. I'm hoping it does well here and if it doesn't, I'll move it to my sunny backyard instead.
Begonias are one of the best potted plants for shade. They do well under almost any condition. I've had success with them wherever I've planted them, even in partial sun. Here I combined orange and yellow for a pop of color in my basket. Begonias come in many different varieties which helps keep it interesting.
In the terra cotta pot, I planted a foxtail fern. This is a striking plant! In the tiny pot next to that is a Japanese maple I found growing out of a pot I bought at a flea market a few years ago. That was a nice surprise!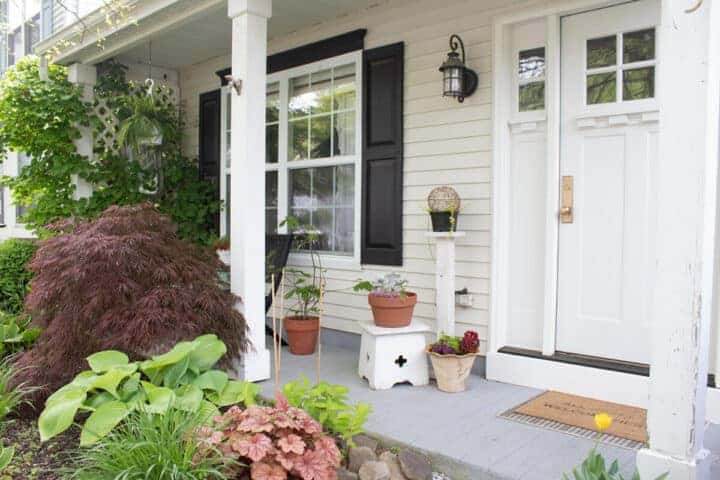 You may also notice a potted fig tree on my porch. Those usually require full sun, I just bought that and I don't plan to keep it on the porch.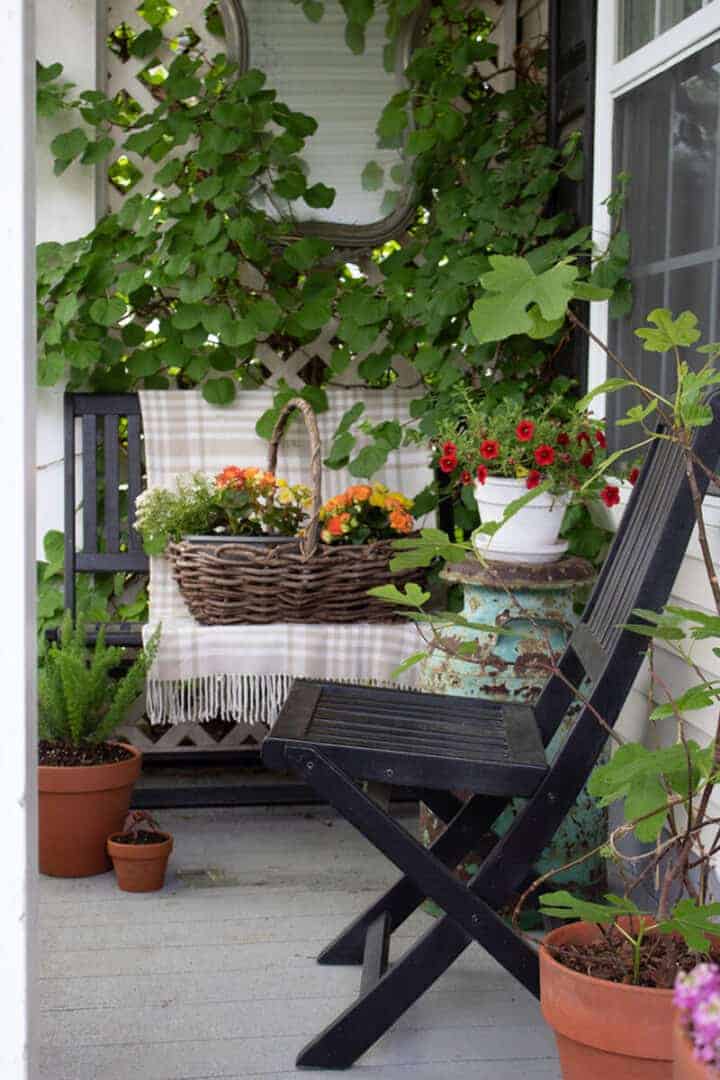 As you see even with a very shady porch, you can have a gorgeous display of plants and colorful flowers! It's really a welcome little retreat on hot summer days!
Below is a list of plants I've had the most success with in shady areas.
Best Potted Plants for Shaded Porch:
Ferns
Begonias
Coleus
Creeping Jenny
Pansies
Impatiens
Japenese Maple
Heuchera
Lillies
Astilbe
Hydrangeas
One more thing I'm experimenting with in my front yard is hydrangeas. I have several limelight hydrangeas in the backyard under a tree. They do so well in that shady spot that I was shocked. Compared to the hydrangeas that I have in more sunny areas, the shade plants are thriving.
The vine you see climbing up the lattice on my porch is a climbing hydrangea. Those also do well in shadier locations.
Once those containers get growing and fill in I'll come back and update this post to share the progression.
Happy gardening!
---
You May Also Like: