10 Best Shade Garden Plants
Do you love gardening as much as I do? I read somewhere recently that there is some kind of chemical in the dirt that releases endorphins in the brain.
Finding shade garden plants has been a challenge for me. I've been in my current home for over 10 years now, and by lots of trial and error, I've learned what works and what doesn't in my shady garden areas.
Here is a photo of my very shady front porch area. You will see most of the plants we've listed below I've used in this shady spot. It's such a refreshing spot to sit on a hot summer day.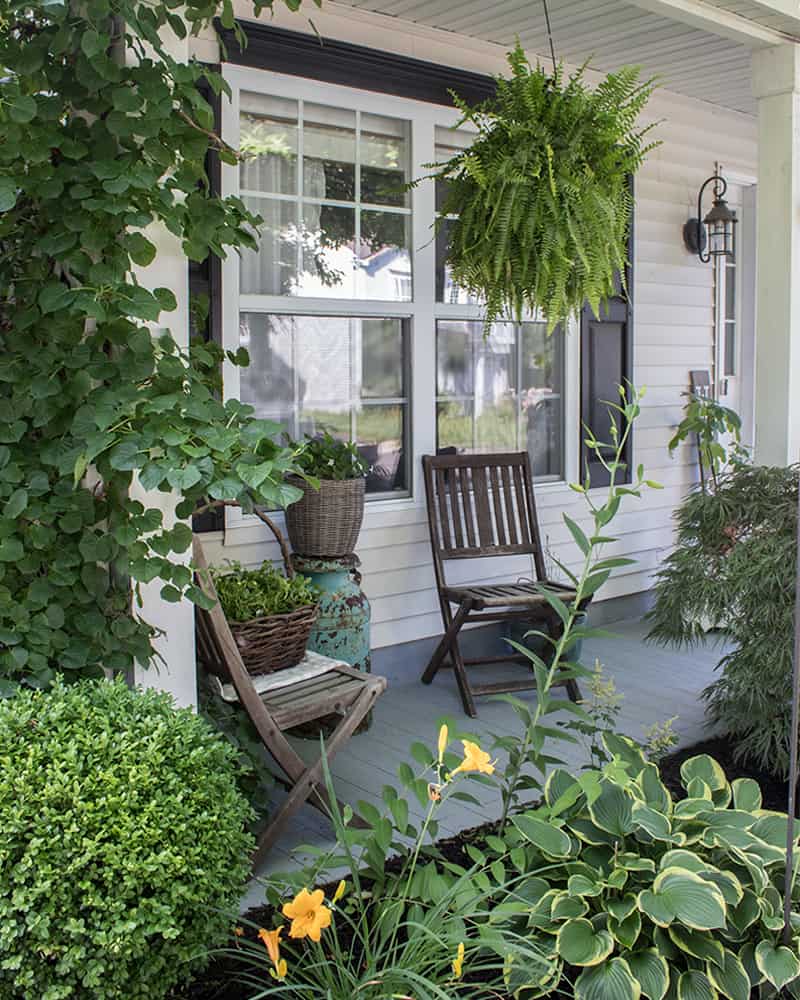 If you have a shady garden, this post is for you!
Hostas Love Shade Gardens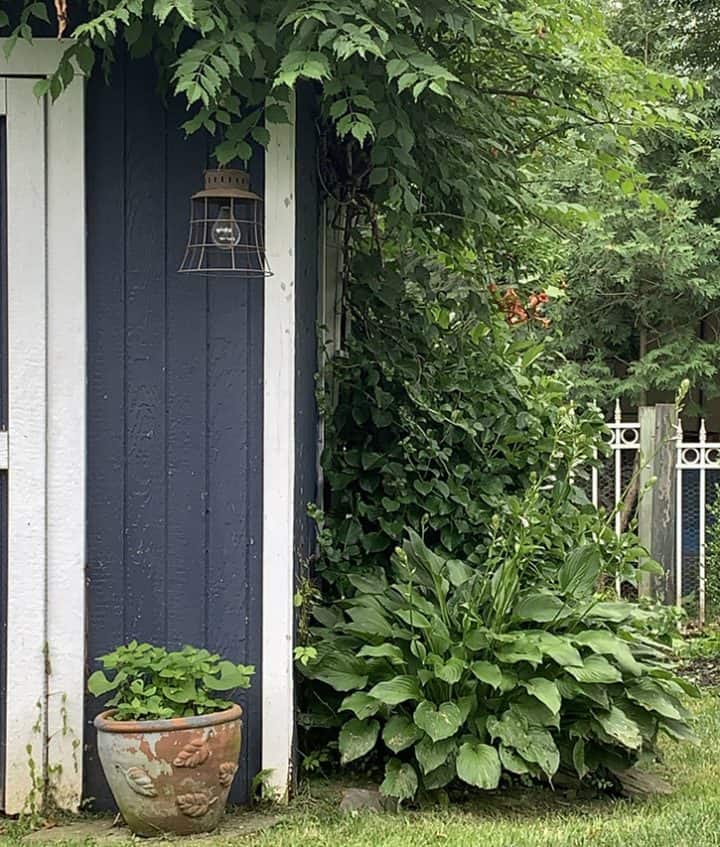 1. Hostas will probably be at the top of every shade garden plant list because they thrive in the shade. They do come in a variety of sizes and colors for added interest. Keep in mind they get big fast and need to be divided every few years to keep them under control.
Heuchera Adds Color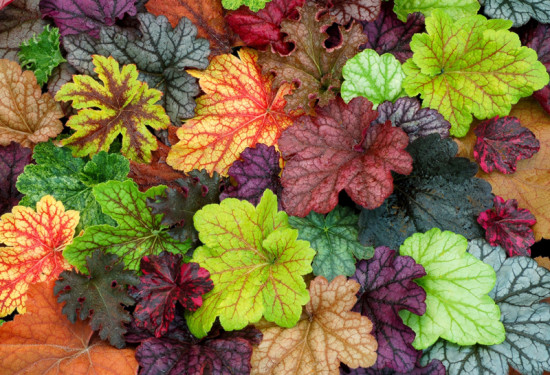 2. Heuchera is something I just recently discovered. We were visiting my husband's cousin a while back, and while walking through her amazing gardens, (which you may remember from this post) I noticed these growing. I've since planted these in my own garden and they are very low maintenance and easy to grow!
Impatiens Bloom in The Shade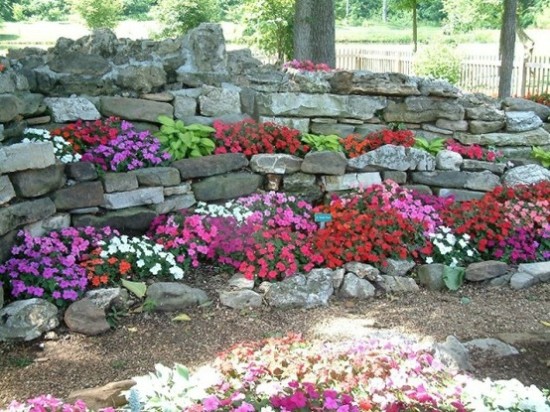 via Indulgy
3. Impatiens LOVE the shade. They are one of the few flowers that will thrive in the shade and are another low-maintenance plant. They are a great way to add some pops of color to the shady spots. I plant these every year.
Coleus – Colorful Shade Foliage
4. Coleus is another of my favorites shade garden plants for their foliage. They don't require any upkeep and comes in a variety of colors. They also do well in container gardens.
Japenese Maple Trees
5. We have a dwarf Japanese Maple in the center of our front yard garden and it's the star of the show! The dwarf variety is a great choice for smaller garden areas. They're a little pricey but worth it.
Hydrangeas Grow Well In Shade
6. Hydrangeas are one of my favorite flowers (tied with Gerbera Daisies). I planted a row of hydrangeas on the side of my house a year or two ago and they are thriving in this mostly shady spot. Different varieties require different upkeep so it's important to know which type you're planting.
Though I've heard of adding pennies or nails to the soil to get blue hydrangeas to be more colorful, mine hasn't needed any extra measures such as that. My blue/purple hydrangeas keep their color without any effort on my part.
Astilbe Colorful Shade Flower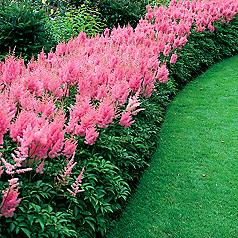 7. Astilbe is one shade flower I haven't tried yet. My daughter and I saw these at a gardening center last week and I've been kicking myself that I didn't grab a few. I love the feathery blooms on these!
Lilies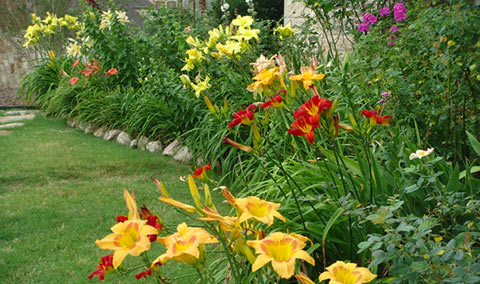 American Meadows
8. Lilies. Now, all the gardening websites say lilies need 6 hours of sunlight a day. I have several varieties of lilies in my shady gardens and they are all thriving.
One variety is the Stargazer Lilies which I dug up from the garden of my last house to take with me when I moved. In the previous house, it was also in the shade and thrived.
I have Daylilies around a shady tree as well as in my front yard garden and they all do well. In addition, I have some pure white lilies in the shade which are also thriving. Most Lilies are low maintenance and come back every year. Only the Daylilies require a little maintenance. When the stems dry up, just pluck them out and new stems will form. They will rebloom most of the summer.
Begonias Are A No Brainer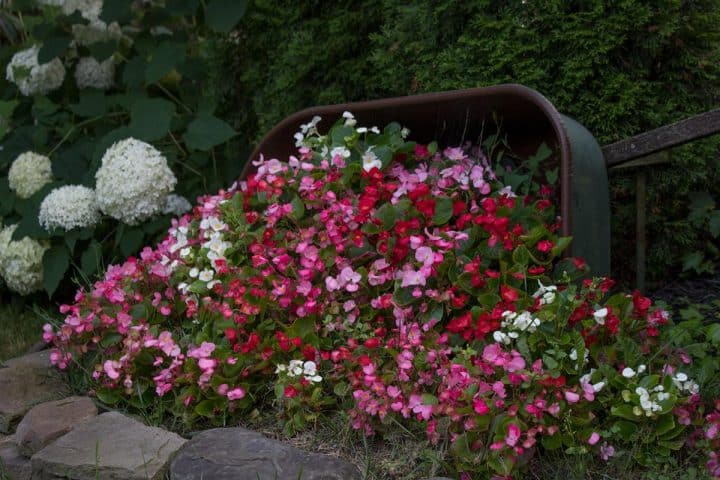 9. Begonias are a sure bet in the shade. No maintenance required and great for added color. They also make a great filler plant, as they will grow larger and fill in over the summer.
Ferns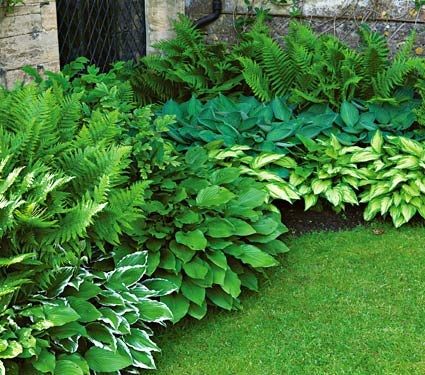 10. Ferns (shown mixed with hostas) are great shade plants but definitely multiply and divide so they need to be kept under control. I have some in my backyard that got so big my husband calls them the prehistoric ferns! 🙂
Two more plants that are doing very well in my front yard shade garden are boxwoods and a climbing hydrangea plant. You can see the climbing hydrangea growing up the trellis on the side of my porch. It's a slow grower that isn't too invasive.
I'd love to hear about any shade garden plants you love that aren't listed above, please leave a comment with your favorites! My gardens are still a work in progress, but I'll share some more pictures of them soon!
Pin For Later: