Restoration Hardware Chandelier Hack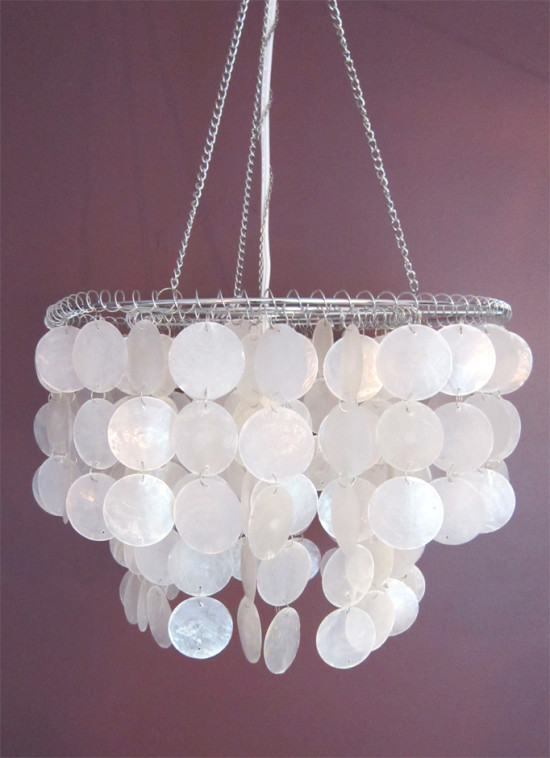 This is my second Restoration Hardware chandelier hack! I've mentioned several times before that my friend has recently moved into a new home. She's been working like crazy making her little fixer upper pretty. I've been over there every chance I can to help. There's no end to the DIY projects there!
Her dining room is my favorite space in the home. We did it completely with DIY projects and reclaimed furniture. Sorry, no pictures yet it's still a work in progress! I showed my friend all the chandeliers at Restoration Hardware and asked her which was her favorite. She picked the Capiz Chandelier. The cost for that chandelier, shown below, is $695 for the smaller size.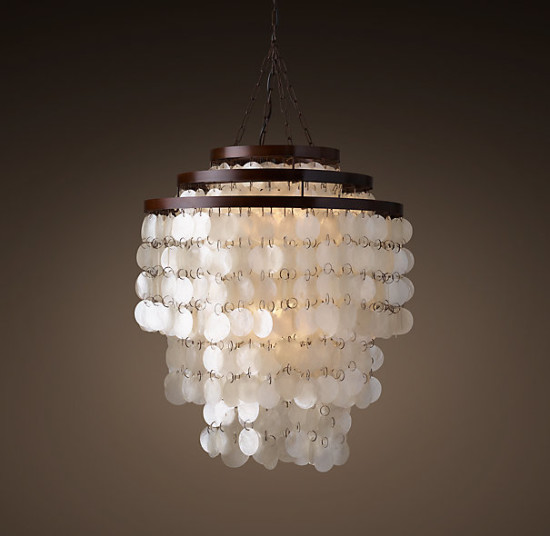 Of course, I decided I could make that for a small fraction of the price. I started looking up capiz shells on Ebay and Amazon. They came in a variety of sizes. I went with larger sized shells, mine are 2″ in diameter. They also came with the option of having the holes punched in them or without. Purchasing them with the holes was more expensive, but I went with those anyway because I figured I'd end up breaking them if I tried doing that myself. To get these shells with the two holes already punched in them, and in the larger size isn't cheap, but I finally found an affordable option on Ebay* (the original seller I purchased from is no longer offering these, but I found another that I linked to although the price is slightly higher at $8 per bag). I was able to get a bag of 50 shells for around $7. That was by far the cheapest I could find, and they were located in Indonesia. I ordered 4 bags, hoping that would be enough. I then found this chandelier frame for only $15.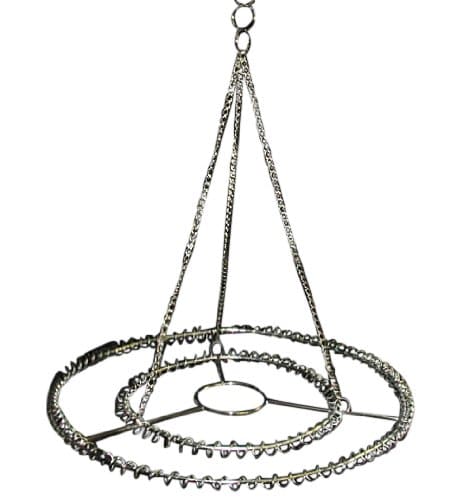 For this project, I kept the color of the frame as is to better coordinate with my friends decor, but you could spray paint it in oil rubbed bronze to better match the RH version. Once I had everything, I laid the frame on a table to get an idea of how many shells I would need for the diameter.
I wanted to do at least two rows for depth.
Once I had that figured out, I began assembling the shells together. I had O rings (used for jewelry making) already on hand (these look similar) that I was able to use for this. If you can't find those, you could also use fishing line to string these together.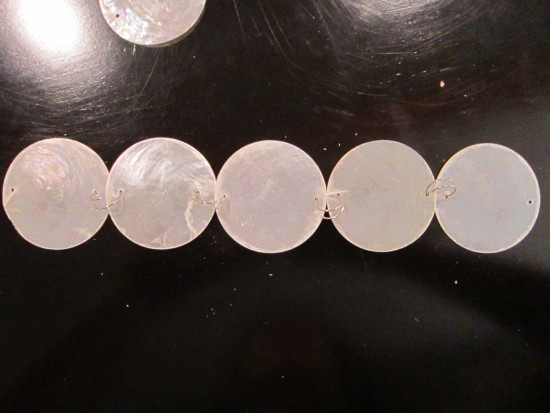 For each inner row of shells, I made a row of 5. For the outer sections, I made them in rows of 3. This way I would have the inner part of the chandelier hang lower than the outer, like the RH version. This was time consuming & I did it over a stretch of about a week, a little each night. I had a total of 200 shells, and this just about used them all. If you want yours longer, like the RH version, or more layered, you will need alot more shells. I took the frame outside & hung it from a plant hook in order to assemble it. I attached the rows of shells to the chandelier frame with the same O rings I used to attach the shells together. Once the 2 rows were complete I had a handful of shells leftover. I used these to make a few additional rows, and hung them from the innermost circle of the frame to better hide the light bulb.
To get a light inside, I ordered this 15′ bulb pendant kit for $12, and just dropped it through the center. We plan to swag the chandelier over the table, so this was a good solution for this chandelier. No electricians required.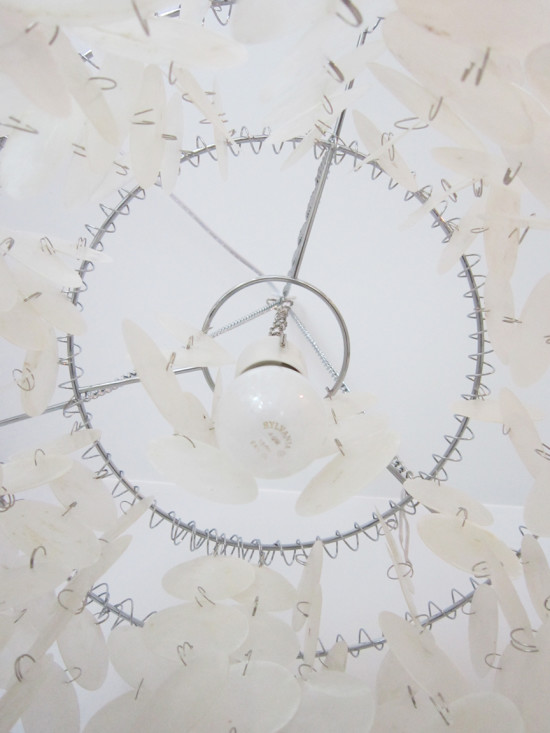 And here it is hanging in my house, it hasn't gotten to it's permanent home yet.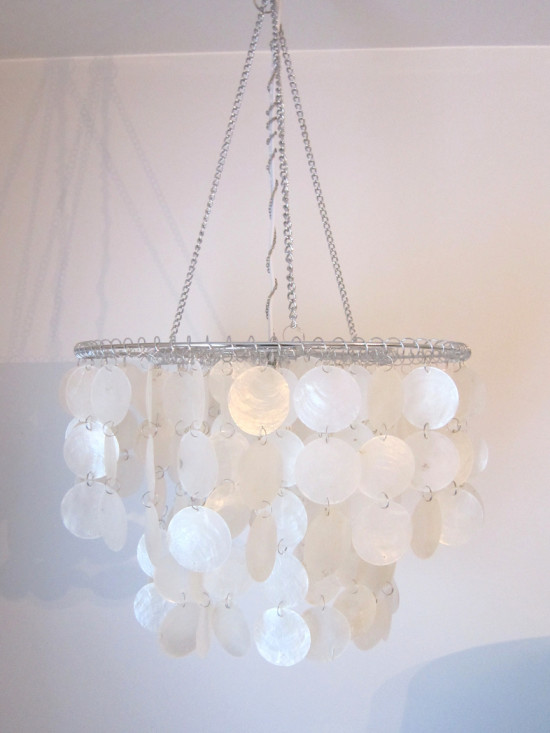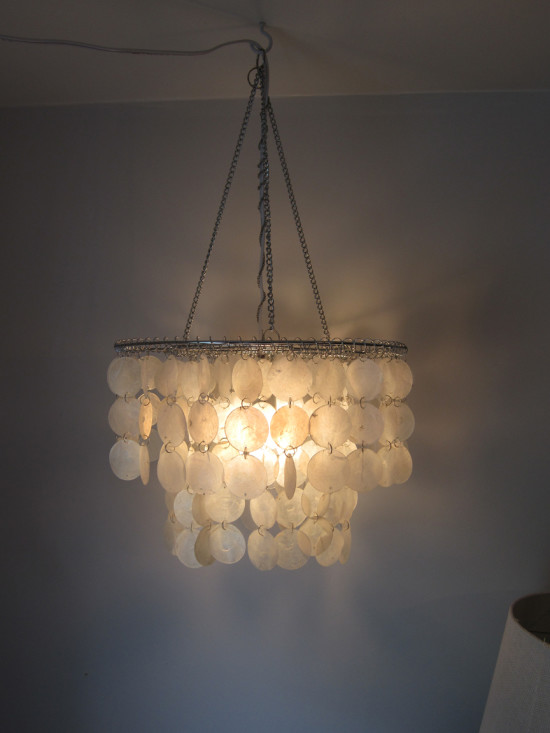 I couldn't beat my first Restoration Hardware Chandelier Hack cost of $27, but I still came in far under the RH price of $695 with a total spent of around $55.
If you love this Restoration Hardware chandelier hack, you can see the orb chandelier I made for only $27 here!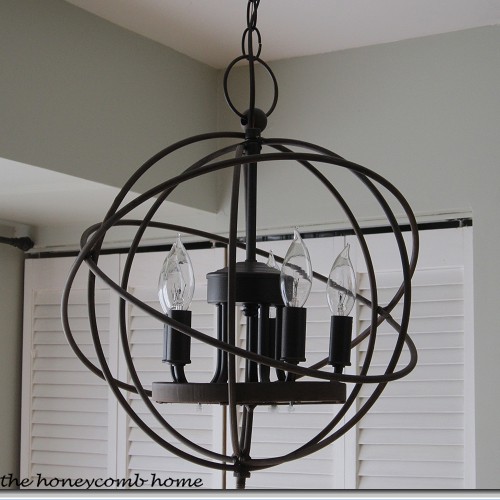 *This post contains affiliate links, you can read my full disclosure here.