Mini Cheeseburger Cookies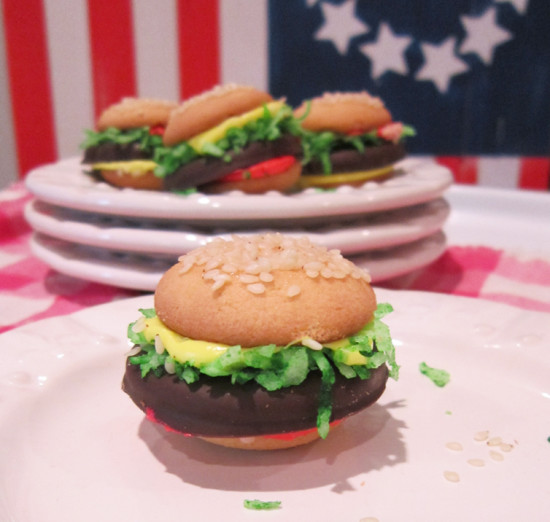 Welcome to June's Monthly Ingredient Challenge! This months key ingredient is coconut. I waited until the last minute to pick my recipe this month because coconut is something I really never cook with. After thinking about it, I kept coming back to these mini "cheeseburger cookies".
I made these cookies only once before, years ago for my younger daughter's birthday. We just celebrated her birthday this year on June 3rd. She's 17 now and driving so I got a little nostalgic when making these.
I will pick baking and cake decorating any day over cooking. I have made more fun foods for my girls birthday's than I can remember. I've made turtle cakes, frog cupcakes, baseball cap shaped cakes (softball phase), cakes covered in gum balls , you name it. I do remember these cookies being a huge hit at the party.
Here is a photo of what you will need, printable recipe below. For the hamburger patty I used Thin Mint Girl Scout cookies. If you can't find those, any chocolate covered cookie will work. I believe there is one sold in grocery stores called grasshoppers.
Start with 3 bowls. Divide the icing in half & place each half in a bowl. Add the shredded coconut to the third bowl. Tint 1 bowl of icing yellow for the "cheese" or mustard. Tint second bowl of icing red to represent ketchup. Tint the coconut green to mimic lettuce.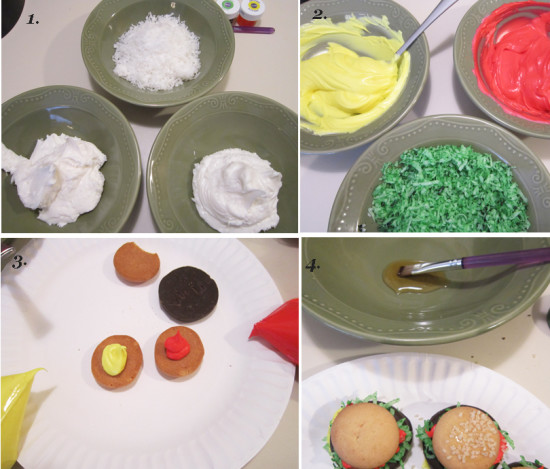 Take out 2 vanilla wafers ( you get to eat any that are cracked), add a dollop of yellow icing to one and red to the other. I was out of pastry bags when I started this project. One trick I learned is to use a Ziploc bag, just snip off one of the corners. The cheap fold and flap bags work the best for this.
Assemble the thin mint on top of one wafer. Add shredded coconut or "lettuce" on top of thin mint, then top with remaining vanilla wafer. Lastly, take a pastry brush and paint honey onto the top of your "bun" and sprinkle with sesame seeds.
That's it! Aren't they adorable? And there isn't any actual baking involved. Now if I could just go back to the years of birthday piñata's and frog cupcakes….they really do grow so fast!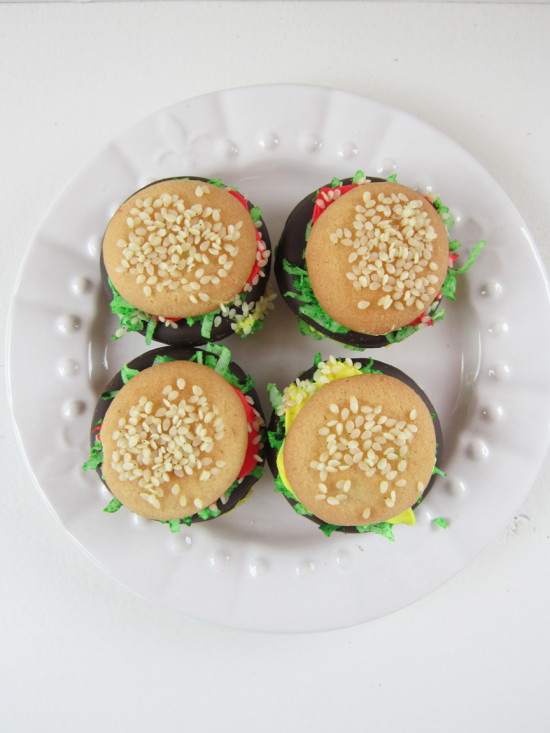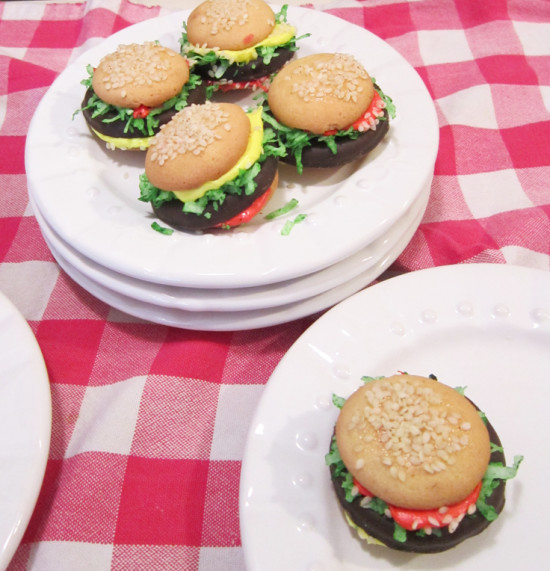 Cheeseburger Cookies
Ingredients
Vanilla Wafer Cookies

Thin Mint Cookies (or any chocolate covered cookie)

Vanilla Icing

Shredded Coconut

Red, Yellow and Green Food Coloring

Honey

Sesame Seeds
Instructions
Begin by tinting half of the vanilla icing red and the other half yellow. Place icing into pastry bags.

To assemble cookies, put a dollop of red icing on one vanilla wafer and a dollop of yellow icing on a second vanilla wafer.

Place thin mint cookie on top of one of the vanilla wafers.

Add shredded coconut on top of the thin mint.

Press second vanilla wafer on top of the coconut.

Brush top of "bun" with a little honey and sprinkle sesame seeds on top.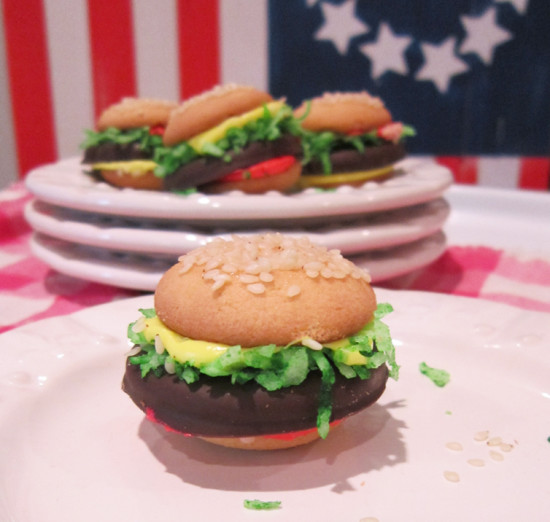 Be sure and check out what my friends made with coconut as their key ingredient! You can also follow our Pinterest group board so you won't miss a thing!