Simple Backyard Patio Ideas
Check out these simple backyard patio ideas to help you create your own outdoor oasis! This post is in partnership with Wayfair!
Each year, we improve our backyard a little more. As with inside the home, unless you have tons of money it takes time to build a space you love. Our yard has really evolved at this point and I wanted to share with you guys some simple backyard patio ideas today.
Patio Dining Table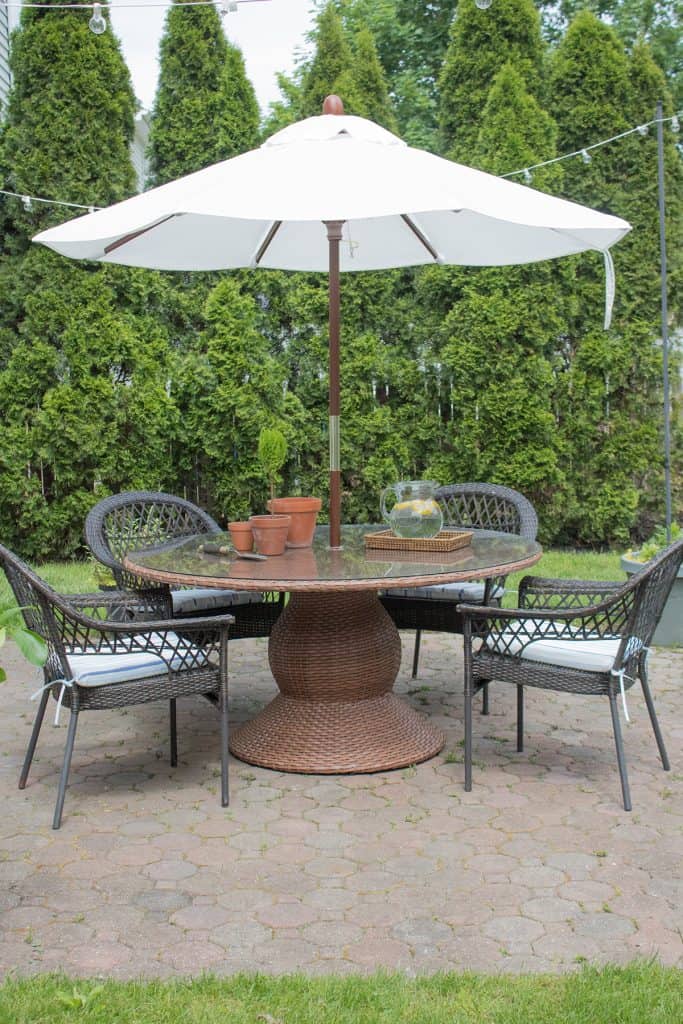 Last year I refinished my outdoor wooden table and sadly it didn't hold up. It was definitely time to replace it. I began looking for one that would not only hold up if left outside but also something that was not your basic outdoor table. I wanted a little more style!
Luckily, the perfect outdoor table was not hard to find. This beautiful round table from Wayfair was just what I was envisioning. The base is beautiful enough to be an indoor table! With the glass tabletop, it will hold up to the elements outside.
Can you leave a glass table out for winter?
I'm going to say yes based on past experience. Prior to my wood table, we had a glass and metal table that held up for years and we never put it away. This table looks wicker, but it's more of a plastic material that will likely be more durable. I don't expect it to chip like wicker often does and I'm hoping it will withstand the elements.
How to Hang Patio String Lights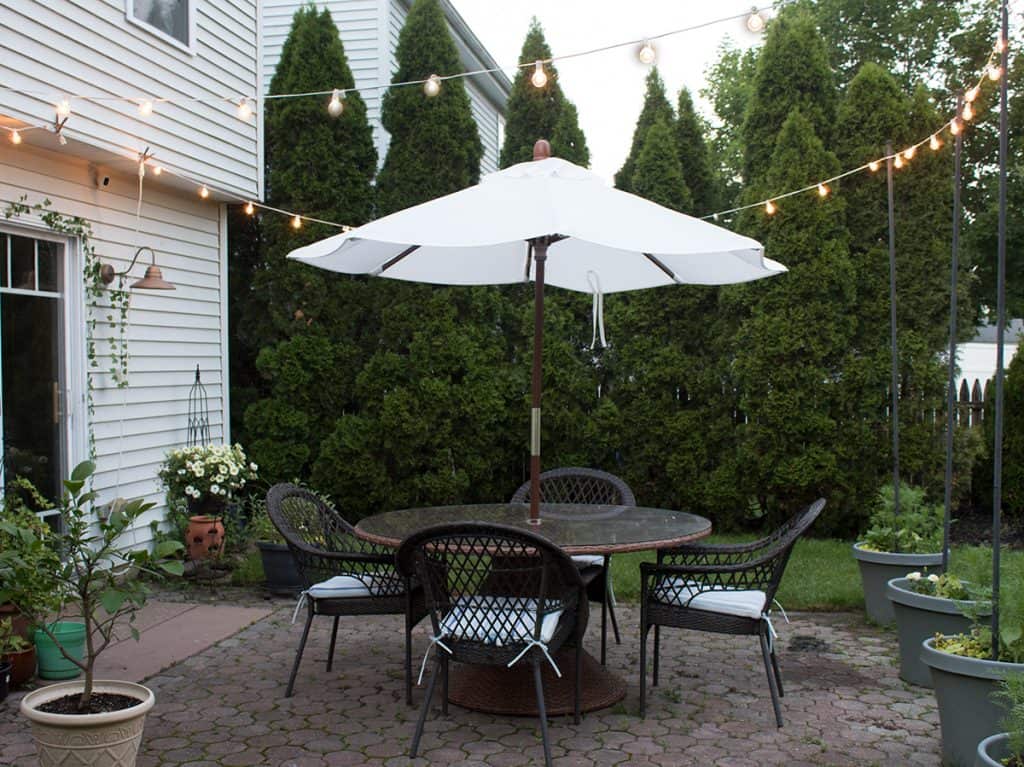 No trees around your patio to hang lights? No problem! All you need are a few large planters and string light poles! To attach the lights to the house I used regular clamps as you'd find in a hardware store. I tried several different ways but the clamps were the one thing that held them super secure, even during storms.
Alternatively, if you're looking for backyard patio ideas on a budget, consider using wooden posts rather than the poles in your planters. This may save you a few dollars, especially if you can find wood that needs to be upcycled. For me, hanging the string lights with the poles was much easier.
Patio Container Gardens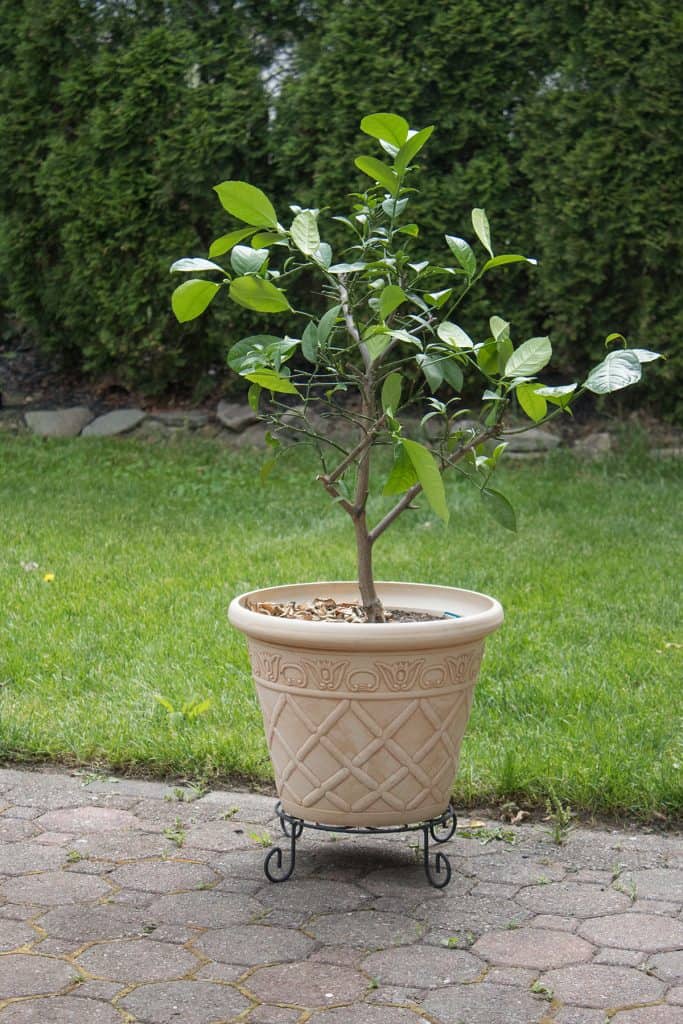 My backyard is on the small side, so I try to keep the patio as uncluttered as possible with only a handful of containers. Which is hard because I love gardening! This little lemon tree was a gift from family and it's so pretty all on its own.
The planters I use for my string lights are multifunctional, perfect for a small backyard. I fill them with climbing vines that climb up the poles, it looks really pretty once they get going. I also plant seeds for cut flowers.
Patio Landscaping Ideas
As I mentioned, I try to keep the perimeter of the patio uncluttered. However, up against the house side is where I added some planting areas. The cart serves as a potting bench for my seed starting and replanting. There's also a boxed-out area for peonies on one side.
To keep this view a little cleaner, I added an air conditioner cover to hide the a/c unit out here. That was an easy fix for that eyesore.
In the spirit of keeping it simple on the patio, we planted our emerald green arborvitaes away from the patio and along the fence. If you add landscaping directly next to the patio, you are chopping up your yard. That is great if your yard is large and you want to divide it into sections, but in our smaller yard, I like to keep it as open as possible.
What Size Umbrella for Patio Table?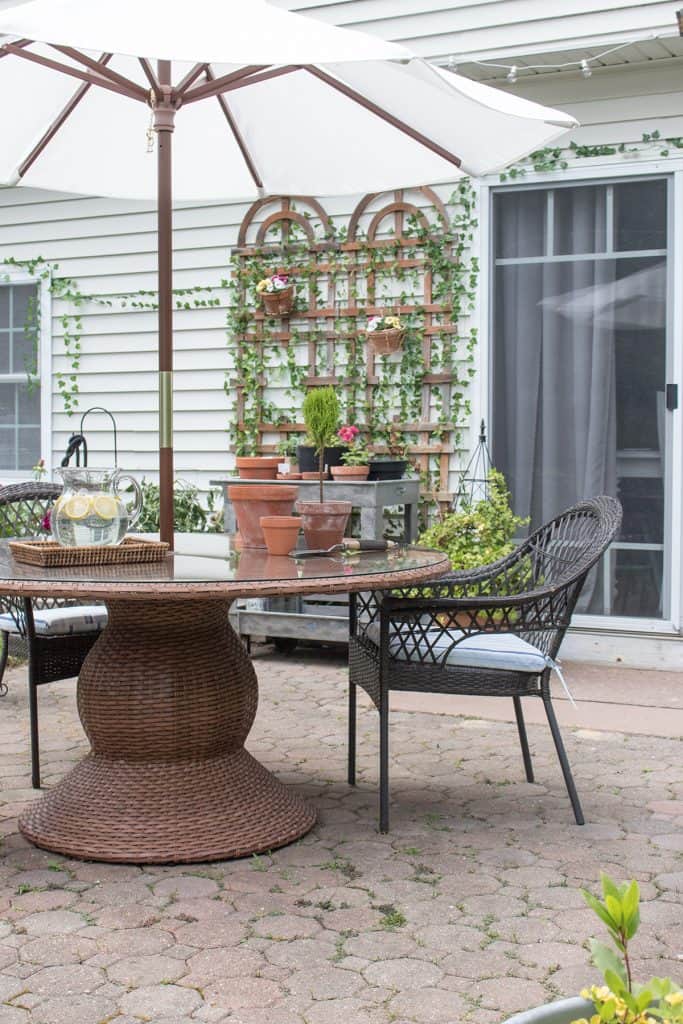 The size of your umbrella depends on the size of your table and how much shade you prefer. This new outdoor table is 30″ in diameter and my umbrella is 7'6″ in diameter. If you need more help on that, this umbrella buying guide breaks down umbrella size as compared to table size and shape.
A Few More Simple Patio Ideas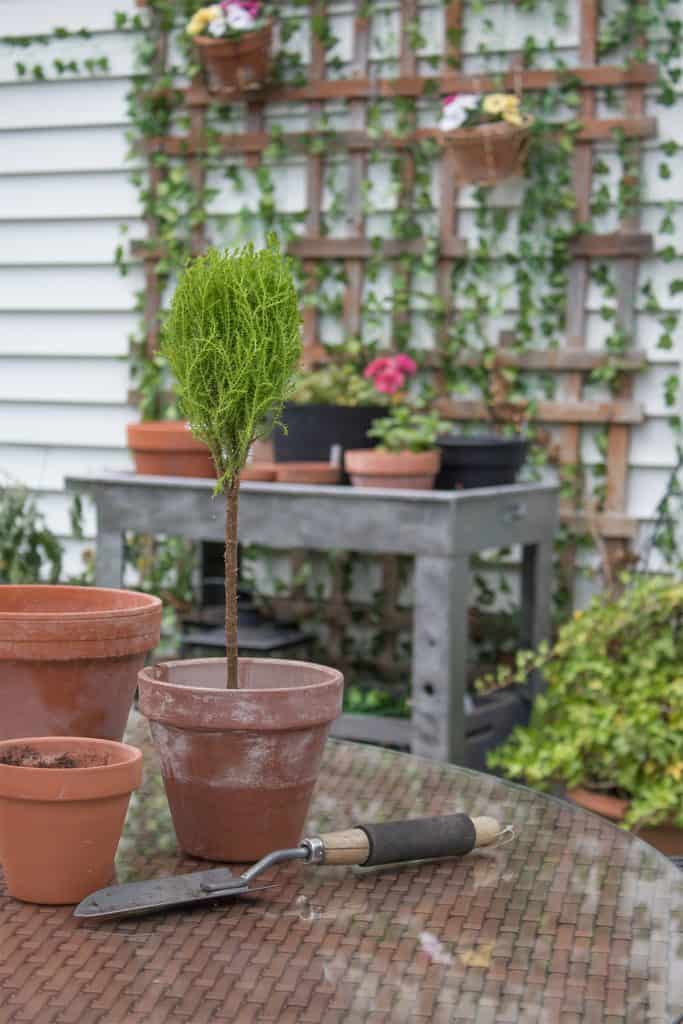 One really good tip for your patio or any smaller-sized space (indoors or out) is to go vertical. We hung a trellis on the back of our house for climbing vines. Don't all structures look more beautiful with climbing vines?
I waited several years for my ivy to cover that trellis and it was growing SO SLOW I realized I might not live long enough to see it covered, lol. So I ended up trying out faux ivy instead and was very happy with how this came out! That spot also happens to be covered by an overhang on the house so it doesn't get much water when it rains. The faux ivy was a good solution for this spot all around. Because it's outside, it looks even more realistic.
Keep the conversation going and share your simple backyard patio ideas in the comments!