Wallpaper and Paint Combinations
You guys, wallpaper is trending again. Though you could argue that wallpaper never really goes out of trend. What I'm seeing a lot of lately is wallpaper paired with paint colors other than white. So today I'm rounding up a photos of wallpaper and paint ideas for inspiration.
If you're looking to really wake up a tired space in your home, this may be just the solution for you. I've been considering it myself but I'm going to start in our walk-in closet first and see if I can live with it. I change my mind a lot!
Many of these inspiration photos today are bathrooms. If you're afraid to commit like me, bathrooms are a good space to go bold and take a risk! I'd also recommend removable wallpaper if your a commitment-phobe.
The first photo here is my favorite (obsessed!). I really love the colors in this beautiful paper in the kitchen. However, I am not a fan of birds so I've been keeping an eye out for something with the same colors minus the birds.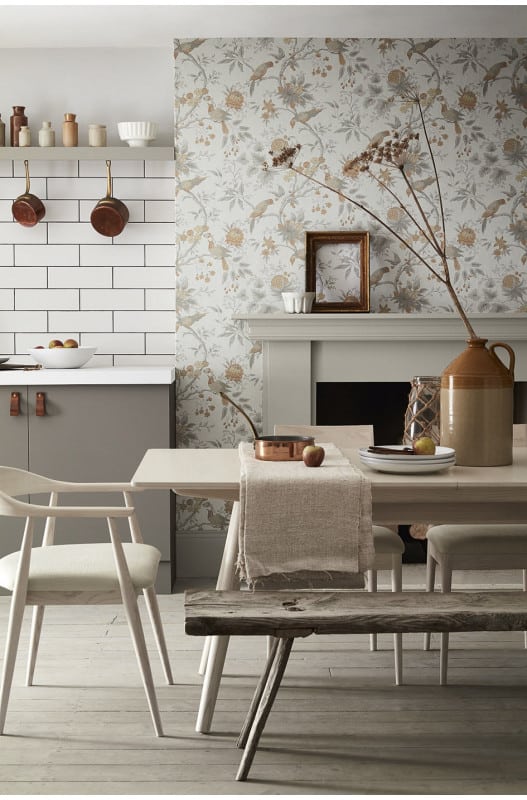 After doing some research, I found this company that makes peel and stick wallpaper in your choice of color. That is such a great idea! I would always start with your wallpaper choice because it's easier to match the paint to the wallpaper rather than the other way around.
The bold floral wallpaper shown in this bathroom is very popular, I've been seeing it everywhere. It is paired with white here but I really love how the warm wood tones of the vanity seem to highlight that color in the wallpaper. SO pretty.
via the linen rabbit
Here is that same wallpaper but with green paint. Another trend I've seen a lot of is wallpaper paired with green paint in particular.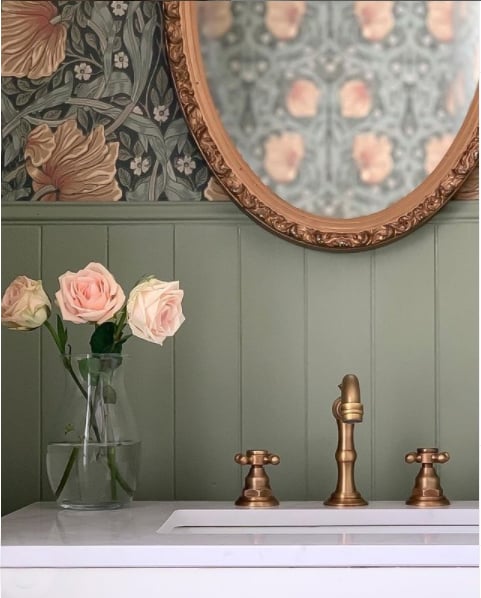 Rather than paint, this bathroom has pretty tile alongside the wallpaper. The dark grout ties it in nicely with the paper.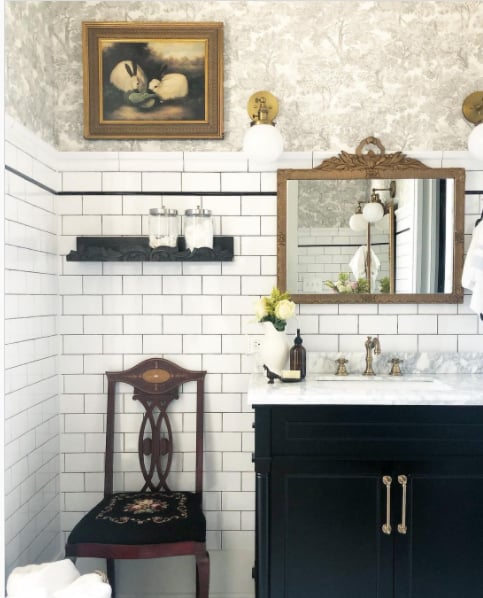 via the linen rabbit
Here's a bold wallpaper and paint idea! I'm sure I could not live with black moldings, but it does look stunning with this pink floral wallpaper!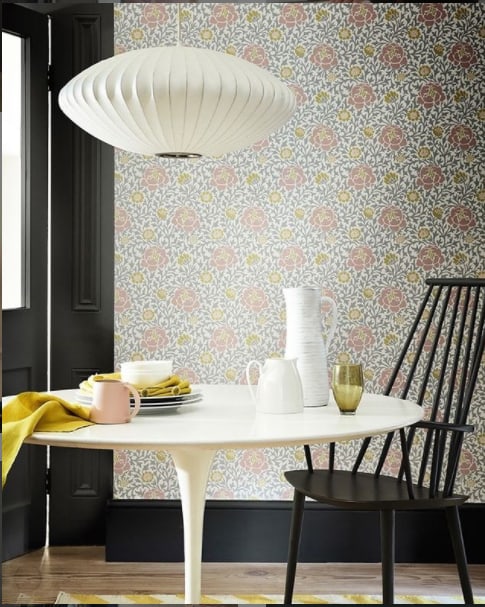 via: little green paint company
While most wallpaper and paint combinations I found online are bold, this one with the pink tones and softer gray helps to lighten it up.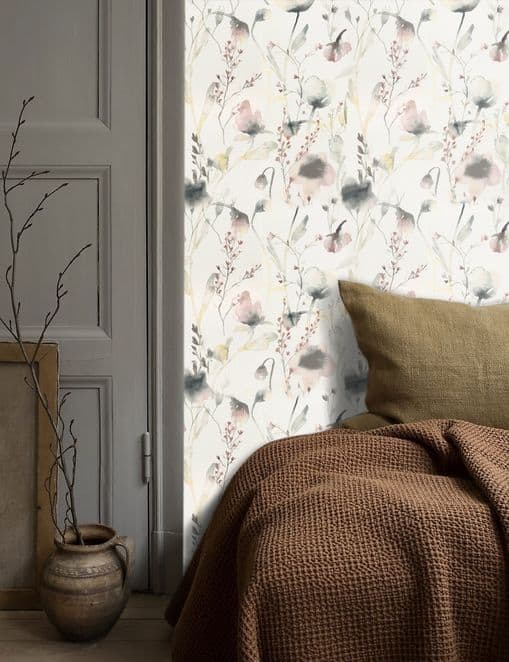 via: lulu and georgia
The browns in the wallpaper and the green of the painted moldings help to bring in some colors of nature in this space.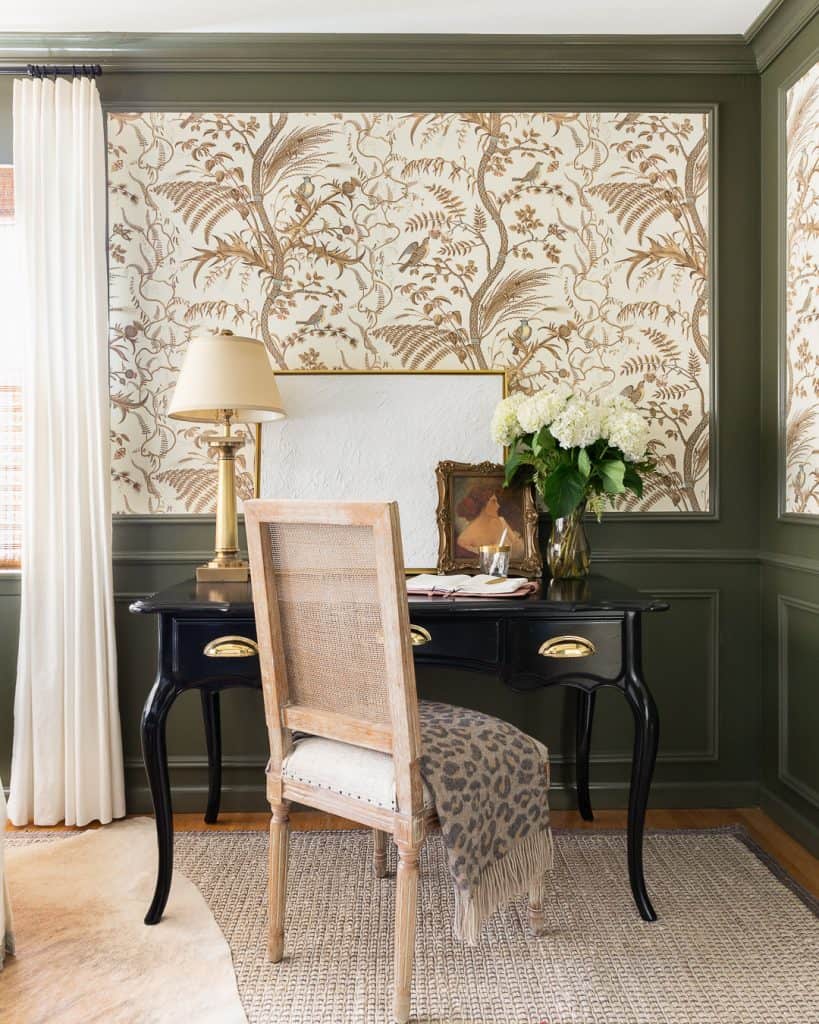 via a glass of bovino
If you prefer more blue tones, which are generally easier to live with, you may love this bedroom paper and paint combo.
via Instagram
Again dark and moody is not necessarily my thing but this one is so well done I think I could live with it. I love how they extended the color to the ceiling.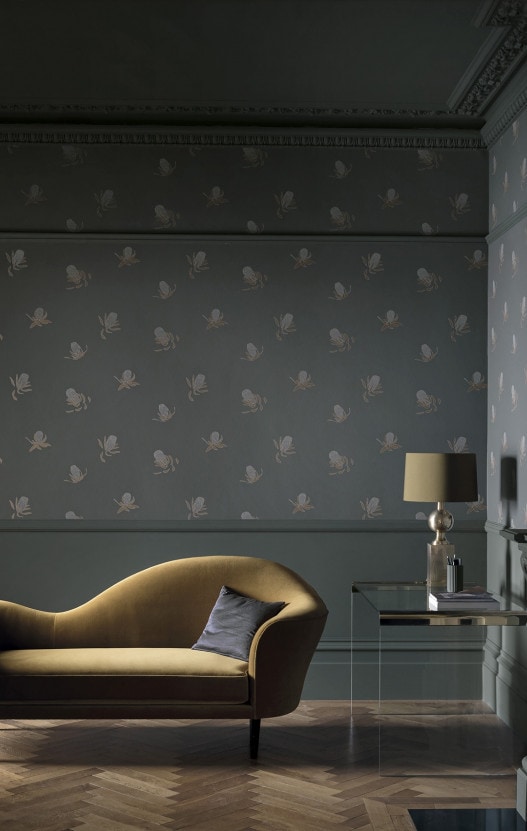 Simple beadboard and muted wallpaper is one of my favorite looks of all. This one is a great example of that.
via Pinterest
In this pretty guest bathroom, the wallpaper and paint combination brings in so much texture!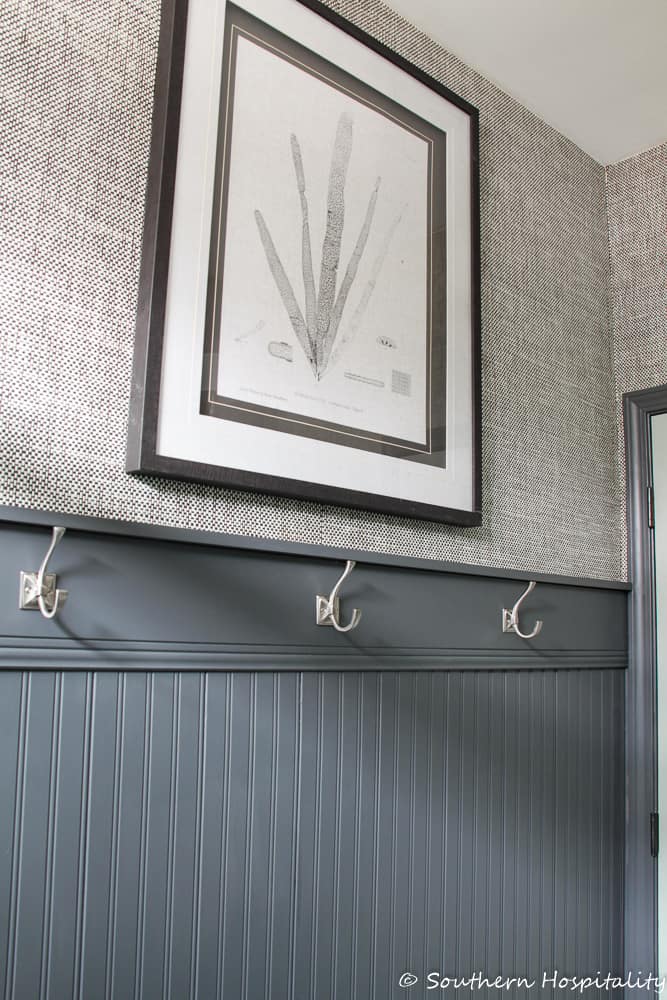 Alternatively, here's another wallpaper and paint idea. If you're craving some textured wall covering but aren't interested in a bold pattern, take a look at paintable wallpaper. The possibilities are endless with that option.
Lastly, if you're not interested in committing to a whole room of wallpaper but want to add something interesting, try a wall mural on one wall. These are also trending big right now! I may have to do a whole separate post on those!