16 Small Space Decorating Ideas You Haven't Heard
Small homes can be so challenging to keep clean and organized! Everything needs to be functional and have a place. Having lived in our small house for such a long time, I've figured out a few ways to decorate that make it appear a little larger. These are not the usual small space decorating ideas that you read about, just things I've learned from trial and error.
No Dark Corners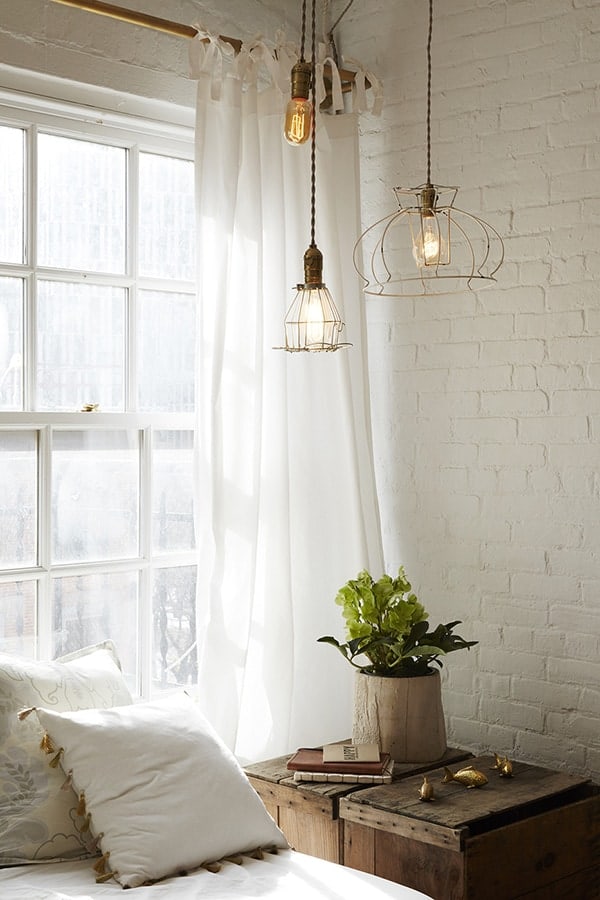 via Lonny
When you have less space you don't want any of it lost in the shadows. Add as much lighting as you can. One or two larger lamps is better than four or five small lamps scattered. Wall sconces and good overhead lighting can help as well. The more layered lighting, the better.
I also highly recommend these GE Reveal lightbulbs. They cast a pure white light as opposed to the yellowish light you get with some other bulbs. I will not use anything else.
Use Larger Pieces in Small Spaces
Using larger furniture is probably not a small space decorating idea you expect to hear. It sounds counterintuitive. However, many smaller pieces of furniture will make the room look busier and more cluttered. Less is more.
Instead, consider using one large statement piece like a large chandelier, or a big piece of art. This will also add interest and character.
Quality Over Quantity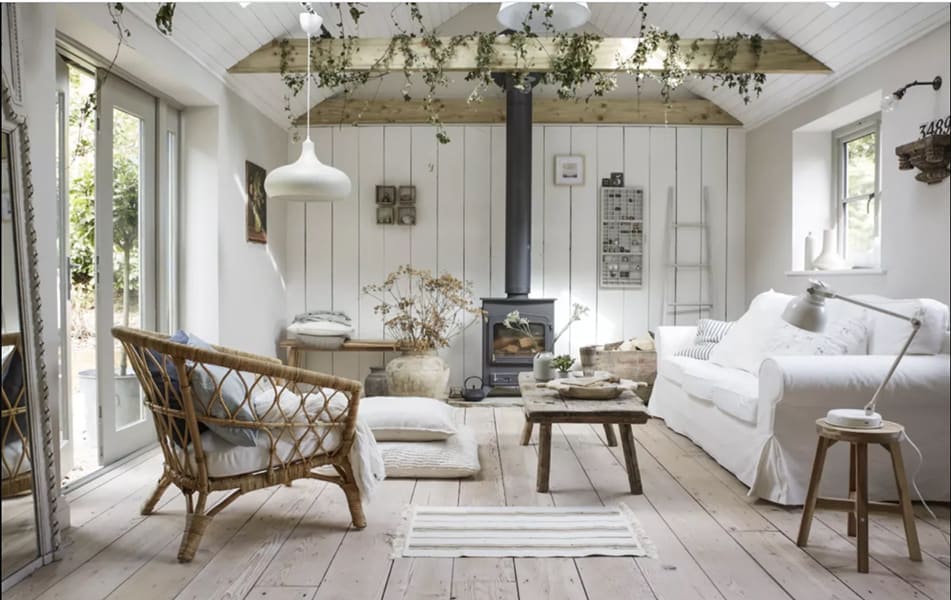 via Real Homes
Don't waste your money on a bunch of inexpensive items to fill your space. Rather, invest in a few really good quality pieces. It's amazing the difference this will make!
The Mirror Trick You Haven't Heard
When it comes to small space decorating ideas, everyone knows mirrors are our best friend. They can visually expand a space especially when placed opposite or perpendicular to a window. However, did you know that adding a lamp in front of the mirror can also help bounce light around making the room feel larger?
One large, quality mirror is another way to get a larger statement piece in the room. A leaning floor mirror will do the trick without taking up much floor space. You can also add mirrors on shelves to help bounce light around.
Area Rugs for Small Rooms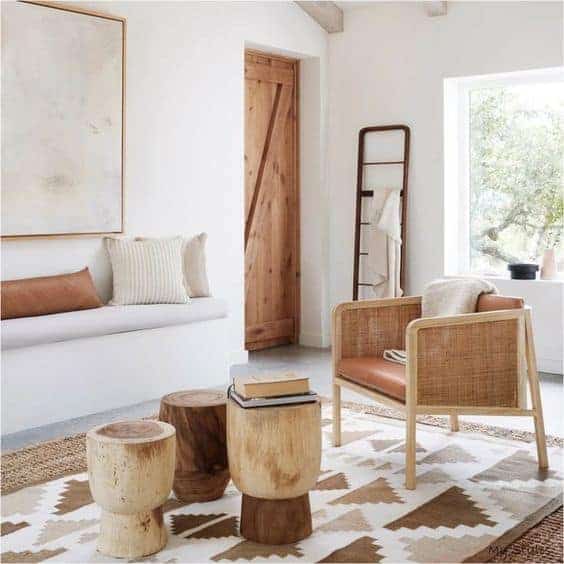 via Pinterest
In smaller spaces, you want to create continuity wherever possible. This lets the eye travel. When it comes to area rugs, bigger is better. Using a small rug will draw attention to the small space. Use the biggest rug you can that's appropriate to the space.
Pick Small Space Furniture Wisely
Small space furniture can be a catch 22. On one hand, you want to use pieces that offer storage. However, those are usually visually heavier pieces. On the other hand, you want furniture that is leggy or made of glass so that the eye can travel. For this I say, create a balance between the two.
For example, in a small bedroom, you could use a large armoire and then have more delicate nightstands. Skip the footboard all together in a small bedroom.
Store Things in Plain Sight
Get creative with your everyday items! Maybe you have a beautiful set of copper pots that you can hang from the kitchen ceiling. In my kitchen, I used a wall spice rack to display spices and save cabinet space for less attractive items. Store pretty cookbooks right on the kitchen counter
In the bathroom try rolling up your bathroom towels and putting them on display. Or use apothecary jars to store bathroom necessities out in the open.
Add Storage Between The Studs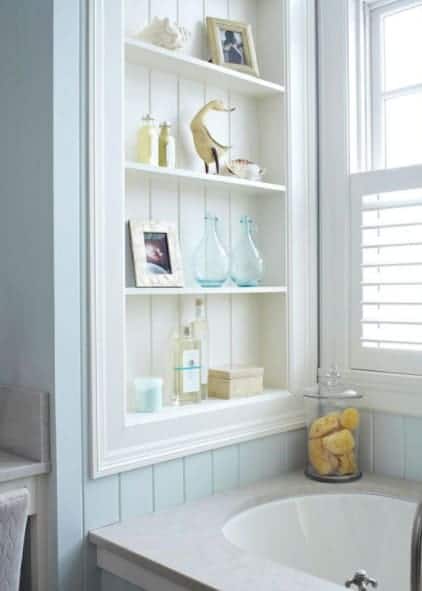 Did you know there's an open area inside your walls in between the studs? It's completely unused space! Opening that up will not only offer you additional storage but it will look amazing. Instant built-in shelves!
Group Like Items
First, I would say people who live in small homes really should not become collectors! But if you do happen to have like items, grouping them together for display will look much prettier and more cohesive than a hodgepodge of stuff,
Go Vertical
You may have heard this one but it bears repeating! Going vertical whether with storage or furniture tends to draw your eye up. You can never go wrong with this trick!
Use Reflective Surfaces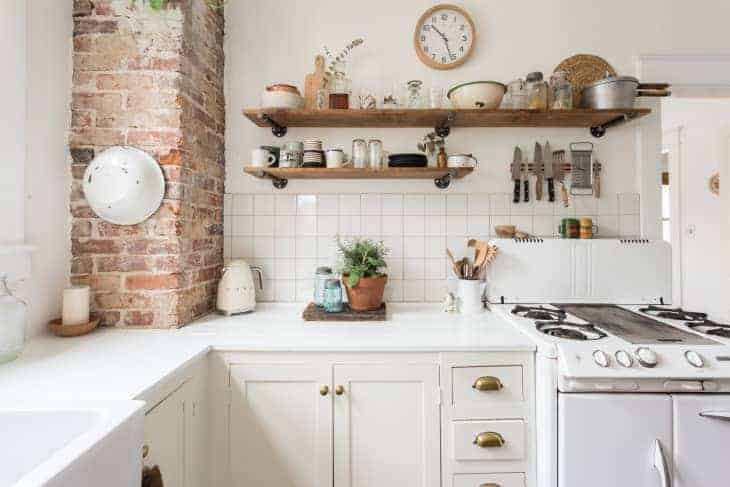 Reflective surfaces work much like mirrors to bounce light around and brighten up a space. Use glass shower doors rather than a solid shower curtain, invest in shiny countertops (I love quartz) or a backsplash. You can also use metal fixtures that are more reflective than bronze or black.
Sliding Doors
Anywhere you can add a sliding door will save you space. Barn doors or pocket doors will both do the trick. They're much less intrusive, especially great for small bathrooms and small walk-in closets. Plus, they're a pretty design feature.
Make Ceilings Appear Higher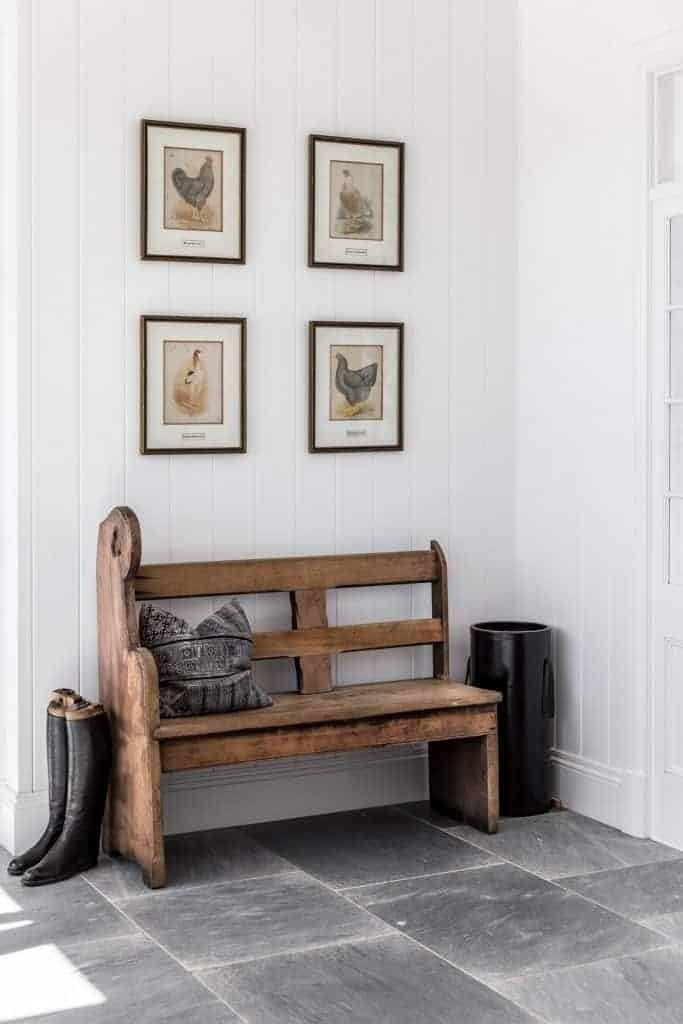 via Cottonwood & Co
There are a few ways to make your ceilings appear higher. Vertical stripes are one way. You can install vertical planks or shiplap or use striped wallpaper. Secondly, painting the ceiling the same color as the walls to make it visually disappear. Third, use high gloss paint on the ceiling to make it more reflective.
Windows
Try not to cover them when possible and remember to hang those curtains rods wide and high. Doing so will make the window appear much larger. If you use curtains in the same color or similar color to your walls it will also visually expand the space. Again, continuity is key.
Invest in Structure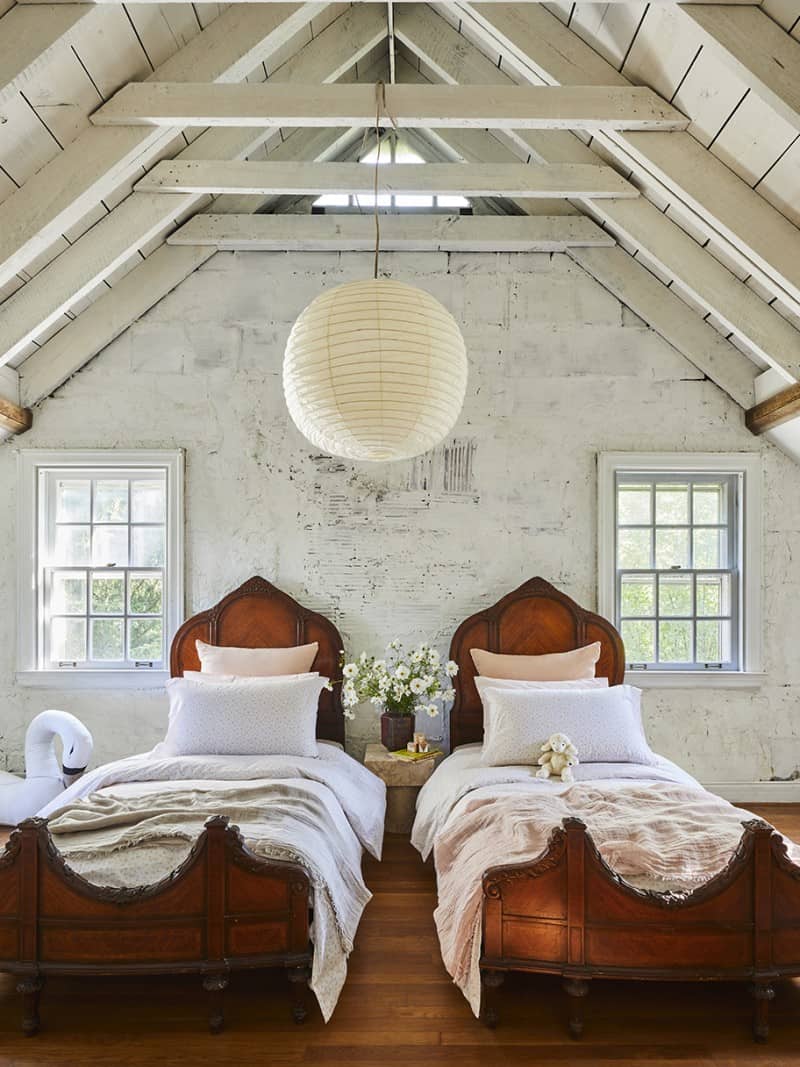 image via Domino
Invest in structural changes. This is the most expensive of the small space decorating ideas mentioned here but worth the return on investment. Raise a ceiling, add a window or change out a solid exterior door to one with windows. All of these would completely change the look of a room!
Edit Often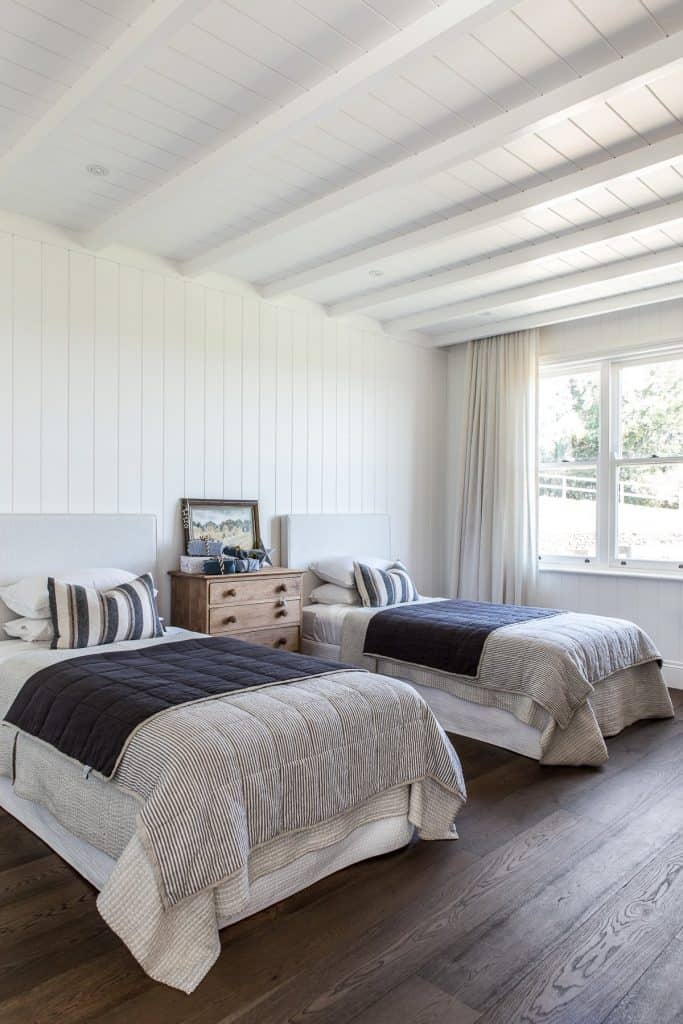 via Cottonwood & Co
This is the biggest challenge for me. I've heard that for every item you bring into the house you should get rid of one. I've tried this with clothing and it's a good idea if you can keep up with it.
There are upsides to small space decorating. You can invest in higher quality finishes that may not be affordable when there are lots of square feet to cover. Also, you're forced to declutter more often and really consider what you're bringing into your home. And maybe that's a good thing to be more aware of!