12 Ways to Bring Your Backyard to the Next Level!
We've been working on our backyard (and front yard) for years now. We've made some impressive transformations on a budget during this time. If you're asking yourself: How can I make my yard look nice? then read on for several ideas for your own outdoor spaces!
All of these are easy DIY projects with big impact!
Plant Arborvitaes
By far, the best money we've ever spent in our backyard was on arborvitaes. They add a wall of privacy, a lush green backdrop, and they're evergreen so you can enjoy them all year. As long as you keep them watered, they are a low-maintenance shrub. We also use them often as a backdrop for family photos.
Add A Curved Garden Bed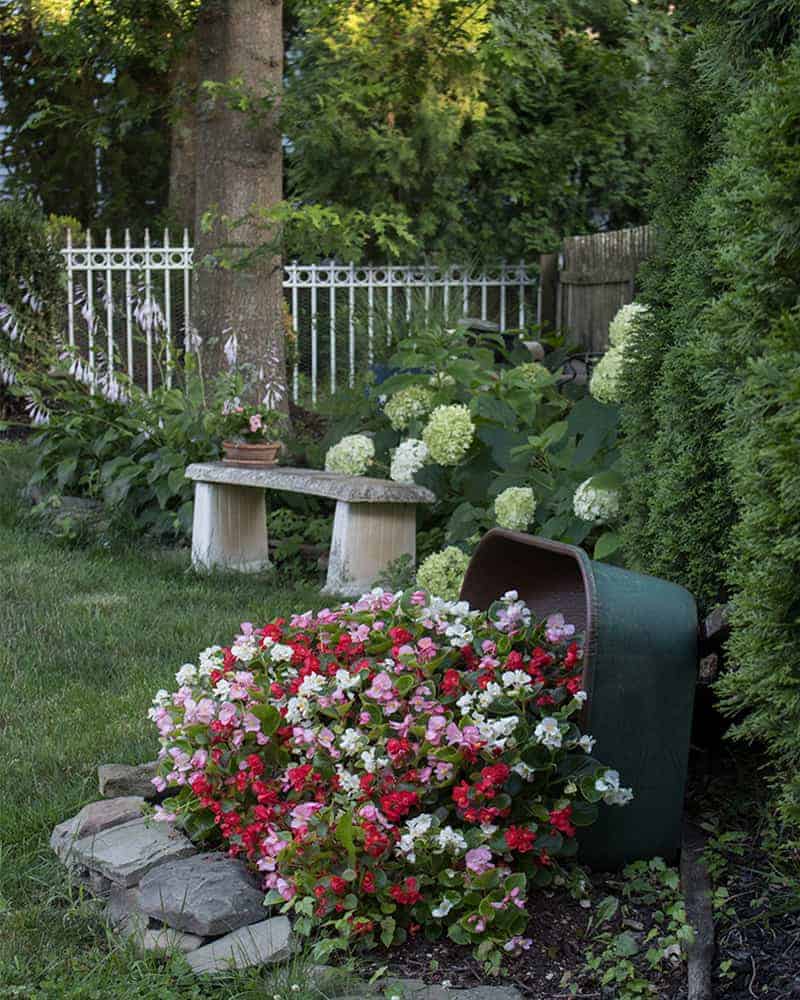 What is it about a curved garden bed that is so much prettier than a straight one? Along the borders of our yard, we added stacked slate rocks and placed them in a curved design. This project really added so much visual impact to our landscaping. Edging with stones makes for a pretty contrast with plants and flowers.
Install A Backyard Paver Patio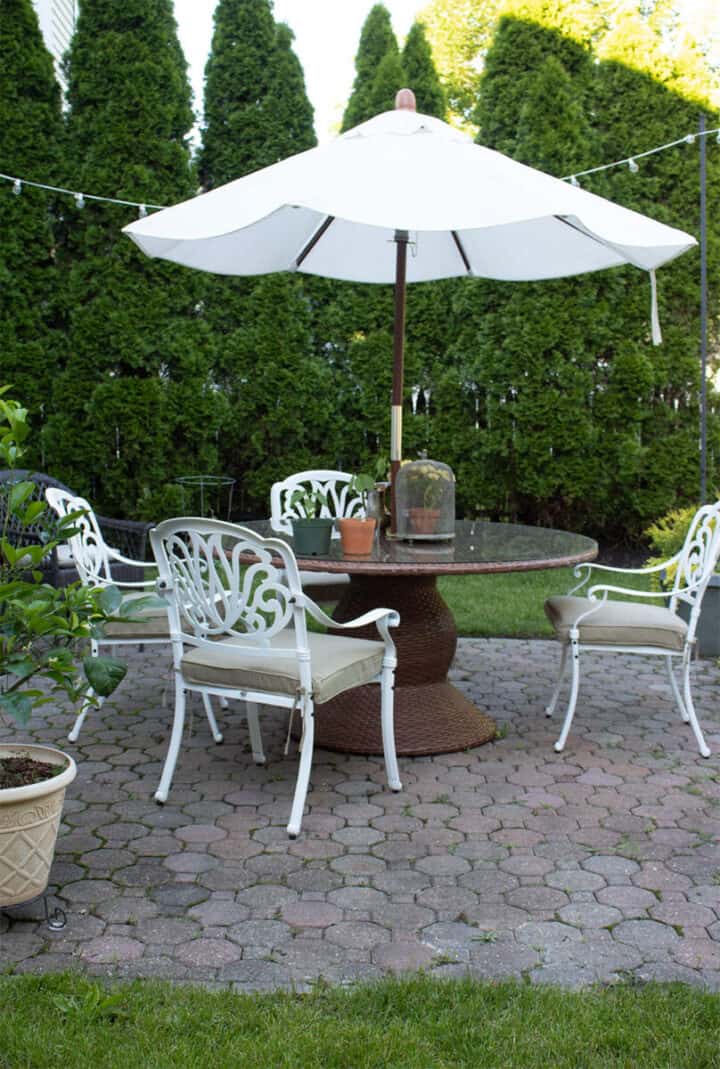 When we moved into our builder-grade house our yard was completely empty except for the oak tree. The very first project we did out here was to install this paver patio, which we did ourselves, I still love it years later. The only downside to the pavers is that they require weeding often.
Update Concrete Easily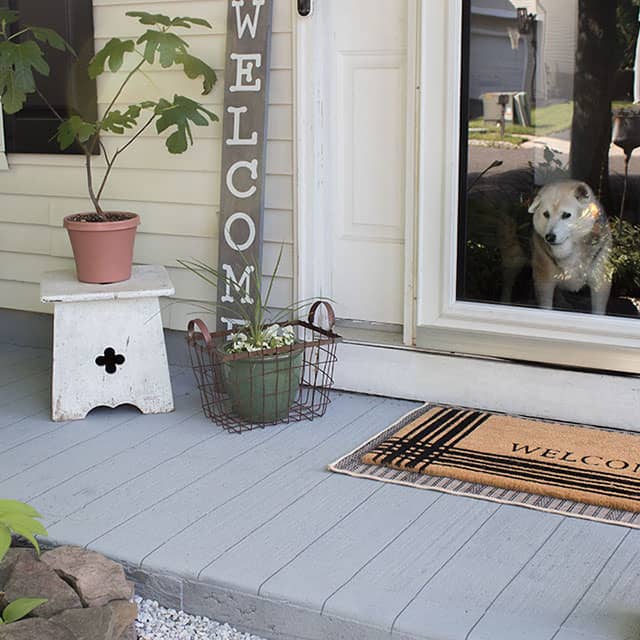 If you happen to have a concrete patio, porch, or any outside area with concrete you have to see this! I painted my concrete porch to look like wooden planks and it came out amazing!
This project took me about a day to do and the payoff was huge! It's my favorite outdoor transformation so far and it's holding up incredibly well!
Hang A Mirror Outside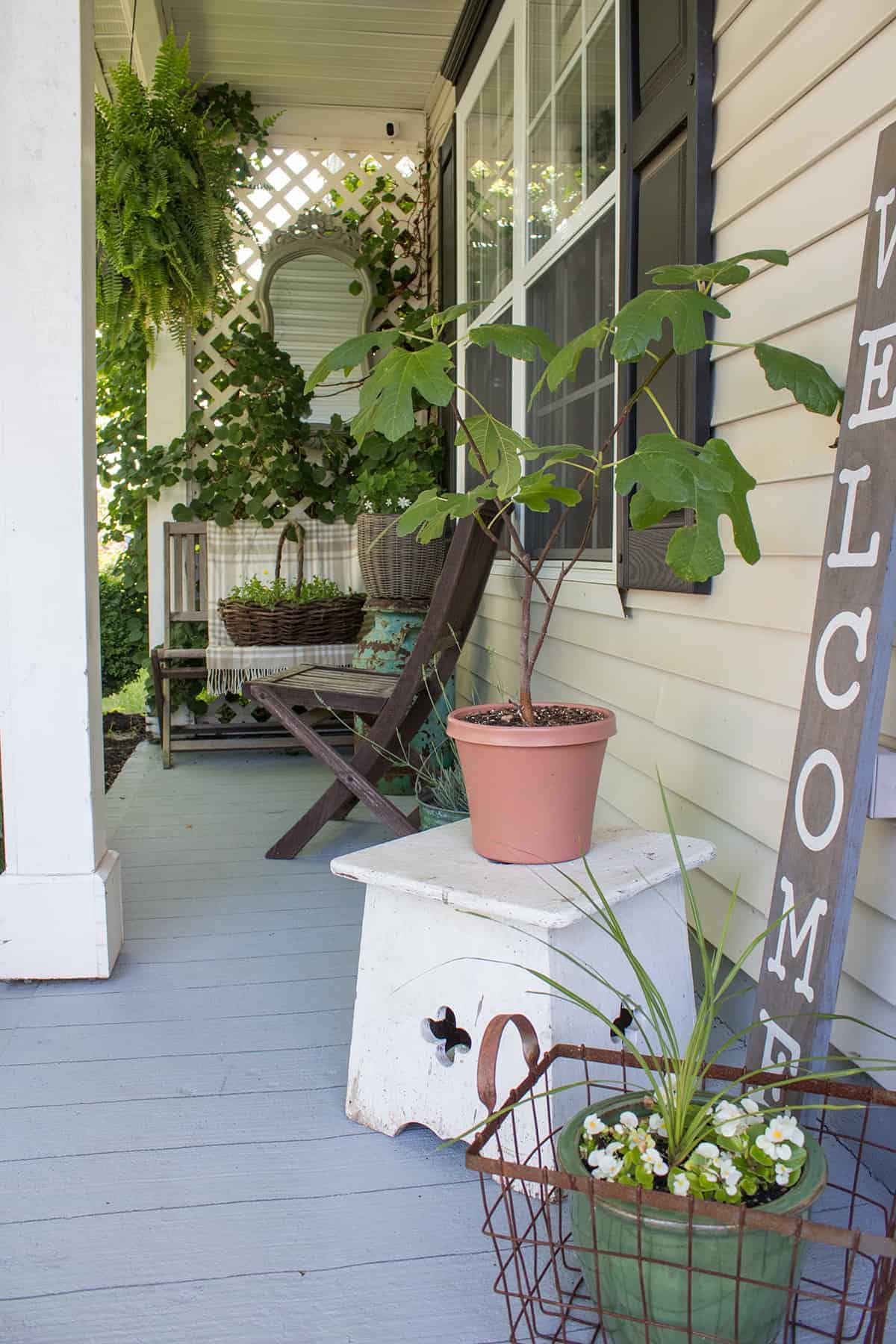 Just as I love bringing a little nature indoors in decorating, the reverse also works. Hang a mirror outside for an unexpected element. I hung a vintage mirror I found for only $10 on my porch. You could hang one on your fence, the side of a shed, or anywhere else you'd like to add some interest.
Create an Interesting Garden Planter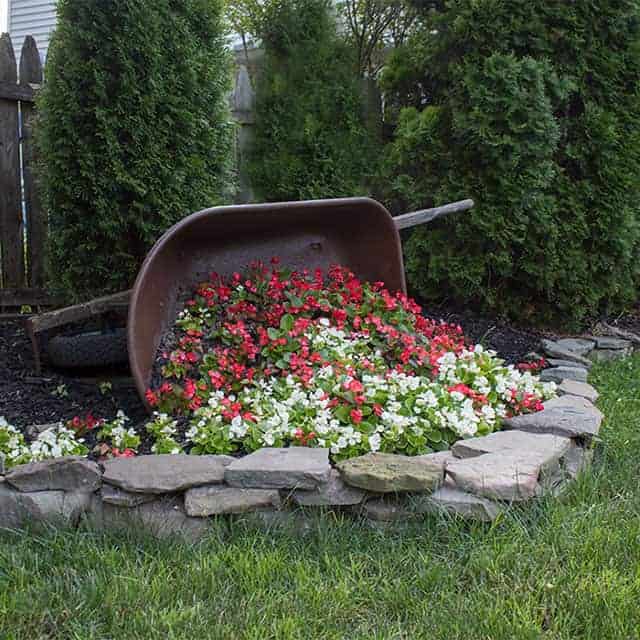 In our backyard, we added a fun planter using a tipped wheelbarrow. I usually fill it with begonias in Spring and by August, they fill in to overflowing! You could use just about anything you can think of as a planter. Keep it simple and use a large pot tipped on its side to get the same effect. It's a fun and easy way to add more flowers and more color to the yard!
Paint Your Shed
You guys, this one will give you BIG impact with minimal effort! Our old shed was a dull yellow before and was looking very weathered. We transformed it with a dramatic blue paint color and the painted shed completely changed the entire look of the yard!
Add String Lights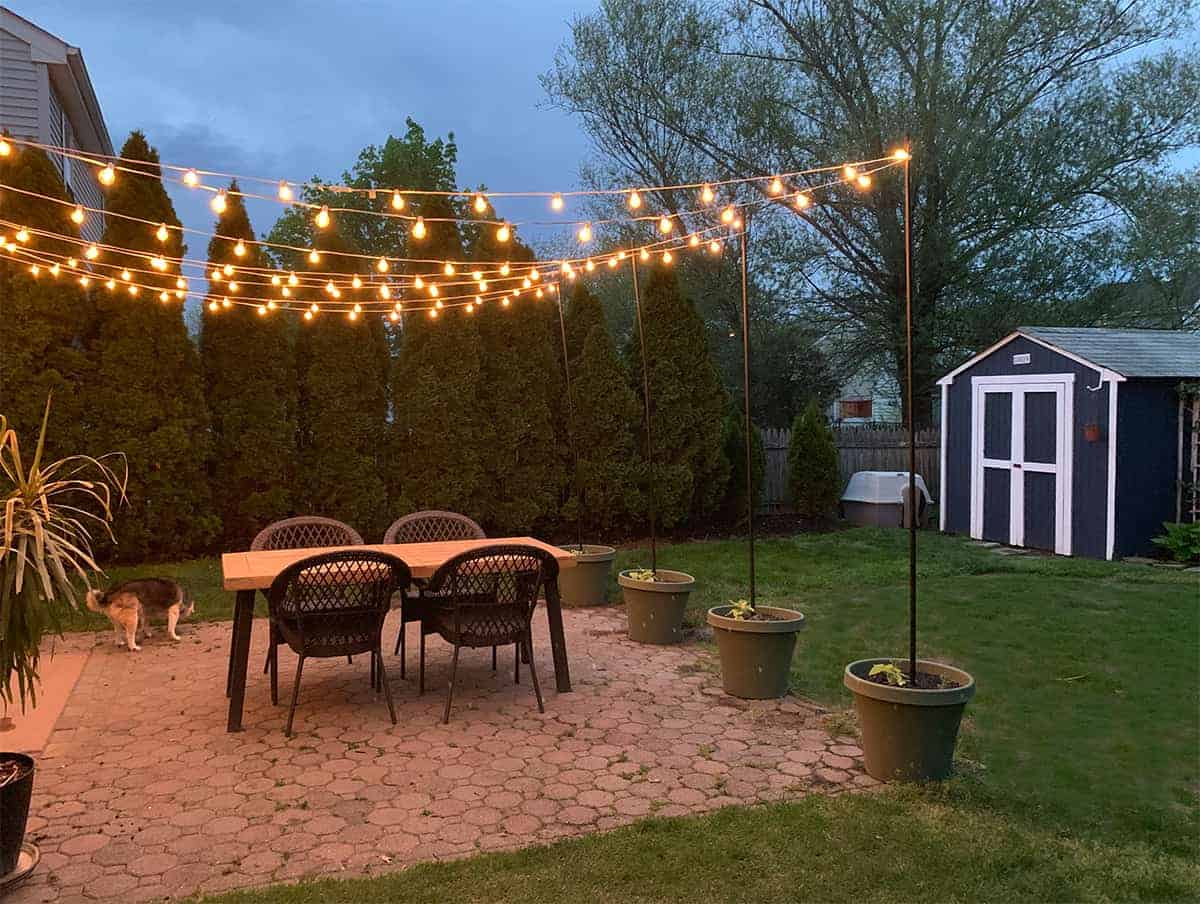 Nothing adds ambiance to the backyard like a set of string lights can. Even if you don't have trees to hang them on, you can easily create a canopy of string lights over your deck or patio using planters and poles to hook them to!
Make A Shady Retreat/Grow Vines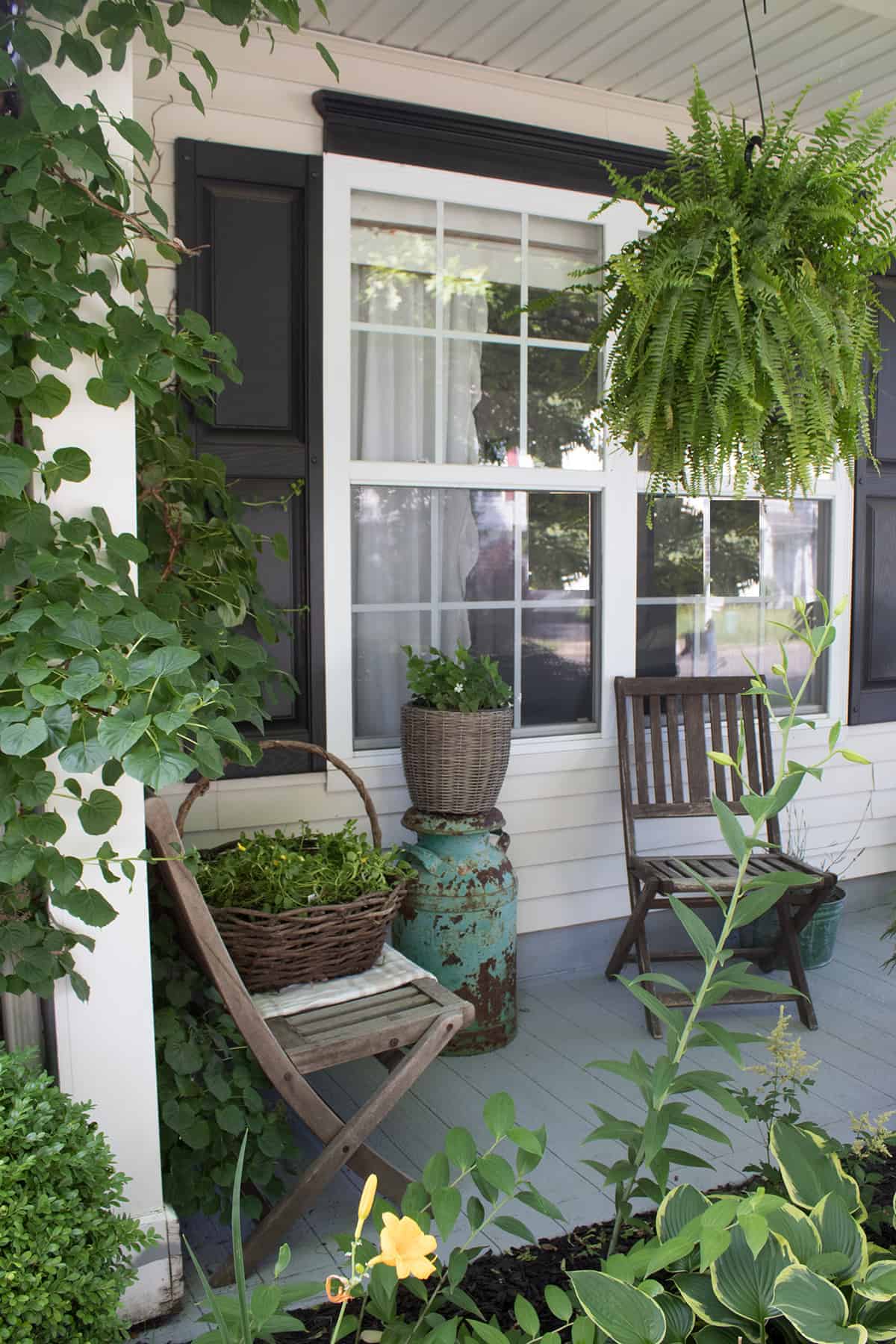 Our backyard is like the Sahara desert in the summer. Due to that, we spend more time sitting on the front porch. I planted a climbing hydrangea vine that grows up one side to further keep the area cool. It also adds extra privacy from the neighbors.
Vines are also a great addition for any small backyard, I add them wherever I can in ours!
Refinish Weathered Outdoor Furniture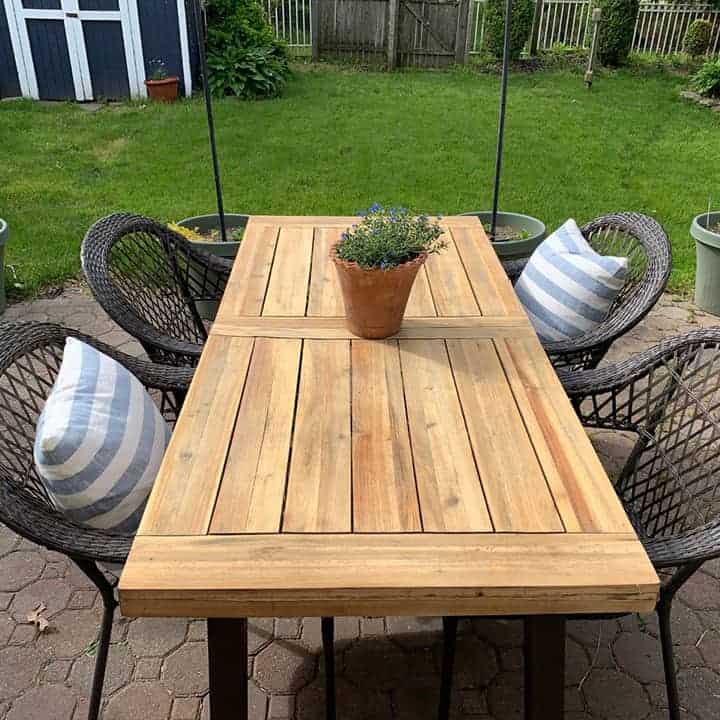 Before you toss your old patio furniture, learn how to restore weathered wood. You can bring it back even better than new with just a little bit of elbow grease.
Budget Garage Door Makeover
Plain, builder-grade garage doors do nothing for your curb appeal. Fortunately, it's very easy to quickly transform your garage doors from blah to beautiful. This project took only about 2 hours and cost under $50! My neighbors thought we had a new door installed when they saw it.
Create A Backyard Focal Point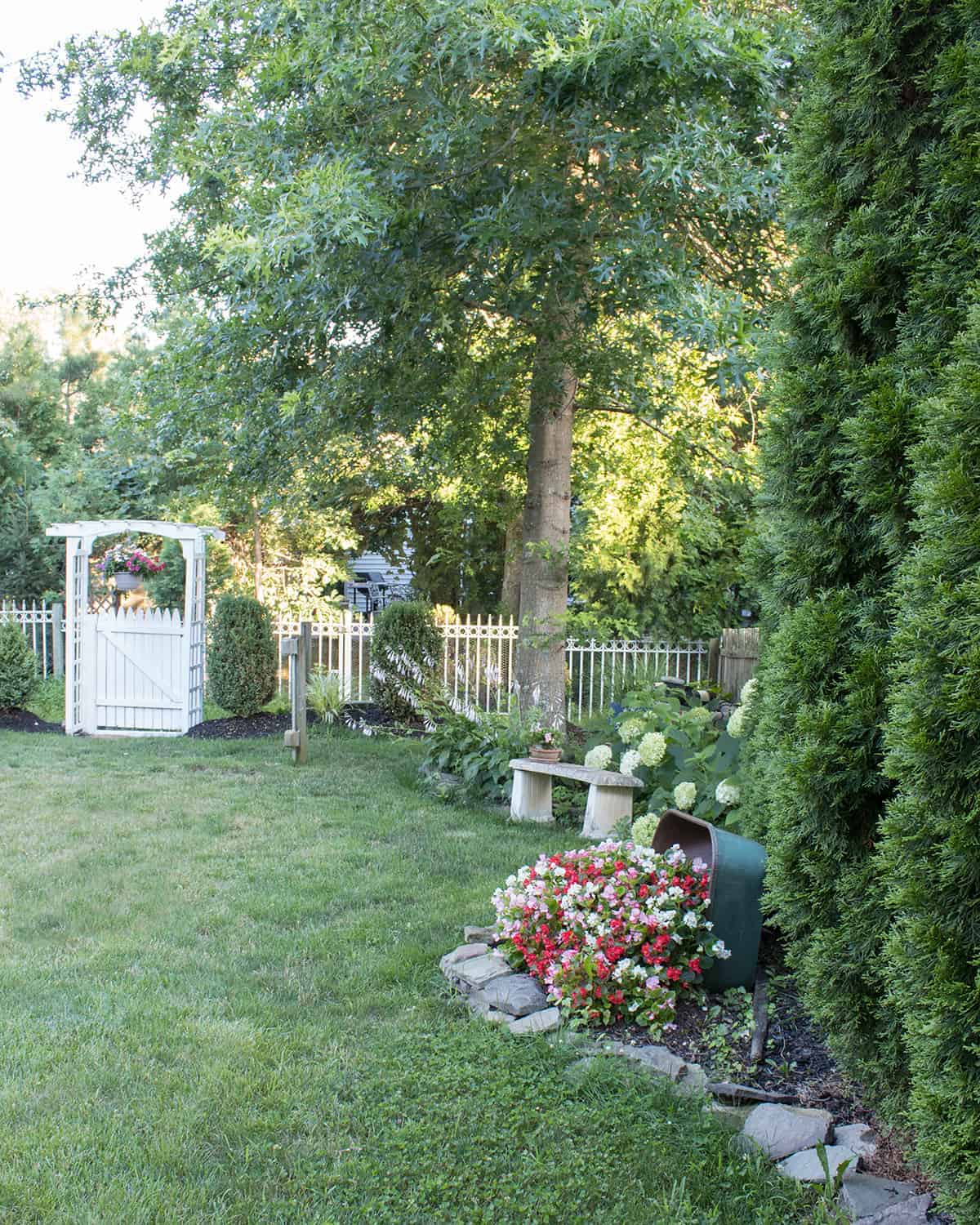 I repainted a weathered old arbor we had in our yard and it instantly became the focal point of the backyard. I'm currently working on getting the boxwoods on either side to fill in and create a beautiful hedge to border the arbor.
All of these DIY projects added up over time to really create a pretty backyard oasis for us. Which one is your favorite?
---
You May Also Like: