10 DIY Garden Trellis Ideas
How to make your own garden trellis with these creative & unique DIY ideas including affordable upcycles you have to see!
With Spring only days away, I'm in garden planning mode. I made several improvements to the yard last year by painting my shed, hanging string lights and adding a wheelbarrow planter.
This year I'm thinking of ways to go vertical so I can add additional flowers without it looking crowded. After searching the web for garden trellis ideas, I found so many fun options I might need a bigger yard. Here are some of my favorites.
If you love old junk as I do, the garden is a great place to incorporate some of your finds. I would never have thought of using a garden gate as a trellis for climbing vines, but it's a brilliant idea!
Sometimes (actually, most times) the simplest ideas are the best. I love this DIY arbor trellis. My husband grows tomatoes in those wire cages, I think this would be a much better looking option.
After seeing this, I'll be searching for a wagon wheel at the flea market this year for sure. This wagon wheel was used as the trellis for climbing roses. Beautiful!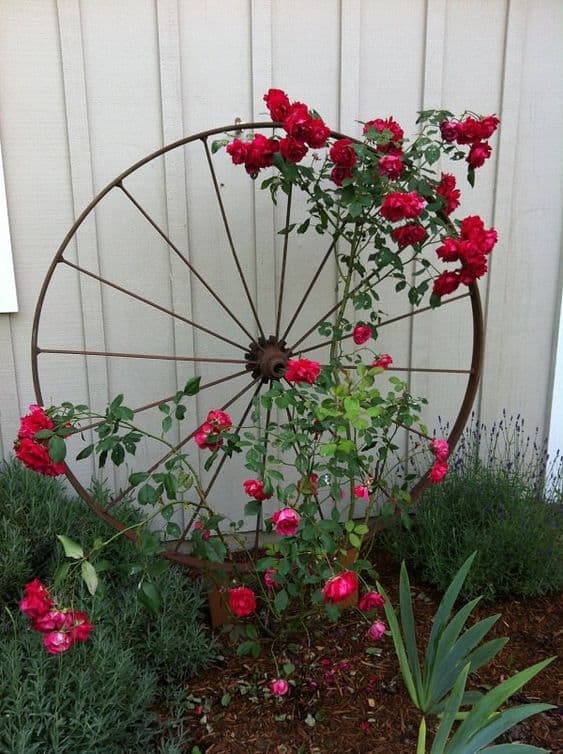 Garden recycling at its best is using upcycled garden tools for a unique trellis!
This is another idea I will most definitely be adding to my backyard this spring. You can create a climbing container garden trellis using willow branches. I may add a climbing vine to my full sun container garden mix this year to take it up a notch.
This whole view is stunning. Imagine how amazing this will look when this pretty patio trellis fills in.
This idea is super creative, have you ever seen a garden easel?
I imagine copper would be hard to bend, but I do love the idea of this trellis built out of copper piping.
This triangular planter looks easy enough to build but I'm thinking you could also use a ladder for a similar look. Now I'll be adding a ladder to my flea market list this year too!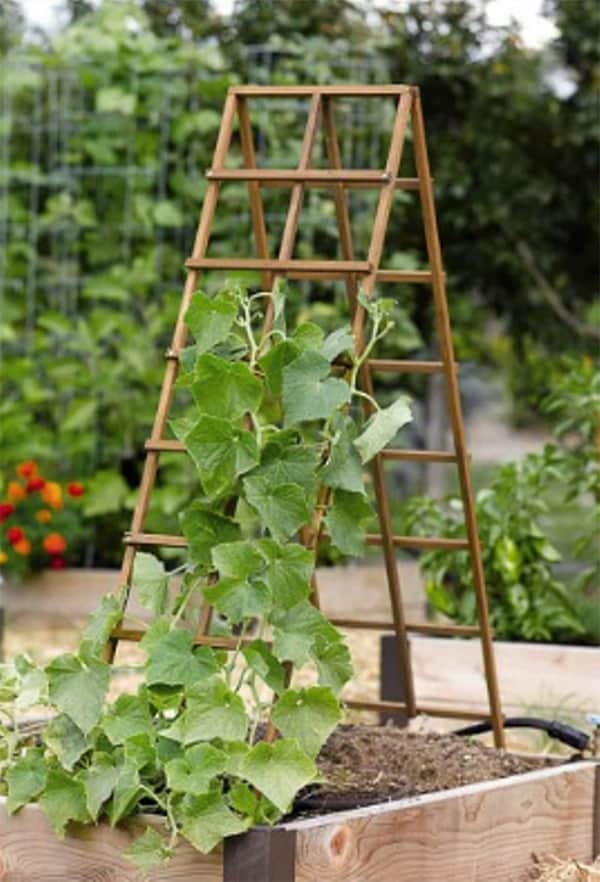 Window frames were a huge decorating accessory in the last few years. If you still have any lying around this window frame planter would be a great way to reuse it.
Which one is your favorite?